Adsaro Review
Summary
Adsaro, programmatic advertising and ad exchange network founded in 2019 with an aim of solving problems for both advertisers and publishers. Despite being new, it is the best advertising network so far having 1B+ impressions daily.
High Quality Ads

Value for Money

Ad Exchange Services
Pros
High Performing Ads
Multiple Advertising formats
Timely Payments
Ad Exchange Network to buy or sell traffic
High CPM Rates for Publishers
24/7/365 Support
Cons
The minimum deposit should be $50
The referral program isn't available yet.
Don't have enough traffic to generate leads for your business?
Or struggling to find a trustworthy platform to help you monetize your website?
If yes, then you've come to the right place as today we're going to do Adsaro review, a platform where you're either an advertiser looking for buying traffic or a publisher for monetizing your website, it has the complete solution for both of them.
It an obvious thing that finding a trustworthy and profitable advertising network isn't an easy task, so today we'll review Adsaro and see if it's worthy to choose or not.
So, if you came here looking for the Adsaro review, then stay with me and keep reading the entire review to know deep about Adsaro ad media network along with its pros and cons.
Adsaro Ad Media Network Review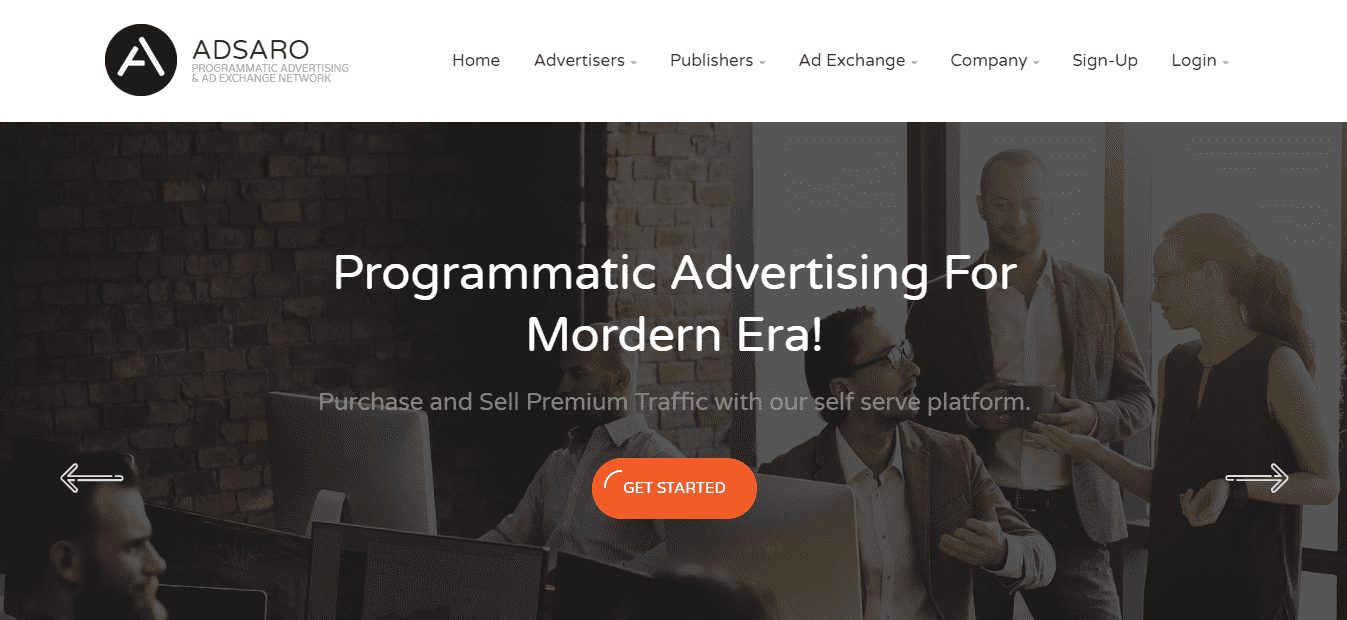 Adsaro, a programmatic advertising and ad exchange network founded by CEO, Sagar Bhattarai, and the directors (Santosh Rajbanshi, Rabin Sharma Oli, Sujan Adhikari) in 2019 with an aim of solving problems for both advertisers and publishers.
They claim to have 1B+ daily impressions having thousands of daily conversions which is quite great to consider. The headquarters are based in Srijananagar, Bhaktapur (a city in Nepal).
Adsaro is considerably new, yet the most rapidly growing ad network because of the quality service they provide to its advertisers and publishers as well. Along with the advertising service, they offer ad exchange which means you can be able to buy or sell traffic in real-time through their ad exchange platform.
It supports a wide variety of advertising formats that no other platforms have provided ever which we'll discuss in the review later.
Following is the short overview of the Adsaro review that you might need to know.
Adsaro Details
Company Name

: Adsaro (Saro Group of Technology Nepal Private Limited)

Founded In

: 2019

Payment Models

: CPC, CPA, CPM & CPI

Minimum Deposit

: $100

Minimum Payout

: $10

Payment Gateways

: VISA/MasterCard, PayPal, Epayments, WebMoney, Skrill Paxum, etc.

Support for Advertisers

:

[email protected]

Support for Publishers

:

[email protected]

Support for Ad Exchange

:

[email protected]

Website

: https://www.adsaro.net/
Why Adsaro stands out from others?
So, what makes it worthy to choose for your business? How it differentiates itself from other advertising platforms?
Well, Adsaro is quite a unique advertising network that has its command on both advertisers and publishers' side. But interestingly, it offers the ad exchange opportunity for advertisers/publishers to buy or sell traffic on their platform with full data and analysis which makes it unique from other ad networks. Advertisers can blindly trust this platform to promote their products as it claims to have 1B+ daily impressions with thousands of daily conversions that make it worthy to choose.
Moreover, it focuses not only on its advertisers but on publishers as well. A lot of publishers have been struggling to find a trustworthy advertising network to monetize their websites but end up being disappointed with the service they get. However, Adsaro is the only ad network that supports its publishers by providing the highest CPM rates to help them generate streams of revenue from their blog/website. It is the reason why Adsaro has been growing day by day because of the quality they maintain for both its advertisers and publishers.
Following is the variety of advertising formats Adsaro provides to its advertisers and publishers:
Adsaro Advertising Formats

Adsaro rewards its users with a bunch of multiple advertising formats to help them choose which suits them best.
Following is the list of ad formats Adsaro provides to its advertisers and publishers:
Image Creative Ads
HTML Ads
Native Recommendation Image Widget Ads
Text Ads
Popup/Pop-under Ads
Push Notification Ads
Inline/Overlay and App Video Ads
These ad formats are quite enough for a user to decide. All these ad formats are quite engaging but Push and Pop-under ads are one of the highly engaging ads in today's era as they have shown a spike in engagement rates from the last few years.
Recommended size for these ad formats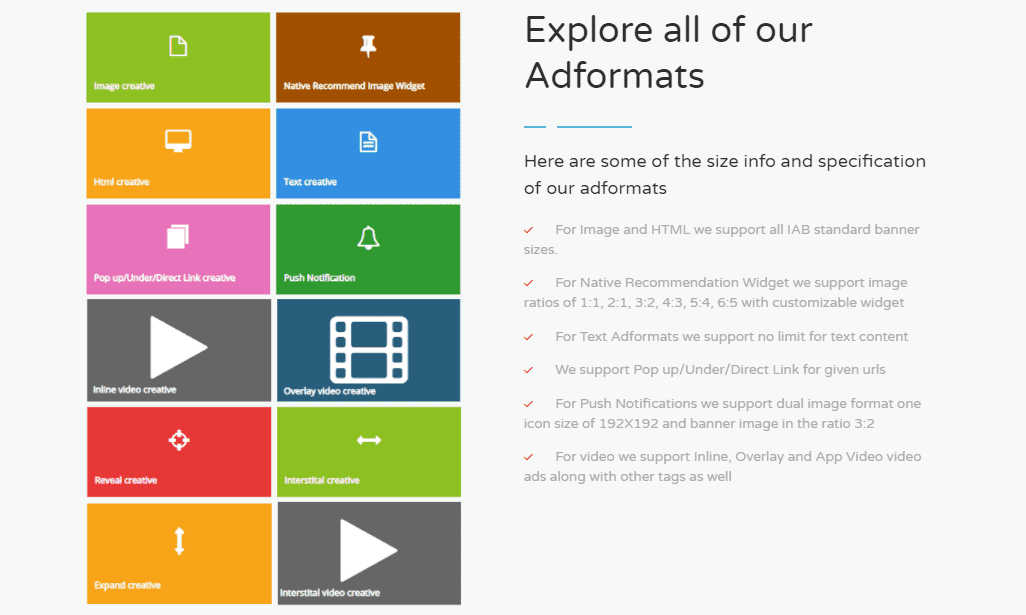 To make every ad engaging and helpful, there is always a recommended size to generate conversions.
For image and the HTML ads, Adsaro supports all IAB (Interactive Advertising Bureau), an industry-standard for banner sizes.
The recommended size for the native widget image ads is of ratio 1:1, 2:1, 3:2, 4:3, 5:4, 6:5 having customizable widget feature.
There is no limit for text ads so you don't have to worry about them. They support video ads as well including inline, overlay, and app video ads along with the tags.
The IAB standard size for Popup and Pop-under ads is 300*200 or 550*480 pixels. However, Adsaro supports them for given URLs. Talking about Push ads, it supports dual image format, icon size (of 192*192), and a banner image of a 3:2 ratio.
Adsaro Features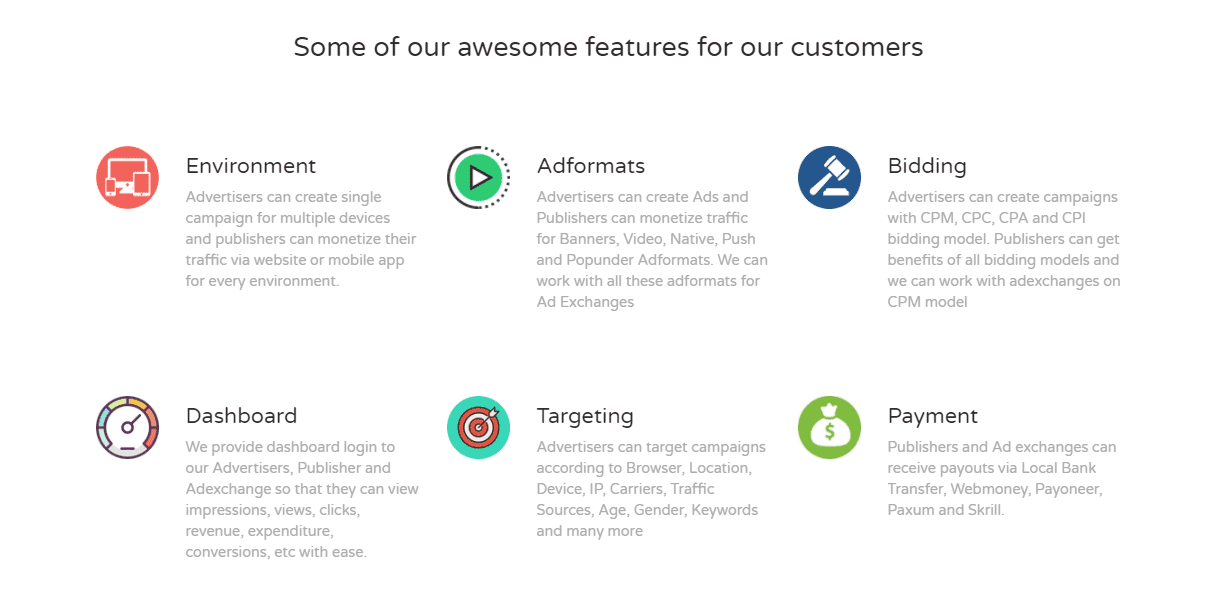 Apart from other advertisers' networks, Adsaro rewards its publishers and as well as advertisers with some of the unique and premium benefits that others lack in providing.
Some of the highly known features are listed below:
Having a wide variety of ad formats such as Banner ads, video ads, native ads, push and pop-under ads make it easy for publishers and advertisers to select the most suitable format according to the need.
By creating a single campaign, advertisers can target multiple devices in a user-friendly environment.
A performance reporting system is available for both advertisers and publishers to have a track on their sales and earnings. They can monitor the impressions, views, clicks with ease.
When it comes to targeting audiences, Adsaro never fails to amaze its users by giving them full control over targeting campaigns according to location, device, browser, IP, carriers, age, gender, and keywords, etc.
Adsaro supports multiple pricing models for advertisers to create campaigns such as CPM, CPC, CPA, and CPI. For publishers, they provide the highest CPM rates to help them generate decent revenue.
Along with the advertising services, Adsaro is an ad exchange network that allows you to buy and sell traffic in real-time through their platform which other ad networks lack in providing.
Getting started with Adsaro
Either you're an advertiser or a publisher, Adsaro has the complete solution for both of them.
Let's start with the advertiser first.
Adsaro for Advertisers

If you're running a business and you're not getting good results with the ad campaigns, you're probably missing the best advertising network – Adsaro that will drive away all your worries. Adsaro has proven to be the game-winner when it comes to push and pop-under advertising networks as the majority of the people trust Adsaro because of the quality ads they deliver to their users.
The number of advertisers has been increasing day by day as people are shifting to Adsaro to boost their businesses.
So, being an advertiser, what you have to do? Let's see the step by step procedure in getting started with Adsaro.
Create an account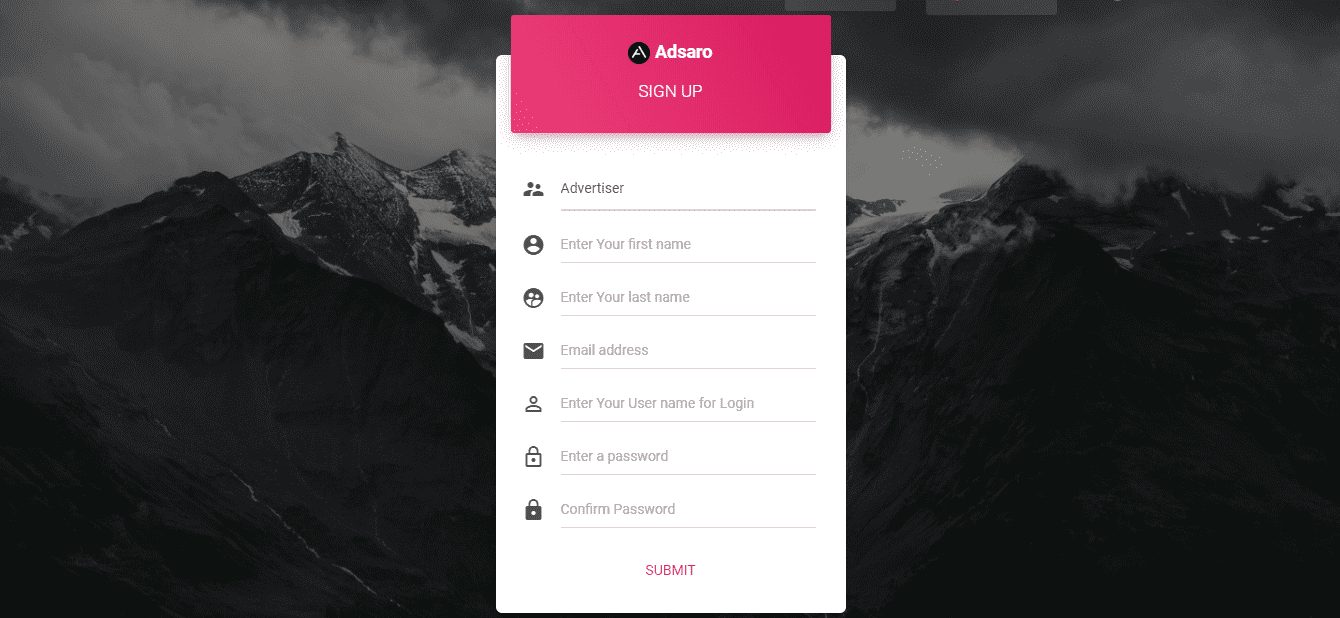 First of all, you need to register for an account on Adsaro as an advertiser to begin advertising on it. Signup as an advertiser by filling the required information such as name, email, username, and password. After successful creation, verify the account and you're good to go.
After logging into your account, you'll be redirected to the advertiser's dashboard where you can monitor everything such as daily impressions, clicks, conversions, CTR, daily spend, etc.

Start a Campaign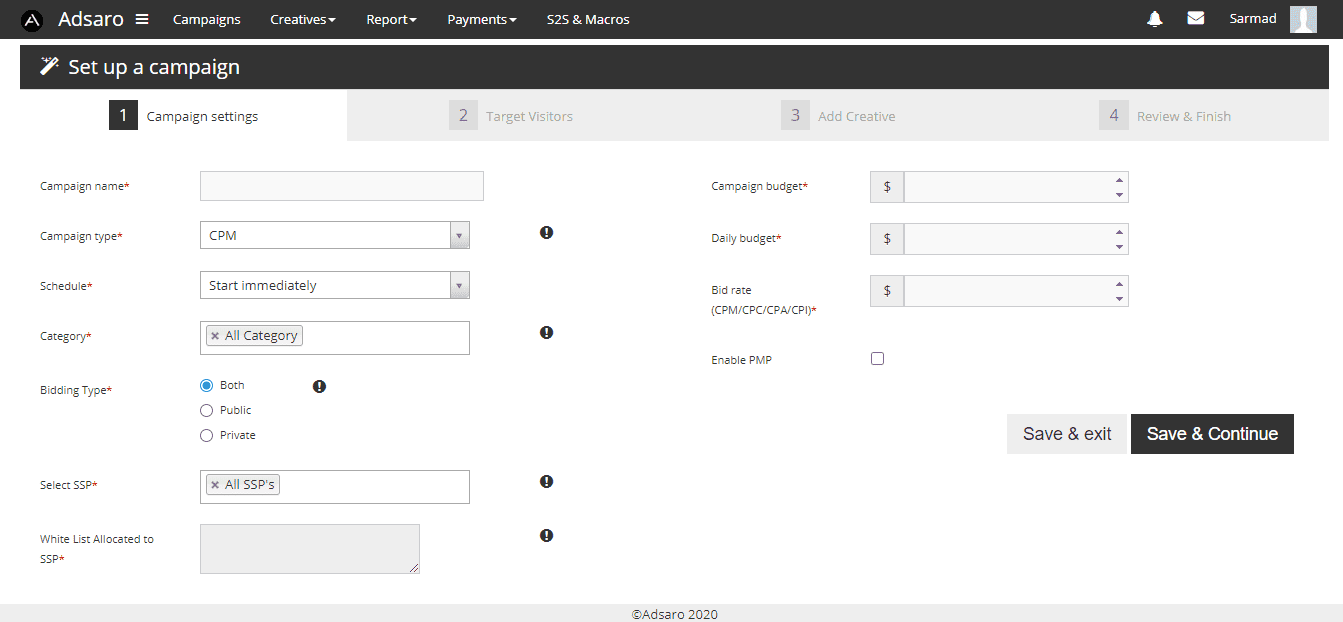 Once your account gets verified, login, and set up your profile. The next and most important step is to start creating ad campaigns for your business.
Following are the steps in creating a campaign:
Give your campaign a name.
Select the campaign type (either CPM, CPA, CPC or CPI).
Choose the niche category which you want to target.
Set the budget for your campaigns that you want to spend on it.
Select the audience you want to target.
Done with all that? Now start designing ads for the campaign. Give your ad a title, description, a suitable image with an icon. Try to use the Adsaro recommended sizes for the best experience.
Review your campaign before publishing it.
Note: Before publishing the campaign, make sure you have enough funds into your account. If you don't have, then first deposit funds using an appropriate payment option as shown in the picture below: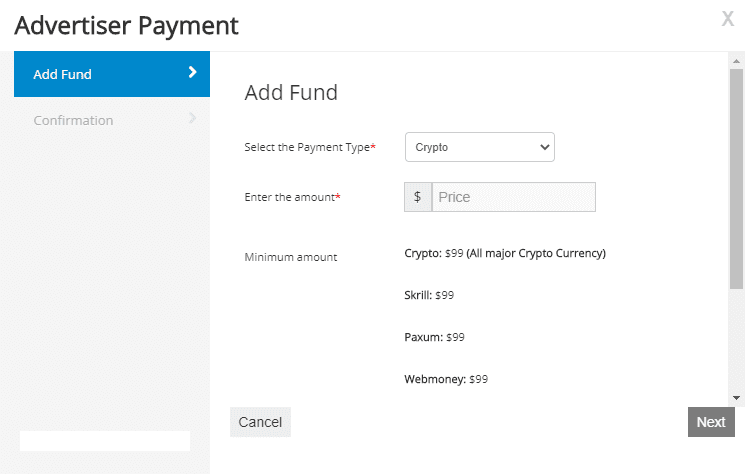 Sit Back and Relax
After publishing the ad campaigns for your business, simply wait and see the magic of Adsaro. You'll start getting huge impressions and engagements which you can monitor on the performance reporting dashboard.
Now let's have a look at the publishers' side.
Adsaro for Publishers

If you have been fed up with the ad networks that promise to give the best but eventually fail in delivering output, then you must need to give a try to Adsaro in order to monetize your website or blog. Despite being new, Adsaro dominates all other platforms with its superb quality of ads it delivers to help its publishers earn good money.
Using Adsaro, publishers can generate streams of revenue by monetizing their websites with highly targeted ads. You can use multiple ad formats on your websites as Adsaro provides a wide variety of ad formats.
To get started as a publisher, simply you need to register as a publisher and verify the account.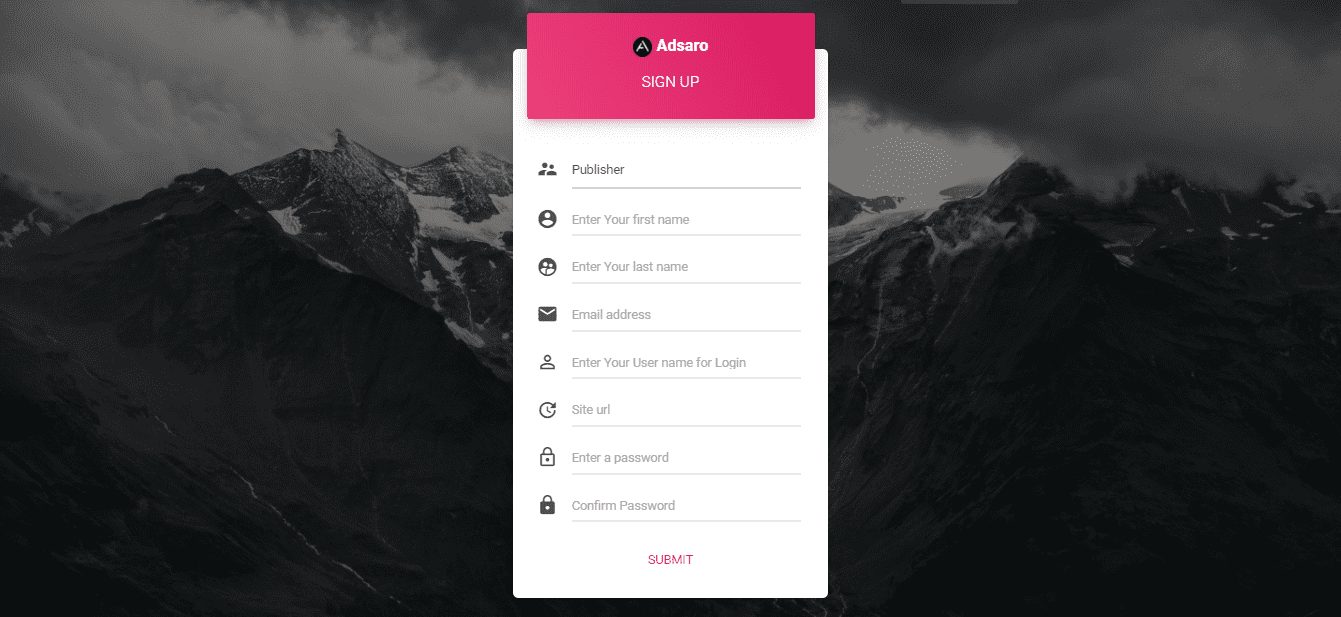 The approval process is quite fast so you'll get your site approved easily. After getting approval, setup the ad code on your website and you're good to go.
Once you've placed ad codes on your website, you'll notice a significant impact on your earnings. The majority of link shortening companies love to use Adsaro as it provides the highest CPM rates that no other network has ever provided.
Adsaro Payment Methods
Adsaro supports multiple payment methods for both advertisers and publishers for their ease.
Being an advertiser, if you want to deposit funds into your account, there are several payment methods available such as crypto (50+ cryptocurrencies), All card providers (VISA/MasterCard, American Express, Discover, etc.), Amazon Pay, Alipay, Skrill, Epayments, Paxum, Webmoney, and Bank Transfer.
The minimum deposit for Adsaro is $100.
Being a publisher, if you want to withdraw your earned amount from Adsaro, you can do it by using any of the available payment methods such as Payoneer, Webmoney, Skrill, Paxum, Bank Transfer, and Epayments.
The minimum payout for Adsaro is $10.
Adsaro Alternatives
The following are some of the alternatives to Adsaro that you might need to know.
Conclusions
While considering all the facts discussed in this Adsaro review, I'll definitely recommend Adsaro to everyone who has been struggling in search of a reliable, trustworthy advertising network that provides the best results to its users.
So, if you've been looking to promote your business as an advertiser or if you want to monetize your blog as a publisher, then simply go with Adsaro without worrying about anything.
Do you still have any doubts about choosing Adsaro? Go check out Adsaro reviews from other people who have already experienced this platform.
At Trendstorys.com, we aim to provide honest reviews to our users to help them choose the platform.
Any queries related to Adsaro review or if you're already experienced with this advertising network, give your review out of 5 stars or let me know in comments.