RichPush Advertising Network
Summary
RichPush, a Push Advertising Network founded with the aim of helping people to grow their businesses with their Highly Engaging Push Ads.
Target CPA System

Micro Bidding

Smart CPC System

PPC Model
Pros
Modern & Easy Interface
Target CPA System
PPC model
High Performing Ads
100% Ad visibility
Instant launch of campaigns
Cons
Image Resizing isn't available
The minimum deposit is at least $100
Delayed Support sometimes due to a large number of requests
Have you been looking for the Push Notification Advertising Networks?
Found RichPush Ad Network but not yet ready to start with it?
Looking for the RichPush Review to clear your doubts?
If yes, then you have surely come to the right place as we are going to do an in-depth review of RichPush Advertising Network and will justify why it is known to be the Best Push Notification Advertising Network amongst other Push Ad networks.
So before starting RichPush Review, let's see what actually is RichPush and when it was founded.
What is RichPush?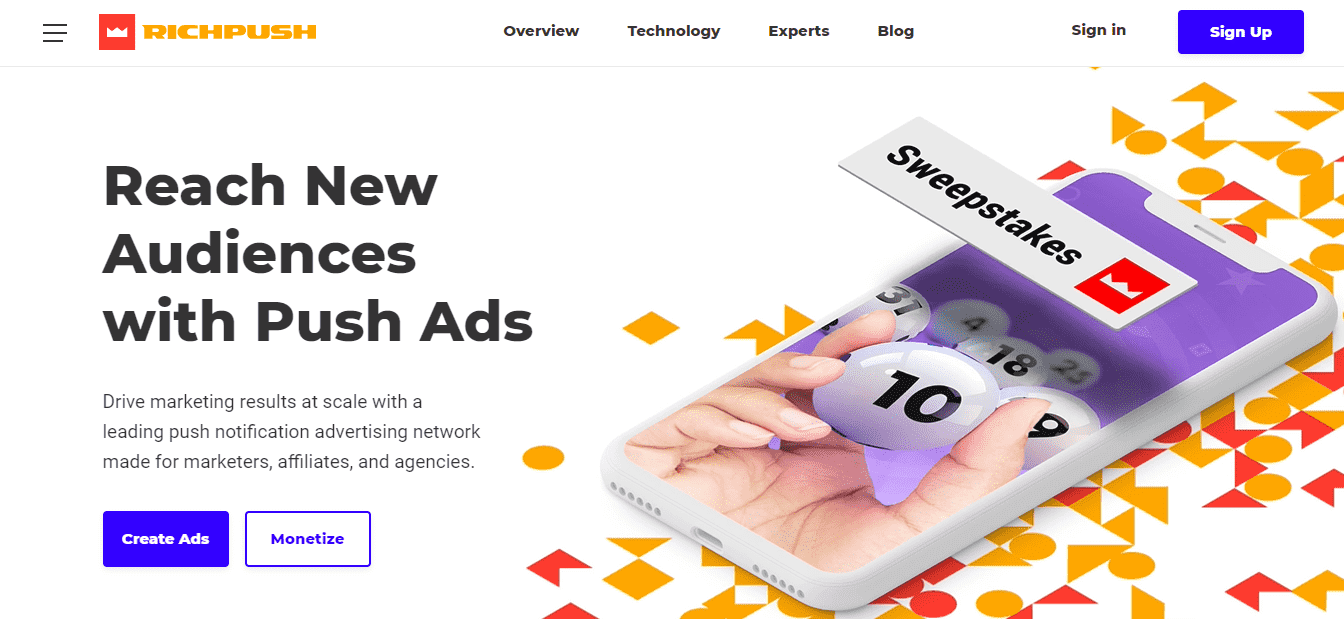 RichPush, a Push Notification Advertising Network founded by Eugene Valuev in 2018. The headquarters are based in Minsk, Belarus (a country in Europe). RichPush is basically founded with the aim of helping people to grow their businesses with their Highly Engaging Push Ads.
RichPush is one of the Best Push Notification Ad Network that focuses on the quality that it provides to its users. It is the fastest-growing network having 450M+ subscribers in more than 220 countries. The reason why it stands out from other Push Advertising Networks is because of the quality ads they deliver to its users.
Following is the short overview of the RichPush Review that you need to know.
RichPush Details
Company Name:

RichPush

Founder & CEO:

Eugene Valuev

Founded In:

2018

Countries Allowed:

Worldwide

Statistics:

450M+ Subscribers Worldwide

Payment Models:

CPC & CPM

Minimum Deposit:

$100

Payment Methods:

Webmoney, wire transfer, bank card, e-pay, Paxum.

Affiliate Program:

5% bonus from the first deposit of the client you've referred to.

Website:

https://richpush.com/
Why Choosing RichPush Worth it?
Yes, it is right that choosing RichPush worth it. But why?
Well, everyone wants their business to excel in today's world where everything is going digital day by day. There are many reasons to join or shift to the RichPush Notification Ad network because of the quality and highly engaging ads they provide comparative to other Push Advertising Networks.
RichPush is counted in one of the fastest-growing Push Advertising Networks having 450M+ Subscribers worldwide. It is the leading Push Ad Network that has dominated all other Push Notification Ad Networks with its remarkable quality and features that other networks lack to provide.
Using RichPush, you can generate handsome revenue by simply using its highly engaging push ads that result in great conversions. This is the reason why RichPush stands out from other push advertising networks because of the quality ads they deliver to their users.
Now you're quite familiar with this network, let's jump into getting started with RichPush.
How to get started with RichPush?
RichPush is a Push Advertising Network that offers its services to both of its publishers and as well as advertisers. In RichPush, you can also earn money by monetizing your website using RichPartners. But let's continue with being an advertiser.
Being an advertiser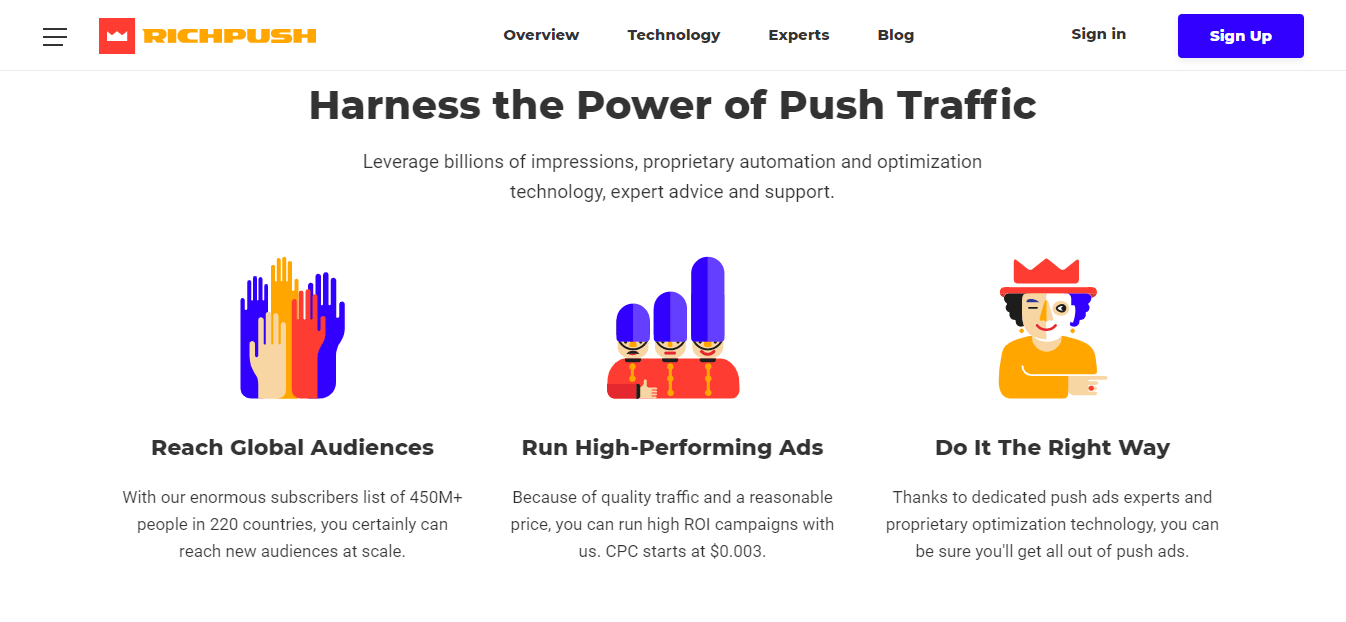 If you're running a business and you're not getting good results with the push ads, you're probably missing the best Push advertising – RichPush that will drive away all your worries. RichPush has proven to be the game-winner when it comes to Push Advertising Networks as the majority of the people all over the trust RichPush because of the quality ads they deliver to their users. The number of advertisers has been increasing day by day as people are shifting to RichPush to boost their businesses.
One of the reasons why people are moving to RichPush Ad Network is because RichPush offers a PPC model for advertisers which means that the advertisers will only get charged when someone will click on their ads.
So, being an advertiser, what you have to do? Let's see the step by step procedure in getting started with RichPush.
Create an account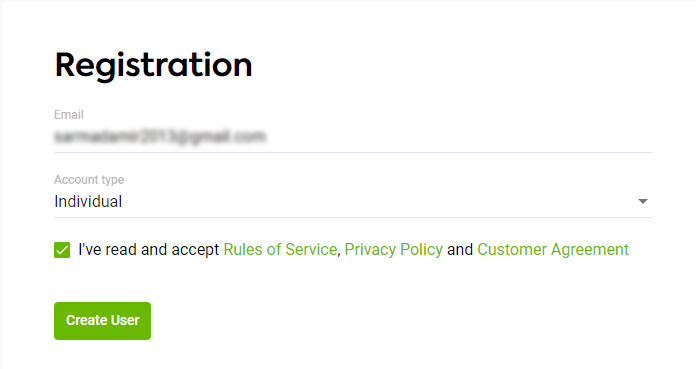 The very first thing you need to do is to register on RichPush before you start advertising on it. On the homepage of the website, you'll see two buttons "Create Ads" and "Monetize". Simply click on the create Ads button that will take you to the signup page in order to create an account. Register with your email and choose the account type either you represent a company or an individual.
Setup your profile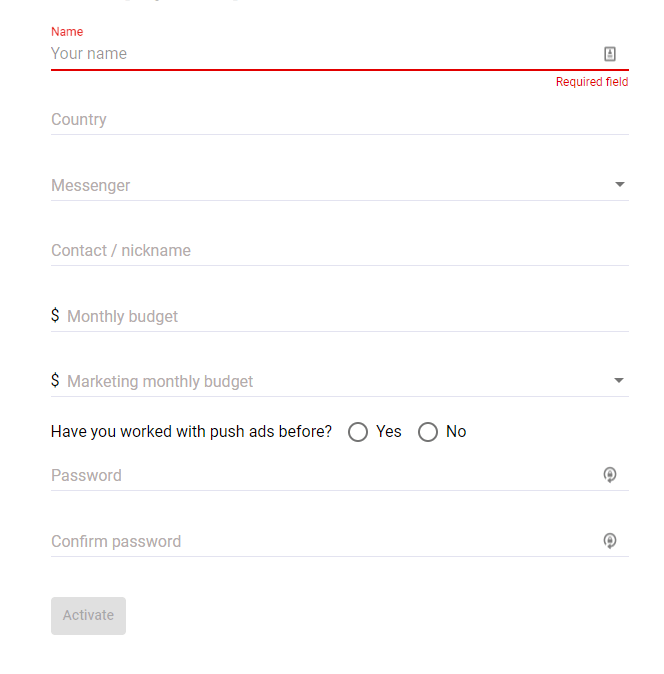 The next step is setting up the profile by filling out the necessary information such as name, country, contact, budget, and password, etc. After filling out these details correctly, hit the activate button to make your account fully functional.
That's all you need to do to register on RichPush. Now it's the time to start creating campaigns on RichPush.
Start a campaign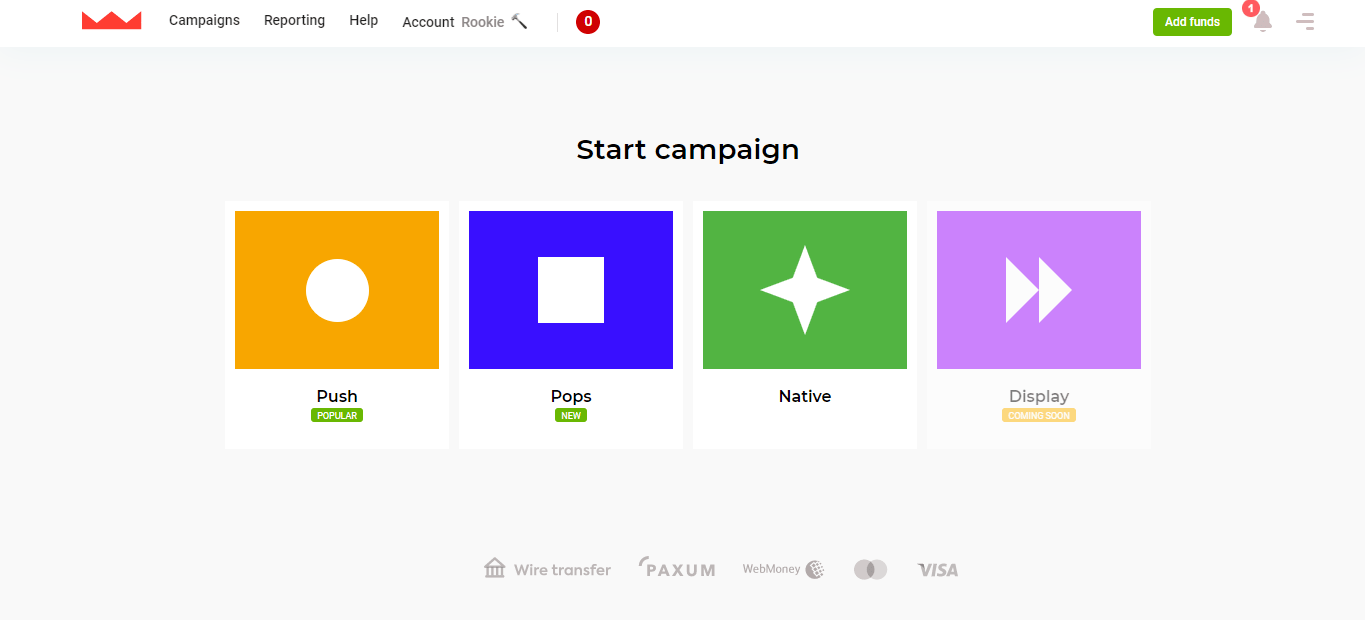 On the dashboard of your account, you'll see different campaign types either you want to start a campaign for Push ads, Pop ads, or even natives ads. Choose the one which you would like and start the campaign. Now let's say if we want to start a campaign for Push ads, we'll simply click the push ads option, and a bunch of different options will appear to configure the campaign such as Creatives, Tracking, Targeting, and the Budget.
Creatives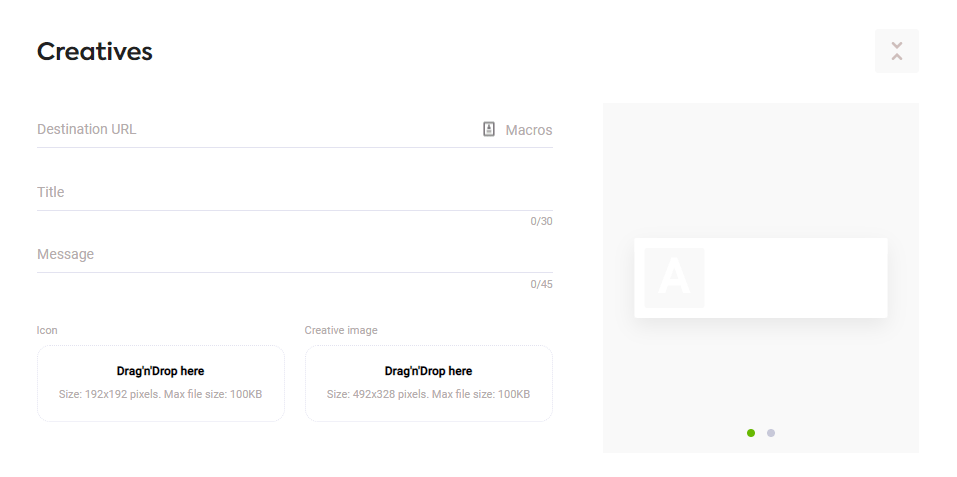 In the creatives section, fill out the details about your ad such as your website URL where you want the audience to land. Give your ad a title, description, a suitable image with an icon. Try to use the RichPush recommended sizes for the best experience.
Tracking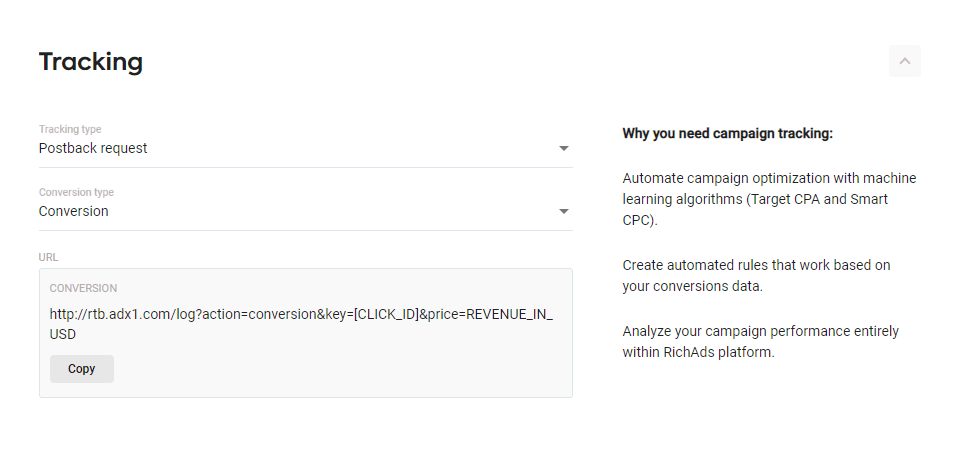 Set a campaign tracking to automate campaign optimization with the RichPush machine learning algorithms. Choose a tracking and conversion type according to your needs. You can even create automated rules based on your conversions data. With the tracking system, you can easily analyze your campaign's performance.
Targeting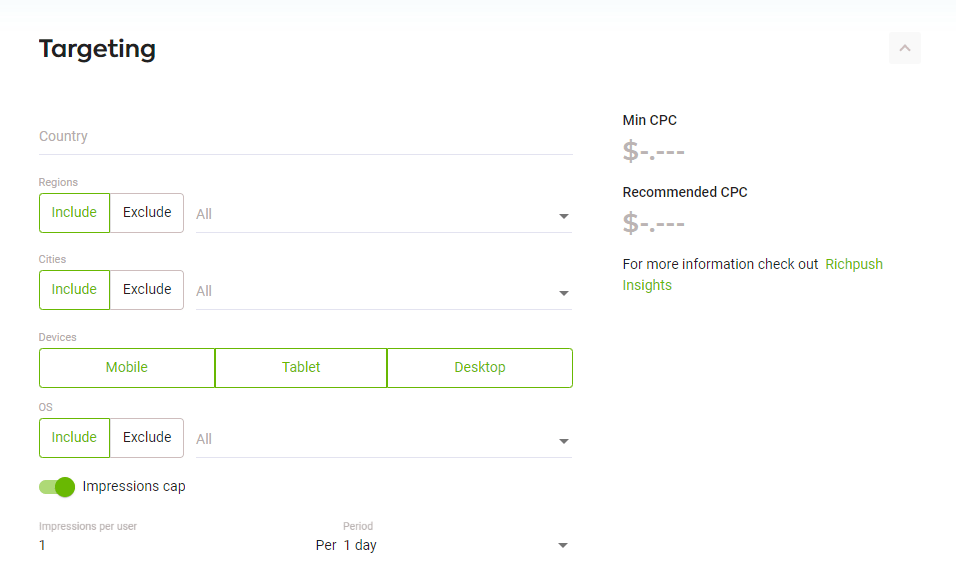 Audience selection is one of the most important factors in driving users and conversions. The more you'll select the audience wisely, the more will be the chances of getting a high conversion rate. Simply choose the country which you want to target and the devices where you want to run ads such as mobile, tablet, or desktop. Fill out the other important requirements to target the audience. It is recommended to select the right audience that you want to target to have the best conversions.
Budget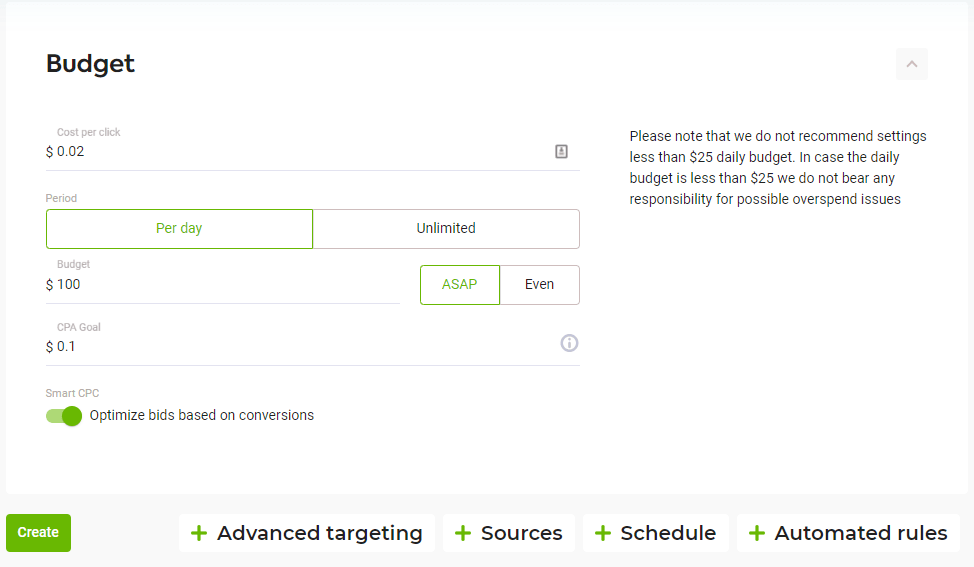 The last step is setting up the budget according to your needs. Fill out the CPC rates and the period to which you want the ad to run. That's all you need to do. Now click on the create button to start the campaign. In a few minutes, RichPush will review your campaign and publish it immediately.
RichPush Features
Apart from other Push Advertising Networks, RichPush rewards its publishers and as well as advertisers with some of the unique and premium benefits that others lack in providing.
Some of the highly known features for advertisers are listed below:
Target CPA automatically figures outsources that convert better and make them prior to the sources converting worse. So, the conversion price decreases, and the campaign get more conversions for targeting price.
Smart CPC lowers costs of the ad campaigns. If it's possible to buy click cheaper the feature will do it.
Automated rules help to automate the process of optimization. Spend just 5 minutes to set up parameters for black and white lists and they will continue working automatically. The system will analyze statistics and input results in the campaign.
Micro bidding is the flagship feature that allows making different bids for different parameters of one campaign.
PPC (Pay Per Click) Model which means you only get charged when someone clicks on your ad.
Instant launch of Campaigns in less than 10 minutes.
24/7 Live Support.
RichPush Payment Details
RichPush offers a bunch of different payment methods to its publishers and as well as advertisers to withdraw or deposit money. The payment details of RichPush are as follows:
The minimum deposit for publishers is $100 while there is no minimum payout for publishers.
Supported payment methods are Webmoney, wire transfer, MasterCard/VISA, e-pay, Paxum.

Do I Recommend RichPush Ad Network?
Well, there is a clear YES to this question as RichPush has proven to be the Best Push Notification Advertising amongst its different Push Advertising Networks such as Push House, DatsPush, etc. Due to its unique features and remarkable position in the digital world has made it superior amongst all other networks.
Therefore, I'll definitely recommend this network to all users who have been struggling to find the best push notification ad network for their businesses as it offers a minimum of $0.003 CPC when a user clicks on the ads created by the advertiser. So, if you have been searching for the best Push Ad network, then RichPush will be the best choice you'll ever make to start earning online as it is the leading Push Advertising platform.
Still having trouble in choosing RichPush? Go check out other RichPush reviews from different people and find out what they are saying.
What are you waiting for now? Go and start your journey with RichPush without wasting any time.
At Trendstorys.com, we aim to provide honest reviews to our users to help them choose the right ad network.
Any queries related to the RichPush review or if you're already experienced with this network, let me know your thoughts about this network.