Push House Ad Network
RTB (Real Time Bidding) System

Unique & Quality Traffic

Highest ROI (Return On Investment)
Summary
Push House, a leading push notification ad network that provides highly engaging ads to both of its advertisers and publishers. It has secured a great reputation worldwide because of the quality they provide to its users.
Pros
Worldwide Coverage
Unique & Quality Traffic
User-Friendly Interface
Highest ROI
RTB (Real-Time Bidding)
Referral Program (3% commission)
Cons
This ad network is relatively new in the field of advertising
Fewer tutorials are available to get started
Sometimes slow support due to large number of requests.
So you are looking for the Push House Review? Right?
If yes, then you've come to the right place as today we're going to do a detailed Push House review by discussing some facts why it is considered as one of the Best Push Notifications Ad Network amongst others Push Ad Networks.
What is Push House?
Push House, a Push Notification Advertising Network as signified by its name itself, is based in Slovakia (a country in Europe) founded in 2018. It is counted in the Best Push Notification Ad Networks that provides Push Notifications Ads to its advertisers and as well as publishers.
It is an advertising network for push notifications having worldwide coverage in over 180 countries. Moreover, they claim to be having more than 130 Million active subscribers with 13.5 Million clicks per day that's quite a great amount to consider. It is growing so rapidly each day because of the quality it provides to its users.
Following is the short overview of the Push House Review that you must know.
Push House Details
Company Name

: Push House

Founded in

: 2018

Countries Allowed

: Worldwide

Statistics

: 130M Subs & 13.5M clicks daily

Minimum Payout

: $50

Payment Methods

: Web Money, ePayments, Payeer, Perfect Money, Bitcoin, VISA/MasterCard, QIWI, and AdvCash.

Requirements to Join

: Free to join for both Advertisers & Publishers.

Affiliate Program

: 3% Commission
Why Choose Push House?
Yes, it's absolutely a valid question of why choosing Push House worth it. Well, there are various reasons to choose this advertising network since it is the only network that has been maintaining its quality and improving it day by day.
Push House has secured a great reputation worldwide because of the quality they provide to its users. They have been functioning worldwide in over 180 countries. It is the leading Push Ad Network that has dominated all other Push Notification Ad Networks with its superb quality and various features that others lack providing.
The reason why it stands out from all other networks is that they sell unique and quality traffic to the audience. Using Push House, you can generate streams of revenue by simply implementing the push ads which is quite easy to set up.
Push House reward their users with various discounts and bonuses to get started. You can use promo codes while creating an account on Push House Ad Network to get more discounts.
Let's see how to get started with Push House Ad Network.
Steps to get started with Push House
Getting started with Push House is quite easy as you simply need to perform some actions after creating an account on it. Following is the step-by-step procedure to get started with Push House Ad Network.
1. Create an account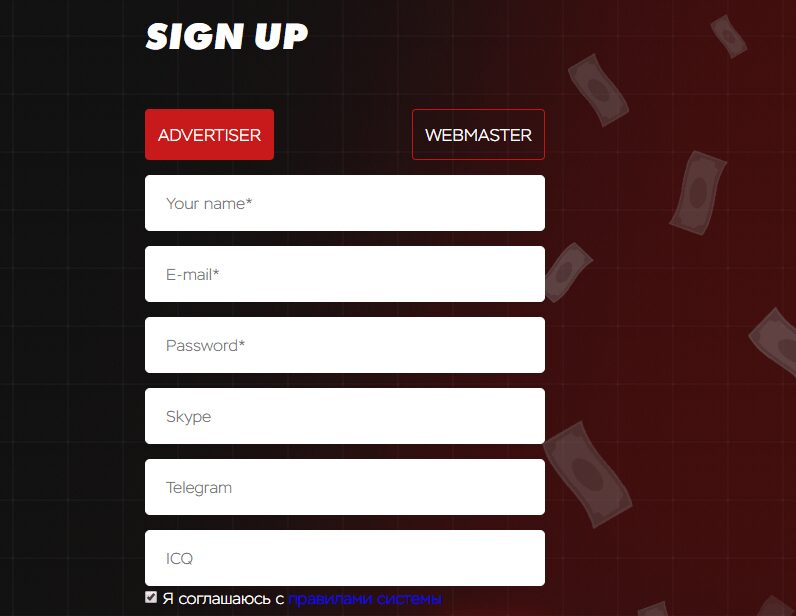 Before using this network, first, you have to create an account on their website. On the homepage of the website, you'll see two buttons "SIGN UP" and "SIGN IN". Simply click on the signup button and fill out the required details. When done, verify your account and move to the next step. If you've already created an account earlier, then simply log in to your account.
2. Creating an Advertisement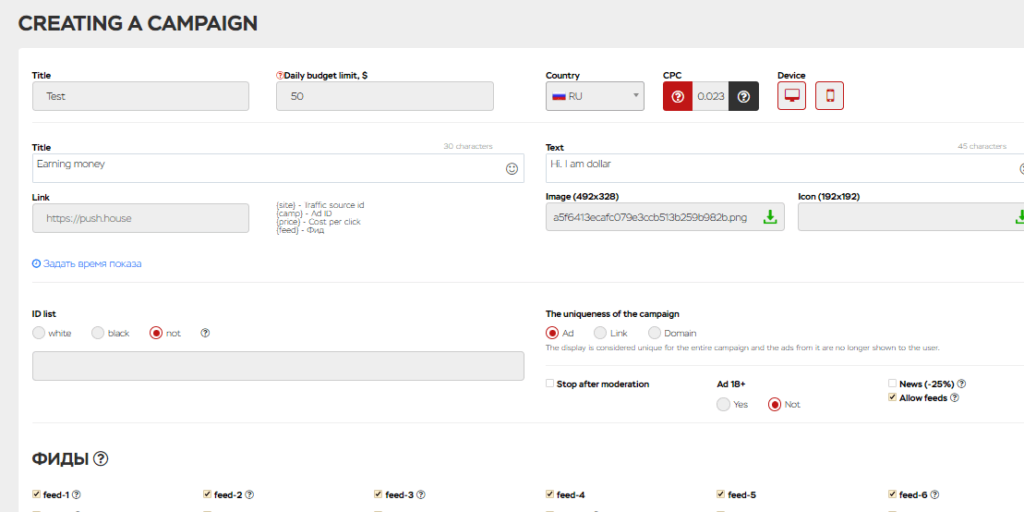 After your account is verified and approved, simply head over to the ad creation area. Simply you need to create your first ad to get started with it. Give your ad a title name, an image, and a description if needed. In the end, put your website address in the ad so that whenever someone will click on your ad, he/she will be redirected to your website.
3. Audience selection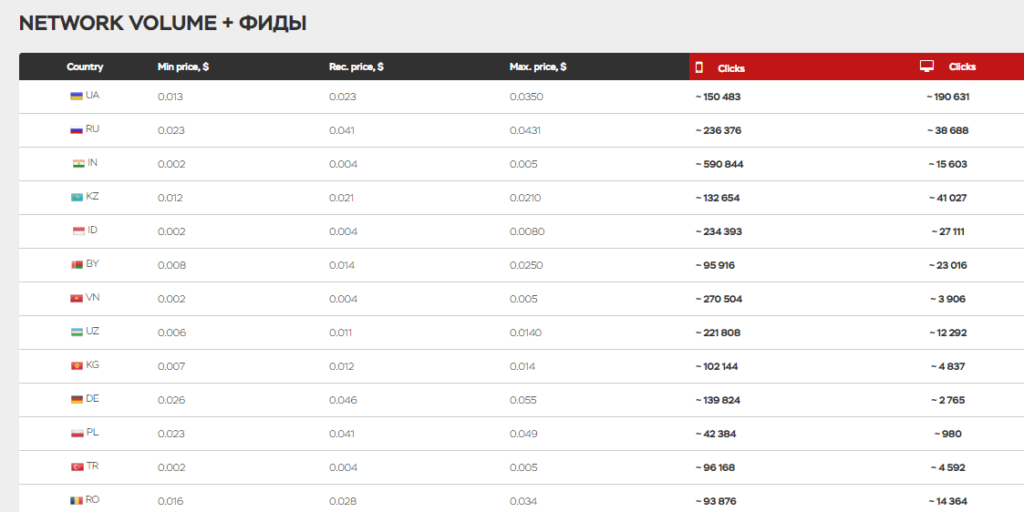 Well, this is the most important factor in driving users and revenue. Select the audience you want to target. By selecting the targeted audience, you can be able to generate high conversions. The more are the conversions, the more will be the revenue. After setting the audience, start your advertising campaign.
4. Sit back and enjoy the results
Yes, you heard it right! You have done everything from your side. Now it's the time for Push House to amaze you with their service. In a few hours after starting the campaign, you'll start getting the unique and quality audience to your website with the highest conversion rates.
To monitor your campaign statistics, simply go to your dashboard where you can track real-time results of your campaign such as Impressions, Clicks, and the revenue you have spent for the campaign.
Push House for Advertisers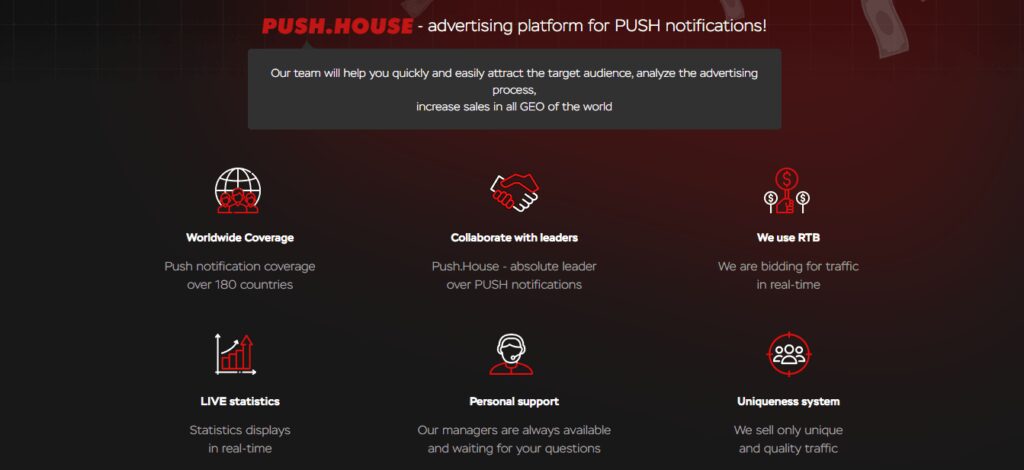 Want to promote your business? Not finding some worthy sites where you can spend money to promote your business?
If yes, then Push House would be the perfect choice for you to advertise your business. It is the best Push Notification Advertisement Network having millions of advertisers using this platform for promoting their businesses.
As we have already discussed above of getting started with Push House, simply you need to start up creating a campaign for your business and delivering ads to the targeted audience for maximum engagement and conversions. In this way, you can earn quite decent revenue but it depends upon the traffic you've targeted. Whatever type of business you want to promote, you must need to move one step higher from the competitors, and rest Push House will cover everything for you.
Push House is one of the best Push Notification Ad networks that never fails to amaze its advertisers with its Push Ads that are highly engageable. These Push Ads are small popups that appear on the screen and can be in the form of a text or an image that sometimes appears annoying to the user. But using Push House, these Push notifications pop-ups in the best possible way that never annoys the user and eventually generates high leads and sales. The revenue models Push House is based on CPM (Cost Per Mile) and CPC (Cost Per Click), which means that you'll only need to pay for the actions being taken from your ad.
Let's discuss some more advantages of Push House being an advertiser.
Benefits for Advertisers
The following are some of the benefits Push House provides to its advertisers.
Targeted and Quality traffic for higher conversions.
Anti-Fraud System.
They use RTB (Real-Time Bidding System).
Quick Launching of Campaigns.
High CTR (Click Through Rates).
Advanced real-time statistics.
Split Landing Testing.
Feed & Agent Targeting System.
Personal manager for each partner.
Brand security to the advertisers.
Multiple payment methods are available to deposit money.
24/7 Live Support.
Push House for Publishers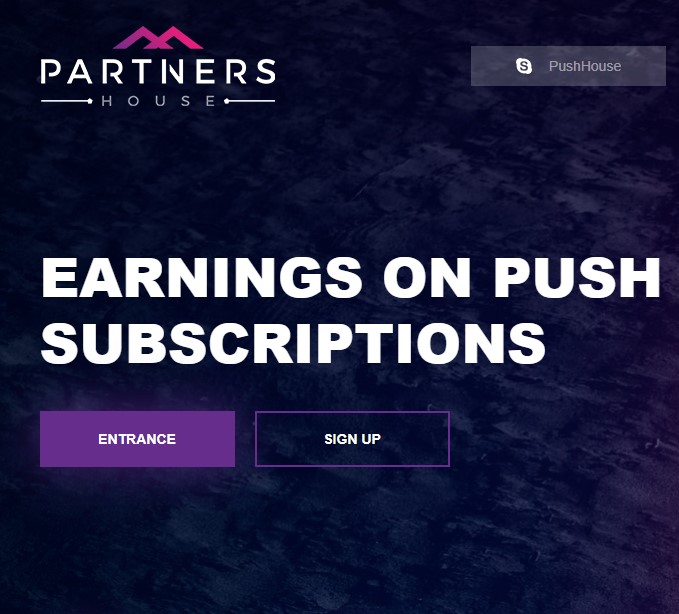 If you are a publisher and have been searching for ways to earn money from your website, then Push House will be the best choice you'll ever make as it is well known for being the best Push Notification Advertisement Network that helps its publishers to generate income streams simply by displaying ads on their websites.
Using Push House, you can make money by monetizing your website with highly targeted Push ads. Once you have set up the push ads for your website, you'll likely see a great impact on your earnings by the magic of Push House. Being a publisher, there are several ways to earn even more from the website such as using Link Shorteners, Affiliate marketing, and CPA marketing, etc.
Getting approval on Push Ads is super easy to start monetizing your website with it, but they must have some rules and regulations that you must need to follow such as not clicking on your ads, prevent from using bots, or fake traffic, multiple accounts, etc. If these requirements aren't followed will eventually result in banning your account. Visit Partners.House for more details.
Benefits for Publishers
The following are some of the benefits Push House provides to its publishers.
Accepts traffic from worldwide over 186 countries.
Offers Highest Payout rates.
Fast Payment Processing System.
Minimum Payment Thresholds.
Multiple Payment methods for withdrawing such as Web Money, ePayments, etc.
Offers 3% commissions from referrals.
Advanced real-time statistics
24/7 live support.
Payment Methods
Apart from other Push Ad networks that offer few payment options, Push House is the only network that provides various payment methods to deposit or withdraw money. The payment details of Push House Ad Network are listed below:
The publishers get paid depending upon the quality of the traffic they have on their website.
Payments are made weekly.
The Minimum withdrawal fee is $50.
Supported payment methods for both advertisers and publishers are Web Money, ePayments, Bitcoin, VISA/MasterCard, QIWI, Perfect Money, Payeer, and AdvCash.
Conclusions
By taking note of the Push House review, discussing all the factors, I'll definitely recommend this network to all users who have been trying hard to find the best push notification ad network for their businesses. So, if you have been searching for the best Push Ad network, then Push House will be the best choice you'll ever make to start earning online as it is the leading Push Advertising platform.
Still having trouble in choosing Push House? Go check out other Push House Reviews from different people and find out what they are saying.
What are you waiting for now? Go and start your journey with Push House without wasting any time.
At Trendstorys.com, we aim to provide honest reviews to our users to help them choose the right ad network.
Any queries related to the Push House review or if you're already experienced with this network, let me know your thoughts about this network.