Bitmedia.io Review
High Performing Ads

Customized Targeting

High Quality Traffic
Summary
Bitmedia, a bitcoin advertising network founded in 2015 with the aim of becoming the best crypto advertising network that supplies blockchain businesses with the most relevant crypto audience.
Pros
High-Quality and targeted Traffic
Smart ad bidding
Effective ads at affordable rates
Multiple ad formats
Quick launch of campaigns
24/7 support center.
Cons
Support only BTC as a payment method.
Sometimes, the ad takes up to 3 hours for approval.
There has been seen a great spike in the growth of cryptocurrency in recent years. Nowadays, more and more people are choosing cryptocurrencies such as Bitcoin, Ethereum, ripple over other digital currencies to make payments online in the digital world. After the huge success of crypto, many advertising companies started working on the crypto niche in which Bitmedia.io is one of them.
If you're a publisher or an advertiser who has been looking for the best crypto ad networks, then you've probably come to the right place as today we're going to do an in-depth review on Bitmedia.io which will surely help you decide whether it's worth it or not.
So, if you came here with the intention of having Bitmedia Review, then stay with me and keep reading the entire review.
What is Bitmedia?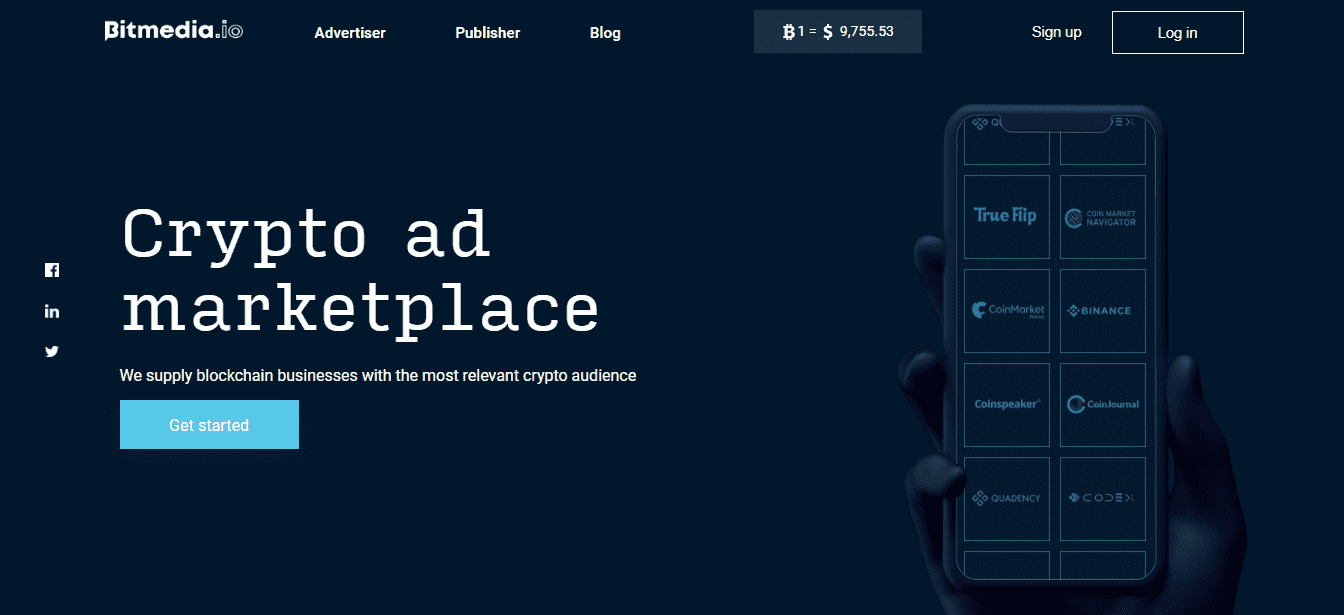 Bitmedia, a bitcoin advertising network founded in 2015 with the aim of becoming the best crypto advertising network that supplies blockchain businesses with the most relevant crypto audience. It is designed to simplify purchasing & selling online advertisements. Bitmedia has become much popular in the recent few years because of the quality they provide to its publishers and as well as advertisers.
It is a rapidly growing crypto ad network having 1B+ monthly impressions and 20M+ unique visits. Furthermore, 20k+ ad campaigns are being served until now. It is counted in one of those advertising networks that have the complete solution for both advertisers and publishers.
Following is the short overview of the Bitmedia Review that you need to know.
Bitmedia.io Details
Company Name:

Bitmedia

Founded In:

2015

Countries Allowed:

Worldwide

Statistics:

1B+ Impressions and 20M+ Unique visits monthly

Payment Models:

CPM & CPC

Payment Methods:

Usually pays in BTC.

Minimum Payout:

0.001 BTC

Affiliate Program:

Revenue shares up to 10%

Support Email:

[email protected]

Website:

https://bitmedia.io/
What makes Bitmedia.io stand out from other Crypto Ad Networks?
Bitmedia.io is considered as one of the best Crypto Ad Network that has been functioning since 2015. It is a great alternative to other Crypto Ad Networks such as Cointraffic, Coinzilla, etc.
The reason it stands out from all the crypto advertising networks is because of the targeted audience they provide to its advertisers. From the last few years, they have quite improved and maintained their quality which is why many advertisers and publishers are choosing Bitmedia.io over other ad networks.
Bitmedia is a leading Crypto Advertisement Network that rewards its advertisers and publishers with many premium features that others lack in providing such as High Performing Ad formats, Flexible Pricing Models, Customized targeting, High-Quality traffic and many more.
Bitmedia.io Ad Formats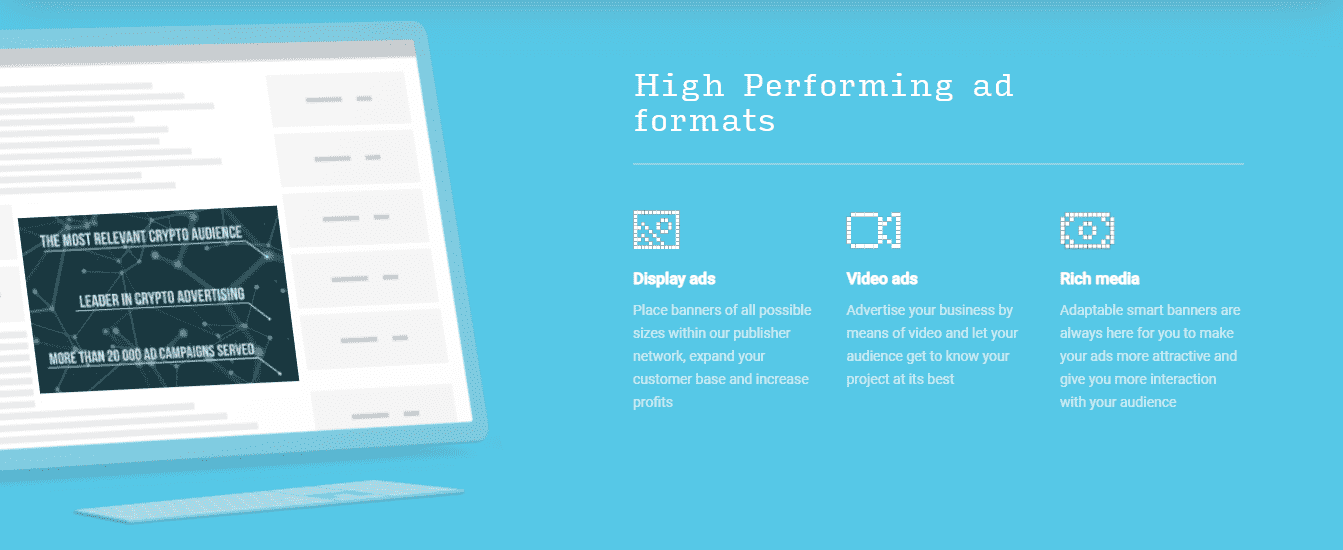 Bitmedia provides multiple ad formats to its advertisers and as well as publishers. These ad formats include display ads, video ads, and rich media ads.
Let's discuss each of them in a little detail.
Display ads
Display ads are basically a technique to acquire user attention on a website or social media platform. These ads are of type text-based, or image ads that urge the user to click on these ads. You can place banners of all possible sizes and can expand the customer base to earn more profits.
Video ads
As the name signifies, video ads are those ads in which you can advertise your business by displaying video. Video ads are one of the best ways to help your audience know more about your business in an easy and understandable form.
Rich media ads
While text ads sell with words and display ads sell with pictures, rich media ads are more than of that which includes some more advanced features such as video, audio, or some other components that encourage the audience to engage. Using Bitmedia, you can use adaptable smart banners to make your ads more appealing to the user.
Bitmedia.io for Advertisers
Bitmedia.io is probably the best platform for advertisers and as well as publishers that have the complete solution for both of them.
If you're looking to promote your business online especially using targeted crypto audiences, then Bitmedia would be the best choice you'll ever make as it is one of the best crypto ad networks with the most crypto-related audience.
With Bitmedia, you can advertise your business with no effort at all. Moreover, you'll be getting the value for the money you've invested on this platform.
To advertise on Bitmedia.io, the first step is to create an account on Bitmedia. After verifying it, you'll be able to start creating your campaigns for your business. Create a campaign according to your need by setting up the targeting option for your campaign. Once done, its time to create ads for your business. Bitmedia offers both text and graphical ad formats. Create ads and set a budget for them and activate them. That's all you need to do being an advertiser on Bitmedia.
Benefits for advertisers

Some of the highly known benefits for advertisers are as follows:
Targeted and Quality traffic
High CTR (Click Through Rate)
Convenient payments
Quick Launch of Campaigns
Performance reporting system
Effective ads at affordable rates
24/7 Support
Bitmedia.io for Publishers
Having a plan to monetize your blog? Already have monetized blogs but not earning the revenue you're expecting? Want a better ad network to earn a decent amount?
If yes, then Bitmedia is the only one you're looking for to earn some great revenue. With Bitemdia, you can maximize your earnings and can get instant payouts for your earnings.
To become a publisher on Bitmedia, you need to create an account and fill in the publisher form. The team will review your request and will approve your website if it complies with the Bitmedia policies.
Now, simply place the ad codes on your website by using different ad formats Bitmedia offers. It takes only a few seconds to create an ad block and placing an ad in it.
Benefits for Publishers

The following are some of the noticeable benefits Bitmedia provides to its publishers.
High-end publisher placements
Multiple ad formats
Quick Payments
Minimum payment thresholds for payout
Revenue models are CPC & CPM
24/7 Support
Bitmedia.io Payment Details
To deposit money into your Bitmedia for advertisement campaigns or if you want to withdraw money being a publisher, Bitmedia usually uses its default payment method which is BTC as it is a crypto ad network.
The minimum bid (CPC Campaign) for advertisers starts from 0.0000164 BTC and 0.0000185 BTC for (CPM Campaign).
For publishers, the minimum withdrawal amount is 0.001 BTC. Publishers are being paid on the basis of the revenue model they are using for their websites such as CPM or CPC.
Bitmedia.io Affiliate Program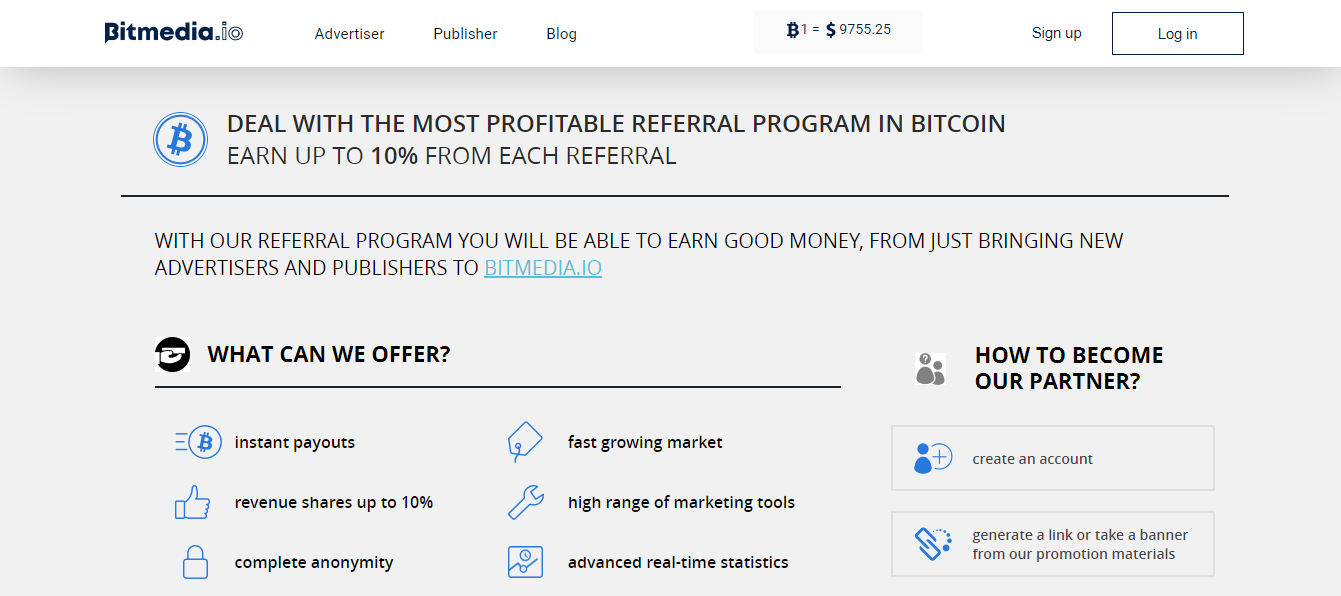 Bitmedia provides you an opportunity to earn even more from their affiliate program that lets you earn up to 10% from each referral.
You can earn decent revenue using their affiliate program with several benefits such as Instant payouts, fast-growing market, high range of marketing tools, advanced real-time statistics, complete anonymity, and most importantly revenue shares up to 10% which is a great thing to consider.
So, if you have planning to join Bitmedia.io, you must join their affiliate program too.
Do I Recommend Bitmedia.io?
The answer will be simply YES! But why? Well, it is the best choice for those people who want to target the crypto audience as it is a crypto ad network that has the complete solution for both advertisers and publishers. Moreover, the quality they have maintained has made it stand out from all other crypto ad networks.
So, if you've been looking for the best crypto ad network, then Bitmedia.io will be the best ever choice you'll make as it has been functioning since 2015.
Do you still have any doubts about choosing Bitmedia? Go check out Bitmedia.io review from other people who have experienced this ad network.
What are you waiting for now? Join Bitmedia now without wasting any time.
At Trendstorys.com, we aim to provide honest reviews to our users to help them choose the right ad network.
Any queries related to Bitmedia review or if you're already experienced with this network, give your review out of 5 stars or let me know in comments.