Coinzilla Review
Anti-Fraud System

High CPM & CPC

Quality & Targeted Traffic
Summary
Coinzilla, a Leading Finance & Crypto Ad Network that has gained popularity and a remarkable reputation because of its outstanding quality that it serves to its publishers and advertisers.
Pros
User-Friendly Design
Supports Multiple Ad formats
Referral System
Performance Tracking System
Full control over Campaigns
Many Tutorials are available to learn
Cons
Support speed should be improved.
Have you been looking for the Coinzilla Review? Right?
Of course, everyone checks for reviews before going for a network amongst the other crypto advertising networks.
In this article, we'll discuss what is Coinzilla and how it differentiates it from other crypto advertising networks.
Bitcoin, a cryptocurrency which is quite popular amongst other cryptocurrencies, is growing so rapidly and has made its reputation in the digital world. It is founded in 2008 by a group of people using the name Satoshi Nakamoto.
It is a digital currency usually known as Cryptocurrency, used globally for making online payments, sending or receiving money, etc. controlled by Blockchain technology.
For the last few years, Bitcoin became much popular and was at its peak. Hence, many ad network platforms started supporting payment methods through crypto and so as Coinzilla is one of them.
Before we dig into the Coinzilla Review, let's move on to what actually Coinzilla is and why people choose it over other Crypto Ad Networks.
What is Coinzilla?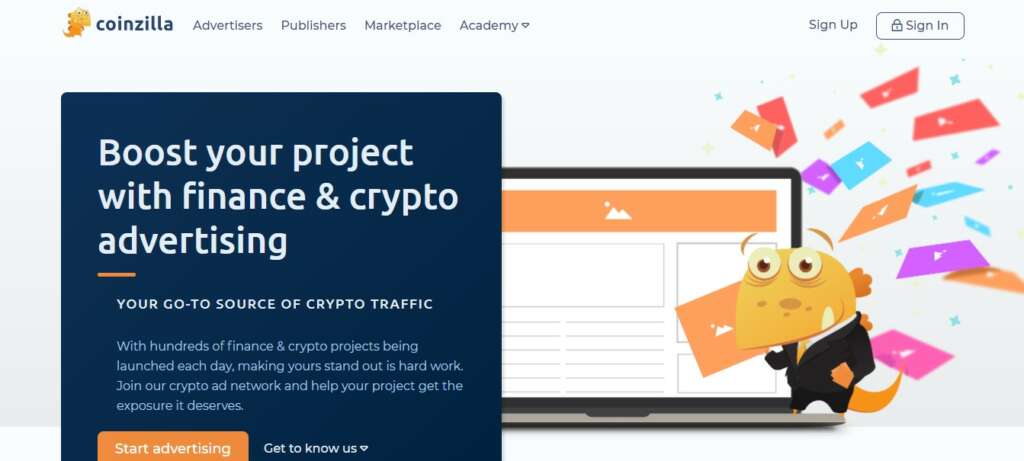 Coinzilla, a leading crypto ad network founded in November 2016, a part of Sevio advertising technology company. It works on CPC (Cost Per Click) and CPM (Cost Per Mile) revenue models. It is counted in one of the very few ad networks that pay its publishers in Bitcoins and is a complete solution for both publishers and advertisers.
The company is based in the USA, but the headquarter is located in Romania. Coinzilla is one of the fastest-growing crypto ad network having monthly 280M+ impressions, 300K clicks, and 450+ websites registered websites. Around 12k+ campaigns are being served to advertisers and 20k+ publishers monetized their websites using Coinzilla.
Let's dig into the core features of why people should choose Coinzilla over other crypto ad networks.
Why Choose Coinzilla?
Yes, it's a valid question of why choosing Coinzilla amongst other crypto ad networks. Well, as you've already known how much it has gained popularity and a remarkable reputation because of its outstanding quality that it serves to its publishers and advertisers.
Therefore, there shouldn't be any uncertainty of choosing Coinzilla as it the best crypto ad network that offers a complete solution to its publishers and as well as advertisers. Moreover, they offer multiple ad formats that responsive on both mobile and desktops. So, it's the best opportunity to monetize your website using Coinzilla.
It is a leading Crypto Ad Network that offers tons of supreme features to earn decent revenue such as different monetization options, full control over the campaigns, various ad format, etc. It differentiates itself from other crypto ad networks because of the premium features that it offers to its publishers and advertisers.
Below are the set of all the features Coinzilla offers:
Coinzilla Features
Coinzilla offers its publishers and as well as advertisers various features that other crypto ad networks lack to provide. Some of the highly known features are listed below:
Anti-Fraud System
Accepts traffic from all over the globe
Control over created campaigns
Various Ad formats
Helps in Increasing Revenue
Timely Payments
Low threshold Payouts
Referral system to help you generate more streams of revenue.
Performance Tracking System
24/7 Support to satisfy your queries
Coinzilla for Advertisers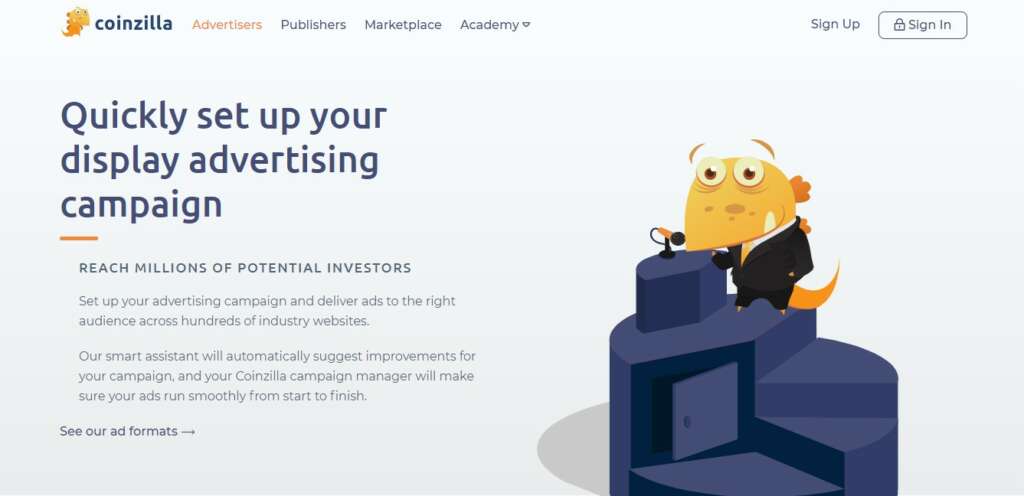 Advertising through Coinzilla is probably the best choice for advertisers who want to promote their businesses. Using Coinzilla, it would be quite helpful for advertisers to generate income streams by setting up advertising campaigns and delivering ads to the right audience for maximum engagement and conversions. The more are the conversions, the more revenue you'll earn as it delivers high-quality leads.
It consists of smart assistance that will help you improving and optimizing the campaigns you've created. This feature of Coinzilla has led many beginners to know about the campaigns and helped them in earning decent revenue. As a newbie, many create silly mistakes while creating campaigns, but Coinzilla never leaves you and provides the best possible way to tackle the things.
Being an advertiser, Coinzilla rewards with many features such as various ad formats, self-serve service to help them optimize the advertising campaigns they have created. Moreover, they also offer live support to their advertisers if anything goes wrong. Advertisers can also request the Coinzilla team of support agents to manage campaigns if an advertiser is having issues or not having enough time to manage the campaigns.
Benefits for Advertisers
Coinzilla has served more than 12,000 campaigns for more than 10,000 advertisers that use their services to promote their businesses online. Following are some of the benefits Coinzilla rewards to its advertisers.
Quality and targeted traffic for higher conversions.
Several Ad formats.
Performance Tracking System for tracking campaign progress.
Anti-fraud system to keep you safe and secure from fraudulent activities.
Fast Approval to created campaigns.
Campaign manager to run your campaigns smoothly.
CPM & CPC revenue models.
Budget Capping.
SEPA, SWIFT, BTC, ETH as payment methods.
24/7 Live Support.
And many more.
Coinzilla for Publishers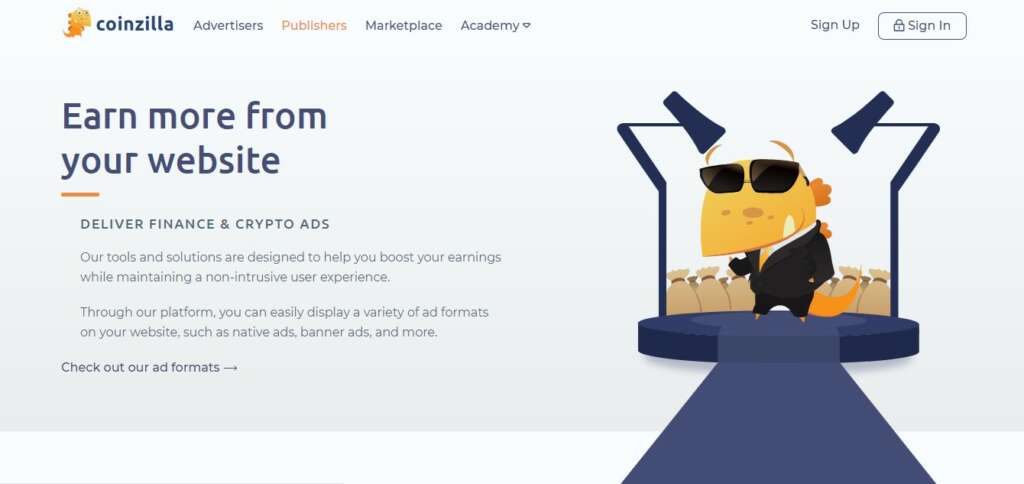 Coinzilla is the largest finance and cryptocurrency advertising network that offers a complete solution to both the advertisers and publishers. It is a leading crypto ad network through which you can easily monetize your websites by delivering targeted finance and crypto ads to generate massive income.
They deliver targeted crypto ads to their publishers to help them boost their earnings in the best possible way. You'll surely notice a significant change in your earnings after switching to Coinzilla. There are many other ways to earn even more from the website such as using Link shorteners, affiliate marketing, and advertisements.
Moving towards the ad formats that Coinzilla offers to their publishers, they offer many ad formats such as Classic banners, Native ads, Pop-Under, and header and sticky banners, etc. which we'll later discuss in detail.
Benefits for Publishers
Being a publisher, Coinzilla rewards you with many benefits that help in boosting your revenues. Some of the noticeable benefits that Coinzilla provides are listed below:
Welcomes traffic from all over the globe.
99% fill rate which means that you'll have 99% conversions from the traffic through its targeted ads.
Various Ad formats
Based on the CPM, CPC, and CPA models.
Multiple payout methods for withdrawing money such as Bank Transfer, Bitcoin, or Ethereum, etc.
Minimum payout threshold.
Timely payments without any fee.
Referral system to help you earn even more by simply referring people to join this network.
24/7 live support.
Coinzilla Marketplace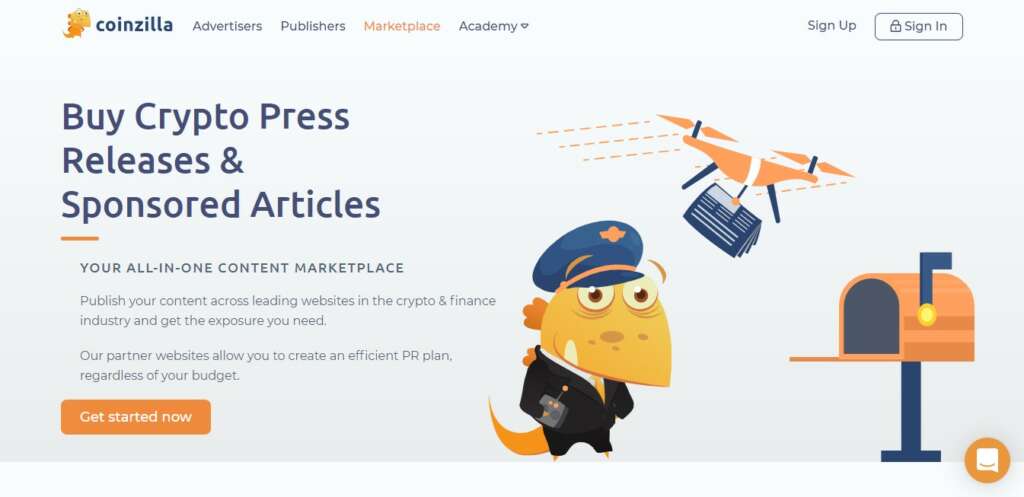 Coinzilla Marketplace is the best choice for those who want to publish their content across the leading websites in the crypto and finance niche. Publishing on these niches will help you get exposure in the digital world.
Coinzilla has many partner websites that allow you to create an efficient PR plans, without worrying about the budget you have which is another great feature of it that makes it stand amongst other Crypto ad networks. It is a complete solution, an all in one content marketplace for promoting your business online. It is extremely simple and easy to get started with, as they have professionals that will set up everything for you such as creating unique press releases according to your requirements, delivering them to the partner websites to promote your content. The beauty of this network is that the press releases you'll create will get published in the shortest time possible. A delivery report will be given to you by their team once the press release will get live.
But what if you create a press release and the partner website (publisher) rejects or not delivers your press release?
Well, there is no need to panic about losing your money as Coinzilla promises to refund the full amount if any such case happens.
They provide a large variety of categories to distribute press releases such as gambling, exchanges, esports, and many more.
Coinzilla Ad formats for Publishers
Coinzilla offers a bunch of different ad formats for publishers to monetize their websites. These ad formats include Classic Banners, Native Ads, Pop-Under Ads, Header Banner Ads, and Sticky Banner Ads.
Classic Banners
Classic Banners are one of the best ways to engage the audience and have a higher rate of conversions. Coinzilla offers classic banners that are responsive and highly visible on viewport. Classic Banners can be in various sizes such as 300×250, 728×90, 160×600, 320×100, and 300×600. The revenue model is based on CPM (Cost Per Mile).
Native Ads
Native Ads can be a great choice for publishers to display ads as they match the look and feel of the platform/website you have. Using Coinzilla, publishers can customize the ad format to the fullest using its public API. The revenue model is based on CPC (Cost Per Click).
Pop-Under Ads
As the name signifies, Pop-Under ads are the ones that pop up a window automatically behind the content of the user's active window that contains a landing page. These ads have great visibility and work best for single opt-in offers. Moreover, they work on all reputable browsers. The revenue model is based on CPM (Cost Per Mile).
Header Banner
Coinzilla offers a header banner ad that remains at the top of the page providing the best user experience with high ad visibility. They are well optimized for both mobile and desktops. If someone doesn't like the header ad, he/she can easily close the ad. The revenue model is based on CPM (Cost Per Mile).
Sticky Banner
Similar to the header banner that always sticks at the top of the page, sticky banner acts as the same but in the opposite direction. This means sticky banners sticks at the bottom of the page whenever a visitor scrolls through it. They are also easy to close if someone doesn't like the ad. Lastly, the revenue model is based on CPM (Cost Per Mile).
Requirements to Join Coinzilla for Publishers
It isn't super easy to join Coinzilla as they respect the rules and regulations and have some requirements that a publisher must abide by are listed below.
The website should be highly responsive filled with the quality and original content.
The website must be related to finance or cryptocurrency to join this network.
Free domain names such as .tk, .ml, etc. aren't allowed so be sure that you have paid domain such as .com, .net, .org, etc.
The domain age of the website should be at least 3 months.
The website must have a unique design to have higher chances of approval.
The Website shouldn't contain any inappropriate or hate-mongering content such as racial, political, ethnic, religious, gender-based, pornographic material, etc.
The Website should be created on free platforms such as Blogspot, Tumblr, etc.
The website should be virus-free. It shouldn't contain any malware or spamming activities.
Coinzilla Payment Details
Being a publisher to withdraw or an advertiser to deposit money, Coinzilla provides various payment methods to deposit or withdraw money. The payment details of this network are listed below:
Coinzilla pays its publishers depending upon the quality and traffic of their website.
Payments are made on a daily basis.
The Minimum withdrawal fee is €50 for publishers and €50 for advertisers for depositing.
Supported payment methods are SEPA, SWIFT, BTC, ETH & Bank Transfers.
Do I Recommend Coinzilla Ad Network?
Well, the answer would be clearly YES, as Coinzilla is the best crypto ad network that has made a great reputation in the digital world because of its quality and performance that it delivers to its publishers and as well as advertisers. If you've still any doubts, you can check Coinzilla review from other users of what they are saying about this amazing network.
If you've been searching for the best leading crypto ad network, then Coinzilla would be the perfect choice for you.
So, what are you waiting for? Stop wasting time and join this amazing network.
Note: Any Queries related to the Coinzilla or already experienced with this network, let me know your thoughts about this network.