Electric scooters have taken the world by storm, transforming the way we navigate busy city streets and embracing sustainable transportation options. These compact and zippy vehicles offer a convenient and eco-friendly way to zip around town without worrying about traffic, parking, or emissions.
But with so many options available on the market, choosing the right electric scooter can be a daunting task. That's where this review comes in – I'll be taking a deep dive into one of the most popular e-scooters out there, sharing my experience and insights to help you make an informed decision. So buckle up, and let's hit the pavement!
Many of you were waiting for Australia's most affordable and dependable e-scooter. So now the wait is over. Meet Dragon GTR V2, An electric scooter that is a prime example of this commitment to excellence. With a host of features that cater to a wide range of riders, from city commuters to outdoor enthusiasts, the Dragon GTR V2 is a standout in electric transportation.
Prepare yourself for an exhilarating journey as we delve into our review of the Dragon GTR V2.
Dragon GTR V2 Overview
So starting the Dragon Gtr v2 review with the most notable features of this powerful e-scoot. The Dragon GTR V2 is a high-performance electric scooter that offers an exhilarating riding experience. Powered by dual 1200W motors, it has a top speed of 50 mph and can travel up to 50 miles on a single charge.
It features an advanced suspension system with hydraulic shock absorbers and air-filled tires, providing a smooth ride on any terrain. The Dragon GTR V2 also has various safety features, such as LED lighting and a sturdy footrest. With its impressive speed and range, this electric scooter is ideal for commuting, leisure riding, and off-road adventures.
What's New?
Enhanced Performance: powered by dual 900w motors that deliver an impressive peak max of 2400 watts. This upgrade ensures a smoother and more powerful ride, allowing you to tackle even the steepest hills effortlessly.
Upgraded Suspension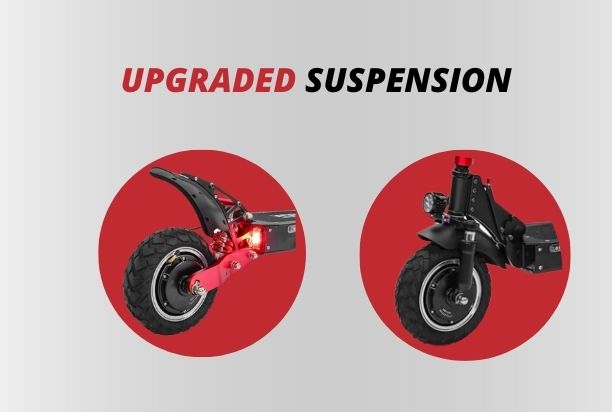 Modern front air-fluid shock suspensions and more considerable rear suspension shock provide you with the most comfortable ride possible.
Improved Handlebars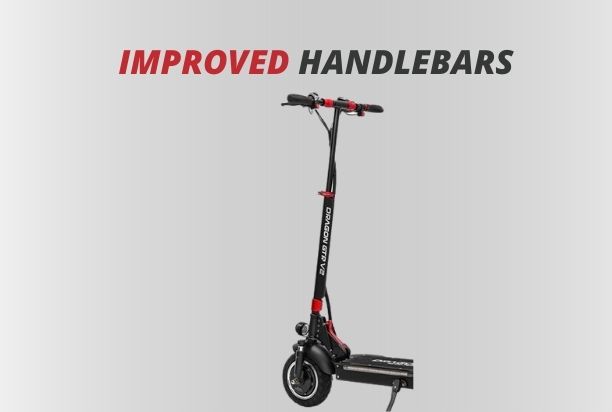 The latest design and model features twist screw-on foldable handlebars that help minimise vibrations and make steering more stable, allowing you to maintain control and ride easily.
Better Lighting
For added safety and style, the Dragon company has included white LED lighting under the deck, providing enhanced visibility during low-light conditions.
Sturdy Footrest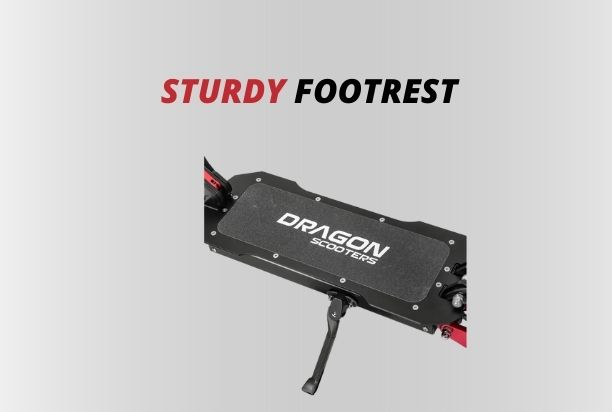 A sturdy rear footrest gives you a comfortable and secure spot to rest your foot when not in motion.
Power & Performance
I don't doubt the power and Performance of this beast. Let me tell you a review by a buyer. "Mate, I love mine, I'm 112 kg, and I got 41ks an hour on one hub, then I backed off; I've yet to go both hubs full power, she's a beauty."
There are 100s of other happy buyers who love their new ride. The Electric Scooter Dragon GTR V2 stands out from the crowd with its exceptional power and Performance. It's dual motor staggering 1800w and a peak output of 2400w make this electric scooter a true powerhouse.
The massive 10-inch off-road wheels, front and rear disc brakes, and a sizeable anti-slip platform ensure that you always have complete control over the scooter.
Top Speed of Dragon GTR V2
Well, according to our hands-on review and from the recent buyers, we believe this machine can go up to 45km/h, and it also depends upon the rider's weight. It's a decent speed we can expect from these dual motors.
However, while testing this electric scooter on hills or steep roads, we got a top speed of 24 km/h. Which is far better in the price segment it is being sold.
Range of Dragon GTR V2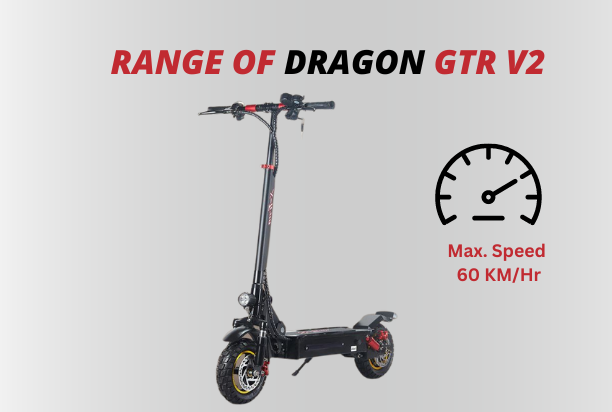 The Dragon GTR V2 boasts an impressive range that will leave you amazed. You can ride for a staggering 60-70 km with a single charge, even on steep hills. But that's not all; if you need speed, you can switch to Gear 3 and use the dual motor to propel you as fast as possible.
However, the battery might drain faster if you're conquering some challenging hills. But don't worry, even with only 30% battery left; the Dragon GTR V2 can still take you on an adventure covering a respectable distance of 40-50 km. You can make your E-bike go faster by maintaining your E-bike well
So, you can explore to your heart's content without worrying about running out of battery.
Dragon GTR V2 Problems
We provide guides and reviews that are based on authentic information and experience. Dragon GTR V2 Electric Scooter is an efficient, eco-friendly, and stylish transportation option. While it certainly has its benefits, some concerns need to be addressed.
The scooter may not provide a smooth ride on rough terrain, causing discomfort for the rider and making it harder to handle. Secondly, the brakes may not respond quickly, which could lead to unsafe situations. To avoid this, we suggest upgrading the brakes.
Despite these issues, we acknowledge that the Dragon GTR V2 Electric Scooter offers numerous benefits to potential buyers. However, we recommend that consumers consider these drawbacks before purchasing.
Final Thoughts
The Dragon GTR V2 Electric Scooter is a practical and eco-friendly mode of transportation. While it has numerous benefits, some concerns need to be addressed. The scooter's weight may be challenging for users who need to carry it upstairs, and it may not provide a smooth ride on rough terrain, causing discomfort for the rider.
Additionally, the brakes may not respond quickly, leading to unsafe situations. However, the scooter's aviation-grade alloy construction and high-quality components ensure its durability, making it a reliable choice for urban and rural settings.
Overall, the Dragon GTR V2 is a decent electric scooter option, but buyers should consider these drawbacks before making a purchase decision.