Optimization Features

Value for Money

Customer Support
Summary
SpyZooka has been the best PC optimizer since 2004 that gets rid of junk causing your PC to run slow. It removes all the junk files, unwanted programs, tracking cookies, spyware, and more.
Pros
User-Friendly Interface
Premium Features included in Free plan
Best Optimization Services
Offers Web Protection
Monthly Updates

Daily American Based Email and Chat Support
Cons
SpyZooka Pro could offer a few more features like a deleted file recovery, driver updater etc.

No phone support
Are you frustrated by a sluggish computer?
Do you wish to eliminate unnecessary programs slowing down your PC?
Desire to restore your PC's speed, like when it was fresh out of the box?
If so, you've arrived at the perfect spot. Today, we'll be conducting an in-depth analysis of SpyZooka, a software that purges your computer of unwanted files, resolves registry issues, eliminates tracking cookies, removes spyware, and uninstalls undesired applications to enhance and safeguard your system!
Continue reading to discover our assessment of SpyZooka and learn how to identify potential scams lurking within this sector.
Contrary to numerous review websites that profit from online advertising, we don't receive any commission for endorsing this product, as I personally believe it to be the finest PC cleaning software available.
SpyZooka Review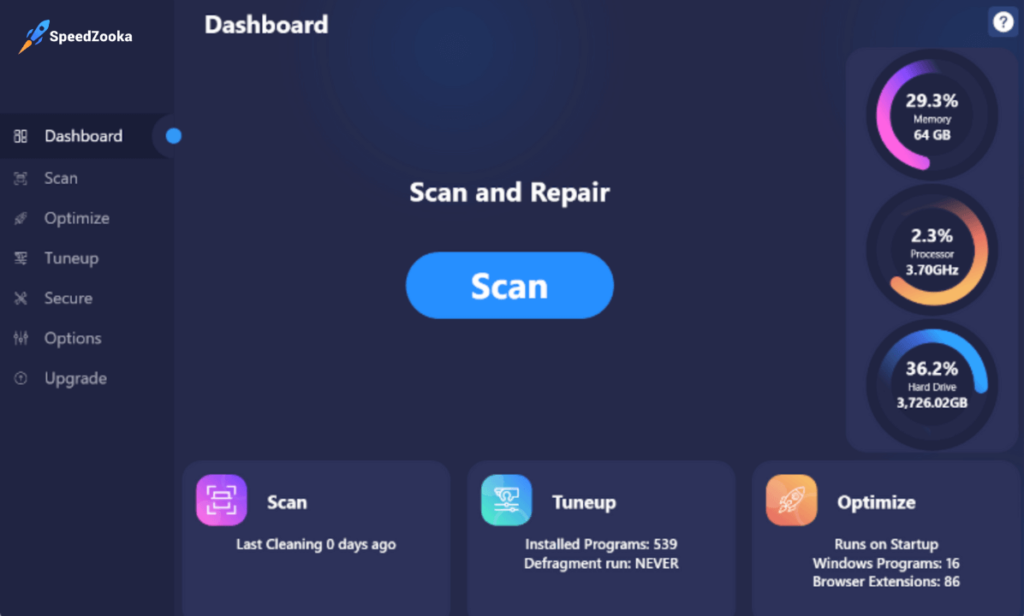 Formerly known as Zookaware, SpyZooka is a highly-regarded PC optimization tool that eliminates clutter, which causes your computer to lag. This top-rated PC cleaner accelerates your system by clearing out junk files, unnecessary programs, tracking cookies, spyware, and more.
SpyZooka offers comprehensive privacy protection, prevents pop-up ads from adware, resolves browser issues, and enhances your computer's performance by freeing up disk space and removing undesired programs.
Since its inception in 2004, SpyZooka has been assisting users globally in optimizing and securing their PCs. Founded by Carl Haugen, the company has consistently been headquartered in the United States.
Industry-Specific Scams to Keep an Eye On
Before selecting any software in this field, we recommend familiarizing yourself with the prevalent issues, challenges, and potential scams to make an informed decision.
Often, 5-10 or more antivirus companies flag programs in this industry due to aggressive remote support sales, misleading pop-ups, bundled software, or other dishonest practices. Some of these software companies evade consequences due to their locations in India, China, or tax haven countries with minimal consumer protection laws.
Numerous companies in this sector use their software primarily as a means to sell remote support. When you call their support number, you actually reach a third-party call center whose sole purpose is to sell you remote support packages, usually priced between $199-299. The person answering the phone will have no knowledge of the software product or support capabilities; they are merely remote support salespeople.
While Advanced SystemCare from Iobit is quite popular and boasts an attractive interface, it has the usual complaints about third-party remote support referrals. We believe that directing support calls to a third-party company focused solely on selling remote support is a deceptive approach. Instead, companies should develop software that addresses user issues and provide actual support rather than sales pitches when users have questions.
Other well-known products, like Reimage, are flagged by Windows Defender for their misleading pop-ups. According to Crunchbase, Reimage is owned by Kape Technologies, a company with a questionable history of installing browser hijackers. Kape Technologies' founder, Teddy Sagi, is an Israeli billionaire ex-convict who worked for Israel's equivalent of the NSA for three years and, as reported by Forbes, maintained close ties to the spy organization while distributing malware.
Some programs in this industry are detected by multiple antivirus companies for bundling additional software within their own. Certain software is designed merely to display ads on your computer, encouraging you to download and purchase other products.
Perhaps the most downloaded software in this sector is CCleaner. Since its acquisition by Avast, the company has faced criticism for collecting user data without consent. CCleaner bundles Avast antivirus with its download, and most concerning, the free version of Avast antivirus records users' browsing history and sells it to third parties. Recently, Microsoft Defender started flagging CCleaner due to these issues.
Another popular option is Glary Utilities. However, given their base in China and recent concerns about the Chinese Communist Party's access to China-based tech companies and their data, we do not recommend using any software from a Chinese company at this time.
SpyZooka's Dedication to Your Privacy and Security
We admire SpyZooka commitment to safeguarding your privacy. They do not monitor any of your activities on your computer or within the software.
SpyZooka has an untarnished reputation and is whitelisted by the majority of antivirus companies worldwide. Whitelisting is the most stringent process a software must undergo to satisfy all the safety requirements that antivirus companies demand to protect their users. This goes far beyond simply not detecting the software; whitelisting indicates that these companies not only do not flag SpyZooka, but also consider it entirely safe for their users.
Why is SpyZooka Worth It?
We appreciate that SpyZooka does not sell remote support, bundle other software with theirs, display ads, harbor viruses, or outsource their support. When you contact them, you are reaching a SpyZooka employee who is not earning a commission to sell you something else.
SpyZooka offers software updates every 2-4 weeks, including enhancements, new features, and updates, in addition to daily spyware updates.
Their approach to addressing software bugs is commendable. If you discover a bug in their software, report it to SpyZooka's support team, and they will extend your subscription by twice the amount of time it takes them to resolve the issue. With a policy like this, it's no surprise that SpyZooka is thoroughly tested and operates seamlessly on our computers!
SpyZooka Features We Adore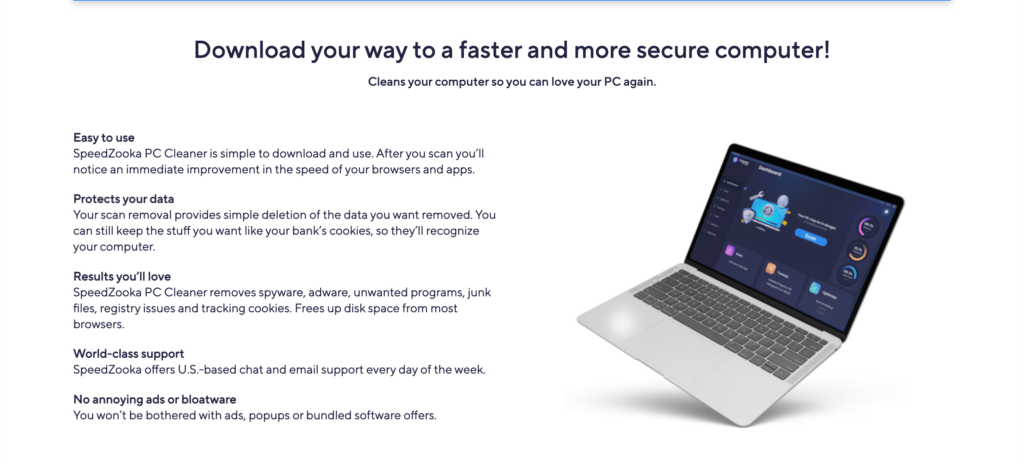 SpyZooka is a comprehensive and user-friendly software designed to optimize and secure your computer. With an array of impressive features, SpyZooka stands out as a reliable solution for enhancing your PC's performance and safeguarding your privacy. The key features of SpyZooka PC Cleaner include:
Advanced Uninstaller: SpyZooka's uninstaller outperforms the standard Windows uninstaller, providing batch uninstalling, enhanced sorting and viewing options, and thorough removal of program files and registry entries.
Real-time Uninstaller Monitor: This feature actively monitors uninstalled programs and notifies you when leftover files are not removed, keeping your computer clutter-free.
Service Monitor: SpyZooka alerts you in real-time when a program adds a new service to your computer, which could be used for displaying ads or unwanted popups. You can easily allow or remove these services.
Registry Tuneup: This feature defragments your computer's registry, optimizing and compacting it for peak performance.
Spyware Removal: SpyZooka eliminates spyware, ensuring your computer remains safe from potential threats.
Unwanted Program Removal: The software uninstalls unwanted programs to enhance your computer's performance.
Tracking Cookie Removal: SpyZooka clears tracking cookies from your system, protecting your privacy.
Registry Error Repair: The software fixes registry errors, guaranteeing smooth system operation.
Disk Space Cleanup: SpyZooka frees up disk space by removing junk files from Windows, third-party programs, customizable files and folders, and internet browsers.
Browser Optimization: SpyZooka optimizes popular browsers, such as Chrome, Edge, Firefox, Internet Explorer, and Opera.
File Shredding: SpyZooka offers a 3, 7, or 35 overwrite option to securely shred junk files discovered during scans.
These are just a few of the many features offered by SpyZooka to optimize and secure your computer.
SpyZooka's uninstaller surpasses the standard Windows uninstaller in functionality. It provides batch uninstalling for thorough system cleanups and offers excellent sorting and viewing options. It can completely remove a program, its registry entries, and not just the files the program is set to uninstall by default.
Many times, when a program is uninstalled, it leaves numerous files on your computer, resulting in clutter. SpyZooka's real-time Uninstaller Monitor observes programs being uninstalled and alerts you when there are leftover files not removed by the program's uninstaller. Uninstaller Monitor displays an alert in SpyZooka and can be set to manual or automatic modes in SpyZooka Pro.
A service monitor is an excellent tool for being notified when a program adds a new service to your computer. These services are sometimes used to display ads or other unwanted pop-ups. SpyZooka PC Cleaner alerts you in real-time, allowing you to easily accept or remove them before they start showing ads!
Unlike many other software options that offer limited features requiring purchase for full access, SpyZooka stands out with a free version that includes over 20 free features.
SpyZooka (Free) Vs. SpyZooka Pro (Paid)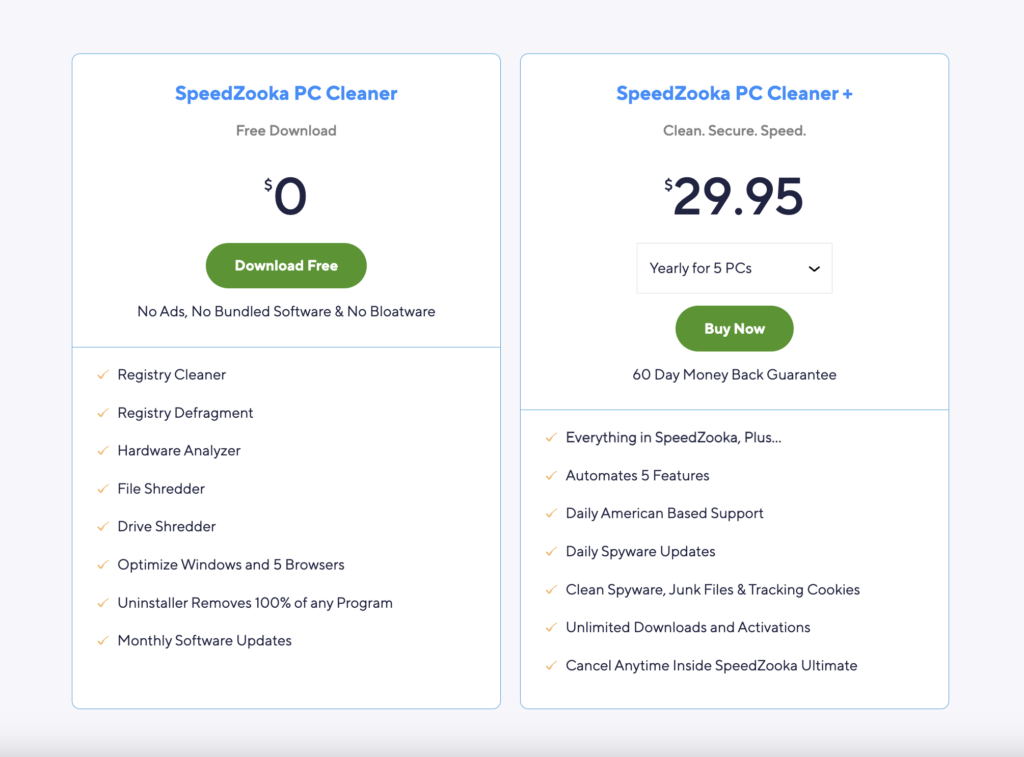 That's right! SpyZooka offers two plans: SpyZooka and SpyZooka Pro.
SpyZooka (Free)
The PC Cleaner version is free forever and includes over 20 free features to secure and optimize your computer! Monthly software updates are included in free version of SpyZooka. The best part is that there's no bundled software, no pressure to download other programs, no sales pitches, no spying, and no annoying ads.
SpyZooka Pro (Paid)
SpyZooka Pro is a yearly subscription suitable for up to an impressive 5 computers. You can remove a computer, add a new one, or transfer your subscription at any time for free! It adds automation for all of SpyZooka's excellent features, spyware scanning, full scan removal, daily spyware updates, and daily US-based support. At $29.95 for up to 5 computers, it's a fantastic deal, particularly considering the monthly updates and continuous addition of new features.
While most competitors offer a single computer subscription and a few provide a 3-computer option, SpyZooka is the only one in the industry that offers a standard subscription allowing you to use SpyZooka Pro on up to 5 computers at the same low price, or sometimes lower, than their competitors offer for one computer.
Daily US-Based Support
Exceptional support is hard to come by these days, and that's where SpyZooka truly excels! With daily US-based support and excellent follow-up, typical response times are under 30 minutes during business hours, making SpyZooka the top choice in the industry for support. Included with SpyZooka Pro is US-based daily support through live chat and email. SpyZooka guarantees a response to all emails outside normal business hours in less than 24 hours.
SpyZooka is Simple to Use
When you download SpyZooka, the first thing you'll notice is its clean and user-friendly interface. Whether you're a novice or a seasoned pro, you'll likely understand everything in seconds.
Simply hit the scan button, and SpyZooka will handle the rest. It removes spyware, unwanted programs, tracking cookies, and registry errors. Additionally, it frees up disk space from Windows, over 30 third-party programs, any customizable file or folder, and internet browsers such as Chrome, Edge, Firefox, Internet Explorer, and Opera. They even offer a 3, 7, or 35 overwrite option to shred all the junk files found during the scan!
SpyZooka Pro Pricing & Details
SpyZooka Pro is priced at $29.95 per year, covering up to 5 computers! SpyZooka offers a 60-day, no-questions-asked money-back guarantee. If you're not 100% satisfied, simply let them know, and SpyZooka will refund your entire purchase amount in less than 24 hours.
SpyZooka Pro provides numerous payment options, including all major credit/debit cards, PayPal, all major currencies, and localized country-specific payment methods.
Do I Recommend SpyZooka?
The answer is a resounding YES! But why? SpyZooka Pro boasts competitive pricing at $29.95/year for up to 5 computers, excellent features, outstanding support, and a well-designed program for securing and optimizing your computer.
In light of my experience, I wholeheartedly recommend SpyZooka to anyone looking to optimize their PCs.
Still have doubts about choosing SpyZooka? They have over 450,000 Facebook fans, an A+ rating from the Better Business Bureau, great user reviews online, have been in business since 2004, and have received independent reviews from software review sites.
At Trendstorys.com, our goal is to provide honest reviews for our users, helping them choose the right product.
Leave a comment below about this SpyZooka review or, if you're already a SpyZooka fan, share your own review out of 5 stars below!