Summary
SpyZooka is a powerful spyware removal tool designed to safeguard your PC. It meticulously cleans your system, eradicating digital debris that causes sluggish performance such as spyware, tracking cookies, unwanted programs, and unnecessary files. This not only optimizes your PC for peak performance but also provides a robust shield against privacy intrusions and potential cyber threats.
Optimization Features

Value for Money

Customer Support
Pros
User-Friendly Interface
Premium Features included in Free plan
Best Optimization Services
Offers Web Protection
Spyware Remover
Monthly Updates

Daily American Based Email and Chat Support
Cons
SpyZooka Pro could offer a few more features like a deleted file recovery, driver updater etc.

No phone support
Are you frustrated by the slow pc performance?
Do you wish to eliminate unnecessary programs slowing down your PC?
Want to restore your computer speed and protect it from spywares?
I've put together what I feel is the most comprehensive SpyZooka review you'll find online so grab a drink, sit back and get ready to see why this is my favorite PC Cleaner, PC Optimizer and Antispyware software available. Plus some exciting details about SpyZooka's goal to end malware.
User Friendly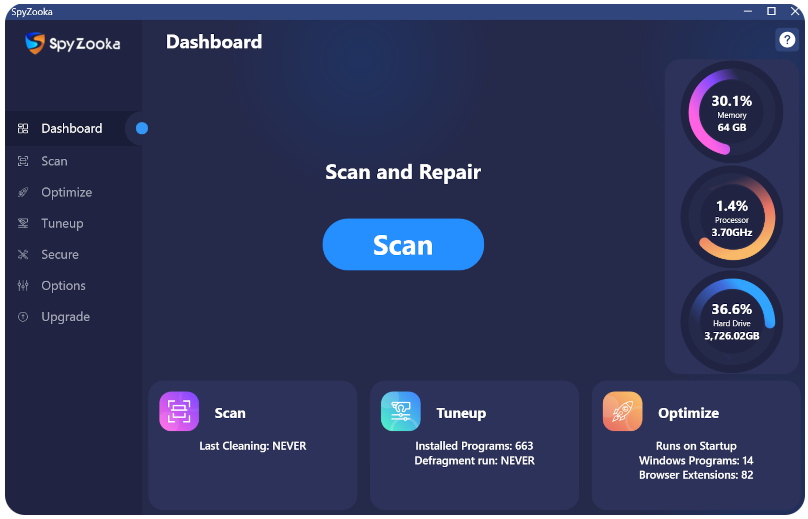 The first thing you'll notice after downloading SpyZooka is its user friendly interface. Whether you're a tech newbie or a seasoned pro, you'll find it a breeze to navigate.
One thing I love that sets SpyZooka apart from some other programs like Ccleaner is that it only removes unwanted tracking cookies and never removes cookies you want, like the cookies that keep you logged into your favorite forum or keep your PC recognized by your bank so you don't have to get those annoying email or text notifications to verify your device before signing in. SpyZooka doesn't make using your computer harder, they've taken a lot of time to make sure everything they do makes your PC experience better.
SpyZooka is Trusted
The best part? SpyZooka is a trusted name in the industry. Since its launch in 2004, it has been helping users worldwide optimize and secure their PCs. With its solid track record, you can have peace of mind knowing that SpyZooka is a reliable and effective choice.
SpyZooka was renamed in 2011 as the company became more focused on PC optimization. In 2023 the name was changed back to SpyZooka as Carl Haugen, the founder, told me "Our goal is to end malware with AI and SpyZooka is a more fitting name for our exciting new features coming out this year." SpyZooka is still the same company with the same two founders as it was back in 2004.

Unlike some other players in the market, SpyZooka doesn't engage in deceptive practices or compromise your privacy. SpyZooka doesn't sell remote support, bundle unwanted software, spy on your activities, or bombard you with annoying ads.
What to Avoid
If you're considering software in the PC cleaning and optimization field, it's crucial to be aware of the prevalent issues, challenges, and potential scams lurking within this industry. As a tech reviewer who values your trust, I want to equip you with the knowledge needed to make an informed decision.
It's not uncommon for antivirus companies to flag certain programs in the PC Cleaner industry. Some companies engage in aggressive remote support sales, misleading pop ups, or bundle software that you don't need. Unfortunately, some of these companies operate in countries with minimal consumer protection laws, making it harder to hold them accountable.
Why You Should Stay Away From All PC Cleaner Downloads with a Phone Number
One common tactic used by numerous companies in this sector is to use their software as a means to sell remote support. When you call their "support" phone number, you're directed to a third party call center whose sole purpose is to sell you remote support packages in the range of $299-399 per year. The person on the other end of the line often has no knowledge of the software or its support capabilities; they are simply remote support sales people earning a commission on every sale they make.
It's important to note that any website offering a PC cleaner product with a phone number is selling remote support. No company in this industry provides phone support.
An example of this is Iolo's website that sells System Mechanic. You'll notice the disclaimer "Special offers when you call." This is an example of a company selling a questionable remote support package. They typically get you on the phone and go through your Windows Event Viewer which shows all the errors that happen on your PC. These errors are totally normal for every PC, but the salesman typically makes this into a big problem like your PC is going to stop working and they pressure you into buying their expensive and often unneeded remote support.

Google and other companies have banned remote support services from being advertised on their websites due to the amount of fraud. Numerous remote support companies and companies shut down or fined by the FTC  in this industry. Here's the FTC guide on remote support scams.
Reimage Plus
Another well known product, Reimage Plus, has been flagged by Windows Defender for its misleading pop ups. Crunchbase reports that Reimage is owned by Kape Technologies, a company with a questionable history of installing browser hijackers. The founder of Kape Technologies, Teddy Sagi, has a controversial background and worked for an Israeli spy agency while distributing malware, according to Forbes.
Some programs in this industry are detected by multiple antivirus companies for bundling additional software. These bundled software packages are often designed to display ads on your computer, enticing you to download and purchase other products.
Why I Don't Recommend Ccleaner?
Ccleaner used to be a go to choice for many users, but since its acquisition by Avast, the company has faced criticism for collecting and selling user data without consent. The free version of Avast antivirus, which is bundled with CCleaner, records users' browsing history and for 7 years they sold it to third parties like Google, Home Depot and other large companies. It was only stopped when a US Senator confronted Avast about it. In 2020, Microsoft Security started flagging CCleaner due to these privacy concerns. 
In 2023 Windows Security still blocks Ccleaner from performing some actions it attempts on my PC.
Why SpyZooka is Safe?
One aspect that sets SpyZooka apart is its unwavering commitment to safeguarding your privacy. Unlike some other software in this field, it's based in the USA where consumer protection laws are strong and SpyZooka does not monitor any of your activities on your computer or within the software. Your data remains confidential and in your control. SpyZooka has assured me that they never sell your data to anyone.
Antivirus Companies Trust SpyZooka
In terms of reputation, SpyZooka stands tall. It has earned a spot on the whitelist of the majority of antivirus companies worldwide. Being whitelisted is not an easy feat—it requires manual testing by each independent company and meeting the strictest safety requirements set by antivirus companies to protect their users. This means that SpyZooka is recognized as entirely safe for users by the largest security companies in the world, including Microsoft. You can trust that SpyZooka has undergone rigorous scrutiny and passed with flying colors.
Ethical
One aspect I truly appreciate about SpyZooka is its ethical approach to business. They don't sell remote support or bundle unnecessary software with their product. You won't encounter annoying ads or hidden viruses either. When you reach out to SpyZooka for support, you'll be in direct contact with their knowledgeable team, not someone earning a commission to sell you something else. It's refreshing to find a company that puts the customer's needs first.
Software and Spyware Updates
SpyZooka takes your user experience seriously, regularly providing software updates to enhance their product. You can expect software updates at least once a month, incorporating new features, enhancements, and thousands of daily spyware updates. This ensures that your system stays protected against the latest threats.
Bug Report Guarantee
SpyZooka has a unique bug report guarantee. If you happen to discover a bug in their software, simply report it to their support team. They will not only resolve the issue promptly but also extend your subscription by twice the amount of time it takes them to fix the bug. This commitment to resolving bugs swiftly demonstrates their dedication to providing a reliable user experience.
The End of Malware
Carl Haugen, Founder and CEO, told me "Our goal is to end malware." That's a big goal and Carl admits they are a long way off from that. I admire their goal and commitment to getting closer to that every day.
Now, we all know that the ever evolving world of malware can be a tough nut to crack. No single antivirus or security tool can promise complete protection against all threats. However, SpyZooka takes a unique and comprehensive approach to tackle this challenge head on.
What sets SpyZooka apart is its commitment to staying one step ahead of the game. Every day, they add thousands of new malware to their malware database, ensuring that they stay on top of the latest threats out there. SpyZooka goes further than any other company with its groundbreaking feature called System Report.
System Report displays everything that's on your PC, with the exception of vital system files so you don't remove anything that will disable your PC from running.
Coming soon in summer of 2023, System Report is adding proprietary AI analysis of malware. SpyZooka's System Report evaluates every program on your computer and assigns it a rating from 1 to 100. This innovative approach allows SpyZooka to identify even unknown threats, such as malware, spyware, adware, toolbars, and other unwanted programs that may have slipped through the cracks of traditional malware databases.
Now, here's the best part, removing malware with SpyZooka's System Report is a breeze. With just a simple click of a button, you can bid farewell to any malware infection. SpyZooka ensures that the program is successfully removed, and in rare cases where the infection persists while Windows is running, System Report will prompt you to restart your computer and eliminate the infection before Windows starts. It's as easy as that!
When you remove a program through System Report, SpyZooka automatically sends it for analysis and potential inclusion in the malware database. This helps ensure SpyZooka's malware database is the most complete and up to date database in the industry. All users benefit from these continuous updates. The more users download SpyZooka, the better their database and AI tools become.
Carl Haugen explained to me that to help out their mission to end malware simply download SpyZooka and you'll win by getting an alert any time there is a suspected, but unknown malware on your PC and SpyZooka wins from getting the malware and improving their AI algorithms.
Plus System Report is absolutely free for life!
100% Spyware Removal Guarantee
Now, if you're ready to take things up a notch, you can upgrade to SpyZooka Pro and unlock an additional advantage. With Pro, you can send your System Report, including possible malware files, directly to SpyZooka's team. They analyze these files and update their malware database within a speedy 24 hours, effectively eliminating the specific infection on your computer. And here's the cherry on top—within the first 60 days after your purchase, if SpyZooka fails to remove your malware issue within 24 hours, they not only provide a refund but also generously offer you a free one year subscription to SpyZooka Pro.
SpyZooka's commitment to constant innovation is truly commendable. They're always striving to keep your computer protected against evolving malware threats like no other company out there.
Features I Love
Let's delve into the key features that make SpyZooka PC Cleaner a must have:
The Best Uninstaller
First up, we have the Uninstaller. Say goodbye to the standard Windows uninstaller because SpyZooka takes it up a notch. With batch uninstalling, enhanced sorting and viewing options, and the ability to completely remove leftover program files and registry entries, SpyZooka's Uninstaller outperforms the competition. It even handles those situations when a program's uninstaller becomes corrupted or broken, leaving you unable to uninstall it. SpyZooka's Uninstaller steps in and forcibly removes these programs, eliminating all remnants left behind.
Another standout feature is the Real time Uninstaller Monitor. When you uninstall a program, it often leaves behind residual files and registry keys that can clutter your PC and potentially compromise your privacy. SpyZooka's Uninstaller Monitor ensures that every time you uninstall a program, it meticulously detects and removes all these leftover files and registry keys. You can choose between automatic removal or receiving alerts about these files, empowering you to take control and remove them with a simple click.
Service Monitor
Now, let's talk about the Service Monitor. SpyZooka has your back by alerting you in real time when a program adds a new service to your computer. These services could be responsible for displaying ads or unwanted pop ups, and SpyZooka allows you to easily allow or remove them. This is particularly helpful because Windows doesn't provide a built in way to disable services.
Registry Tuneup
SpyZooka also offers a handy Registry Tuneup feature. It defragments your computer's registry, optimizing and compacting it for peak performance. By keeping your registry in top shape, SpyZooka ensures that your system runs smoothly and efficiently.
Browser Optimizer
Do you use Chrome, Firefox, Edge, Opera, Brave or Internet Explorer? If so, you'll love SpyZooka's Browser Optimization feature. It optimizes popular browsers ensuring they run at their best and provide you with a seamless browsing experience.
Startup Optimizer
We can't forget the Startup Optimizer. SpyZooka's Optimizer displays all the programs set to run on Windows startup and enables you to disable them with a single click. This made my PC startup time 30% faster when I tested it.
File Shredder
Concerned about sensitive files falling into the wrong hands? SpyZooka has you covered with its File Shredding feature. It offers various options, including 3, 7, or 35 overwrites, to securely shred files or folders you search for on your PC. Plus, it provides a right-click file shredder for your convenience.
A 3 overwrite shred meets the US Department of Defense standards for making a file unrecoverable. What this means is SpyZooka is overwriting your original data file 3 times.
7 and 35 overwrites will take much more time and are probably never needed by anyone.
You can also set SpyZooka to automatically shred all junk files detected in the scan ensuring they are 100% unrecoverable.
These features only scratch the surface of what SpyZooka has to offer in terms of optimizing and securing your computer. Unlike many other software options that limit your access unless you make a purchase, SpyZooka stands out by providing a free version with 25 free features.
25 Free SpyZooka Features
SpyZooka's free version is completely free, forever, and it offers 25 fantastic features to safeguard and optimize your computer. One of the best things about the free version is that it includes automatic monthly software updates, ensuring that you're always up to date with the latest enhancements. But here's the real kicker: there are no strings attached. No bundled software, no pressure to download additional programs, no sales pitches, no spying, and definitely no annoying ads. It's a breath of fresh air in the world of free software.
The reason they do this is simply so you download their software and SpyZooka can improve their AI malware algorithm. Any time SpyZooka flags what it thinks is malware, but isn't 100% certain you'll get an alert (which you can also turn off with a click of a button) and if you remove the potential malware its anonymously sent to SpyZooka for analysis.
The more people download SpyZooka the better the machine learning algorithm becomes.
SpyZooka Pro
Now, let's talk about SpyZooka Pro, the paid version. With a low yearly subscription fee and discounts for multiple computers, SpyZooka Pro takes things to the next level. First off, it adds automation to all the excellent features offered by SpyZooka. This means you can sit back and let the software do its magic, from scanning and full scan removal to daily spyware updates. It's a set it and forget it approach that ensures your PC remains protected at all times. And if you ever need assistance, SpyZooka Pro has got you covered with their daily US based support. I've personally experienced their exceptional support firsthand, and I can tell you that their team is responsive, knowledgeable, and genuinely helpful. They provide support through live chat and email, and you can expect a response within the same day. They even guarantee a response to all emails in less than 24 hours.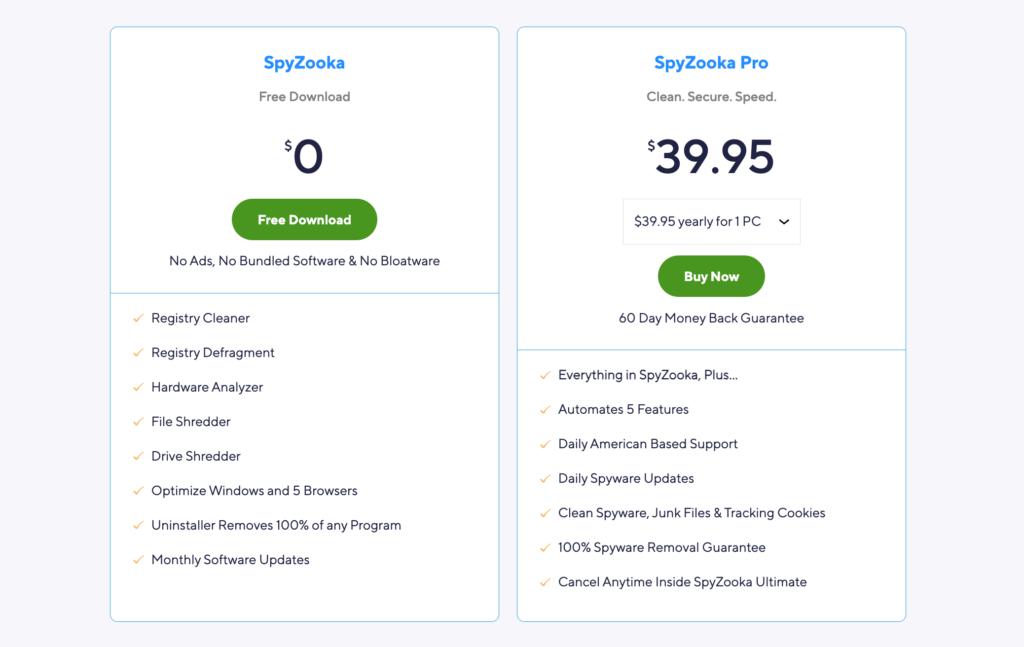 If for any reason within 60 days of purchasing SpyZooka you're not 100% satisfied, just let them know, and they will refund your entire purchase. They also provide multiple payment options, including all major credit/debit cards, PayPal, various major currencies, and localized country specific payment methods. It's all about convenience and flexibility with SpyZooka.
Do I Recommend SpyZooka?
Based on my personal experience, I wholeheartedly recommend SpyZooka to anyone looking to secure and optimize their PC. Whether you go for the free version or decide to upgrade to SpyZooka Pro, you can trust that you're getting a reliable and effective solution that will keep your computer running smoothly and protect your privacy. Give it a try, and I'm confident you'll be as impressed as I am.
At Trendstorys.com, our goal is to provide honest reviews for our users, helping them choose the right product.
Leave a comment below about this SpyZooka review or, if you're already a SpyZooka fan, share your own review out of 5 stars below!