AdMaven Review
Summary
AdMaven is a legit and the most innovative digital display advertising network having several premium ad formats with over 12B+ daily impressions.
High Performing Ads

Value for Money

Dedicated Support
Pros
High-Quality Traffic from all over the world
Multiple Advertising formats
Timely Payments
High CPM Rates for Publishers
Dedicated Support
Cons
Need to improve User Interface for better UX.
Due to huge requests, sometimes support seems to be slow.
Are you worried about your business advertisement or monetization of your blog/website?
Of course, everyone does so especially when rejected by Google AdSense due to their tough terms and conditions.
Honestly, it's quite challenging to choose the right ad network for your blog. Everyone wants to have an advertising network that maximizes revenue.
Therefore, we have come up with an advertising network – AdMaven – which most of you might be familiar with it as it is one of the popular advertising networks after AdSense working since 2015.
So today we'll do the AdMaven review and will see if its worthy or not.
If you came here with the intention of having a review for AdMaven, then stay with me and keep reading the entire AdMaven review.
AdMaven Review 2020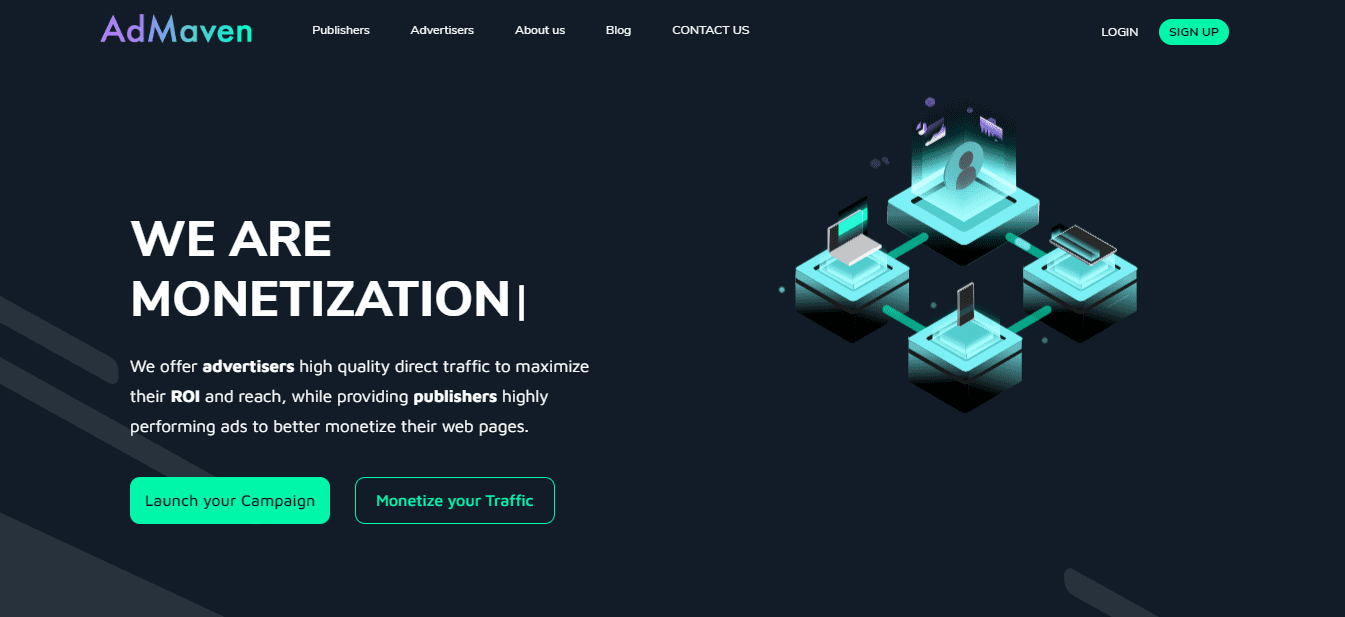 AdMaven, a popular and the most innovative digital display advertising network having several premium ad formats with over 12B+ daily impressions. It is founded with the aim of helping advertisers & publishers to maximize their revenue. The headquarters are based in Ramat HaHayal, a neighborhood in Tel Aviv-Yafo (A City in Israel).
AdMaven is a quite well-known advertising network that has been working since 2015. They support multiple advertising formats according to the user needs but primarily focuses on Pop-under and Push notifications which is the future of digital advertising as they tend to be more engaging resulting in higher revenues.
From full-screen ads to push notifications, you can choose the ad format that suits you best.
Following is the short overview of the AdMaven review that you might need to know.
AdMaven Details
Company Name:

AdMaven

Founded In

: 2015

Payment Models

: CPC, CPA, CPM

Minimum Deposit

: $50

Minimum Payout

: $5

Payment Gateways

: VISA/MasterCard, PayPal, Epayments, WebMoney, Paxum, Bitcoin, etc.

Contact #

: +972-722-159-413

Support for Advertisers

:

[email protected]

Support for Publishers

:

[email protected]

Website

: https://ad-maven.com/
What makes AdMaven Worthy to Choose?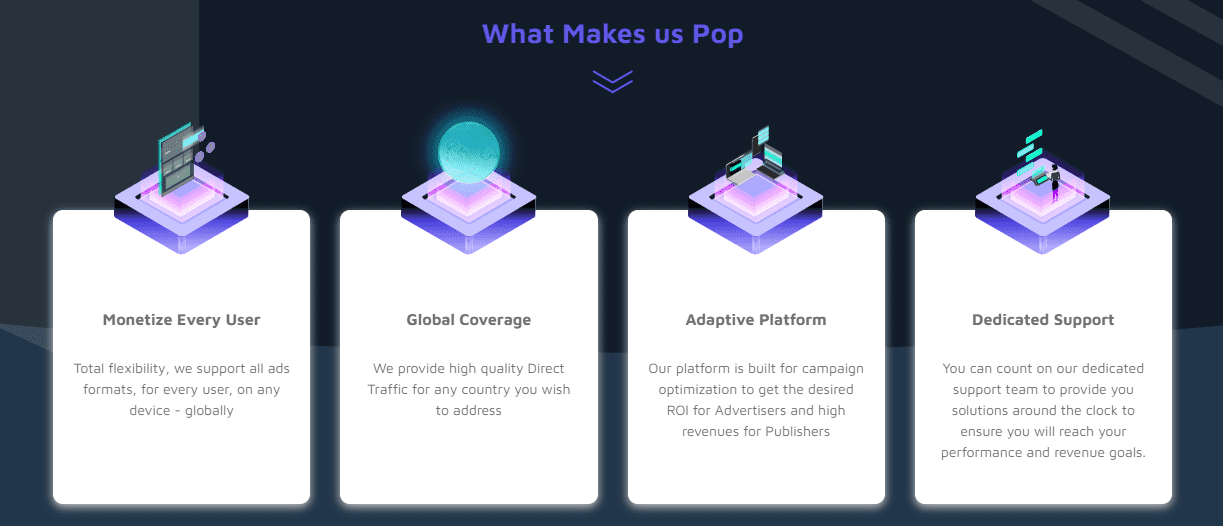 So, what makes AdMaven stand out from other advertising formats? What makes it worthy to choose for your business?
Well, in this world, no one would like their efforts go in vain. We all want a trustworthy platform where we can put in our efforts to get rewarded for our hard work. That's what makes AdMaven a trustworthy ad network that has a solution for both advertisers and publishers.
Anyone who has experienced or experiencing this amazing platform will surely have a positive AdMaven review as it is the only network that promises to deliver the highest eCPM rates. AdMaven CPM rates are known to be the best rates that no one has ever provided. This is another reason why the majority of the publishers choose AdMaven over other advertising networks because of the highest rates that result in generating streams of revenue.
It's not over yet! AdMaven offers its advertisers to promote their brands, products having 12B+ daily impressions generated from full-screen ads to native push notifications that guarantee conversions. AdMaven is a great alternative to other advertising formats such as Clickadu, AdPushup, Evadav, RichPush, Cointraffic, Coinzilla, Bitmedia, Push House, etc.
They have multiple advertising formats for advertisers and publishers according to their needs which are as follows.
AdMaven Advertising Formats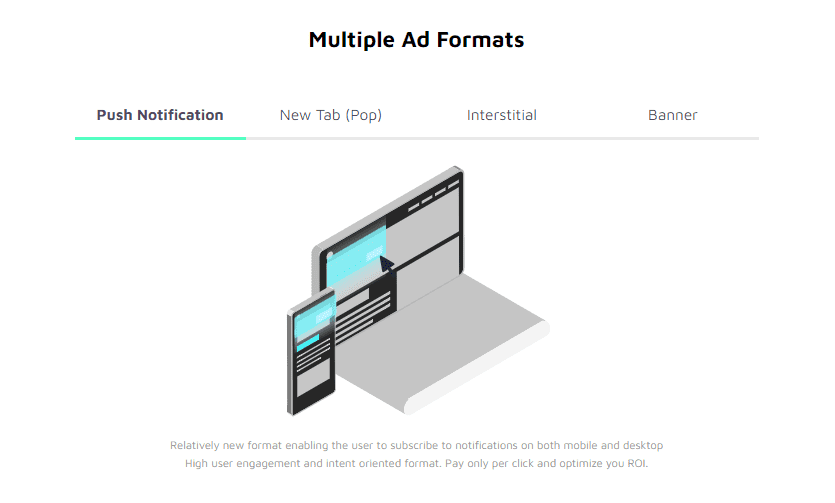 AdMaven supports a variety of ad formats to its publishers and as well as advertisers such as Native Push Notifications, Pop-under ads, Interstitial & Banner, etc. to help them choose the right ad formats that suit them best. However, as we have already discussed that AdMaven primarily focuses on Push & Pop-under ads since they have been showing great results in engaging the audience.
The following are the AdMaven Ad formats that you need to know.
Native Push Notifications
Native Push Notifications allows you to monetize or advertise your audience even if they aren't browsing the web. This is the reason push ads are considered to be the most engaging ads that send users notification ads once they opt-in for updates.
Pop-under Ads
Pop-under ads are founded to be the best performing ads in today's era. It is an advertising page that opens separately behind the main browser window or tab. These ads are much effective in terms of engagement which is the reason AdMaven focuses more on pop-under & push notification ads.
Interstitial Ads
Interstitial ads are basically the full-screen ads that are displayed specifically before or after an expected content page, usually with a timer. These ads cover the entire interface of their host app or site on doing a particular action.
Native Banner Ads
You all are quite familiar with this type of format as the majority tend to use the banner ads. So, what's interesting in AdMaven banner ads?
AdMaven recently introduced its latest monetization weapon – A native floater banner that delivers 'push-like' ads without asking users to opt-in for the ads. These banner ads work across all browsers & devices. It is one of the best performing ads designed for maximum audience engagement to increase sales.
Getting Started with AdMaven
Either you're a publisher or an advertiser, AdMaven has the complete solution for both of them.
Let's start with the publisher first.
AdMaven for Publishers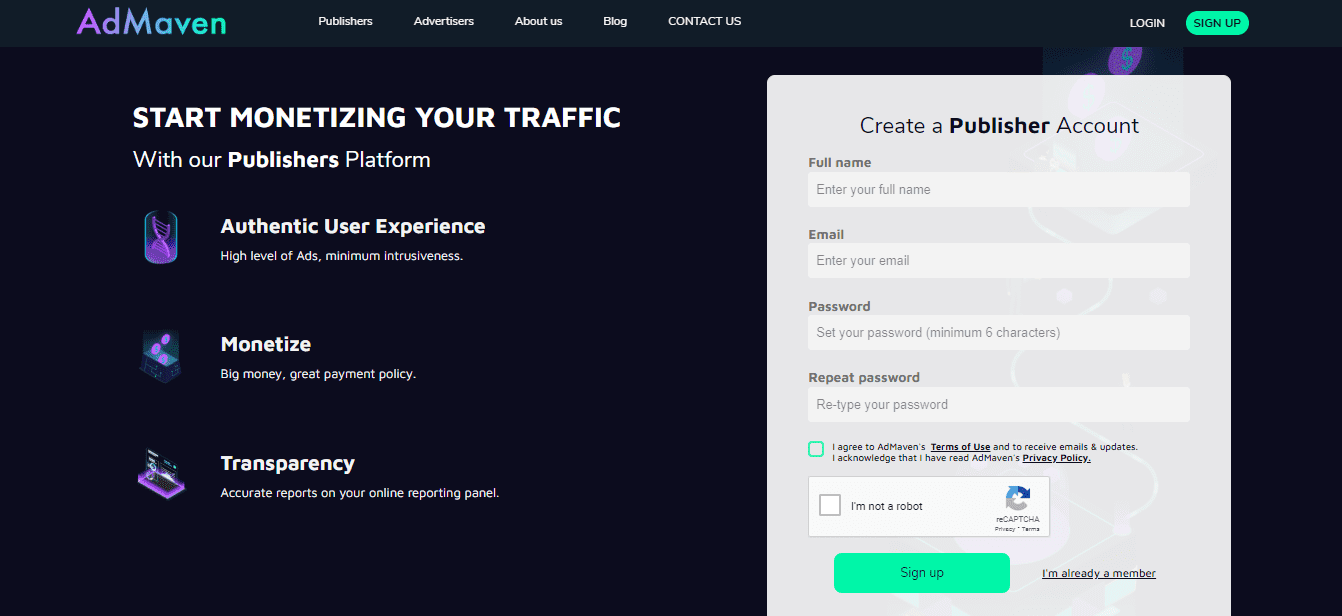 Tried all advertising networks but not getting the output you're expecting? Searching for a profitable ad network to maximize your blog revenue?
If yes, then AdMaven might be the best choice you'll ever make. With AdMaven publisher, you can skyrocket your revenue and get instant payouts for the earned amount.
To become a publisher on AdMaven, you need to sign up for a publisher account by filling the basic information such as name, email, and password.
The good thing about the AdMaven publisher part is that they'll create an account immediately for you. They do have terms and conditions but do not have strict policies like Google AdSense. This could be one of the reasons many publishers prefer AdMaven as they monetize every user from all over the world.
So, when you're done with registering the account, simply add your site and wait for the approval. The approval process is quite fast so you'll get your site approved easily. After getting approval, setup the ad code on your website and you're good to go.

That's how easy it is! Isn't it?
Moreover, it has multiple advertising formats to ensure full coverage and highest CPM both on desktop and mobile web. The majority of link shortening companies love to use AdMaven as it yields the highest CPM that no other network has ever provided.
AdMaven Benefits for Publishers
Highest eCPM compared to others
Multiple Ad formats with easy integration
Full Coverage with a 100% fill rate
Link Locker
Convenient payment methods
10% referral program for publishers
Dedicated Support
Let's have a look at Admaven's Link Locker feature in a bit more detail.
Link Locker By AdMaven
AdMaven, a renowned ad network with more than 15 years of experience in pop ads and push notifications, is known for providing publishers with excellent user experience and high revenue. Their success is due to their proprietary optimization and numerous direct advertisers.
AdMaven takes pride in its user-friendly reporting tool, transparent services, and top-notch customer service. Setting up with AdMaven is quick and easy, allowing publishers to start earning money promptly.
One of AdMaven's most prominent solutions is its Link Locking feature, which is optimized according to the publisher's preference, website, or country. Publishers can expect high CPM rates, with earnings exceeding $20 for every 1,000 impressions. AdMaven's platform is free to join, allowing publishers to shorten their links and monetize their traffic to generate extra revenue.
AdMaven offers various content locking methods, which are optimized according to the country, website, or the choice made by the publisher. Usually, there are 4-5 tasks the user should perform, and the configuration panel allows the publisher to design the background and text.
Join the AdMaven publishers' program.
AdMaven For Advertisers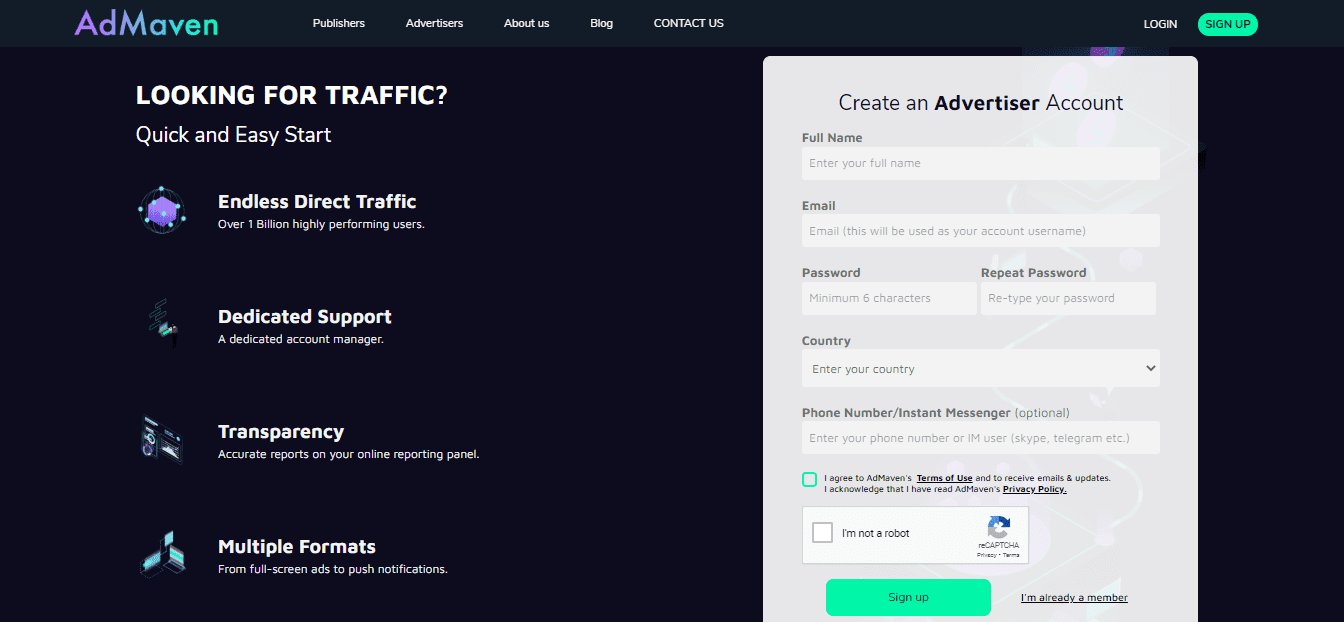 If your business isn't getting the conversions even after spending a lot on advertising it on social media channels or advertising networks, then you must need to give a try to AdMaven as it is the best ad network for both advertisers and publishers.
With AdMaven, you can promote your business with simply no effort at all. You'll be getting the value for the money you've invested on this platform. AdMaven amazes everyone with its superb performance and quality ads having 2B+ daily impressions worldwide generated from their multiple ad units which result in high conversions.
To advertise on AdMaven, the first step is to create an account. After successful creation, you'll be able to start creating your advertising campaigns for your business.

Create a campaign according to your need by setting up the targeting option for your campaign. Once an ad campaign is created, add funds to your account to get your ad live on top publishers' sites.
To get a free coupon worth $50, you need to signup for an advertiser account from this link. After the successful creation of the account, you'll get $50 upon depositing $150 in your account.
You'll start getting the results after creating the campaigns which you can monitor from their advance reporting dashboard.
AdMaven Benefits for Advertisers
2B+ daily impressions worldwide
Targeted & quality traffic for better ROI
Self-Serve platform for advertisers
Supports multiple pricing models such as CPM, CPC, or CPA.
Advanced performance reporting system
Dedicated support
Join the AdMaven advertisers' program below.
AdMaven Payment Methods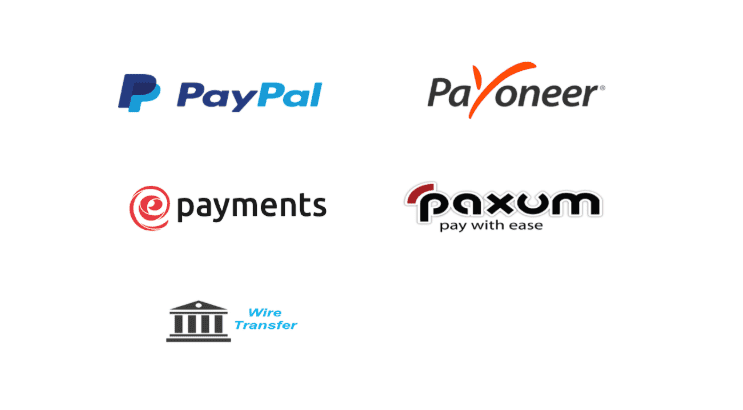 AdMaven supports multiple payment methods for both advertisers and publishers.
Being an advertiser, if you want to deposit funds into your account, there are several payment methods available such as PayPal, Credit card, Payoneer, Paxum, and Wire Transfer.
The minimum deposit for AdMaven is $50. Being a publisher, the minimum payout for AdMaven for PayPal is $5. However, the minimum payout for bitcoin and wire transfer is $1000 and $500 respectively.
However, if you're a publisher and wants to withdraw your earned amount, you can withdraw it by using any of the payment method available convenient for you such as Paypal, Payeer, BTC, WebMoney & wire (bank transfer).
Choose the one which suits you best and you're good to go.
Is AdMaven a Legit Advertising Network?
Yes, AdMaven is a legit advertising network that has been working since 2015. With over 15 years of excellence, it is considered as the best advertising platform that both advertisers and publishers prefer after Google AdSense. So, there is no chance of calling AdMaven a scam as they have a great reputation all over the world.
AdMaven Alternatives
The following are some of the alternatives to AdMaven that you might need to know.
AdMaven Referral Program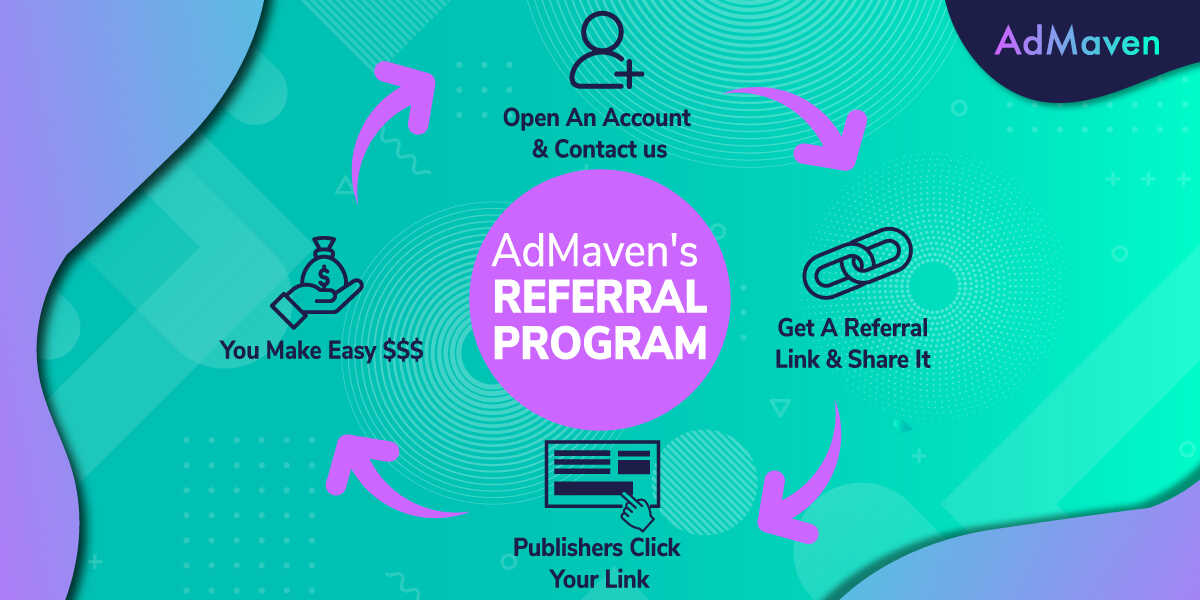 Want to earn even more from the AdMaven referral program?
You can earn 5% of the publisher's profit or up to 10% from AdMaven profits, both simultaneously on a monthly basis.
In this way, you can earn from your publisher's earnings too simply by referring them to join AdMaven through your referral link. To get your referral link, simply contact AdMaven's team to get your own personal referral link.
So, if you've been planning to join AdMaven being a publisher, you should join their referral program too.
Requirements to Join AdMaven
It isn't super easy to join the AdMaven publishers' program as they respect the rules and regulations and have some requirements that a publisher must abide by. But compared to Google AdSense, you can get approval on AdMaven quite easily by following the guidelines which are as follows:
The website should be responsive & SEO friendly with quality content for a higher chance of approval.
They don't support free domains such as .tk, .ml, .ga, etc. So, you need to have a paid domain such as .com, .net, .org, etc.
The Website shouldn't promote any inappropriate or hate-mongering content such as racial, political, ethnic, religious, gender-based, pornographic material, etc.
The website should be virus-free. It shouldn't contain any malware or spamming activities.
Any fraudulent activity detected such as fake or bot traffic for increasing website traffic will get your site removed from AdMaven.
Conclusions
In light of all facts mentioned above, I'll definitely recommend AdMaven to both advertisers who want to get conversions from ads and as well as publishers who want to earn some decent revenue.
The reason it stands out from other platforms is because of the highly engaging ads that turn out to be the best solution for advertisers who want to promote their businesses. Moreover, AdMaven offers the highest eCPM rates that no other network offers that results in greater revenue for publishers.
So, if you've been looking to promote your business as an advertiser or if you want to monetize your blog being a publisher, then AdMaven will be the best ever choice you'll make as it has been functioning since 2015.
Do you still have any doubts about choosing AdMaven? Go check out AdMaven reviews from other people who have already experienced this platform.
At Trendstorys.com, we aim to provide honest reviews to our users to help them choose the platform.
Any queries related to AdMaven review or if you're already experienced with this advertising network, give your review out of 5 stars or let me know in comments.