Searching for a coworking space in Islamabad?
Not being able to find a reliable space where you can work tirelessly?
Looking for the best coworking spaces in Islamabad? If yes, then you've surely come to the right place.
We live in a technological world that is constantly revolutionizing the way we live and work. It is the digital revolution that has led people to quit their full-time jobs and follow their dreams.
Since tech gadgets, tools, and easy internet connectivity have become more readily accessible, many people are considering remote jobs, freelance gigs, eCommerce ventures, and many others. Several of them have converted an extra bedroom into a home office, while others prefer coworking spaces.
As the country's capital and business hub, Islamabad is also suffering from the effects of the great resignation. As a result of Corona waves in the past 2-3 years, coworking spaces have become increasingly important as employers lay off workers who are now making money online as a result. Startups, freelancers, and the community as a whole benefit from such spaces.
Here are some names you should visit to learn more about how they can help you succeed professionally and entrepreneurially.
Top 6 Coworking Spaces in Islamabad
Following are some of the best coworking offices in Islamabad that you may need to know.
1. MindStir – Best Coworking Space In Islamabad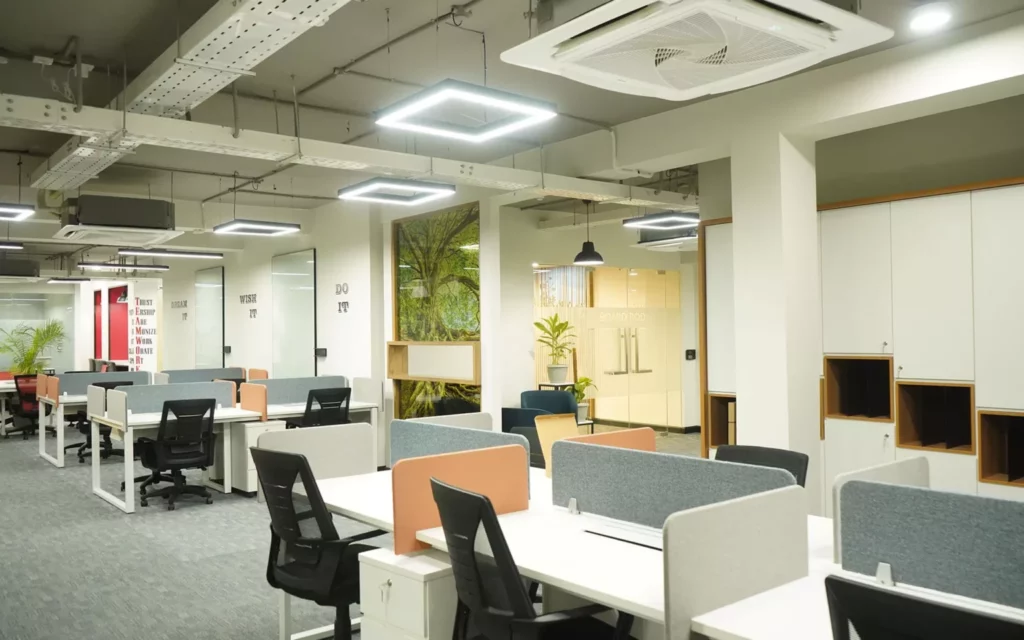 Its central location in Islamabad is what makes MindStir a unique coworking space in Islamabad. When you enter MindStir's premises, you will see an executive corporate setting. The interior is extremely well-designed. Every room is named a specific color. In order to create a unique sense of luxury and unique feel inside, the aesthetics of each room correspond to its name.
As part of the space, there are private offices, dedicated desks, flexible desks, and night desks for different target groups. In order to ensure a hassle-free working environment for the clients, a variety of amenities are offered, including high-speed internet, courier services, printing and scanning facilities, and valet parking facilities. Among the innovative startups located at MindStir are Farmdar and Edgestore.
MindStir, as an interactive coworking space in the blue area, holds regular workshops on various topics to help its members and external employees grow. MindStir holds regular sessions on psychological and physical well-being, financial insights, and innovative technologies.
Following are the amenities MindStir provides:
High-Speed Internet
UPS & Standby generator
Printer, Scanner, Photocopier
Kitchen with Dining Area
Cooling & Heating
Prayers Room
Waiting Area
Event Hall
Mail Handling & Forwarding
Secure Lockers
Meeting Rooms
24 Hours Access
Free Parking
Address: 3rd floor, Manzoor Plaza. Plot 14E, Fazal e Haq road, G-6/2 Blue Area, Islamabad, Pakistan
Phone #: (+92) 51-844-0453
2. DaftarKhwan – Coworking Space in I-10 Islamabad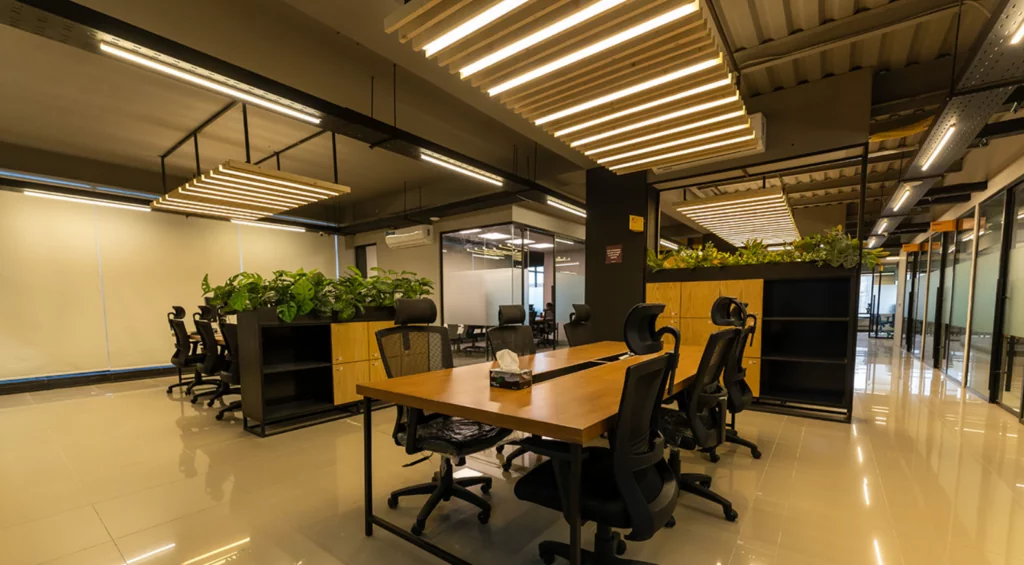 Located in sector I 10/3, Islamabad, Daftarkhan, also known as Daftarkhan North, is an open-concept coworking space that offers flexible office solutions to individuals, small teams, and large companies. In addition to Islamabad, DaftarKhwan operates coworking spaces in three major cities in Pakistan. In order to meet the needs of digital nomads, it provides a pleasant environment where they can work on their ideas, interact with like-minded people, and achieve their goals.
Providing entrepreneurs and professionals with vibrant technologically equipped workspaces, they aim to bring people together to collaborate and build communities by providing them with the best facilities and services. DaftarKhwan offers dedicated seats, meeting rooms, conference rooms, and event spaces along with many other amenities.
Following are the amenities DaftarKhwan provides:
Fast and stable Internet
Unlimited tea and coffee
Mail Handling
Air Conditioner
Flexible office hours
24 hours access
Meeting rooms
Event spaces
Dedicated and Flexible seats
Address: Plot no. 94, Street 7, I-10/3, Islamabad.
Phone #: (051) 2722077
3. Kickstart – Best Coworking Space In I-10 Islamabad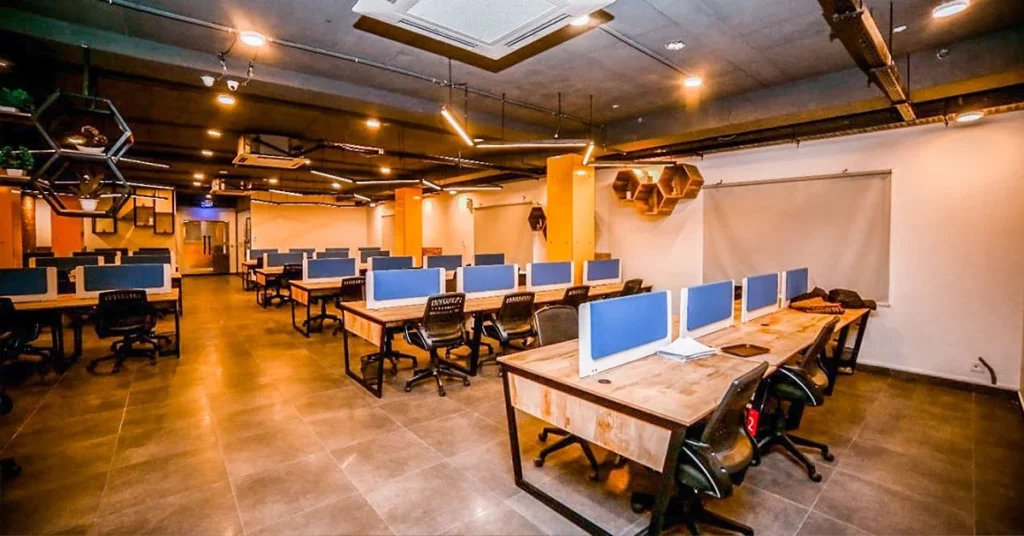 As one of Pakistan's first coworking spaces, Kickstart operates in Karachi, Lahore, and Islamabad. In Islamabad, their offices are located in I-10. The location of I-10 between Islamabad and Pindi provides Kickstart with greater market access.
The interior design of their offices is designed in such a way as to provide a sense of comfort to their clients. From color schemes to furniture choices, everything displays the management's commitment to ensuring that the work environment is both elegant and relaxing.
There are several options available to Kickstart's diverse client base, ranging from serviced offices to hot desks, dedicated desks, and virtual offices. In addition, Kickstart provides clients with a variety of value-added services, including bookkeeping, digital marketing, and legal assistance.
Following are the amenities Kickstart provides:
Fast and stable internet connection
Scanner/Photocopier/Printer
Cooling and heating
Secure Lockers
Coffee Shop
Lounge Area
Fitness room
Free Parking
Address: Plot 59G, Street 7, I-10/3, I-10, Islamabad.
Phone #: 0333 0008655.
4. The Hive – Coworking Space in Blue Area Islamabad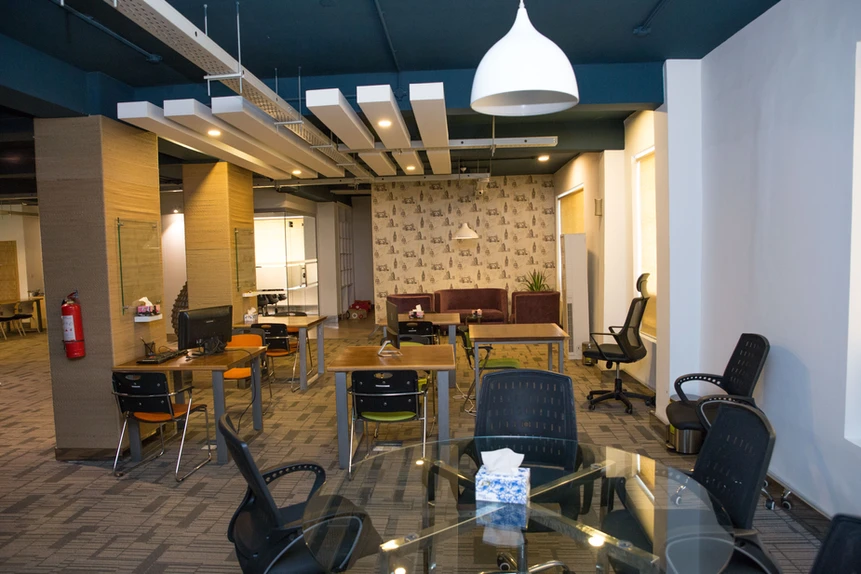 The Hive is more of a sort of coworking space giant that has over 6 locations in Pakistan, three of which are located in Islamabad's center. It has developed premium workspaces in the business hub of the capital city in order to serve the business and digital community. It has 2 offices in the Blue Area and one in the Mauve Area.
With The Hive, freelancers, digital agencies, startups, and even tech giants will be able to work in top-quality working spaces. Their office spaces are spacious, allowing them to meet the varying needs of any business, regardless of team size or work hours. The pricing for the shared office spaces is not indicated on their website, but you are entitled to the following amenities The Hive provides:
Fast internet
Reliable Power Backup
Access to meeting rooms
Support team
Private and secured
Unlimited hot beverages
Event space
Musical jam sessions
Address: 1st Floor, Manzoor Plaza, Fazal e Haq Road, Blue Area, Islamabad.
Phone #: (051) 7080129.
5. The Desk – Coworking Space Islamabad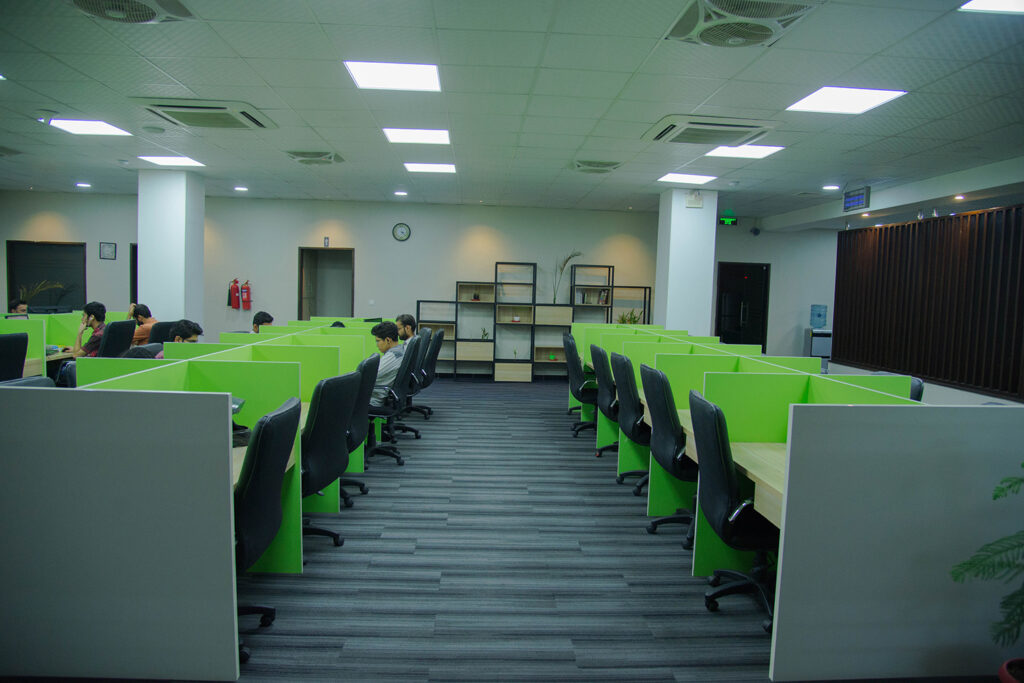 Providing perfect peace and serenity to work on productive and creative projects, The Desk is Islamabad's premier coworking space. It is home to reputable startups, digital agencies and established freelancers. The Desk is dedicated to providing the kind of office space you've been looking for. The conference hall, executive rooms, and dedicated offices are just a few of the options for those who prefer an open space.
It is also a must-visit place for tech graduates, innovators, and startup founders to get mentorship and investment. With its efficient incubation model, the desk is looking for tech enthusiasts to transform their dream projects into products. You can get a dedicated desk for Rs. 12,000. There are multiple options for private offices.
Following are the amenities The Desk provides:
Access to mentors, incubation center
High-Speed Internet
UPS & Standby generator
Printer, Scanner, Photocopier
Kitchen with large dining area
Prayers room
Waiting area
Free Parking
Event Hall
Mail handling
Address: Plot 349, Street 1, I-9/3, Islamabad.
Phone #: 051 8442556.
5. Regus – Coworking Space in F-7 Islamabad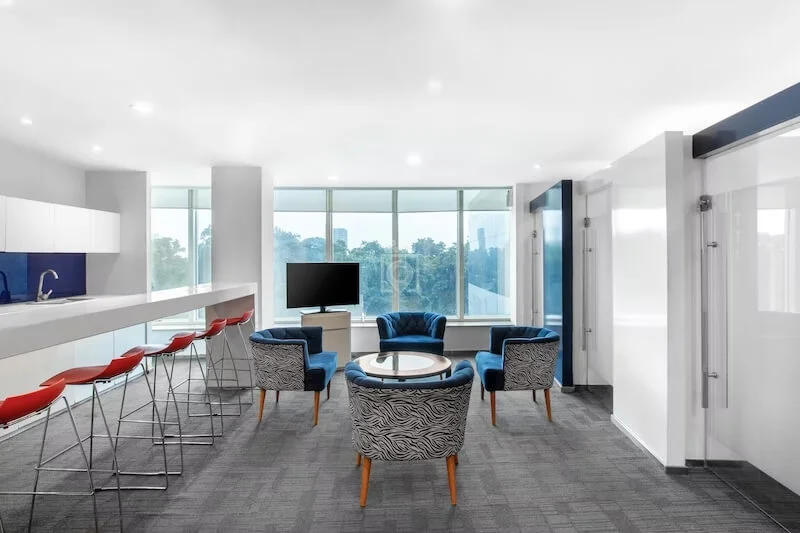 Coworking spaces like this one, located in the center of Islamabad's bustling commercial district, provide a way for people to be inspired and work in a conducive and well-managed environment.
In terms of finding coworking spaces for your new business, Regus opens a whole new world of possibilities. The company manages state-of-the-art technology labs at multiple locations and has a spacious coworking office in Islamabad. 45 offices can be accommodated in this space, and an individual desk can be allocated.
A variety of membership plans are available at Regus, including office space, coworking space, and virtual offices in addition to meeting rooms, parking, and lounge facilities. Aside from being fun to be a part of, you will be able to network with innovators and collaborate with them. The prices are not disclosed as they have customized plans for varying business plans.
Following are the amenities Regus provides:
Hot desks and dedicated offices
Workspace personalization
Easy to move from one location to another
Friendly reception staff
Flexible terms and conditions
Meeting rooms access
Networking events
Mail handling and forwarding
Call answering services
Address: Emirates Tower, 2nd and 3rd floor, M-13, F-7 Markaz, Islamabad.
Phone #: (051) 2099204.
Final Thoughts
As a freelancer or business owner, it is the dream of everyone to become successful. Unfortunately, only a handful of people are capable of making this dream a reality. It all starts with the availability of essential resources and facilities. In Islamabad, the coworking spaces are devoted to providing you with a friendly, productive, and focused environment that will help you to begin your journey toward digital success as quickly as possible.
Take a look at any of the mentioned coworking spaces above and pick the one that suits you most. We are looking forward to hearing your thoughts and comments on what you have experienced in the coworking space we mentioned above. You can leave a comment below about your coworking experience.