Yint Network Review
Summary
Yint Network, basically an Acronym for Your Integral Network, is a new online community platform just like Facebook, Instagram, etc. that rewards you with almost the same features that Facebook provides but has some additional premium features that make it unique.
User Interface

Advanced Features

Speed and Responsiveness
Pros
User-Friendly Interface
Supportive Community
Fast & Secure
Advanced Features
You can be able to send credit to your friends for advertising
Has its own marketplace to sell products
24/7 Support
Cons
New in the market
Plans should be cheaper or set to free.
Need to have some more premium features to stand out from other platforms.
Want to be social with your friends?
Looking for a network platform to meet new people?
Searching for Facebook alternatives?
If yes, then Yint Network would be an ideal choice for you since it is a great social network platform just like Facebook with some impressive and unique features that Facebook doesn't provide.
Social networking has become a part of the everyday life of millions of people around the globe. It is a part of their lives when they are out shopping, participating in events, participating in various social networks, or chatting with friends and family members.
Apart from Yint, there are several online social networks such as Twitter, MySpace, Facebook, and Linked In, etc. These networks enable people to connect with each other, exchange information, and share their own information.
All these platforms share the same features but Yint Network has some premium for free that makes it a unique platform.
So, if you came here with an intention of having a Yint Network review, then stay with me and keep reading the entire Yint Network review.
Yint Network Review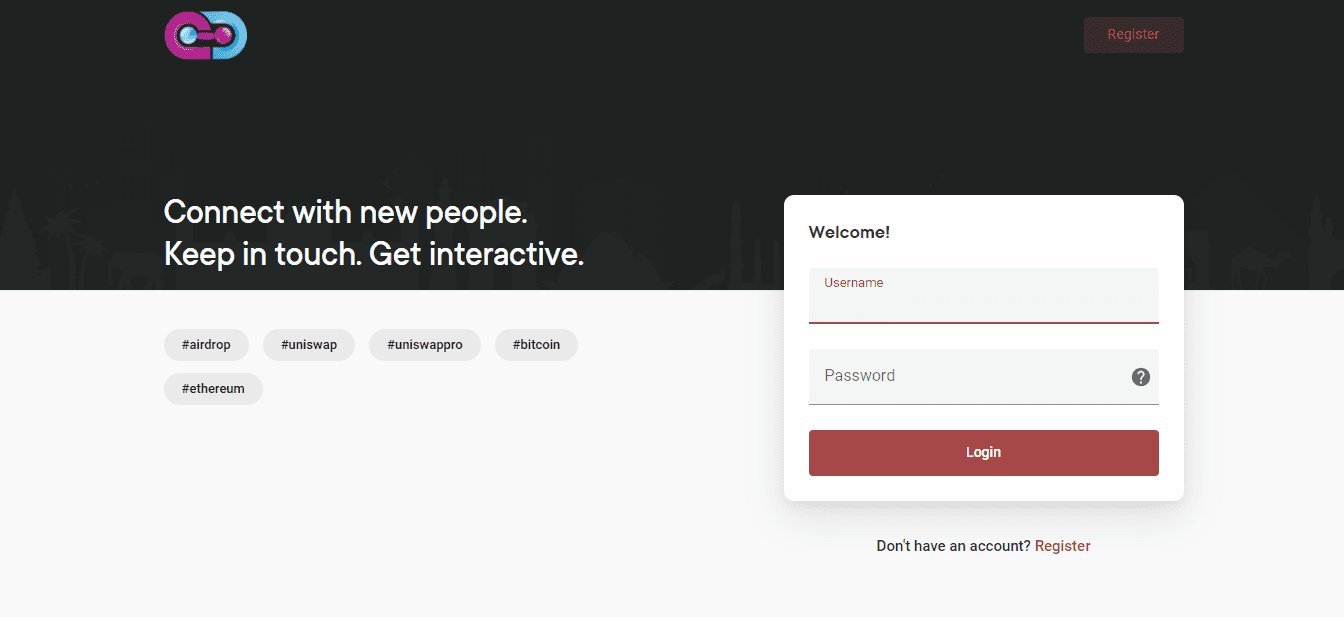 Yint Network, basically an Acronym for Your Integral Network, is a new online community platform just like Facebook, Instagram, etc. that rewards you with almost the same features that Facebook provides but has some additional premium features that make it unique.
It was founded by Micheal George in August 2020 with an aim of connecting users from all over the world to communicate in a unique style.
It is the kind of community where you can follow your friends, family, comment on topics in the forum, create pages for your businesses, communicate with new or known people with text or video chat, comment on photos, find people or places nearby, look for jobs, join groups, sell products in the market place, save the post, get notifications when specific people selected by the user makes a post, advertise your business, etc.
You can also become a pro user and get highlighted at the top of everyone's news feed which is really a noticeable feature by Y-int.
Following is the short overview of the Y-int Network Review that you might need to know.
Yint Network Details
Company Name

: Y-Int (Your Integral) Network

Founder & CEO

: Micheal George

Founded In

: August 2020

Payment Methods

: VISA/MasterCard, BTC, etc.

Pricing

: Basic plan starts from $3 per week.

Support Email

:

[email protected]

Website

: https://yint.network/
How Yint Network Differentiates itself from Others?
So, what makes Yint Network different from other popular tools like Facebook, Medium, Myspace, Twitter, Instagram, etc.?
Well, Yint Network probably works the same as Facebook but it does have some noticeable features like getting featured on top of everyone's news feed and listing your products in the Yint marketplace where users can buy products. You can get a verified badge to stand out from others and can also monitor who is visiting your profile which is really amazing to consider.
Despite being new, Yint has gained a lot of users and trust among them. It has the most premium look and has a user-friendly interface.
Lastly, what impressed me most is the speed of this platform. It works super-fast even on a slow internet connection.
We all know that the most popular social networking platform is Facebook. It is considered by most Internet users as one of the most important social networking platforms that allow people to communicate with each other and interact with the world and people in general.
But the world doesn't end there! 😉
There are several other community platforms that can be useful for you such as Yint Network, which is a great initiative by Micheal George to connect people all around the world in a more interesting way.
Social networking is computer-mediated interactive tools that facilitate the sharing or creating of personal information, thoughts, career goals, and other types of expression through online social networks.
What Can You Do with Yint Network?
Following is the list of features that Yint provides to its users.
Follow your friends and family members
Post or comment on topics in the forum
Create pages for your businesses
Text or Video chat
Like share or comment on photos
Find people or places nearby
Look for jobs by joining groups
Sell products in the Yint marketplace
Save post which you liked the most
Get notifications from specific people selected by the user makes a post
Advertise your business on Yint
Become a pro user and get highlighted on the top of everyone's news feed, see profile visitors, get a verified badge, and many more.
Yint Network Pricing & Details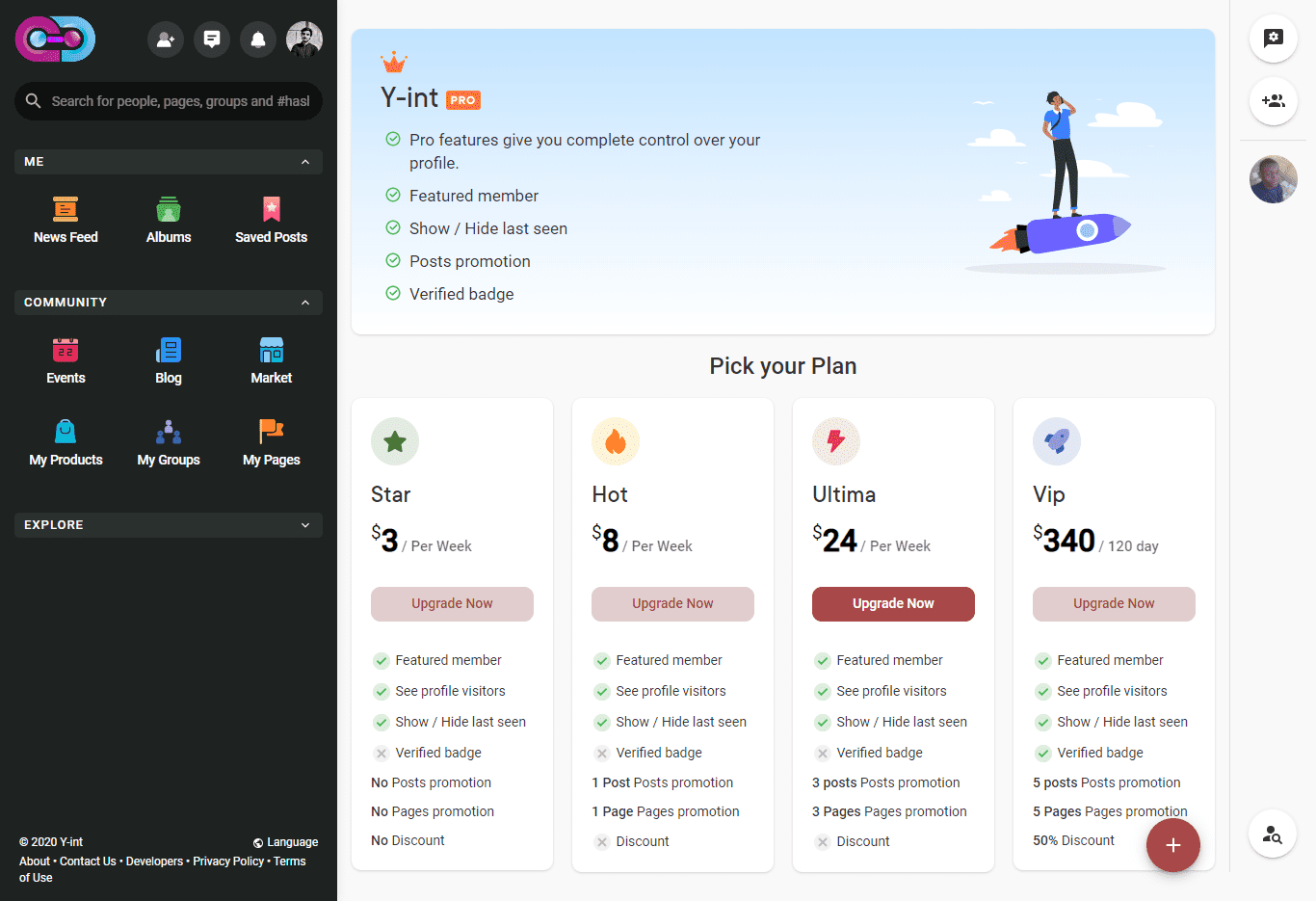 The majority of the features of Yint Network are set free for everyone just like other platforms provide.
However, they do have paid plans as well which makes it unique.
They have four different plans named Star, Hot, Ultima, VIP.
Following are the prices for each plan with a different time frame.
Star plan

for $3/week

Hot plan

for $8/week

Ultima plan

for $24/week

VIP plan

for $340 with a time frame of 4 months.
Conclusions
Social networking site Facebook has a huge user base, but it is only a fraction of its original user base of over 300 million. To put that into perspective, Twitter has close to ten million users, while MySpace has around eight million. If you consider these numbers in terms of the total number of active internet users on the planet today, you will realize just how much further you can spread your internet marketing efforts if you had signed up for a Facebook alternative (Such as Yint) instead of your main competitor.
For those who like to sign up on all social media sites, then you must try Yint Network as it is really a nice platform for socializing.
Therefore, In the light of my experience with this website, I'll definitely suggest trying Yint Network to everyone who loves to socialize. 😊
Do you still have any doubts about choosing Yint Network? Go check out Yint Network reviews from other people who have already experienced this platform.
At Trendstorys.com, we aim to provide honest reviews to our users to help them choose the platform.
Any queries related to Yint Network review or if you're already experienced with this platform, give your review out of 5 stars or let me know in comments.