Wordtune Review
Summary
Wordtune incorporates modern AI tools and language models that actually understand the semantics and context of the written text.
Deep AI Writer

Ease of Use

Customer Support
Pros
Deep AI Technology with impressive accuracy
Easy to Use
Excellent for Bloggers, content writers
Provides Free Trial to test the premium version
Quick Support
Cons
Sometimes (quite rare), it changes the meaning of the sentence
Can only be used on Desktop
The market is filled with different spin writing tools and grammar checkers. If you are a writer, you must have come used a fair share of them to fine-tune your writing or check your grammar just to be sure. However, most of them can only predict what you are about to write, check grammar/ punctuation, or at most suggest some synonyms using basic AI technology. The spin tools are especially notorious for creating content with tons of grammatical errors.
That is why people prefer to either write themselves or hire a trustworthy writer who'll write the content manually without using any spin tool. I have been writing for more than 5 years now and I have only used the writing tools to either double-check the grammar or punctuation.
Recently, I got into AI-infused writing tools to help with some of my writing work and I have to say there's a long list of disappointing AI writing tools available in the market. Most AI-writing tools launchers make claims like "AI-writing tool will replace human writers" which has launched a string of debates on the issue. But the tools rarely ever live up to these claims.
However, I have to admit I did come across few diamonds while trying out various kinds of tools. One of them happens to be "Wordtune".
It is a one-solution all kinds of writing tool that offers different recommendations and gives users tons of suggestions on how they can say the same thing in different ways and tones. It basically aims to help the users in finding the right words that perfectly best describe the ideas in their minds.
Now I am not saying it's perfect. Nothing is. But it can definitely be a great writing companion for you and at times when you are tired, it can also do the whole work for you.
Interested to know more? Read on for more details.
What is Wordtune?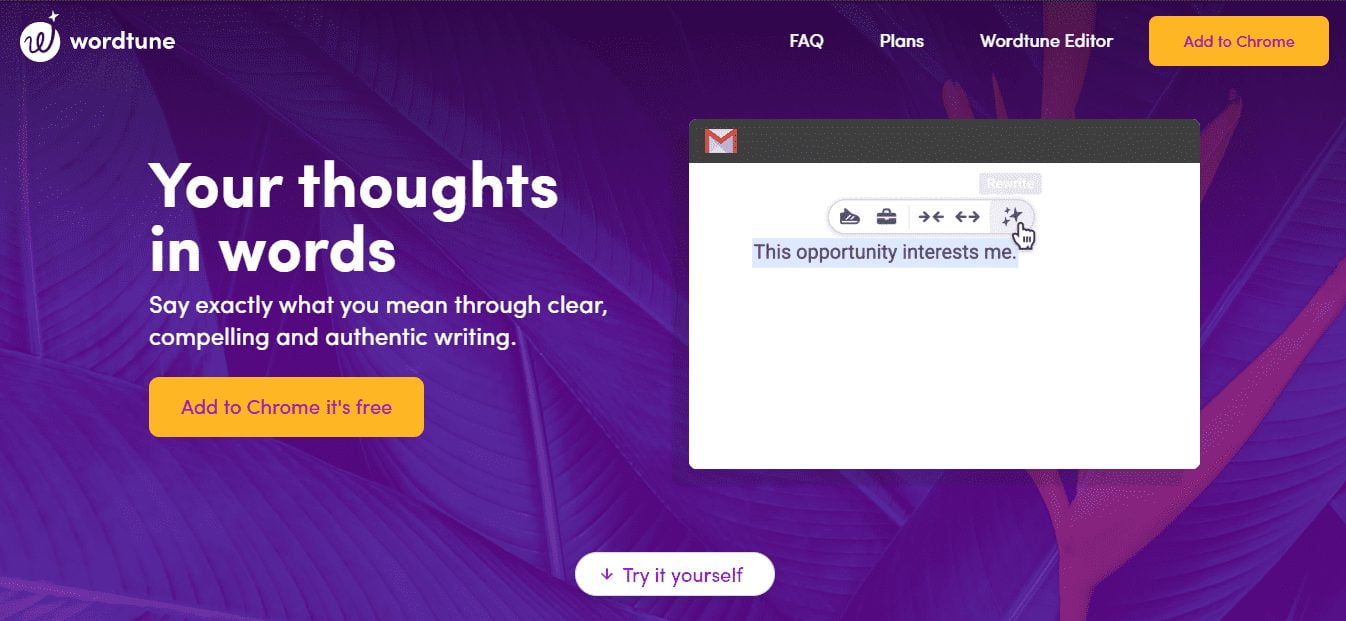 Wordtune incorporates modern AI tools and language models that actually understand the semantics and context of the written text. This is why Wordtune can understand the text and suggest different ways to rewrite the same sentence without changing the meaning of the sentence.
Yes! You read it right, different ways to rewrite THE SAME SENTENCE without change in meaning. It's almost like a ghostwriter in the machine.
It is a product of A121 Labs which is based in Israel. The AI experts of A121 Labs worked hard to fuse the modern language models and a kind of artificial intelligence that represents human vocabulary, semantics, and context in a graph-like structure.
This amazing fusion allows Wordtune to actually understand the concepts a piece of writing is expressing, leaving all other writing tools behind.
The Co-founder and Co-CEO of A121 Labs, Yoav Shoham said
[su_quote cite="Yoav Shoham"]Words are crude and you don't always find the exact words, though they exist,…That's true for all of us, even good writers. Our goal is to lessen the gap[/su_quote]
Moreover, Wordtune also allows the users to change the tone of the text from casual to formal or vice versa. It even provides the users with the option to shorten or lengthen a piece of writing while keeping the meaning of the original text intact. It is indeed Transforming Writing.
How is Wordtune Different from all other Writing Tools available in the market?
There are various tools available in the market like Grammarly and Quillbot. Grammarly can help people in correcting grammatical mistakes and with help of its limited AI technology; it can also suggest synonyms and better words for the context. Meanwhile, Quillbot can rewrite whole paragraphs.
So you may be wondering how is Wordtune better than them, and if even it is better at all?
As said earlier Wordtune is based on a fusion between language models and a kind of artificial intelligence that represents human knowledge i.e. vocabulary and meanings of words in a graphical pattern. This fusion enables this tool to actually understand human language, slang words of all languages (e.g British Slang Words), context, concepts expressed in a sentence, and even the meaning of words.
This fusion set it apart from all other writing tools in the market that only use the traditional approaches. A better understanding of concepts and semantics of language enables Wordtune to comprehend what a piece of writing is conveying and rewrite it, shorten it or expand it without changing the meaning expressed in the original piece of writing.

Wordtune Features
Wordtune offers tons of attractive features that will make content creation easier and more convenient. Following are the features and services provided by Wordttune;
Rewrite it:
Of course, as I said the AI integration allows the users to rewrite sentences and paragraphs without changing the meaning or tone of the original piece of writing. Plus you get multiple suggestions and ways to rewrite a single sentence. You can choose which rewrite suggestion best expresses the idea in your mind. Most importantly, this feature is 100% free.
It has made my life as a writer considerably easier. When I can't find the right expression for ideas in my mind, I just use the "rewrite it" feature until I find the sentence that does justice to my idea. This is how Wordtune is able to speed up your content creation.
Shorten it:
The feature of "Shorten it" will shorten your sentence but still convey the message of the original text clearly. If you are anything like me, you like writing long sentences and expressing your ideas verbosely. So when I need to shorten my sentences I use this feature. I usually run my tweets through it since Twitter has a word limit per tweet.
Expand it:
Sometimes we all need little help to expand our ideas and express them in more detail. This is exactly what "Expand it" does. Not gonna lie, I have used this to increase the word count of my assignments few times. If you learn to use this feature wisely, it can take you a long way.
Make it Casual:
Do you need to change the tone of a piece of writing and make it more casual? Well, you can do it by using the "Make it Casual" feature. It will make the tone more light and casual without altering the meaning.
Make it Formal:
You can make your writing more professional and formal with the help of the "Make it Formal" option. I usually use it to write professional Emails and academics letters.
Wordtune Editor:
Wordtune has its own editor too. Hence it is indeed a one-in-all writing solution.
Translation:
It can also translate 9 different languages into English. If you know a word in a language supported by Wordtune, it'll help you find its translation in English. Currently, it supports Arabic, Korean, Spanish, Hindi, Hebrew Mandarin, and Russian.
All these services and features make Wordtune a top-tier AI-writing tool.
Some issues I have had with Wordtune:
Wordtune is not perfect of course. I have used Wordtune for 9 months and sometimes Wordtune adds phrases that were not part of original texts and change the meaning of the text. The developers claim that since Wordtune has some creative freedom it may slightly change the meaning of a piece of writing to add more information or to convey a more universal idea that it thinks the original text implied.
In addition, Wordtune can also misinterpret the sentences and give irrelevant suggestions. So make sure that you do not rely on Wordtune blindly to produce a piece of writing. Think of it as a co-writer that is there to assist you in the process of content creation.
Also, another issue is that; Wordtune can only be used on the Desktop for now. So you won't be able to use it on your mobile etc.
The platforms supported by Wordtune:

Install Wordtune extension on Chrome and it'll work wherever you work. You'll be able to use Wordtune on
Google Docs.
Gmail
LinkedIn
Facebook
Twitter
OutLook (WEB).
WhatsApp (WEB)
Slack and many other platforms.
How to get started?
Just visit the Chrome Web Store and install the Wordtune Browser extension. After installing the extension, open Google Docs or any other platform and start writing.
When you want to use Wordtune, just highlight the text and a purple icon will appear above the text. Click the icon to view the rewrite suggestion.
Wordtune Pricing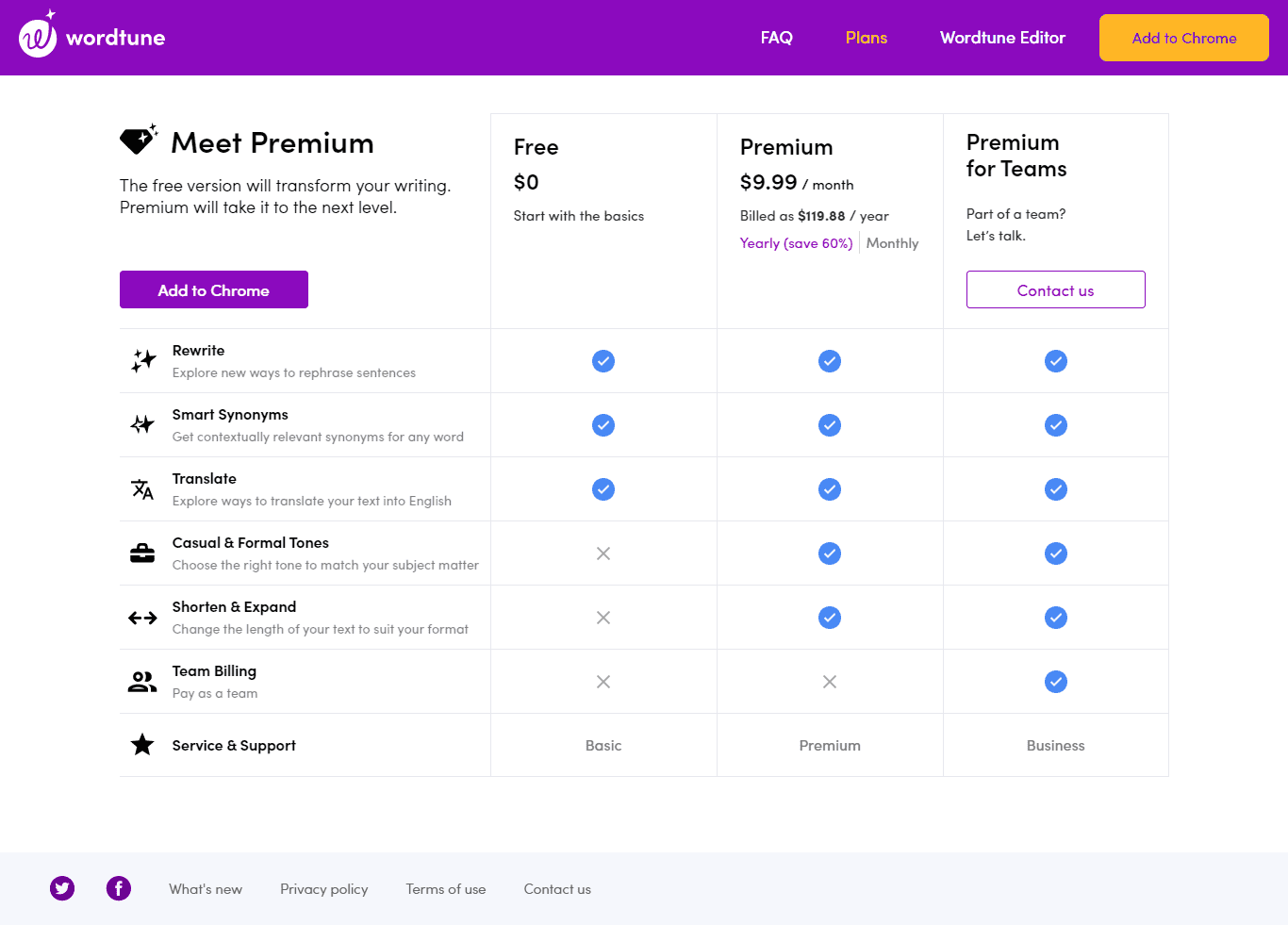 The Rewrite it, smart synonym and translation feature are available in the free Wordtune version. The premium plan costs $9.99/month and gives access to all the free features along with shortening, expanding, and changing the tone services.
If you want to buy Wordtune for a team, you need to reach out to [email protected]. View the payment plan here.
Wrapping up: Do I recommend Wordtune AI Writer?
I definitely think Wordtune is the best writing companion for any writer. It can rewrite sentences; shorten them as well as expand the ideas. It can even change tones and translate. But Wordtune sure cannot replace human writers and it is not meant to replace content writers as it can also add give irrelevant suggestions at times.
I strongly recommend you to use Wordtune and make content creation less tedious for yourself. Use it to find the perfect expression for your ideas, appropriate words and at times shorten/expand if are on a tight schedule. If used properly, Wordtune can do wonders for you.
If you've still got any doubts about choosing the Wordtune AI Rewriting tool, go check out other Wordtune reviews from people who have already experienced this platform and find out what they are saying.
At Trendstorys.com, we aim to provide honest reviews to our users to help them make the right decision.