Rollercoin Review
Summary
Rollercoin, an online virtual Bitcoin mining platform where you can mine bitcoins by competing with your friends while playing games.
Fun & Addictive Games

In-Game Shop

Mining System
Pros
Earn through Playing Games
Virtual Mining Data Center
In-Game Shop
Best Support System
Affiliate program up to 25%
Cons
Sometimes, withdrawing money can take some days.
Low earnings at the start but you'll earn decent revenue when you know the game.
Are you looking for ways to earn bitcoins?
Want to do bitcoin mining in a quite easy way?
Ever wondered about earning real bitcoins just by playing games?
Sounds interesting right? Isn't? Well, it is real for sure as Rollercoin lets you earn bitcoins simply by playing games to earn real bitcoins.
Bitcoin has been growing from the last few years and the majority of the users are preferring bitcoin as the payment methods as it is the more secure and decentralized payment system. More and more companies like Bitmedia, Coinzilla, Cointraffic are using blockchain technology to make it more secure for them.
Rollercoin is one of them that provides you an opportunity to earn bitcoins while playing games.
So, if you came here for the Rollercoin Review, stay with me and keep reading the entire review.
What is Rollercoin?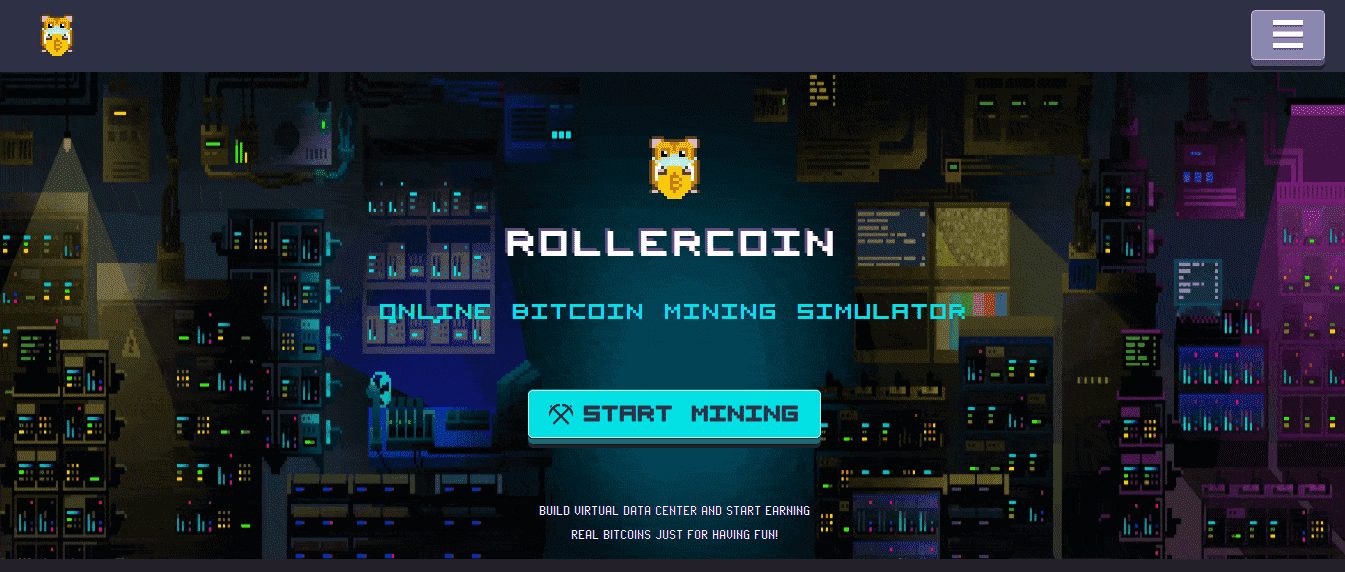 Rollercoin is basically a virtual Bitcoin mining platform where you can mine bitcoins by competing with your friends while playing games. It works the same as the mining process does, However, it doesn't have any difficult mining process of blockchain algorithms that lets you mine bitcoins but an easy and a fun way to earn real bitcoins by testing your skills in a game while competing with your friends.
Interestingly, you can virtually build your own mining data center for Bitcoin mining. With a few tweaks and upgrades, you can boost your mining power. But you can only earn by competing with friends in the game.
Let's see in a quick overview of Rollercoin.
Rollercoin Details
Company Name:

Rollercoin

Founded In:

2018

Countries Allowed:

Worldwide

Payment Methods:

Usually pays in BTC.

Minimum Payout:

10000 Satoshi

Affiliate Program:

Revenue shares up to 25%

Support Email:

[email protected]

Website:

https://rollercoin.com/
How to get started on Rollercoin?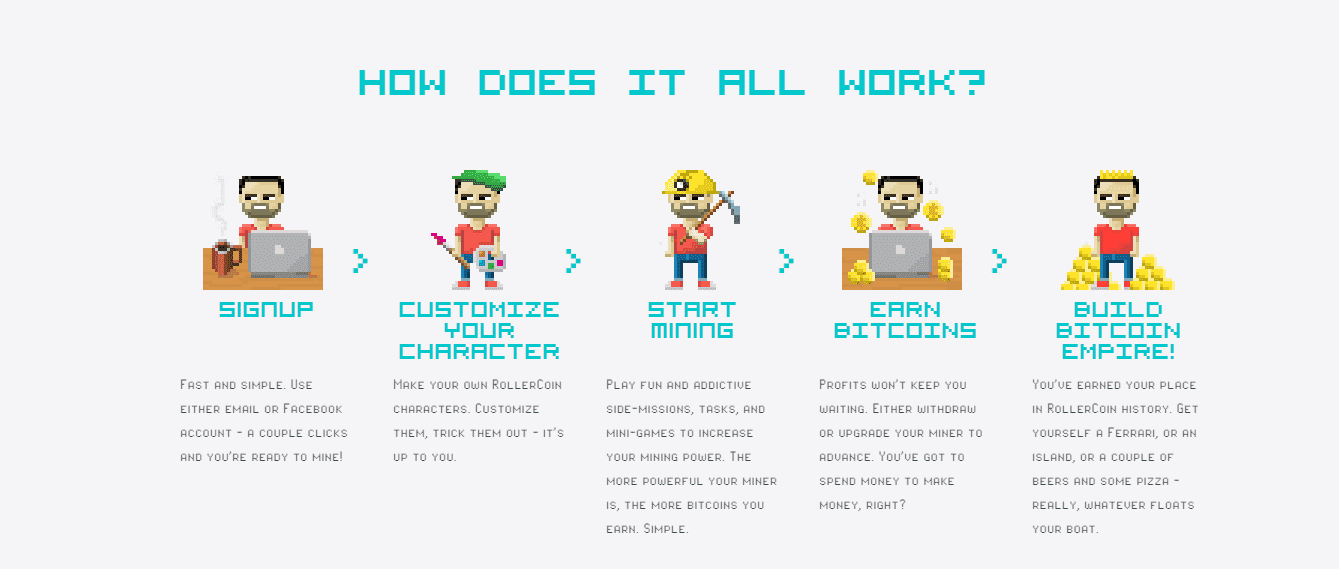 This might be surprising for you but yes, with Rollercoin, you can mine bitcoins by playing games and competing with friends. But how to get started with it?
Create an account
Well, it is an obvious thing that whatever platform you're about to join, you must have an account there. Therefore, to get started on Rollercoin, you must have to signup for an account. You can sign up either through email or by connecting your Facebook account.
Customize your character
The second thing after the successful creation of an account, you need to create your own character on Rollercoin that represents yourself. Create a unique character by customizing it and you're good to go.
Start Mining & Earn Bitcoins
Here comes the main concept of this platform to let you mine bitcoins simply by playing games. Sounds cool right? Well, of course, I too was amazed to see this wonderful platform that works as a virtual bitcoin mining game.
After creating and customizing the character, you'll be able to start mining bitcoins by playing fun & addictive games with your friends. Compete with your friends by doing missions, tasks, and mini-games to increase your mining power. To earn more bitcoins, you need to have a powerful miner which you can do by playing games.
Withdraw or Invest
After you've earned quite a decent amount, you can be able to either withdraw it or invest in to upgrade your miner to advance level. If you feel to have any risk, you can withdraw them to test Rollercoin that they actually pay or not but it's just for your satisfaction. I would suggest investing that money in order to make more money as circulating money is a powerful business strategy.
How Rollercoin Works?
It is quite simple and straightforward to start mining and earning bitcoins. Simply you need to compete with your friends to build up mining power by reaching high scores and completing missions & tasks.
The more are the miners, the more you'll be able to earn money. You can even buy miners at the in-game shop to get a stable income.
Every ten minutes, a bitcoin block is allocated and all the active players get a chunk of it and that's all depends on your mining power. The more is your mining power, the more you'll be able to earn bitcoins from the block. So, this is how everything works at Rollercoin.
There are many other ways to make money online using link shorteners, affiliate marketing, and advertising that you might need to know.
How does mining work in Rollercoin?
No doubt it is true that you simply need to play games in order to mine bitcoins but It as I said earlier, it works the same as we used to mine bitcoins in real life. You will have to deal with some real stuff like mining center repair, electricity bills, air conditioning, and rent expenses, etc.
I know that this might be challenging for you but Rollercoin promises that these all real stuff can't stop you from mining real bitcoins.
Rollercoin Payment details
Since Rollercoin is an online bitcoin mining simulator game that lets you mine bitcoins, therefore they use the BTC as a default payment method for withdrawing or depositing money for purchasing things from their In-Game purchases.
You'll earn the bitcoins in Satoshi which is the smallest unit of bitcoin and is equal to one hundred millionth of a bitcoin (0.00000001 BTC). You'll be able to earn Satoshi depending on your mining power which is measured in GigaHash per second (GH/S).
To withdraw from Rollercoin, visit your In-Game wallet page and provide your bitcoin wallet address where you want to receive your money. After that, request for the withdrawal and wait for at least two business days. The minimum amount for withdrawal is 10000 Satoshi.
Rollercoin Referral program

Rollercoin provides you an opportunity to earn even more from their affiliate program that lets you earn up to 25% from referral's profit.
You can earn decent revenue using their affiliate program with several benefits such as Instant payouts, Fast-growing market, Cutting-edge technology, Detailed statistics, Privacy protection, and most importantly revenue shares up to 25% which is a great thing to consider.
Moreover, Rollercoin offers a 15% commission from In-Game purchases too. So, if you have planning to join Rollercoin, you must join their referral program too.
How to Join Rollercoin Referral Program?

The following are the quick and easy steps to join the Rollercoin affiliate program.
Create an account
Get a link or banner from their promo materials
Place it on your business website or blog
Start getting profit
Do I recommend Rollercoin?
For me, I was totally amazed to see this platform used as a bitcoin mining platform by just playing games which means that you don't need to do anything like as we used to do in real life to mine bitcoins. Therefore, I'll definitely recommend Rollercoin to everyone who is interested in mining bitcoins without any efforts.
So, if you've been looking for ways to mine bitcoins in a fun and easy way, then Rollercoin will be the best ever choice you'll make.
Do you still have any doubts about choosing Rollercoin? Go check out Rollercoin review from other people who have experienced this platform.
What are you waiting for now? Join Rollercoin without wasting any time.
At Trendstorys.com, we aim to provide honest reviews to our users to help them choose the right ad network.
Any queries related to Rollercoin review or if you're already experienced with this platform, give your review out of 5 stars or let me know in comments.