Summary
Fotor, an online photo editor packed with powerful photo editing features and graphic designing tools to create and edit images online. It's not a complete Photoshop replacement but a great choice for people who want to save their time.
Photo Editing

Photo Collage

Graphic Designing
Pros
Easy to Use
Powerful Editing tools
Photo Collage maker
Stunning Filters & Effects
Available for the Web-based application, Desktop App (Windows & Mac), Mobile App (Android & iOS).
Cons
Sometimes the interface of the application becomes slow.
The free version has limited filters and effects.
Not a great choice for creating designs from scratch.
Don't have enough knowledge of photo editing software such as Photoshop to edit pictures?
Having difficulties in editing pictures in Adobe Photoshop?
Looking for some online tool that helps you edit your pictures easily?
If yes, then you have come to the right place as today we are going to review Fotor, a powerful online photo editor that lets you edit your pictures in just one click.
In this Fotor Review, we'll look at all features that Fotor provides and will determine either its worthy to use or not.
The usage of online photo editors is increasing gradually as people want to save more time than editing photos on heavy software like Photoshop which is one of the popular and the best photo editing software. However, people usually newbies might not be able to edit their pictures easily using Photoshop as it might appear a little bit complex for people having no knowledge of Photoshop.
To overcome these difficulties, people are shifting to online photo editors that allow editing photos quite easily by just a single click.
So today we'll discuss an online editor which is quite an old, yet powerful editor that still remains on the top of the list.
Let's know about Fotor in a little detail.
What is Fotor app?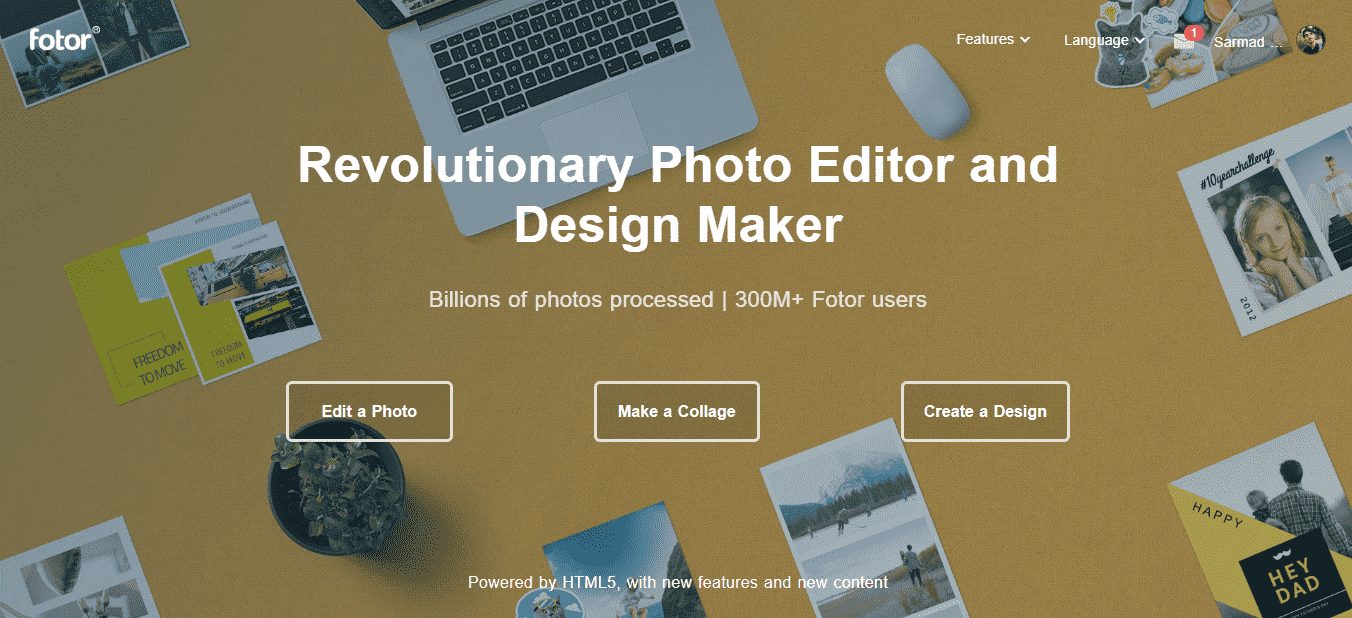 Fotor, a free and easy to use photo editing tool founded by Chengdu Hengtu in 2012. It was basically designed with the aim of helping people to get rid of the difficult process of editing pictures.
Fotor comes with both web-based application and software to run on windows or mac. To make it more convenient for you, Fotor offers its services through mobile application too which is available for both Android & iOS devices.
The clean and user-friendly interface takes Fotor to the next level as it is packed with tons of premium features such as photo editing, Photo collage, Graphics design, HDR, Beauty Retouching, etc. By maintaining its superior quality, it has gained 300M+ users worldwide and is growing day by day.
What makes Fotor stand out from others?
Apart from other photo editing tools such as Adobe Photoshop which is a little bit complex software especially for beginners, Fotor is the only editor that solves all these problems by letting users edit the pictures quite easily usually within few clicks. Fotor is loaded with a bunch of editing tools that make it possible for users to save a lot of their time. Fotor rewards its users with tons of features to edit the pictures professionally.
With its one-click filters feature, you can easily polish your pictures to make them look more beautiful. Yes, we all know that Photoshop remains on the top list when it comes to professional editing but Fotor is a great choice for people who want to save their time, and most importantly, it is free software with tons of features. However, it comes with a paid subscription plan (Fotor Pro) that contains some more advanced editing features such as advanced HDR effect, thousands of pre-designed templates, auto-resizing, massive cloud storage, etc. Moreover, the paid version is ad-free which means you'll not get interrupted with the ads.
There shouldn't be a reason to worry as the free version also contains quite good features that are necessary to edit pictures in a professional way.
What can I do with Fotor?
With Fotor, you can go beyond your expectations as it the best online photo editor working since 2012. You can do almost everything with Fotor with its remarkable tools that it provides to its users.
Apart from editing pictures on Fotor, you can also create amazing designs such as flyers, cards, covers, resumes, and almost everything related to graphic designing. There isn't any tool so far that provides tons of features like Fotor provides which is the only reason that makes it stand out from all the other online tools to edit pictures.
Fotor Features

Fotor is probably one of the best photo editing software that comes up with the premium features to edit pictures in a professional way.
The following are some of the highly known features that you must know.
Photo Editing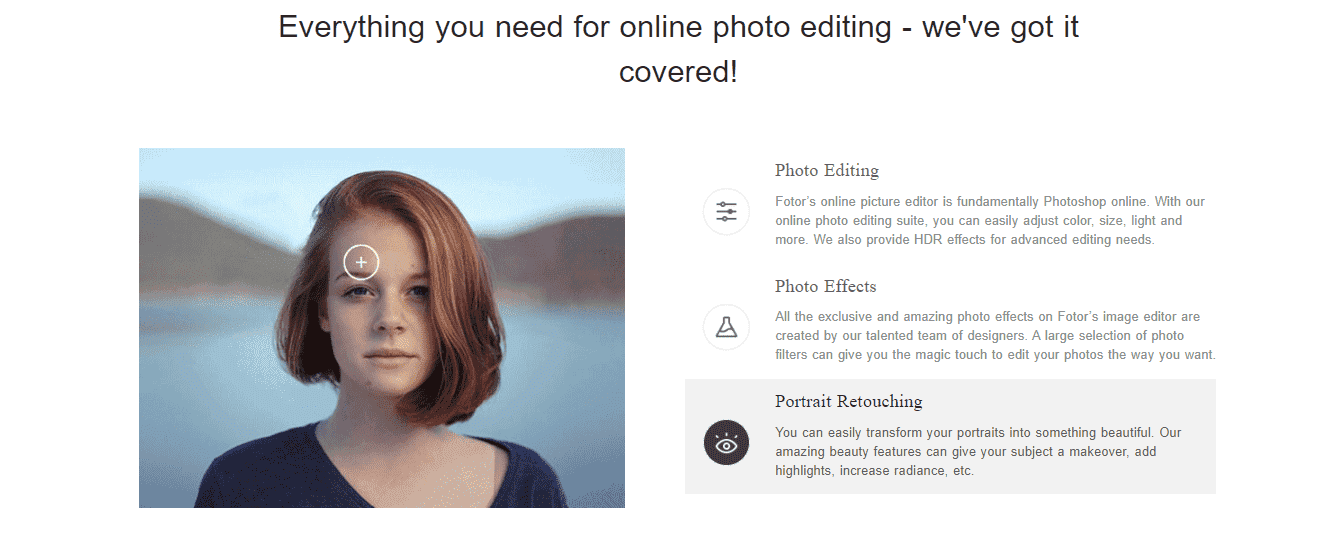 The main core objective of Fotor is photo editing to help users edit the pictures for personal use or for a client. It is basically designed to bring powerful digital editing for their users.
The photo editing feature contains different editing tools such as photo effects, 1-tap enhance, stunning filters, AI effects, blur effect, HDR, background removal, unwanted object removal, cropping, resizing, straightening, and many more. You can also use photo frames, stickers, text, color splash tools to make it look more awesome.
Photo Collage

Photo collage is basically a visual representation made from a group of different images in a single image. To express more feelings than a single image, here comes the photo collage feature that Fotor provides to their users to create collages of different types depending upon the number of photos. A collage can be the best option to share feelings, to tell a story, etc. Fotor provides different collage types such as Collage Maker, Photo stitching, Funky collage, Artistic collage, etc.
Beauty Retouching

Everyone wants their pictures to look stunning on social media platforms or resumes. Using Fotor, you can beautify your pictures by using the photo retouching kit that has the complete solution for editing a picture. You can improve your picture by using wrinkle remover, photo reshaping, blemish remover, red-eye remover, and teeth whitener tools that will help you to look more amazing.
Graphic Designing

Fotor is much more than just a photo editing software. Apart from photo editing or making photo collages, you can create any type of graphics using Fotor as it provides massive design option such as twitter covers, Youtube channel art, Youtube thumbnail, Facebook covers, Google plus covers, Pinterest post, Banner maker, Logo maker, Book cover, Blog Title, Instagram post, Facebook post, Photocards, Invitation, Wallpaper, Poster maker, LinkedIn backgrounds, Business card, Postcard, Etsy banner, Email header, Menu maker, Certificates, Letterhead designs, Resume maker, Flyer maker, Event program, Ticket maker and many more.
Thousands of beautifully designed templates are available to meet any of the needs. You can do almost all major types of graphic designing on Fotor but still, it's not a complete photoshop replacement. However, doing all these tasks on photoshop takes a lot of time but using Fotor is quite easy and time-saving.
How do I use Fotor?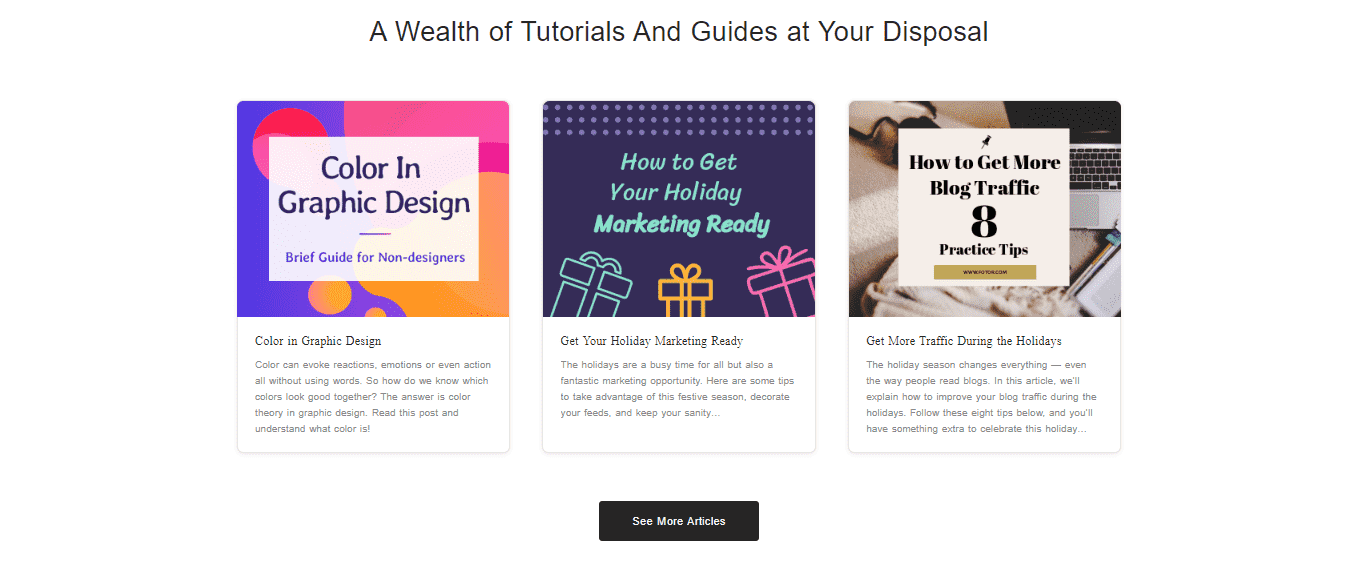 This feature of Fotor I personally liked it because not everyone can be able to design stuff easily. At some point, you might get stuck. For this reason, Fotor provides best guides to their users to help them learn the tools such as making logos, creating flyers, removing the background, designing cards, making book covers, business cards, removing unwanted objects, etc.
These tools aren't difficult but a newbie having no prior experience might get difficulty in editing. Therefore, to overcome this issue, Fotor introduced an easy to understand guides for their users. You can even watch videos on Youtube to learn Fotor.
Is Fotor really free?
Yes, the creators of Fotor has made it free software for users all over the world. The reason they made it free is that they want to gain trust by the quality they provide to their users. When people get satisfied with their free plans, they don't hesitate to buy the Fotor Pro, which adds some more premium features, and most importantly the ads are removed in the pro version.
Fotor Pricing & Details

Fotor is a free and easy to use application that is available for both desktop (Windows & Mac) and mobile devices (Android & iOS). However, it does come with a pro plan that contains some more new features and an ad-free platform.
The Pro plan has a price of $39.99/year. However, if you don't want to buy a subscription for a year, you can even buy it for a month which costs $8.99/month.
They also have an option for students who want to buy Fotor at a discounted price up to 30% off.
Fotor Payment Methods
To make a payment on Fotor, you must have a working credit card or a PayPal account. Currently, there are only these two payment methods available. However, Fotor is trying to bring up more payment options in the future.
Do I Recommend Fotor?
To be honest, Fotor will be the best choice ever you'll make to edit your photos. The reason behind this is because it provides tons of different options for designing purposes. It is true that It can't reach the level of Adobe Photoshop but it comes in second place after Photoshop as recorded in BBC news.
Fotor is the best option for people who don't want to waste their time in doing editing on Photoshop. In light of my experiences, I'll definitely recommend Fotor to all people especially newbies to use this application.
If you've still any doubts about choosing Fotor, go check out other Fotor Reviews from people who have already experienced this application and find out what they are saying.
At Trendstorys.com, we aim to provide honest reviews to our users to help them make the right decision.