With the growing interest of users in 3D printing, there has been quite a considerate increase in mobile apps too. Yes, additive manufacturing technology is getting mobile. As exciting as it sounds, the selection of the right app could still turn out to be the most daunting job. With varying difficulty levels and every app with its own set of features, finding the one for your specific needs isn't a cakewalk.
That is why we have curated a list of the most popular mobile apps that could help master 3D printing in no time. Either you are a professional or someone who is completely naïve, these apps could help create an amazing design with ease.
5 Best 3D Printing Apps for Mobile Users
Following are some of the best apps for 3d printing for mobile users that you must need to know.
3DC.io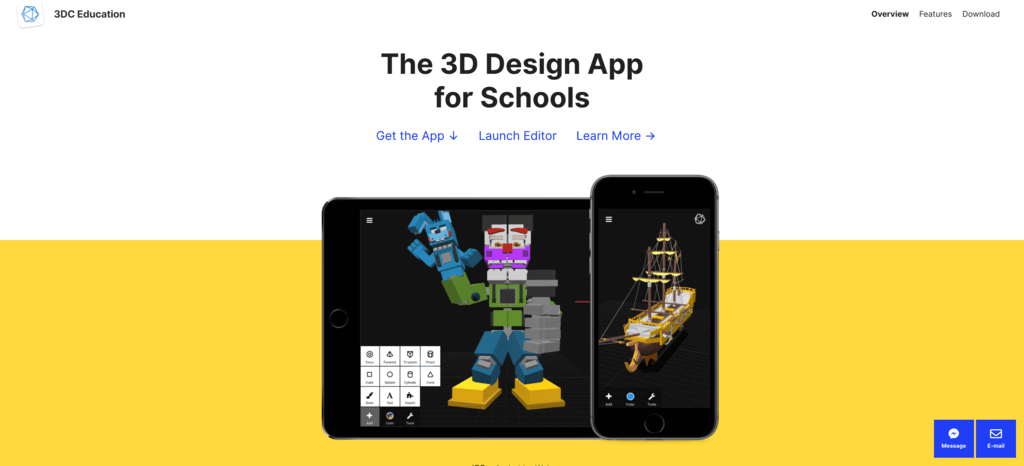 Mostly vouched by students and young 3D printing users, 3DC.io happens to be one of the friendliest apps on the list. Most importantly, the application also has a free version apart from the paid ones. So, if you like to try the app without paying a penny, go for it. To make the app more accessible, 3DC.io is available in a variety of languages. For instance, it supports English, Japanese, Spanish and more.
A product by a new Estonian start-up that has made life easier for those seeking the first-hand experience with 3D designing. What makes this app so peculiar, is the design. Offering a very simple interface, it suits young users including children and newcomers. Hence, making 3D designing accessible to the freshest group of users.
In addition to its easy learning graph, 3DC aims to reach out to young students. Hence, the company also offers schools discounts to avail of the app at a cheaper rate.
Using the 3D Mobile app, users can upgrade export designs to OBJ for further editing. Or, one can even export the design too. STL for printing right away. Just export the file and upload it on the i.materialise for printing. As easy as it sounds. If you're looking to buy an affordable 3D printer to print your designs, Pick3DPrinter has a list of the best cheap 3D Printers in the  $200 -$300 range worth checking out.
Umake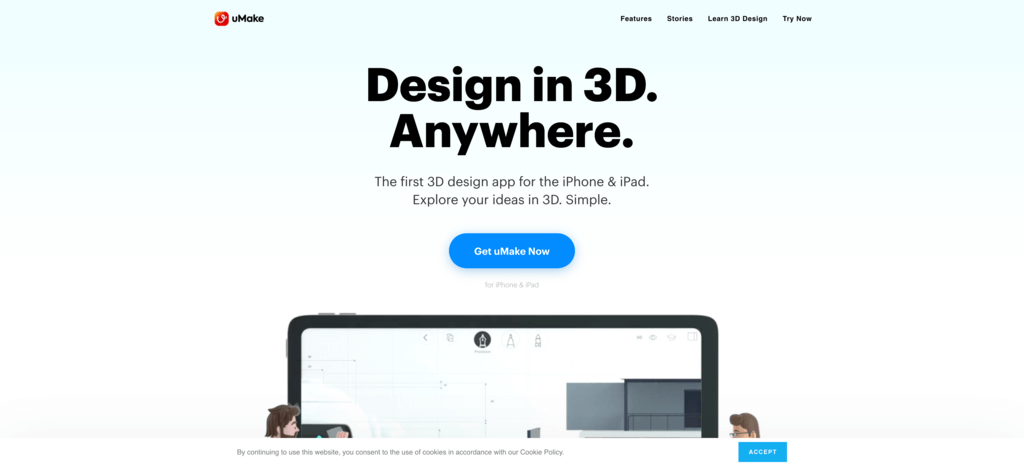 Sometimes, our need not just revolves around learning. And for those users who wish to apply 3D printing skills to work, Umake presents the most astonishing features. Apart from being highly easy to learn and operate, the app also has a number of amazing features to suit designers and professionals with their intricate work.
However, the app is not available for any other platform apart from iOS. So, Android users may have to wait for a little. We expect the company to soon release the Umake version for Android mobiles.
Talking about the features, you can consider this app one of the most colorful options available currently. It offers great designing tools helping you convert your doodles as well as sketches into 3D designs effortlessly.
When it comes to 3D Printing, Umake can help export files to different formats. You can get the OBJ, STEP, and IGES formats of your 3D designs in no time. With a free version, the app lets you explore the various features with ease. In addition, the paid version is also affordable and comes packed with exciting extra features, difficult to overlook.
Once again, the app is available in different languages, 11 to be precise including English, Korean, Russian, and more.
Shapr3D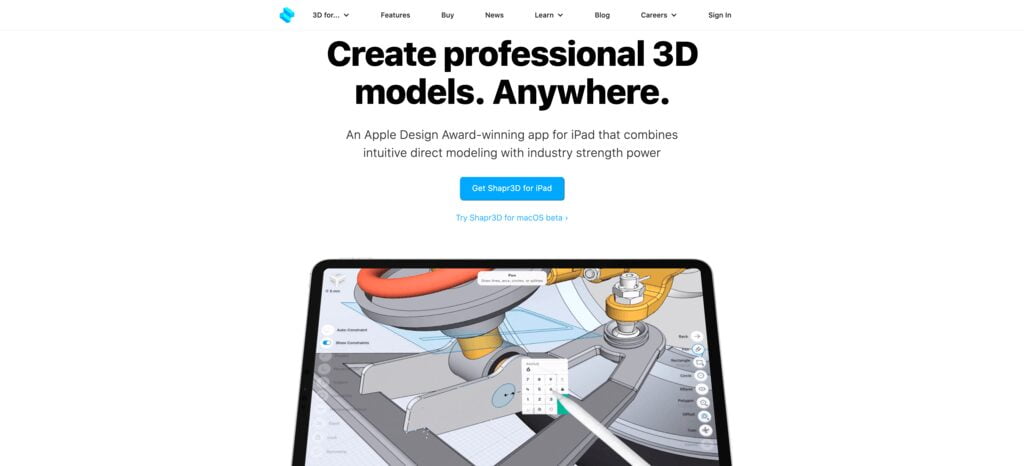 Next on the list is the app that is specifically designed for experts. Either you are an industrial engineer or creative designer, Shapr3D could help you gain access to an array of advanced features to designing intricate files. Just one concern when opting for this app, the app is only available for iPad Pro. You can definitely browse your 3D files from this app on other iOS devices. However, the editing function is only available with iPad Pro.
Once again, the app has a free version and the complete feature is available with its Pro version which is affordable too.
Thingiverse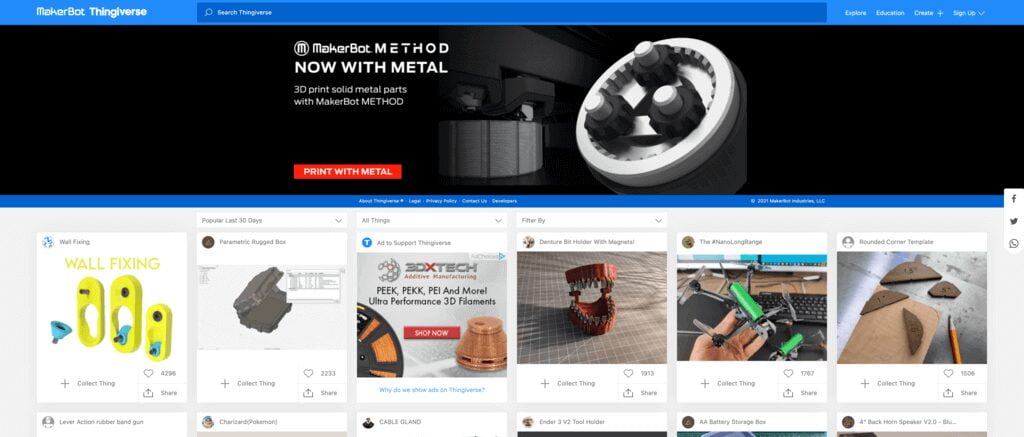 Everything is possible when you have an app as smart as Thingiverse. You heard it right. Thingiverse is for those who do not wish to design a 3D file from scratch. There are times when users just want to twig some part of the design and 3D print the model without working entirely on the same.
In such cases, you can make use of Thingiverse. The app is available for Android devices and allows users to choose from the different free. STL files directly. If you wish, you can make minor changes to these files, as needed, and print those directly.
Isn't that the smart thing to do? We thought so too!
OnShape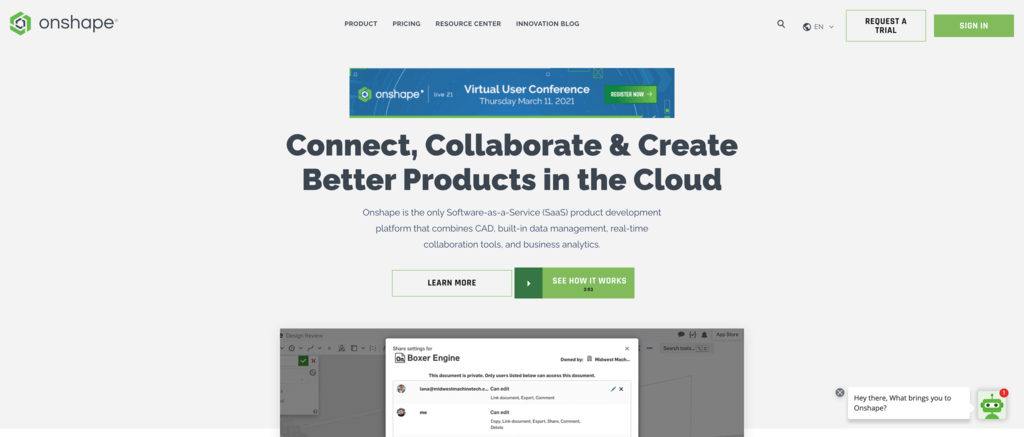 What makes this app so unique is its access? Surprising or confusing? Well! Different from other choices in the list, OnShape is a cloud-based 3D design software. Hence, teams and various different designers can come together to work on a single model simultaneously. This is the reason why the app is so pronounced within businesses and professionals working together.
The app is available with Android, iOS, and of course, the web. And, if you wish to use the app for educational purposes, you may request it for free. The professionals must pay a $125 monthly fee to access the complete feature.
However, there is a free trial available to provide hands-on experience with OnShape. It is difficult not to like the app though. You can use OnShape in different languages including English, Traditional Chinese, German and more.
Conclusions
3D printing is becoming mainstream. Without any doubt, the technology will soon be available in most houses, and schools. That sounds like a far-fetched dream for now. But the world is changing and shifting towards creative applications. More users are showing interest in making things at home, specific to their needs. And, customization certainly demands a technology that can be easily accessible and simple to use, without putting many dents on the wallet.
And, to instill that belief further, we can witness how 3D printing applications are moving to mobile phones. Making easier for end-users and beginners to work on 3D designs and experience the perks that the technology offers. So, if you wish to learn 3D printing, and perfect your skills, just choose a mobile app and get started.