Summary
AnyEXIF allows Mac users to view, extract, edit and clean the EXIF, GPS, XMP, TIFF, IPTC, Camera, Lens, and Flash data of their photos. It is a 100% free professional Mac Exif Editor that can also be used to manage, store and view all the metadata information.
All In One EXIF Editor

Clean UI

Privacy & Support
Pros
Clean UI & Easy to Use
Different types of metadata can be edited such as EXIF, GPS, TIFF, IPTC, Camera, Lens and Flash data
View, Edit, Clean, or even add EXIF data from scratch using this single tool instead of downloading separate tools
Smaller in size (1.4MB)
Flag special photos as it would help you find a particular photo among many
Free for Everyone
Cons
Available only for mac users
You must have heard the word EXIF data and metadata a lot and especially concerning privacy breaches and sensitive information. That is because people are now becoming increasingly aware of the EXIF data carried by images and its possible implication. 
EXIF (Exchangeable Image File Format) information or metadata is the specific information related to the pictures which are stored in the physical file of the picture. EXIF data can consist of simple information like camera gear, camera lens details, and the date or time at which the image was captured but also sensitive information like GPS locations.   
Not everyone is comfortable with sharing their GPS location and other details with everyone so people prefer to extract and remove metadata before uploading pictures on the web. People also remove metadata to reduce the size of the images. But you will need a powerful editor to extract and remove metadata from images. Such editors can cost a fortune and even after paying people are unable to use them because they are too complex for laymen.
However, all of that is about to change for you thanks to a free and user-friendly EXIF editor that I am about to introduce. The program is known as AnyEXIF and it has a user-friendly interface that makes it simple for users to use it to the fullest extent. It is tailor-made for Mac users. They can use it to extract, edit and remove metadata. Do you want to know more? Read ahead to find out.
What is AnyEXIF?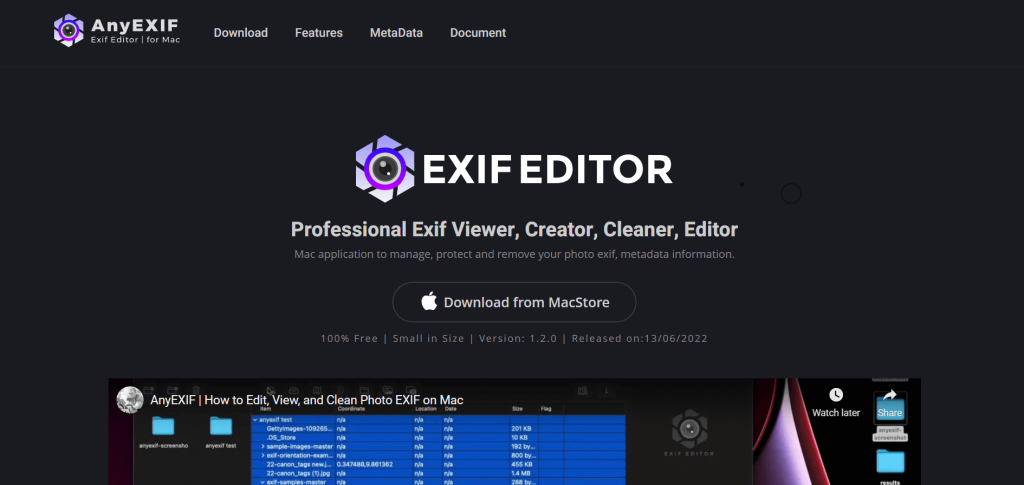 AnyEXIF allows Mac users to view, extract, edit and clean the EXIF, GPS, XMP, TIFF, IPTC, Camera, Lens, and Flash data of their photos. It is a 100% free professional Mac Exif Editor that can also be used to manage, store and view all the metadata information. The users can manage and edit the photos in the same windows so it is an all-in-one Mac tool to edit, clean, and store EXIF information of your photos. 
This Editor offers a diverse set of features. It is also safe to use with full privacy protection so you do not have to worry about a data breach. Plus it allows the users to add a flag to the photos which will act as a bookmark and enable him/her to locate those photos readily.
AnyEXIF is, as mentioned before, also quite easy to use so anyone can utilize it. Most importantly, it is small in size so it won't take up much space on your PC.
It is an almost perfect Exif Editor for any Mac user, don't you think? Watch below:
Features of EXIF Editor
Exif Editor offers the following features;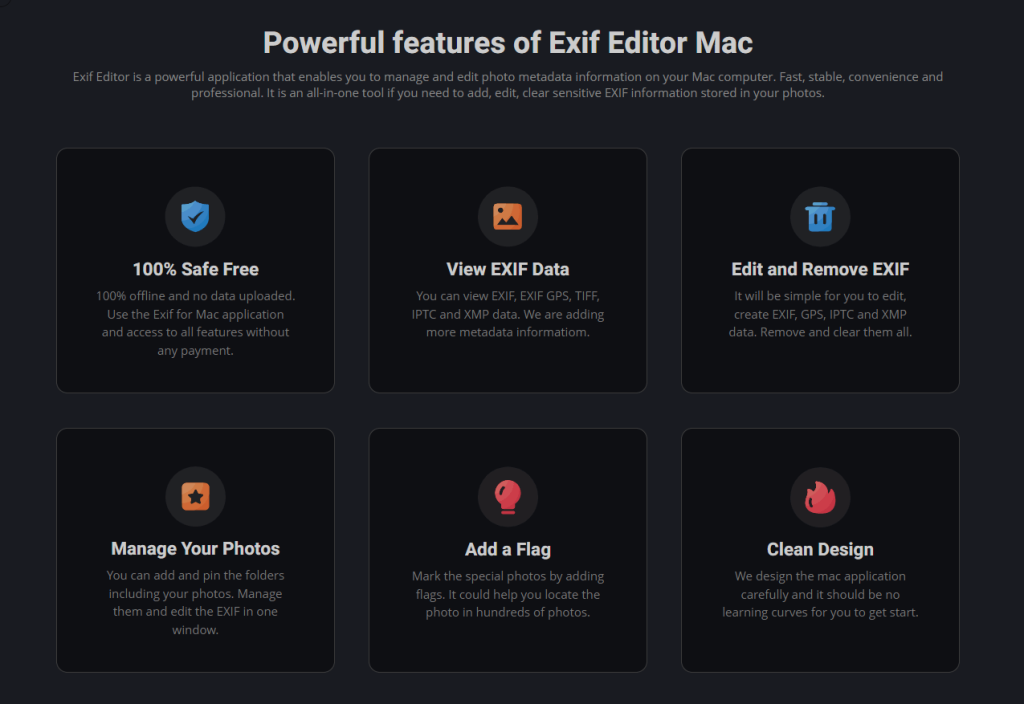 Extract Exif information
AnyEXIF can be used to withdraw Exif information from photos. The users can extract the EXIF, TIFF, and XMP information from photos with the help of a few clicks. It is easy and convenient. 
Edit and Remove Exif
After extracting metadata information, the users can also edit them as they please. And if needed, they can remove and clean the EXIF information too.
Save and Manage Photos
The users can create and pin folders of photos. They can save, manage and edit photos in one window by using EXIF Editor.
100% free to Download
You don't have to pay a penny to download and use AnyEXIF. There are no hidden charges or features that can be unlocked by paying. It is a 100% professional Mac Exif Editor.
Add a Flag
The users can add a flag to their favorite photos which will act as a bookmark. With the help of the flag, they will be able to find their favorite pictures even in hundreds of pictures.
Small in Size
This software is small in size. This means that you won't have to wait hours for it to download and strain your computer or data connection. AnyEXIF is easy to download and run due to its small size.
Privacy Protection
AnyEXIF will not share user data and information with third parties. Your data and photos will remain protected from hackers and malware.
Clean Interface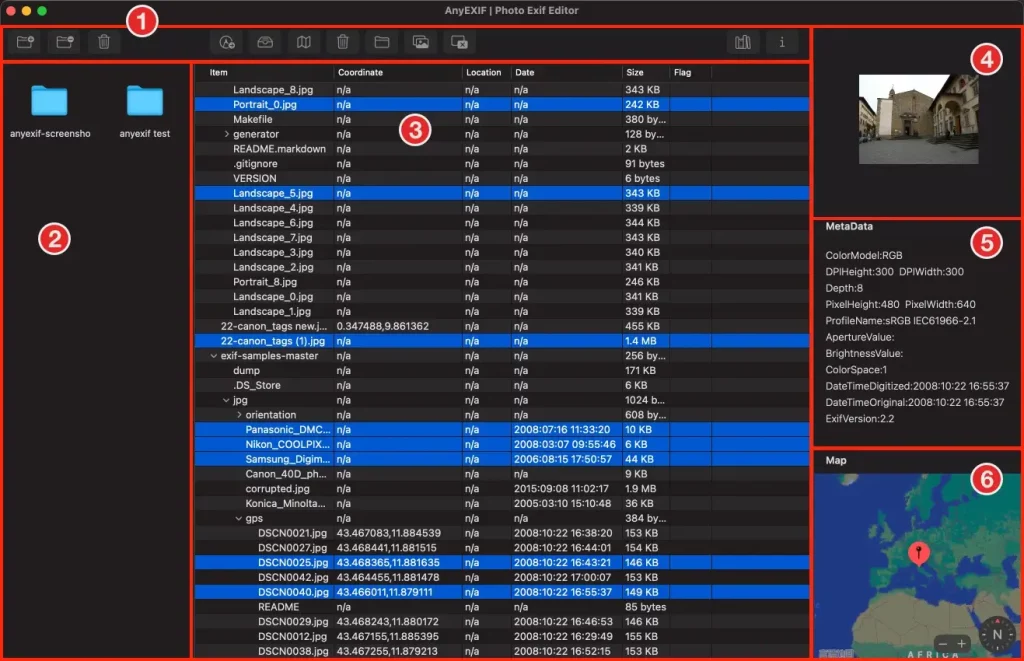 It features a clean interface that makes it easy for users to utilize it. This user-friendly Editor can be used by everyone to edit metadata within minutes.
It's hard to find all these features together even in the expensive Mac Exif Editors but AnyEXIF is providing them and much more for free.
Drawbacks of AnyEXIF
Exif Editor is an amazing Mac Exif editor that provides professional features and tools to users for free. But like everything else, it comes with its own downsides. It sometimes lacks customer support which has become essential in today's day and age. As there is no customer support the users have no way to resolve any issue they face or get answers to their queries. This is certainly bothersome because most of the software programs come with official customer support.   
Secondly, they are only available for mac users which isn't a drawback of it but can be considered one since many windows users wished to have one like that.
Is AnyEXIF Worth it?
Yes, it 100% is. First of all, AnyEXIF is free to download and use. You don't have to pay anything to use it. Secondly, it offers a set of extensive features that allows the users to save, edit and remove EXIF data as they please with a few clicks. It is an all-in-one editing solution for Mac users. Plus it allows the users to add a flag to spot their preferred photos among hundred other photos.   
Most importantly, this Exif Editor is easy-to-use so even someone like me who had never edited before could edit metadata after experimenting for a few minutes. 
How to Download AnyEXIF?
Downloading an AnyEXIF is easy. Simply open the official website and click on the "Download from MacStore" button and it will take you to the MacStore where you'll be able to download it for free.

Final Words
AnyEXIF is the ultimate free Mac Exif Editor. It offers incredible editing features and it is also easy to use which others fail to provide. You can basically do everything with the help of AnyExif from saving pictures to extracting Exif information, and removing it. See the complete guide on EXIF Editor right here.
Now you can protect personal information and reduce the size of the images by cleaning the metadata within minutes.
If you don't believe me, you can try it yourself. After all, what do you have to lose? It's free. Download it and start playing with photo metadata today.
At Trendstorys.com, we aim to provide honest reviews to our users to help them make the right decision.