A-Ads Review
Highly Engaging Ads

Advanced Targeting

High Commission Rates
Summary
A-Ads, previously known as Anonymous Ads, is the best Crypto and Bitcoin advertising network founded in 2011 with an aim of solving advertising problems for both advertisers and publishers.
Pros
High-Quality Traffic
User-Friendly Interface
Effective ads at affordable rates
Quick launch of campaigns
Timely Payments
Earn more using Affiliate Program
24/7 support center.
Cons
Support only BTC as a payout method for publishers. More options should be available.
Supports only text and banner ads.
Don't have enough traffic to convert users into customers?
Struggling with generating leads for your business?
Or looking for a trustworthy platform to monetize your website being a publisher?
If yes, then you've come to the right place as today we're going to do an A-Ads review, a crypto advertising platform where you're either an advertiser looking for buying traffic or a publisher for monetizing your website, it has the complete solution for both of them.
Now, as far as I know, you probably came here with an intention of having A-Ads review? Right?
Of course, It's in nature that whenever someone tries to join any network, he/she check for its reviews first to make sure either it is legit or scam.
Therefore, in this article, we have come up with a detailed review of A-Ads justifying why it the Best Crypto & Bitcoin Advertising Network amongst all other Cryptocurrency Advertising networks.
So, if you came here looking for the review of the A-Ads ad network, then stay with me and keep reading the entire review to know deep about A-Ads along with its pros and cons.
A-Ads Review 2020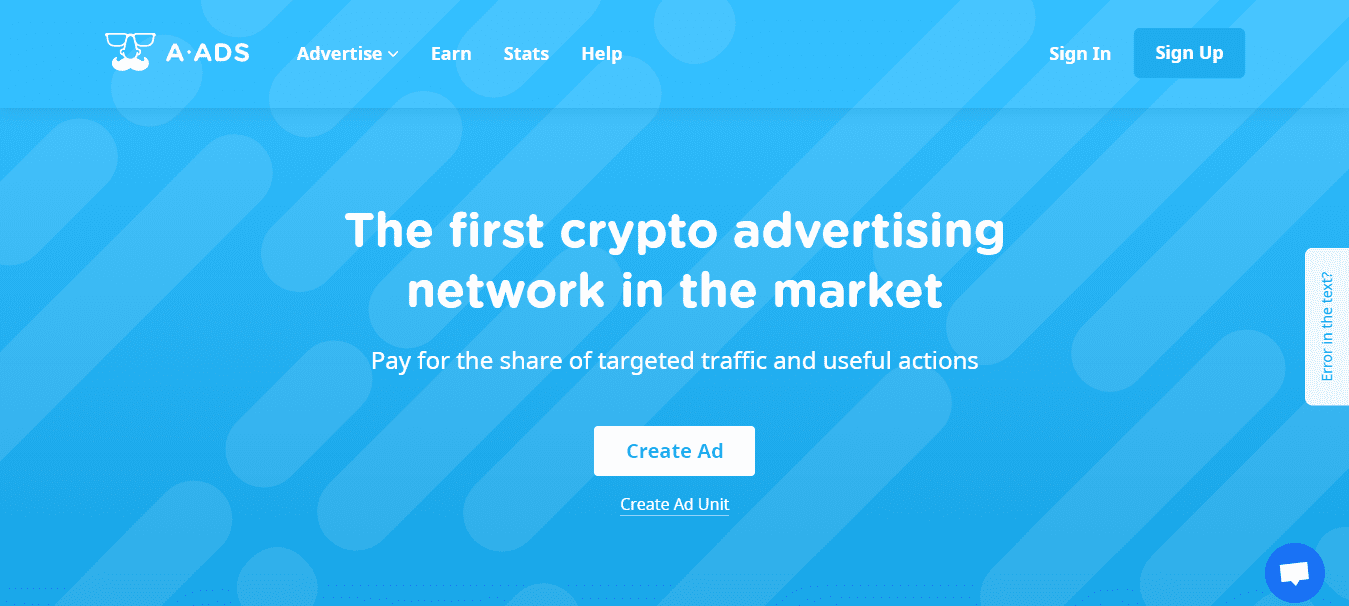 A-Ads, basically known as Anonymous Ads, is a Crypto and Bitcoin advertising network founded by CEO, Arsen Gasparyan in 2011 with an aim of solving advertising problems for both advertisers and publishers.
The growth rate of cryptocurrency has been improved a lot in recent years due to which the majority of the users are diverting to Cryptocurrencies such as Bitcoin, Ethereum, Litecoin, etc. over other digital currencies for making online transactions. The future of blockchain and cryptocurrency is way too bright in the coming years according to Forbes. After the huge success of Cryptocurrency all over the world, many companies started working on the crypto niche to excel in which A-Ads is one of them.
A-Ads is one of the very few ad networks that pay its publishers in Bitcoins and has a complete monetization solution for both Publishers and as well as Advertisers worldwide.
It is the rapidly growing Crypto and Bitcoin advertising network having 1B+ daily impressions having thousands of daily conversions which is quite a great thing to consider.

The pricing model of A-Ads is based upon CPD as the main model and CPA & CPM as secondary options.
Following is the short overview of the A-Ads Review that you need to know.
A-Ads Details
Company Name

: A-Ads (Anonymous Ads)

CEO & Founder

: Arsen Gasparyan

Founded In

: 2011

Pricing Models

: CPD, CPA & CPM

Payment Methods

: Bitcoin cash, dash, dogecoin, Ethereum, Litecoin, and Zcash.

Minimum Payout

: 1 Satoshi to FaucetPay and ExpressCrypto and 0.001 BTC to Bitcoin Address.

Minimum Deposit:

No minimum deposit.

Affiliate Program

: Earn up to 50% of our fees as an affiliate

Support Email

:

[email protected]

Website

: https://a-ads.com/
Why Choosing A-Ads.com Worth it?
A-Ads is counted in the Best Crypto Advertising networks that has been functioning since 2011. A-Ads is probably the best alternative to other Crypto Ad Networks, for instance, Cointraffic, Coinzilla, etc.
So why basically choosing this ad network worth your money?
Well, to be honest, the reason it stands out from other advertising networks is because of the highly engaging and targeted users they provide to its advertisers. Its experience in the Cryptocurrency industry has impacted several advertising campaigns and improved the quality to a great extent.
A-Ads is a top Crypto Advertisement Network that rewards its publishers and advertisers with many superior features that others lack of supplying like highly engaging advertisements, adaptive pricing models, customized targeting, high traffic traffic, etc. to help them generate revenue streams.
Within a few years after the launch of the A-Ads platform, it has gained great popularity and has secured a great reputation worldwide because of the quality that it provides its publishers and advertisers.
A-Ads Ad formats
A good thing about A-Ads is that they offer non-intrusive advertising which is why they support only text and graphic banners that can be embedded on sites, mobile apps, or browser extensions, etc. They support graphic files in PNG, JPEG, and GIF formats in which each file must be less than 700 kB. The banner sizes can be 120×60, 120×600, 125×125, 160×600, 200×200, 240×400, 250×250, 300×250, 300×600, 320×50, 320×100, 336×280, 468×60, 728×90, 970×90, 970×250.
Amongst all the above sizes, 300×250, 468×60, 728×90 are the most popular banner sizes that you should try.
A-Ads doesn't offer other ad formats such as Popunder or Popup advertising. Moreover, the ads don't contain any JavaScript code and don't leave cookies (until visitors click the ads).
Getting Started with A-Ads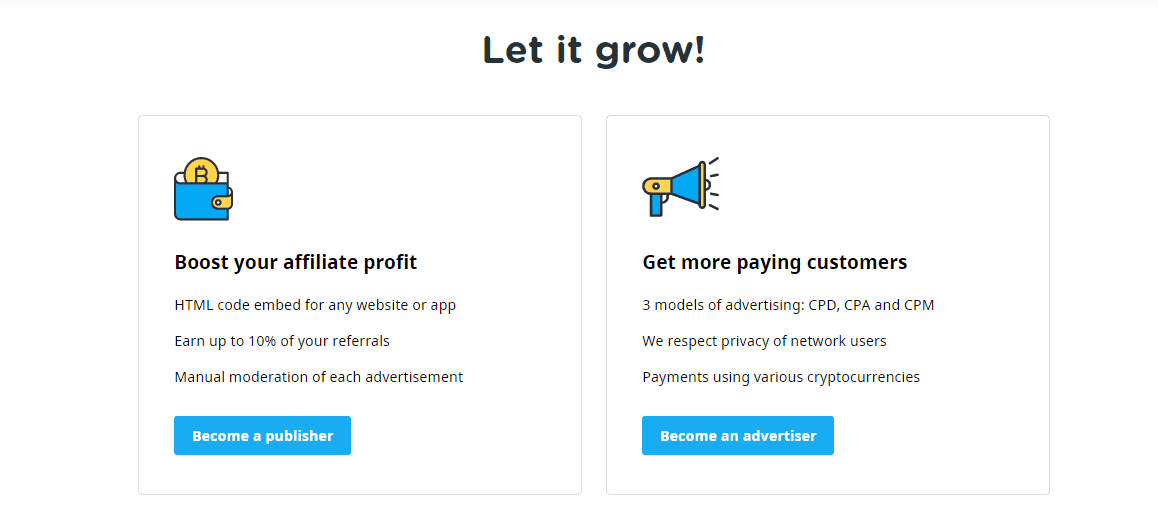 Either you're an advertiser or a publisher, A-Ads has the complete solution for both of them.
Let's start with the advertiser first.
A-Ads for Advertisers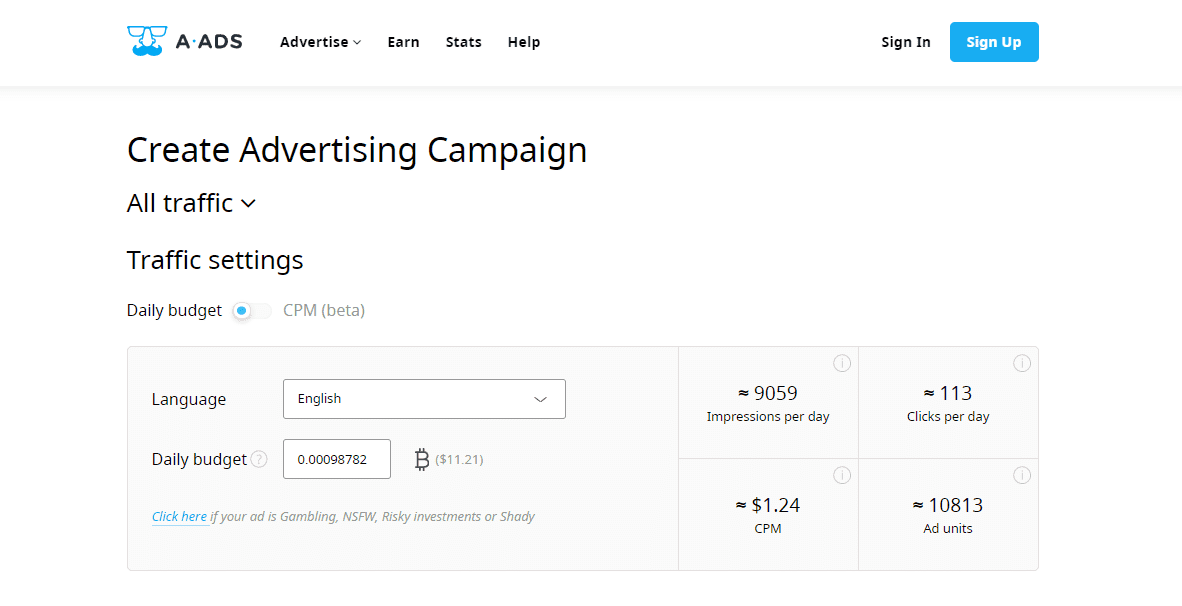 Are you running your business but not getting enough leads?
Already running ad campaigns with some other ad network but not happy with the results?
If yes, then you're probably missing the best Crypto & Bitcoin advertising network – A-Ads that will drive away all your worries. It is probably the best platform for advertisers and as well as publishers that have the complete solution for both of them.
Consequently, in case you've been looking for a better advertising network to advertise your small business on the internet particularly with targeted crypto audiences, then A-Ads are the ideal choice you will ever make since it's excellent popularity along with other crypto advertisement networks.
To become an advertiser on A-Ads, step one is to make an account on A-Ads. After verifying it, you'll have the ability to start generating your campaigns for your business. Create a campaign depending on your requirement by setting up the targeting options for your advertising campaigns. Once done, it is time to create ads for your business. A-Ads offers both text and picture banners ads which may be embedded on websites, mobile programs, or browser extensions.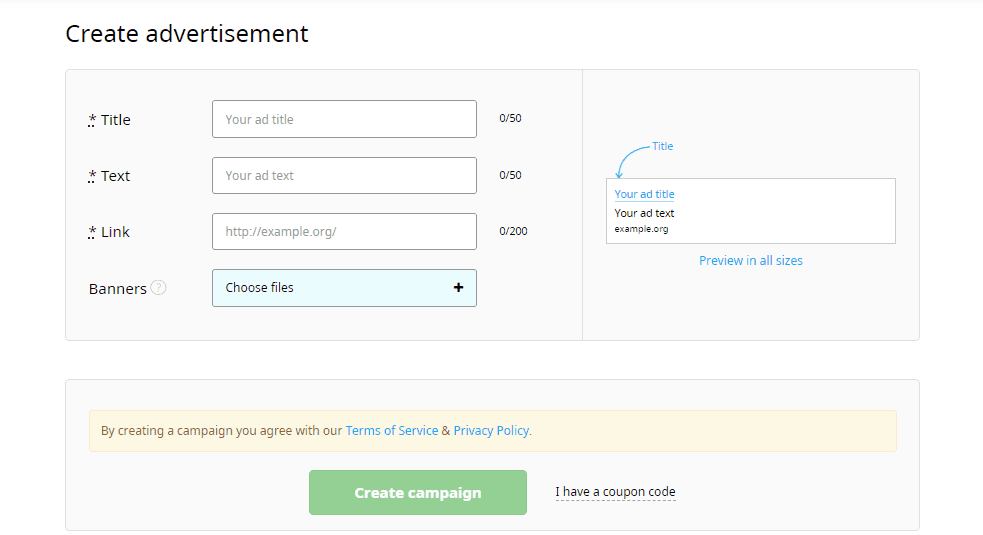 Once you're done with creating campaigns, set a daily budget for the ad campaigns that you want to run.
A-Ads for Publishers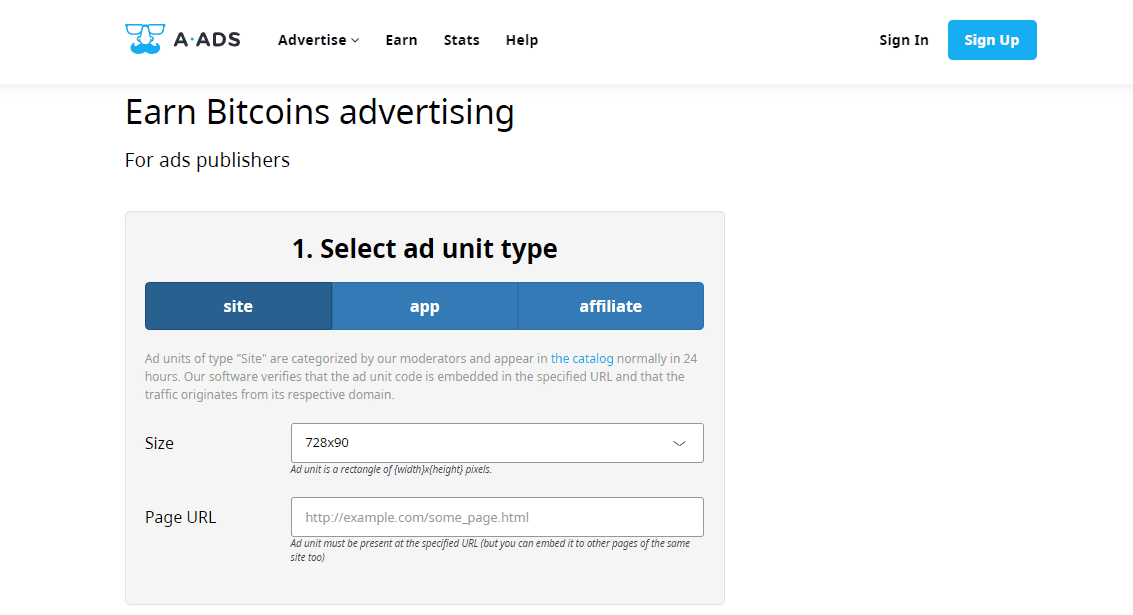 As A-Ads have the complete solution for both of its advertisers and publishers, this means anyone who has a website can easily monetize their blog by displaying ads.
If you're already with some other ad network and haven't got the output you're expecting, then A-Ads is the only one you're looking for to earn some great revenue. With the A-Ads advertising network, you can maximize your earnings and can get instant payouts for your earnings.
To be a publisher on A-Ads, you have to make an account. In case you haven't created an account yet and you also attempt to make an advertisement unit, A-Ads will automatically create an account using a random identification you can, in the future, alter it for your own.
So, as soon as you've created the ad components, now it is time to set the advertisement codes onto your own site by using different advertising formats that A-Ads offers. As soon as you've set everything up, you will likely notice a fantastic influence on your earnings using A-Ads.
Being a publisher, there are several ways to earn even more from the website such as using Link shorteners, affiliate marketing, and advertisements, etc.
A-Ads Payment Details
To deposit money into your A-Ads account for ad campaigns or if you want to withdraw money being a publisher, A-Ads supported payment methods include Bitcoin Cash, Dash, Dogecoin, Ethereum, Litecoin, and Zcash.
There isn't any minimum deposit or minimum daily budget.
You can deposit any sum to your deposit address and set any daily budget, that seems reasonable to you. However, the only limitation is technical which means a budget less than 121 Satoshi's won't be spent on ad campaigns.
For publishers, the minimum payout is 1 Satoshi to FaucetPay and ExpressCrypto, and 0.001 to a Bitcoin address.
As a publisher, you get a share of our daily budget which may vary from day to day based on many factors, most important of them being the number of unique impressions.
A-Ads Affiliate Program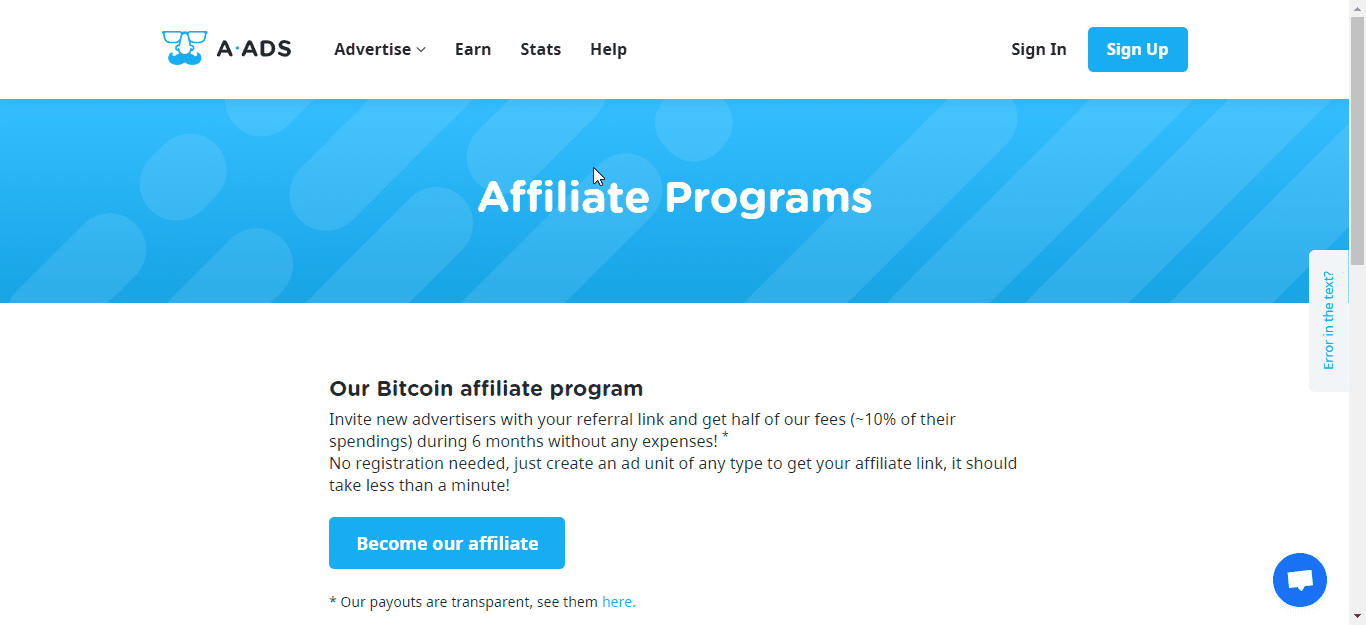 Want to know ways of how you can generate some extra revenue using A-Ads?
A-Ads provides you an opportunity to earn even more from their affiliate program that lets you earn up to 50% of our fees as an affiliate.
If you invite anyone to advertise with A-ADS, you can count on 10% of the money spent by them. When somebody follows your partner link, A-Ads use a cookie to track his activity. An advertiser will be considered your referral for 6 months after he creates a campaign or a user account via your link.
So, if you have planning to join A-Ads, you must join their affiliate program too.
A-Ads Alternatives
At first, you should go with A-Ads and see the magic of this ad network. But if it doesn't suit you for some reason, then some of the best alternatives to A-Ads includes Coinzilla, Cointraffic, and Bitmedia, etc.
Do I Recommend A-Ads.com?
In light of all of the facts mentioned in this A-Ads review, I will definitely suggest this Crypto & Bitcoin advertisement network to everybody that has been searching for targeted crypto viewers for their businesses. It's the best Bitcoin and Crypto advertising network which has an entire solution for both publishers and advertisers. In addition, the quality they've preserved since 2011 has made it stand out from the other crypto ad networks.
Therefore, if you have been on the lookout for the ideal crypto advertisement network, then A-Ads is going to be the finest ever option you will make since it's been operating because 2011.
Do you still have any doubts about choosing A-Ads? Go check out A-Ads review from other people who have experienced this ad network.
So, what are you waiting for now? Join A-Ads now without wasting any time.
At Trendstorys.com, we aim to provide honest reviews to our users to help them choose the right ad network.
Any queries related to A-Ads review or if you're already experienced with this network, give your review out of 5 stars or let me know in the comments.