CPMLink Review
Summary
Link Shorteners like CPMLink are easy to use and reliable, and they can also help you make easy money online. The link is shortened efficiently and optimized for social media as well. Definitely, a thumbs up to the owner for building a URL shortener like this.
High CPM rates

10% Referral Program

Speed & Security
Pros
High CPM Rates.
Access to Advanced Tools and detailed stats.
User-friendly Interface
Reliable and Credible URL Shortener.
Minimum cash withdrawal limit.
Decent Support
Cons
Sometimes customer support is backed up so tickets are answered a little late.
Considerably new
In 2022, the prices of even the most basic necessities are touching the heavens. That is why almost everyone is searching for new ways and methods to make money online even when they have full-time jobs.
Because let's be honest, most full-time jobs are barely paying enough to pay for basic needs and bills so people are forced to find different ways to make money online on the side to save for their dream trip, annual vacation, or any hobby they may enjoy.
I must say, people are actually earning significant cash online. Generally, most of them are making dollars through Google AdSense or through selling some skills i.e. graphic designing, and digital marketing services to online buyers. Meanwhile, a considerable percentage is joining MLM schemes, etc.
Now Google AdSense or selling skills online is a credible source of money but it is time-consuming and certainly not the easiest way to make bucks online. MLM schemes, on the other hand, are not trustworthy and are often considered fraud.
But what if I tell you there is an easy and yet credible way to make money online? This is where CPMLink comes into the picture.
It allows people to shorten links within seconds and also make money with the help of those links so you can improve your lifestyle and enjoy all the luxuries you want. CPMLink is a trustworthy and reliable URL Shortener of 2022 that may end all your financial problems if it is used properly.
Seems interesting right? Read on to know more.
What is CPMLink?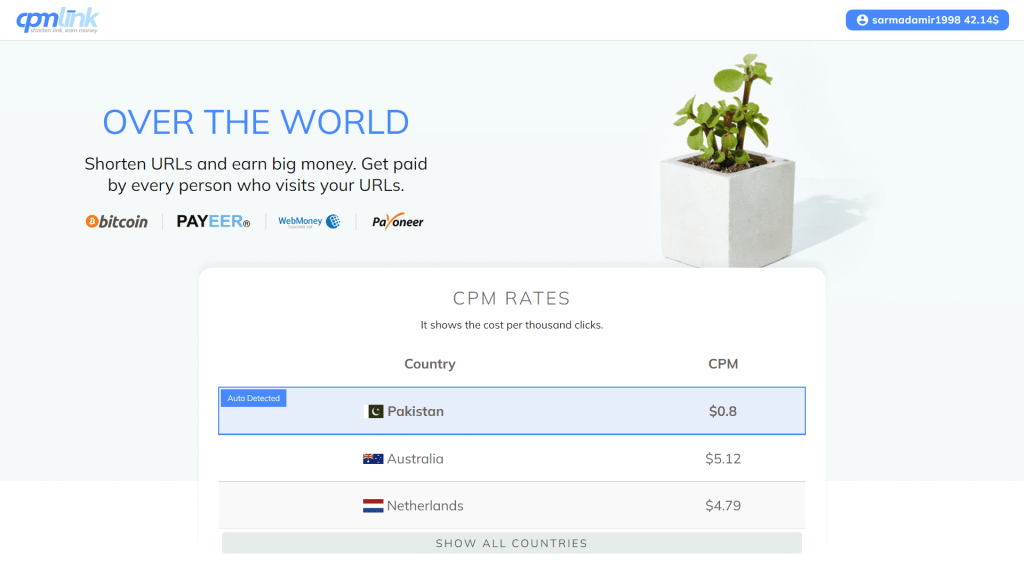 CPMLink is an easy-to-use and reliable link shortener that can also help you in making easy money online. It will efficiently shorten the link and optimize them for social media. After shortening the li­­nk, you can post it on social forums and encourage people to click on the link.
Whenever people will click on your shortened link, you will make money so making money with the CPMLink is incredibly easy.
Plus once you have posted enough links that have a significant amount of traffic, you can just enjoy the residual income for a while too. CPMLink has an extensive range of tools and strong APIs that can be used by users to generate maximum revenue and shorten more links in less time. It also offers maximum rates that are bound to help people in making more profit.
Most importantly you won't need to train for months or learn a new skill to use CPMLink. It was created for laymen so anyone can start using it today and earn some extra cash.
Features of CPMLink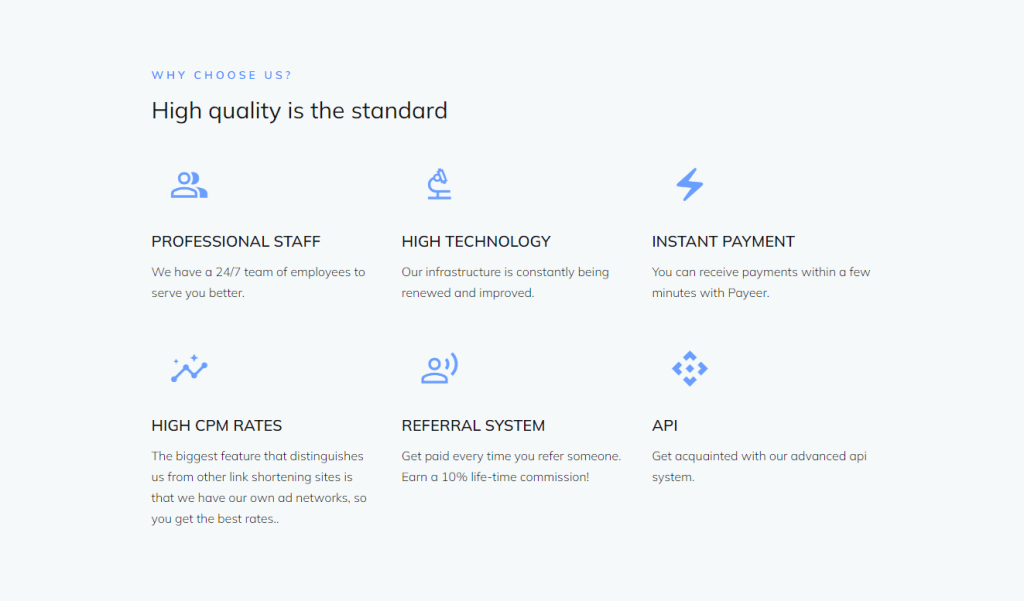 CPMLink comes with the following tools and features:
Detailed Stats
This tool provides detailed stats and reports of the activities of their links, visitors, and clicks. The users can also view "Daily stats", "Last 20 Clicks", "Device Report" and "Country Report". The graphical representation of the hourly stats is also available. The users can use this data to optimize their marketing strategy, post links that get more clicks, figure out which social media forums are more lucrative, and earn more revenue.
Dashboard

CPMLink provides the most user-friendly and easy-access Dashboard. The users can view basic stats like "Clicks", "Earning Today" and "Instant Visitor" instantly on this dashboard. And if they scroll downwards they can view detailed stats and reports from different countries. The dashboard also makes the other features of CPMLink readily available for the users to utilize.
Unmatchable Payout rates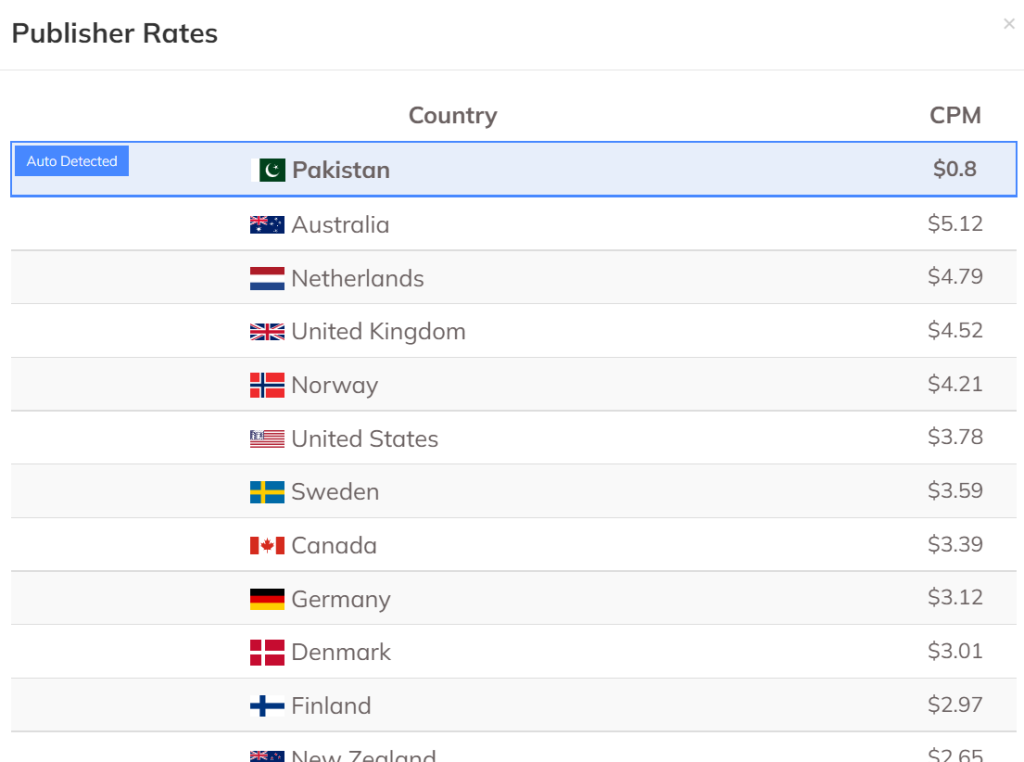 CPMLink offers one of the best payout rates in the market right now. So you will be making a considerable amount of money if you use CPMLink to shorten the links and then post them online. You can compare the payout rates of CPMLink with any other URL shortener's rates and you will find its rates to be most attractive and reasonable.
One of the great alternatives to this URL shortener includes Exe.io, Linkvertise, ShrinkEarn, etc.
Minimum Money Withdrawal Limit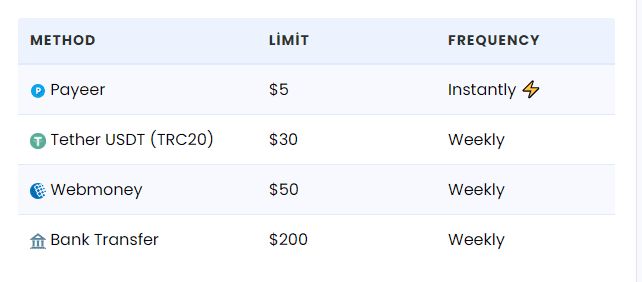 It has set a minimum money withdrawal limit of $5 to facilitate its users. The users can withdraw their hard-earned money anytime they need it since the money withdrawal limit is negligible. CPMLink tries its best to make the experience of its users smooth and tension-free so that they can work in peace, make money and withdraw it when they see fit.
CPMLink Payment Methods
Currently, CPMLink pays its users with Payeer with a minimum threshold of $5 which is really great thing to consider. There are several other payment methods available such as TRC20, Webmoney, and bank transfer with minimum thresholds of $30, $50, and $200 respectively.
Developer APIs and Advanced Tools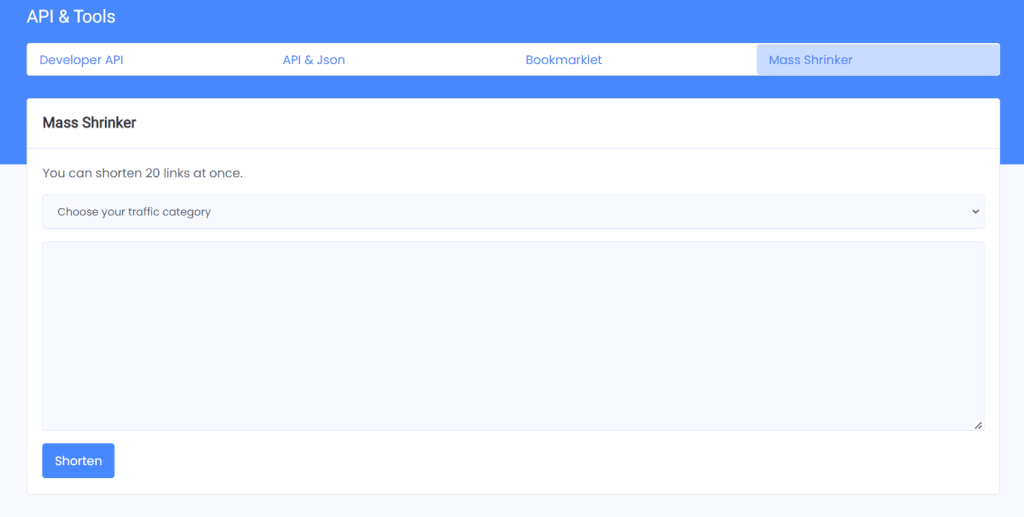 It provides powerful Developer APIs and advanced tools like Mass Shrinker as well as Bookmarklet to assist the users. These tools can be used to generate shortened links in abundance and make the whole process far more profitable and smoother.
Referral Program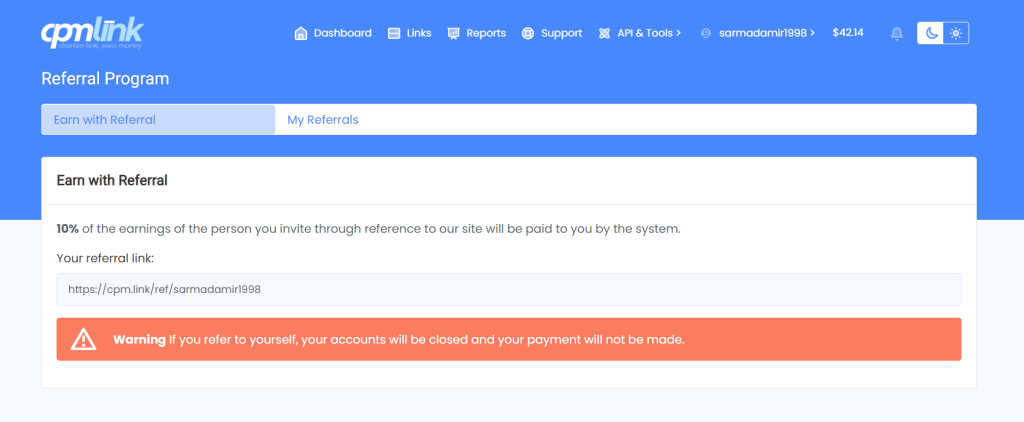 Making a significant residual income is possible when you take advantage of CPMLink's lucrative referral program. Simply refer someone to CPMLink and you will get 10% of their saving for life and there is no impact on their income.
2FA Security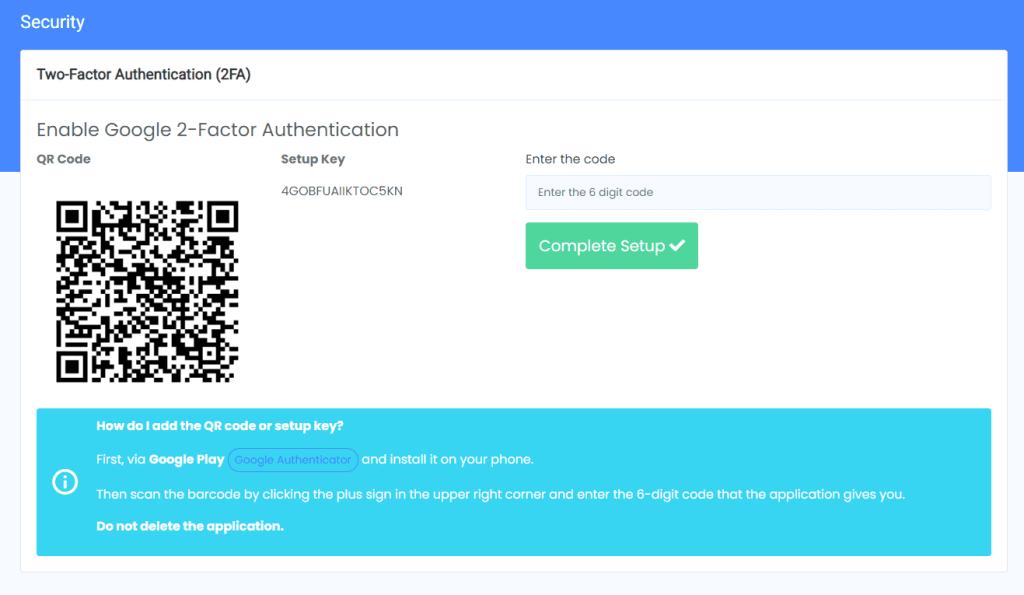 Afraid of getting your account hacked? or do you think someone has your password?
If yes, then I would strongly recommend you to change your password or you can also enable solid two-factor authentication security by CMPLink which makes sure no one can log in except you.
Simply scan the QR code with your Google Authenticator app and you're good to go.
Customer Support
CPMLink equips the users with dedicated and reliable customer support. The customer support representatives can be contacted through Tickets. They often reply within 24 hours and are capable of answering all queries related to CPMLink.
Ease To Use
You can sign up with CPMLink today and start shortening links without going through any formal training or watching a detailed tutorial. That is because this tool is super user-friendly and it was designed so that laymen could use it to shorten links.
And these are just some of the features offered by CPMLink. Head to its website to explore more perks and tools.
How to Sign Up with CPMLink?
To Sign Up Simply Click here. It will take you to CPMLink.com. You will be able to see the Login/Signup button on the top right corner of the page, click on it. And you should see this page now: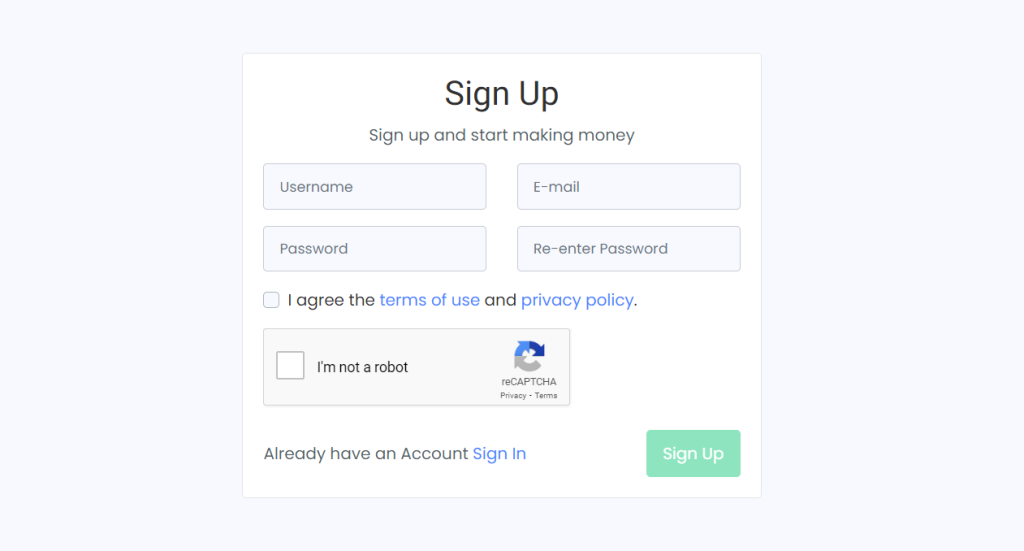 Now all you need to do is fill all the boxes. Enter your username, email, and Password and when you are finished, click on "Sign Up". The website will take you to your Dashboard when the process is complete. When you see your Dashboard, you have signed up with CPMLink and you are ready to shorten links and make money.
How to Shorten Links Using CPMLink?
In order to Shorten Links using CPMLink just follow these simple instructions. First of all, Sign Up by following the instructions mentioned above. After Signing Up, you will be able to view your Dashboard. You will see some empty bars there on the Dashboard.

In the first bar, enter the link you want to shorten, then choose the category of the link and then simply click on "Shorten". Within a few seconds, you will have a shortened link in a green bar below. It is ready to be shared on social media and online forums.
How can I make money by Shortening and Sharing Links?
Now you know how to shorten and share links. But you must be wondering how can I make money by just shortening trips?
Well, it is pretty simple, you need to shorten links, share them on social media and encourage people to click on the link. You will make money each time someone clicks on the shortened link and visits the website. The more people click on your shortened link, the more money you earn.
CPMLink provides the best payout rate so that you can earn more while working smart.
Conclusion: Final Verdict
Without a doubt, CPMLink is the best URL shortener in 2022. It equips the users with all the tools and data required to horn your marketing skills and generate more money. From customer support to maximum payout rates and minimum cash withdrawal, CPMLink is perfect for those who want to make little extra money even if they have a full-time job.
If you are smart enough, you can even turn this into a great source of residual income. So what are you waiting for? Sign up with CPMLink to start making money.
At Trendstorys.com, we aim to provide honest reviews to our users to help them choose the right network.
Any queries related to the Exe.io review or if you're already experienced with this link shortener, let me know your thoughts about this network.