The URL shortener Exe.io combines transparency, ease of use, and trustworthiness. In addition to making easy money out of it, it allows instant withdrawals owing to its minimum withdrawal limits making it the best URL shortener in 2022.
User Ratings (

7

Votes)

5.4
With the advancement of technology, everyone is seeking easy ways to make money in 2022. It's a known fact that no matter how much money you make, you will always need more. People are running after online courses to make money on the side even when they have full-time jobs. And while it is not wrong to try and learn new skills to earn more, there are still much easier ways to generate revenue.
What if I tell you, that you can make money just by shortening links and sharing them with your friends? And you don't need to pay to get started; neither do you need to learn anything for months to generate revenue?
Sounds impossible, right? But Exe.io has made it possible. It is, hands down, one of the most trustworthy and profitable URL shorteners of 2022 that can help you in making easy money.
You may be thinking right now "huh another useless URL shortener tool despite being legit" but Exe.io is the game changer and it is going to change your views on URL shortener forever. I have used tons of useless URL shorteners in the past few months but Exe.io has met my standards and exceeded all my expectations. And this is why I am reviewing Exe.io to make you aware of this awesome link shortener after Linkvertise.
Read ahead to get learn more about Exe.io.
What is Exe.io?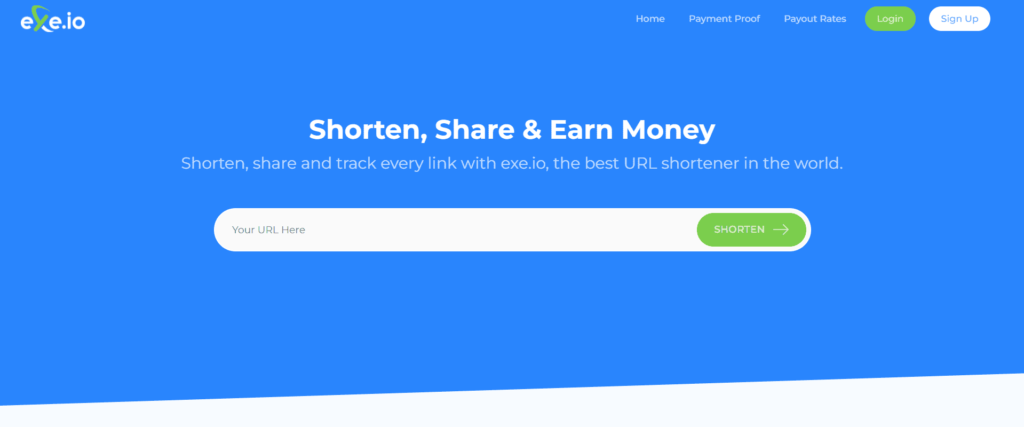 Exe.io is one of the finest and most user-friendly URL shorteners that allows people to make easy money. It dexterously shortens the links and optimizes them for posting on social media forums for free.
It is one of the most rapidly growing URL shorteners that has more than 900k+ users who have shortened around 8 crore links which is insane.

You can make money when you post shortened links on social media and people click on the links. Yes! It is that easy to make money with Exe.io. Plus it offers better rates as compared to all other URL shorteners in the market so you can make more profit from it. 
In addition, it equips its users with all the data and advanced tools required to shorten links as well as generate more money. There is also a lucrative referral program that can be further used by the users to earn lifetime residual income. Last but not least, this tool is easy-to-use so anyone can use it to shorten links without going through prolonged training.
Features of Exe.io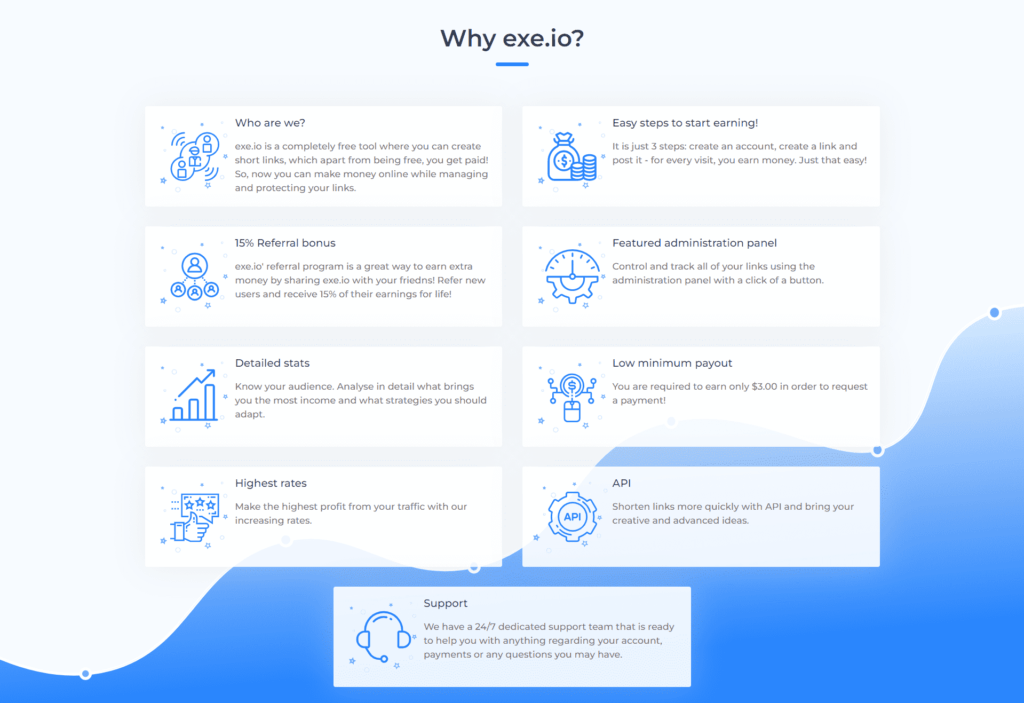 Exe.io offers the following features and tools to its users:
Detailed Stats
The users can view the detailed stats of the activity and traffic that they receive through their shortened links. They can use this data to adjust their strategies and improve their profit.
Users usually analyze this data in detail and then figure out what brings them more money and how can they get more people to click on the link.
Administration Panel
There is a beginner-friendly administration panel that allows the users to readily access all the features. It can be used to manage and control all the shortened links efficiently.
Maximum Payout
Exe.io offers the highest payout rates in the market so that you can make maximum profit out of the shortened links. Other URL shorteners offer lesser rates because of which people, even with considerable traffic, are unable to make money. But you don't have to worry about this with Exe.io.
However, the payout is different for every country though. You can find out the payout in your country below:
Minimum Money Withdrawal Limit
With this tool, you can withdraw money as soon as you reach the $5 threshold. The low withdrawal limit gives people the freedom to withdraw money whenever they want. This is another feature that sets Exe.io apart from other URL shorteners, with bigger withdrawal limits.
User-Friendly
It was designed with less tech-savvy people in mind. So you can sign up today and start shortening links right away even if you are not good at using technology. This tool can be used to shorten the links in three easy and simple steps which is amazing.
Dedicated Support
Exe.io provides dedicated support to all of its users. The customer representatives of this URL shortener are available 24/7 to answer the queries of the people and solve any issue regarding the account or payment etc.
How can you make money through Exe.io?
You can make money through Exe.io by:
Shortening and Sharing Links
It is quite easy to make money through shortened links. You simply shorten the link by following the merely three steps I have discussed below and then share these links on social media or any other forum.
When people click on the shortened link, they shall be taken to a website where they will view the advertisement for a few seconds. Then a skip button will appear and when they click on it; they shall be taken to the long URL website that you shortened.
The users make money depending upon how many people visit the link and view the advertisement. The more people click on the link and see the ad, the more profit you make.
Referral Program
You can take advantage of the lucrative referral program of Exe.io and make significant residual income. So just introduce some friends to Exe.io and get 15% of their savings for the rest of your life. But don't worry; nothing will be cut out of their income.
You can just forget about everything and relax if you can introduce enough friends to Exe.io. Because you would be receiving 15% of their income for the rest of your life so you would be making money while you sleep and rest.
How to Use Exe.io?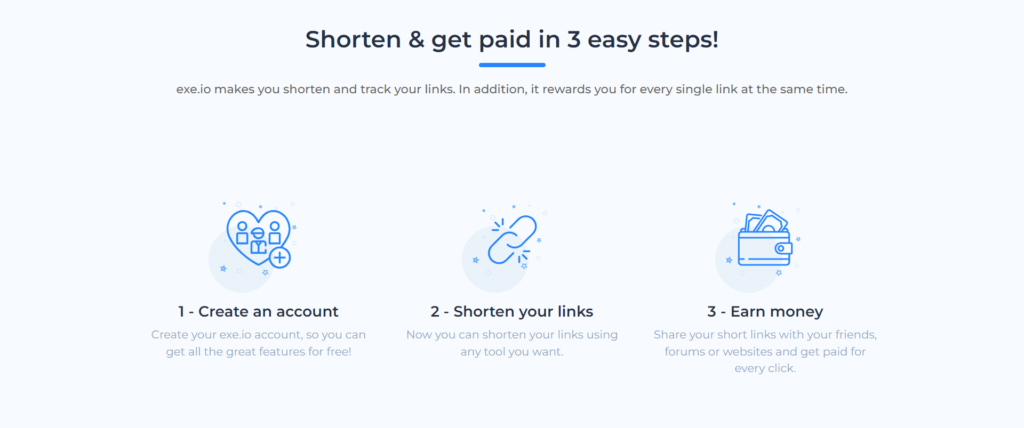 You can start using Exe.io by following three simple steps:
Create an Account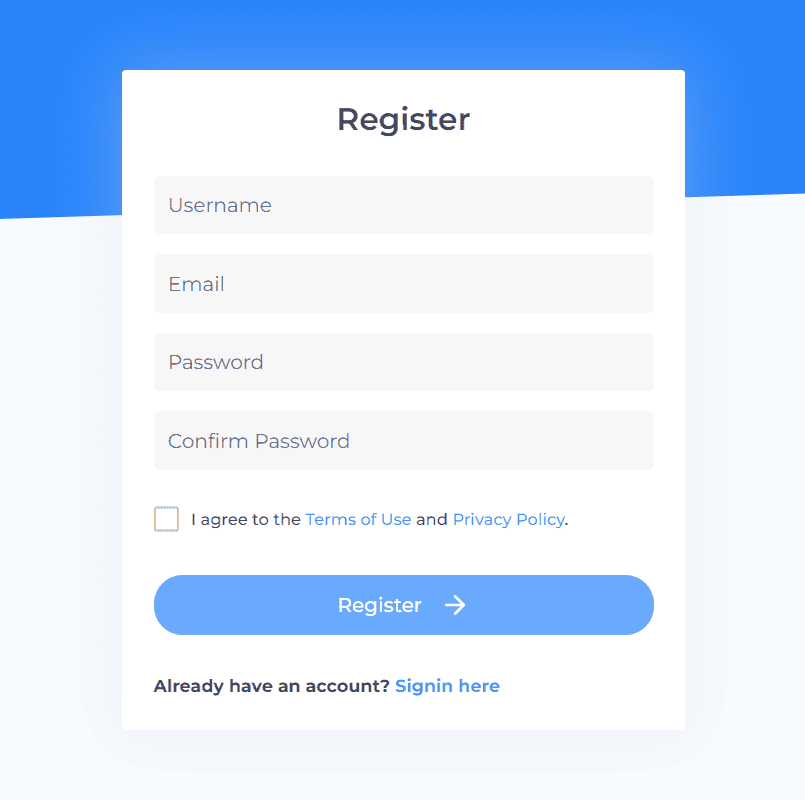 First of all, you need to create an account to access all features of Exe.io for free. To create an account, simply click on the "Sign Up" button on the top right corner and it will take you to another page.
Fill in the details i.e. Username, Email, and Password, and then click on Register to create your account.
Shorten Your Links
At the top of the website, you will see a box that says "Your URL Here". Just post the URL you want to shorten there and then click on "SHORTEN".
Share and Earn Money
Now your shortened link is ready. You can share it with your friends or on any kind of forum and make money whenever someone clicks on it.
Exe.Io Payment Methods

Exe.io supports almost all common payment channels i.e.
PayPal.
Bitcoin.
Payeer.
Advash.
Perfect Money.
Airtm.
Hence withdrawing money should not be an issue for you, no matter where you live.
Wrapping Up: Is Exe.io the most Profitable and trustworthy URL Shortener?
In my opinion and experience, Exe.io is, without a doubt, one of the best URL shorteners of 2022. So yes it is worth it. Exe.io is easy to use, credible and transparent. It also offers maximum payout and minimum withdrawal limit. Plus this tool provides users with all the data and tools required to maximize their revenue.
You can sign up and start shortening links with Exe.io since it's free, so you will not lose anything by giving it a try. Although I assure you that you will not regret signing up with Exe.io.
So what are you waiting for? Just make an account with Exe.io and start making money by shortening and sharing the links.
At Trendstorys.com, we aim to provide honest reviews to our users to help them choose the right network.
Any queries related to the Exe.io review or if you're already experienced with this link shortener, let me know your thoughts about this network.