Linkvertise Review
Highest CPM Rates

Fast Payment Processing

5% Referral Bonus
Summary
Linkvertise is the best URL shortener that allows you to short links with little or no efforts. It helps you generate streams of revenue simply by shortening the links and in the return, you get rewarded.
Pros
User-Friendly Interface
Highest Payout Rates
Timely Payments
Performance Reporting System
Best Referral Program
Quick Support
Cons
Sometimes there might be a delay in responding to your messages due to a large number of requests.
The withdrawal fee for bank is a little bit high.
Are you looking for the Linkvertise review?
Having any doubts about choosing Linkvertise.net amongst other the URL shorteners?
If yes, then you've come to the right place as we are going to do an in-depth Linkvertise review justifying why it is the most trusted and the best URL shortener.
I myself tested this network and been working for over several months. Literally, this network came out to be the best link shortener amongst various URL shorteners in the market.
Therefore, I thought why not write a Linkvertise review in order to share my experiences and to help you make a good decision by choosing this URL shortener.
So, let's dig into what actually is linkvertise and how it works.
What is Linkvertise.net?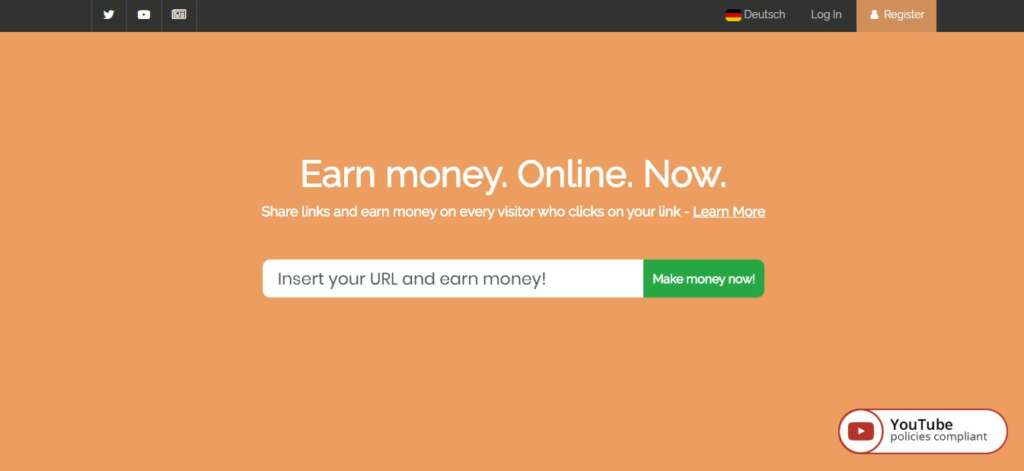 Linkvertise is a platform that allows you to short links with little or no effort. It helps you generate streams of revenue simply by shortening the links and in the return, you get rewarded. It was founded in January 2019 by Marc Aurel Winter in Germany. The main office is based in Hohenlockstedt, district of Steinburg, Germany.
Linkvertise.net has been the most trusted URL shortener that pays its users on time without any hassle.
So now you've been familiar with this network, let's move on how it works and why people should choose it over other link shorteners.
How Linkvertise.net Works?
As we have already discussed that you get paid by simply sharing the links online that you've shorted earlier.
But how? Well, it is quite simple as you simply need to shorten the long URLs and share them with your audience. Whenever a visitor clicks on the shorted link, he/she will be redirected to some website where he/she needs to see an advertisement for few seconds, soon after that, a skip button would appear probably at the right top corner of the website where he/she will click on it and lands on the long URL's which you have shorted earlier.
Therefore, using this method, you can generate some massive income by sharing the short links that you created earlier on your website or any other social media place such as Facebook, Twitter, etc. as per their policies.
You may also check job opportunities here.
Why Choosing Linkvertise.net is Worth it?
Linkvertise.net usually works the same as other URL shorteners work but what makes it stand out among others? Well, the answer is simple that it is one of the most trustworthy network that never fails to amaze its users. They always care about their users and maintains their trust.
The beauty of this network that others might not have mentioned in their Linkvertise reviews is that it is the only network that they always aim to make the start for every user as easy as possible. The user should be able to start directly and check if it is worth working with them without providing his personal details first. The user should only need to provide personal details for when he/she reaches an amount of money or when he/she wants to withdraw money. They also allow the link creator to choose, which advertisement options the user wants to activate for his community.
Moreover, they offer you a bunch of features to help you earn even more by taking advantage of those features.
Linkvertise Features
There many different features that other URL shorteners lack to provide. Some of the features that will help you in choosing Linkvertise as your earning partner are as follows.
Highest Payout Rates
Using Linkvertise, you can earn up to $70 per 1000 views as it works on the CPM (Cost Per Mile) model. It is the best paying link shortening site, especially in German-speaking countries. The good thing about this network is that they do not use popups or annoying layers that most users don't like but even though they still pay the highest paying rates. Therefore, I'll definitely recommend you go for the Linkvertise.
Performance Reporting System
Linkvertise offers you a complete performance reporting dashboard with which you can simply monitor your performance and earnings. With their optimized dashboard, you can have the perfect view of your earnings.
Quick Payments
Who doesn't want to receive payments asap? Of course, everyone loves it to receive their payments on time. With Linkvertise, you can receive payments twice a month if they have reached a minimum threshold of $10. They also have a waiting time for 3 days, 15 days or 30days depending on the amount which is another good feature of linkvertise that others don't provide.
Referral Program
Apart from the other URL shorteners that offer referral system to earn more but are not as effective. However, Linkvertise is the only one that dominates others in the referral program too. With Linkvertise, you can get a 5% commission from the users you referred to join this network.
Quick Support
Linkvertise provides quick customer care support to its users. The team is highly dedicated to working and can easily resolve your queries using the support that is inbuilt in their website. The team will get back to you within 24 hours. Most of your questions will be automatically answered by the "current questions" feature that is probably located at the top of the support chat.
Pros and Cons of Linkvertise.net
The following are the advantages and disadvantages of using Linkvertise.
Pros
Highest CPM Rates
Timely Payments
User-Friendly Interface
Clear Statistics
Minimum Payout Threshold
Referral System to Earn more
Quick Support
Cons
Sometimes there might be a delay in responding to your messages.
The visitor sometime must need to have browser add-on activated in order to continue to your link.
Linkvertise Payment methods
Linkvertise provides various payment methods through which you can easily withdraw your money which is as simple as you can ever imagine. Following are some of the major platforms that are connected with Linkvertise to get payments in hands:
PayPal
Check
Prepaid Debit Card
Bank Transfer/ECheck
Wire Transfer
Remember, you must have at least $10 to withdraw your money from the above payment methods.
Do I recommend Linkvertise.net?
In light of my experiences, the answer will be surely YES!
Apart from other URL Shorteners, Linkvertise would be the best choice you'll ever make as it is one of the highly trusted network that pays on time to their users. If you're still having doubts about choosing this network, you can check Linkvertise review from many other users based on their experiences and all have 100% positive feedback about this network.
So, what are you waiting for? Get connected with Linkvertise and start your journey today.
At Trendstorys.com, we aim to provide honest reviews to our users to help them choose the right network.
Any queries related to the Linkvertise review or if you're already experienced with this link shortener, let me know your thoughts about this network.