VanceAI Image Upscaler is certainly a tool worth checking out, since it uses artificial intelligence and deep learning algorithms to enhance photo quality and improve blurry parts.
User Ratings (

1

Votes)

9.8
Upscaled image details have long been a rigid demand for commercial business today. Enlarging images without quality loss is a very crucial factor when people are selecting an image upscaler. Nobody wants to see that their image size is enlarged while the picture quality becomes blurred, and the original clearness of the picture is lost. What causes this? Well, this is mainly caused by the poor picture enlargement method. Fortunately, I've found an impressive image editing tool, VanceAI Image Upscaler can handle image upscaling online with AI in seconds without any quality loss or damage. Next, let's see whether the VanceAI product can fix those problems that we often meet.
Part 1: Introduction to VanceAI Image Upscaler
VanceAI Image Upscaler is an advanced image upscaler powered by AI. It uses AI to upscale images in a couple of seconds. You can have your pictures upscaled efficiently with a straightforward and precise operation. Typical issues like enlarging the photo but affecting the picture quality won't happen to VanceAI products. VanceAI Image Upscaler not only enlarges the picture size but also ensures that the picture quality remains unchanged. It can also enhance the image quality and make the original images clearer. It promises the lossless magnification of pictures. If you are interested in image upscaling online with AI, this is the top choice for you.
Here I've listed out the bullet pros and cons of this image upscaler, and you can take these into consideration when you have a hard time deciding from similar image upscalers.
Pros:
Outstanding upscale effects.
Advanced AI upscale image.
Quick process and efficient workflow.
Easy to operate.
Multiple upscale size options.
Cons:
Magnificent large of the processed image file size.
Limited free credits.
Part 2: How to Use VanceAI Image Upscaler?
There are two means to operate this image upscaler, one is to visit VanceAI Image Upscaler product page, and the other is to visit VanceAI Upscaler Workspace. Tiny difference from the entry of the operation, these steps don't influence its usage.
Method 1: Visit VanceAI Image Upscaler's Product Page
Step 1: Visit VanceAI Image Upscaler's product page, then click "Upload Image."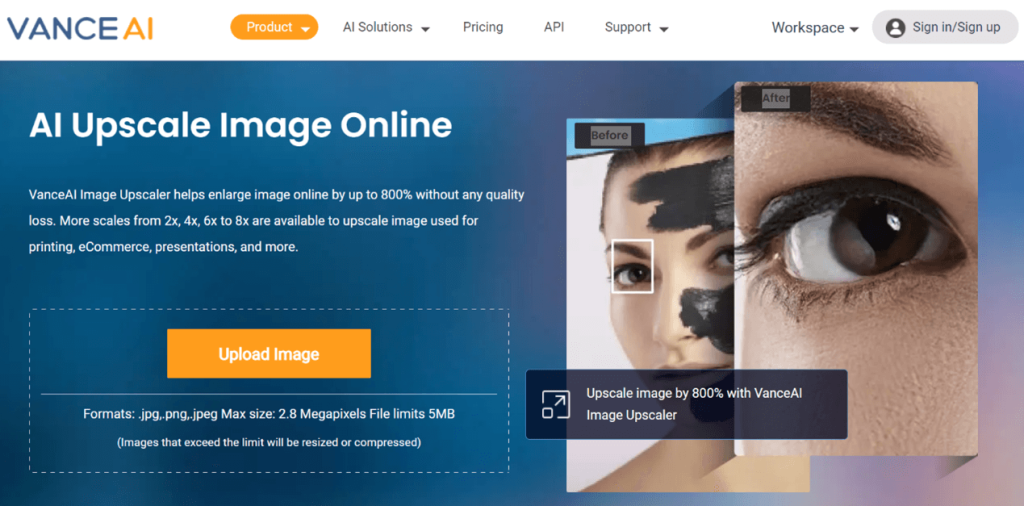 Step 2: Select the function and reset the parameter you need. For example, here, I choose "Enlarge", and I uploaded an anime image, so I choose "Anime" there are three modes for Anime images; any mode is OK. Then decide how many times you want to enlarge your photo. The larger the magnification, the higher the clarity of the picture, and the larger the size of the processed image. Select the magnification according to your own needs. Finally, click "Start to Process".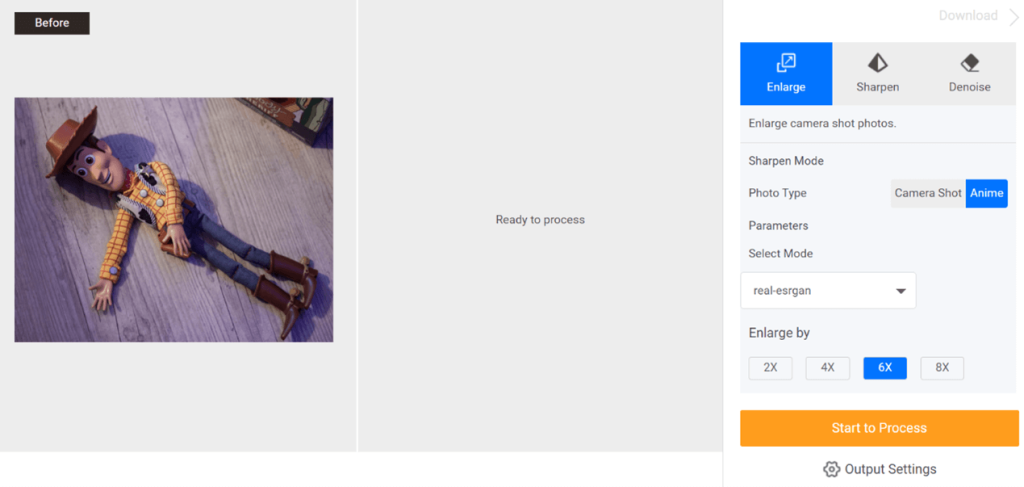 Step 3: Once the image is upscaled, you can click "Download Image." You may notice that I marked out a couple of numbers. They are the comparison and processed image size.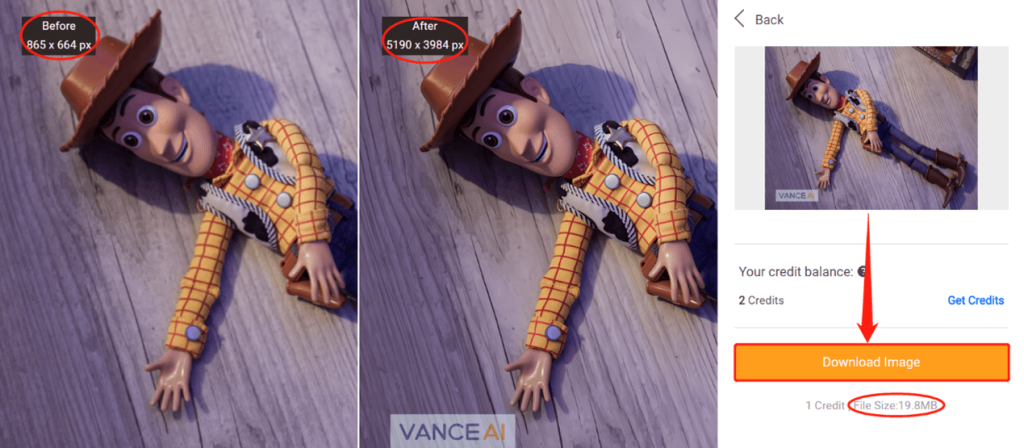 Method 2: Visit VanceAI Upscaler Workspace
Step 1: Visit VanceAI Upscaler Workspace. Upload your image and then select features and parameters for the image. Click "Start to Process" when you set these things all right.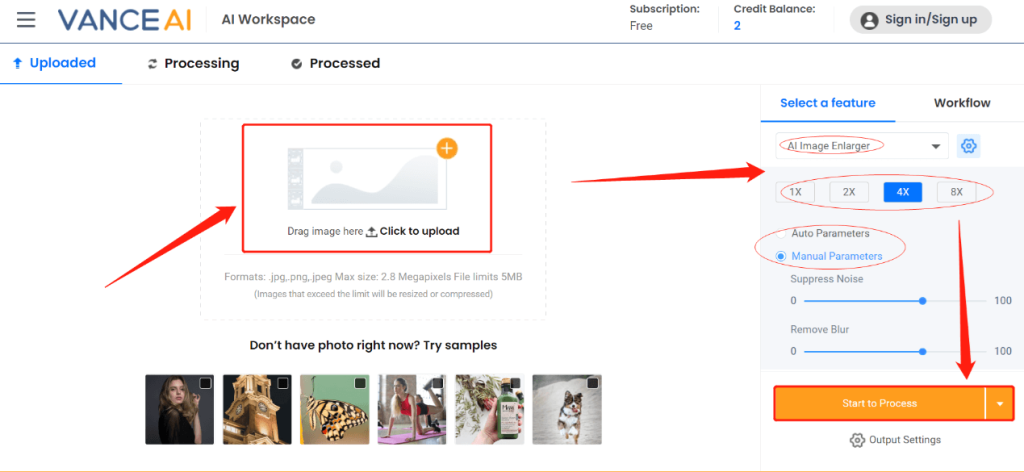 Step 2: Wait until it processes the image. Seconds later, the image will be processed. And look at the icons on the right, you can click the first icon to check the processed image and the before & after comparison. The second icon is for further editing work, and the third one is for download.
Step 3: Click "Download Image" when the image upscaler finishes the process. In this part, there is little difference from the first method, the output size, and other information will display in the blank space.
Related: Imglarger Review: Is It the Leading AI Image Enlarger Tool?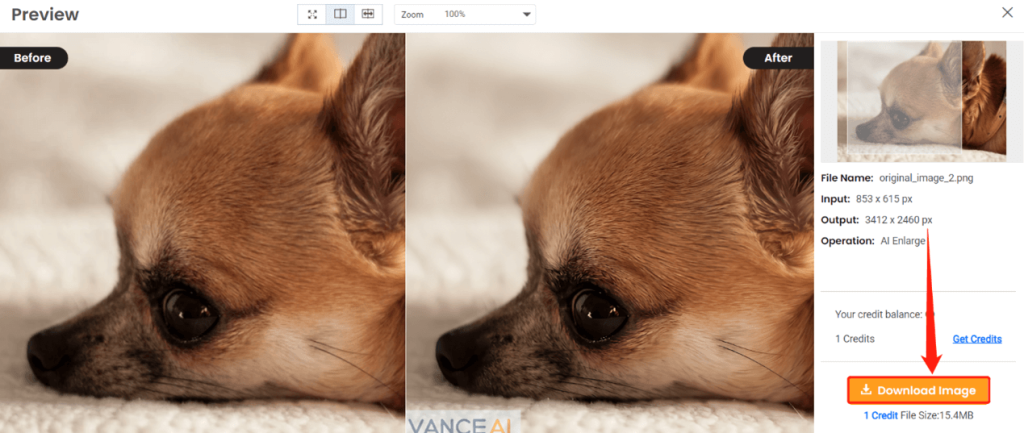 Part 3: VanceAI Image Upscaler Performance Review
Using AI upscale image is exciting for us. We don't have to process most images with Photoshop, and AI image upscalers will handle this for us. Since I've introduced the two methods of using VanceAI Image Upscaler, now let's look at the before vs. after images on their performance.
Here is a comparison of image upscaling online with AI and with the product VanceAI Image Upscaler. Let's see what the difference are.
In daily life, we often make screen cuts and compress images into a smaller size, but this often makes the images unclear or damages image quality. Now I cut a screen photo randomly, and then I enlarge it eight times with VanceAI Image Upscaler.
Detail Comparison-Picture 1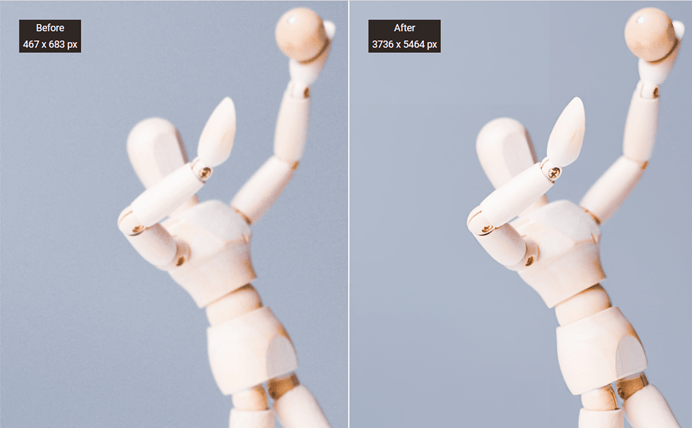 Detail Comparison-Picture 2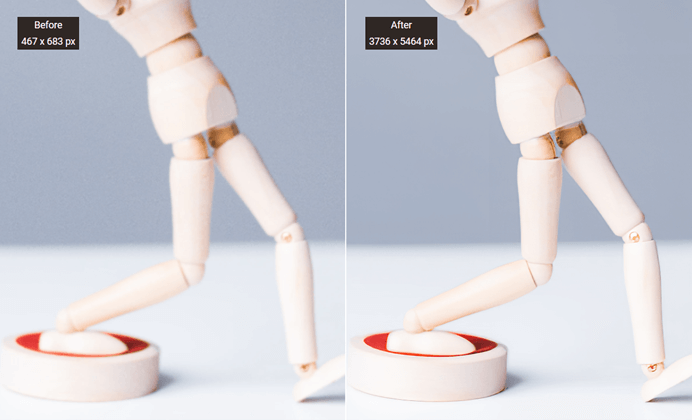 Detail Comparison-Picture 3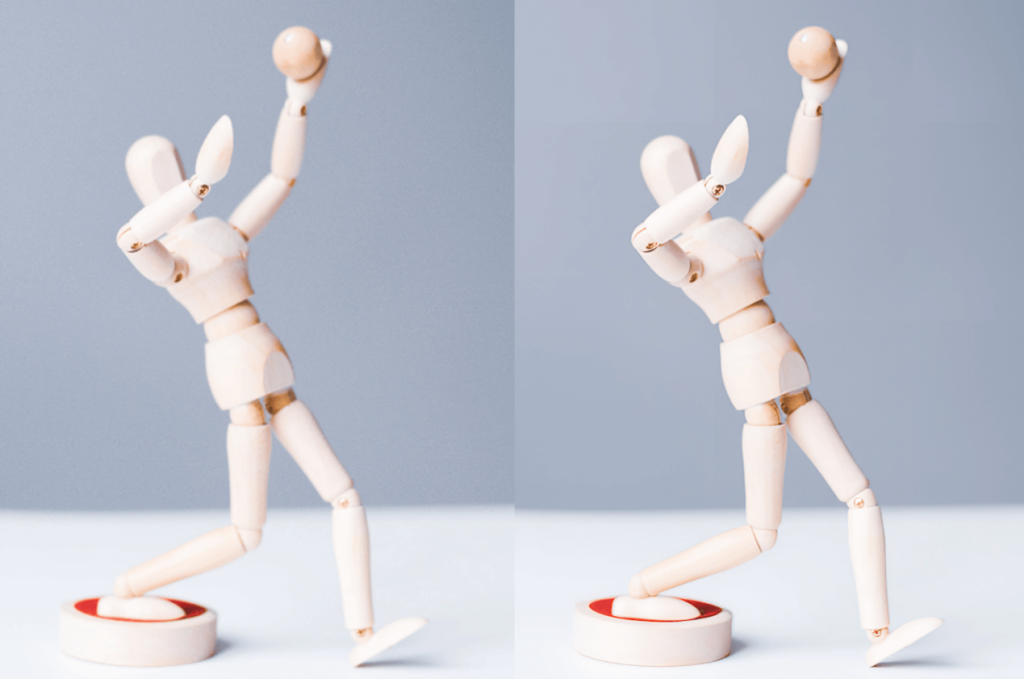 Through the three detailed comparisons above, the processed image looks much clear than the original one. In these pictures, we can see that the fundamental color of the processed picture will be slightly lighter than the initial picture. Still, as far as this picture is concerned, the outline of the manual joints and body in the picture is more apparent and glossier. We saw the red ring at the bottom left. The color of the processed picture is brighter, the color contrast is much higher than that of the original photo, and the image's separation of objects and backgrounds in the processed image is also more prominent.
Image upscaling online with AI is quite popular and VanceAI Image Upscaler's performance on this test is very outstanding. Why not have a try? You'll find how good it is when you tried it.
Conclusion
After reading the content above, it is not difficult to find that AI upscale image is no longer new to the image editing market. Having a well-functional image upscaler matters a lot to our business. As shop owners or media bloggers, we want to present the best side of our products to the customers. That's why we need such a tool to upscale images. While as customers, we must find the most suitable image upscaler that blossoms our creativity and work efficiency for our work and life. VanceAI Image Upscaler is precisely such a tool we need in our life. Image upscaling online with AI, try this one.
FAQ
1. What is BGremover?
BGremover is an AI image background removal tool developed by VanceAI. This advanced image background remover allows people to remove and replace the background with a solid color or image background to give the image a fresh look: no matter the outline or curve of an item, even hair details. BGremover performs a good job.
2. What service does VanceAI offer?
VanceAI offers various AI-powered image editing tools that automatically allow customers to process and edit images anytime, anywhere with a subscription. It develops intuitive and powerful cloud-based & desktop solutions driven by advanced AI technology. An API service is also available; service like AI upscale image, you can purchase its API service and apply this function to your software. Moreover, VanceAI Technology also provides a totally free online PDF processing toolkit, VancePDF.com.