Imglarger Review
Summary
Imglarger, basically known as AI Image Enlarger is the best online tool powered by AI (Artificial Intelligence) that helps you in scaling your images without losing its quality.
Quality Retention

Value for Money

Lifetime Updates
Pros
UI-Friendly
Strong AI System
Safe and Free to Use
Upscale up to 800%
Offers four image enhancement products for free
Can use the enlarged photos for printing purpose
Available for the Web-based application, Desktop App (Windows & Mac), Mobile App (Android & iOS)
Cons
The free plan is quite limited but good for testing.
Are you looking for ways to increase your image resolution?
Don't want to lose the image quality with the increase in resolution?
If yes, then you have come to the right place as today we are going to do Imglarger Review, an AI-Powered Image Enlarger tool that will increase the resolution of your pictures without disturbing the quality of the image with a matter of just clicks.
In this Imglarger review, we'll look at all of its features and its further amazing products such as Image Denoiser, Image Sharpener, Image Enhancer, and Background Eraser, etc.
In short, Imglarger is all you need to edit your pictures as it provides almost everything that is essential for editing images.
There has been seen a great spike in the software/tools from the last few years that gives you an ability to edit your pictures like a charm. Because not everyone is familiar with the popular editing tool – Photoshop, as it's a little difficult to use. But these tools made it an easy way to perform all these kinds of tasks without having any knowledge of editing.
So today, we have come up with an online tool known as "AI Image Enlarger" that will help you scale your images to higher resolutions maintaining the image quality.
There is a lot more to discover in this software which we'll discuss later in the review, so stay with us to see the whole ImgLarger Review.
ImgLarger Review 2020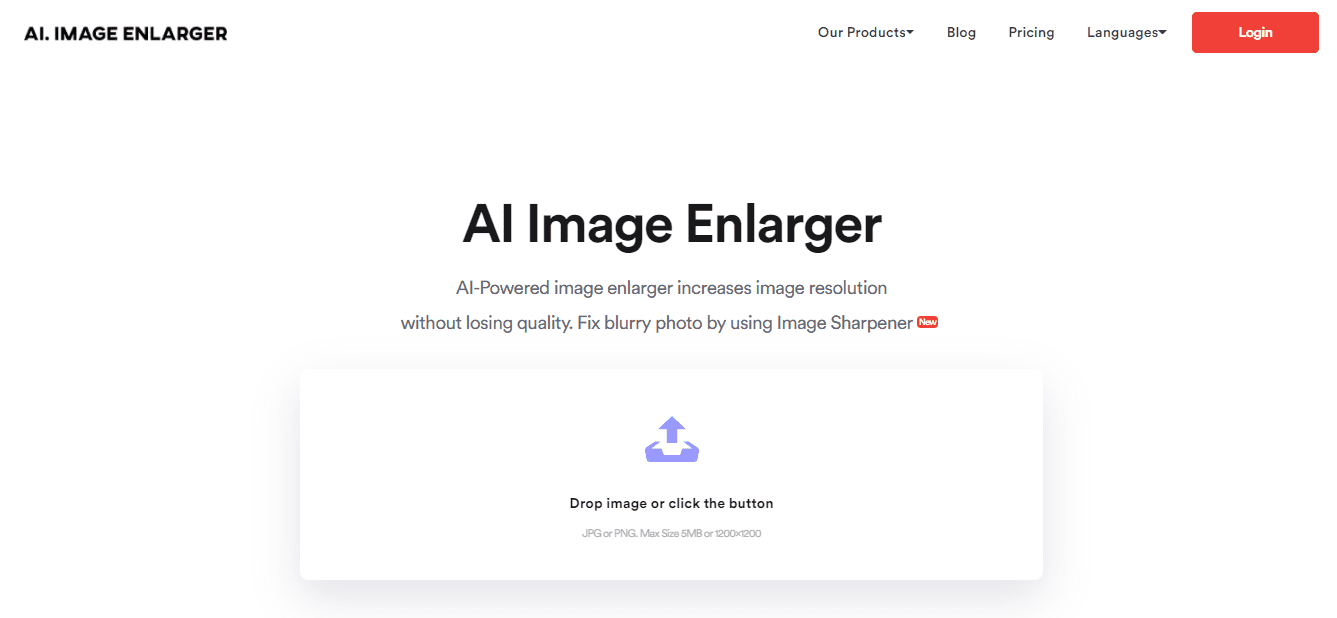 ImgLarger, basically known as AI Image Enlarger, is an online tool powered by AI (Artificial Intelligence) that helps you in scaling your images without losing its quality. With a trained SRCNN neural, they have made their AI system strong enough to upscale and enhance photos automatically.
When an image is set for the enlargement process, Imglarger's AI system will recover all the details and increase the edge contrast based on the training model. It will also remove the noises to make your image pixel-perfect.
AI Image Enlarger comes with numerous other options like resizing your pictures, saving them in TIF, BMP, and GIF format, adding captions to your images, modifying the color, adding text, and so on. These are just some of the features that you need to look forward to while using ImgLarger to edit your images.
It is quite a great tool for beginners who don't have as such knowledge of editing. So, if you're a person who is looking for some easiest ways to edit their images, then Imglarger would definitely a good choice as it will save a ton of your time and offers the best service than any other tool has ever provided
Imglarger rewards you with many features that allow you to take a variety of photographs in bulk and not have to be concerned about losing clarity. For example, when you take a portrait of someone in your office, you can adjust the photo sharpener to make sure that all of the details are in place. This is done when enlarging photos and it will automatically get done by Imglarger enhance tool.
AI Image Enlarger comes with both web-based applications and software to run on windows or mac. Moreover, they also have apps for mobile platforms such as Android and iOS. So, you don't have to worry about anything as they got you covered from everything.
Following is the short overview of the Imglarger review that you might need to know.
Imglarger Details
Why Choosing Imglarger Worth It?
So, what makes Imglarger stands out from other software?
Well, the reason why people prefer it more is that it not only scales your pictures but also maintains the quality of the picture that others fail to do so.
Moreover, you can upscale your images up to 800% with AI Image Enlarger which is quite a great thing to consider. The powerful AI system will automatically enlarge your photos in no time.
To maintain the image quality, AI Image Enlarger automatically enhance photos by sharpening and removing artifacts. You can even print your images out with ease and convenience of using this program.
So, if you wish to print out your pictures at any place, then AI Image Enlarger is definitely the right choice. It has been used by thousands of photographers, bloggers, and designers from all over the world for their professional needs. Therefore, it comes with several amazing features that will certainly help you in editing your images in a better manner.
Isn't it amazing? You just have to upload the picture and the rest of the software will do the magic for you.
Another reason why it is loved by many people is because of the clean and user-friendly interface that even a newbie can easily understand what to do next.
The reasons to use this software never end as it is not limited to AI Image Enlarger but it also has four different products such as Image Denoiser, Image Enhancer, Image Sharpener, and Background Eraser which are all you need to edit an image.
Want to know about them too? Don't worry! We'll be discussing each product in this Imglarger review.
Imglarger Features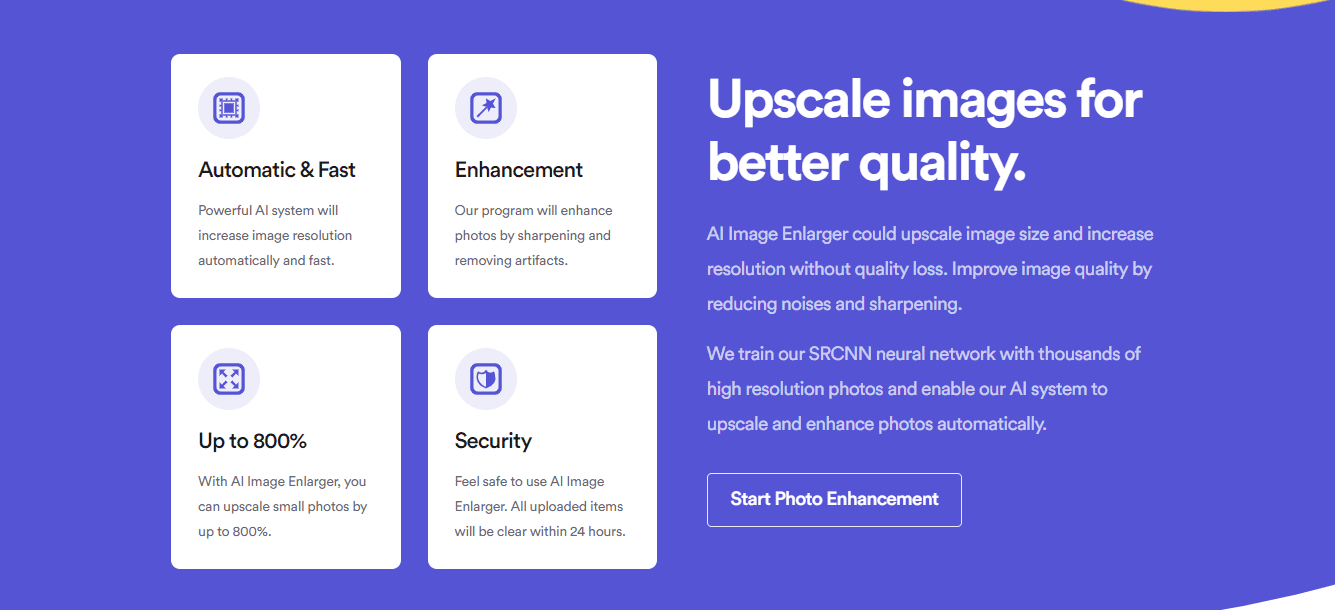 For me, Imglarger is the only software that I personally had a great experience with it. With tons of features, it is simply the best tool in the market that is free for the users.
The following are the features Imglarger provides to its users:
Powerful AI System
AI Image Enlarger has a powerful AI system that increases image resolution automatically in just a few seconds up to 800%. It upscales images without disturbing the quality of the image.
Privacy Protection
The most crucial thing to consider when uploading your images on these kinds of platforms is privacy protection. Imglarger promises to delete all your pictures after every 24 hours. No photos will be stored and used for other purposes, so you don't need to worry about anything.
Enhances Your Photos
Once the image is enlarged, it improves the image by reducing the noise and sharpens the image where needed.
If you have large photos with poor quality, the Image Sharpener can help you out with sharpening. The photo sharpening process helps your photographs to stand out from the rest and look amazing.
Lifetime Software Updates
Even if you're with the free plan, you'll still receive lifetime updates for the Imglarger software which is the best thing so far. The creators promise to reward you more features with time to time in their latest updates.
ImgLarger Products
AI Image Enlarger rewards its users with its other products known as Image Denoiser, Image Enhancer, Image Sharpener, and Background Eraser, etc.
Let's have a look at all of them one by one.
AI Image Denoiser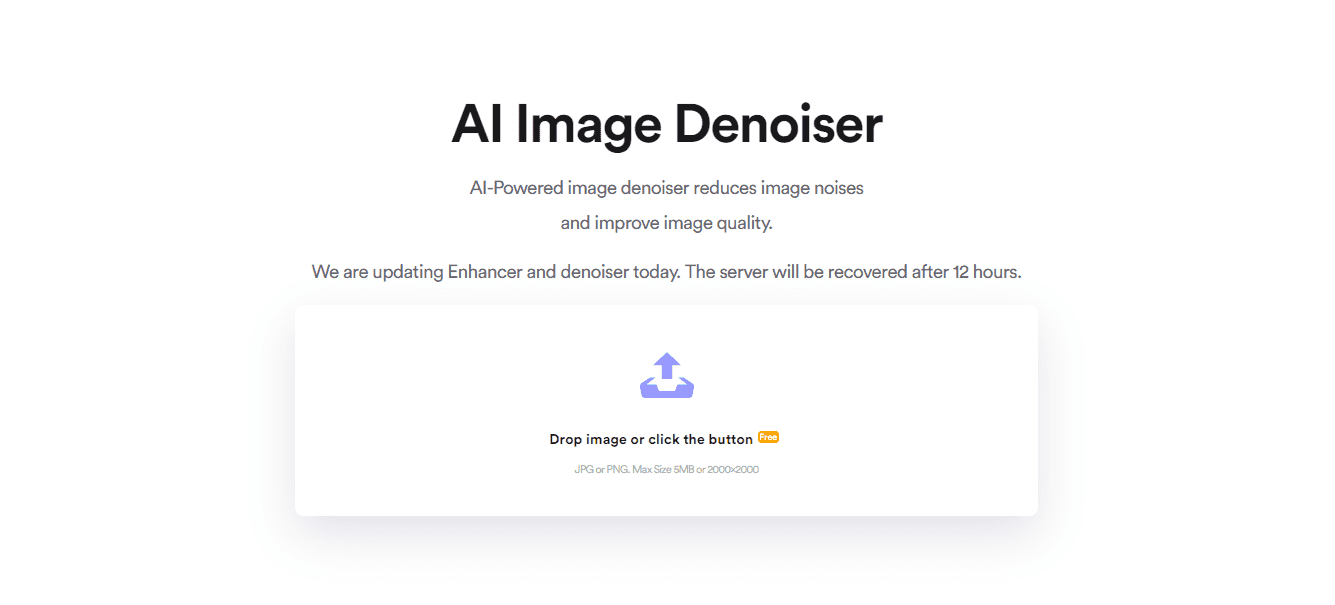 As the name signifies, Image Denoise will help you with reducing image noises to improve the quality of the image. It will recognize the whole image and get rid of the noise by smooths out the pixels. With AI-Powered system, it performs well and is different from other traditional denoise methods. The process is super easy as you just need to drop your noisy image and the Image Denoiser will do the job for you.
So, if you have any photo that seems to be noisy, denoise them all with only a few clicks and recover the true details of the photo.
AI Image Enhancer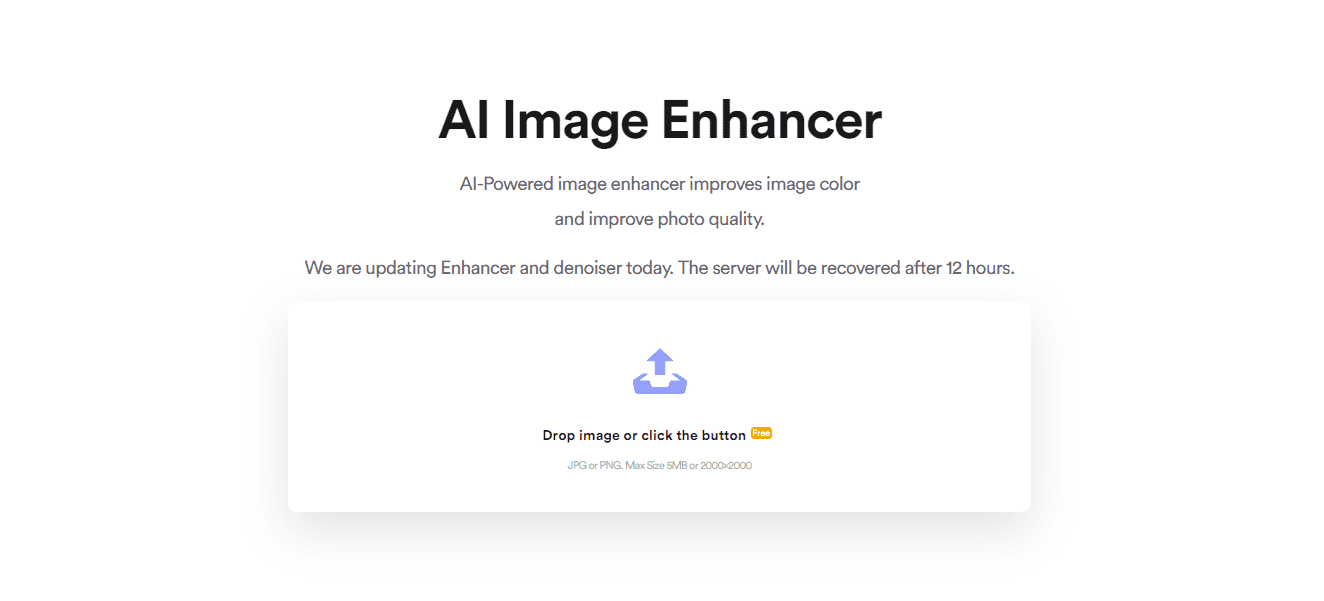 If you're a person who edits and enhance pictures before uploading them at any social media place, you're missing huge.
Ok, it makes sense if you're editing on popular software like Adobe Photoshop. But if you don't know how to edit on photoshop, then you must try this Image Enhancer that will do the same job for you.
With just a few tweaks, you can enhance your photos by adjusting brightness, contrast, color balance and correction, and image sharpening, etc. You can also colorize your old B/W images into colored ones by using the picture colorizer tool that works best for every picture.
No matter if you're processing human face, landscape, or any other photography, the AI system is strong enough to detect and adjust with them all.
AI Image Sharpener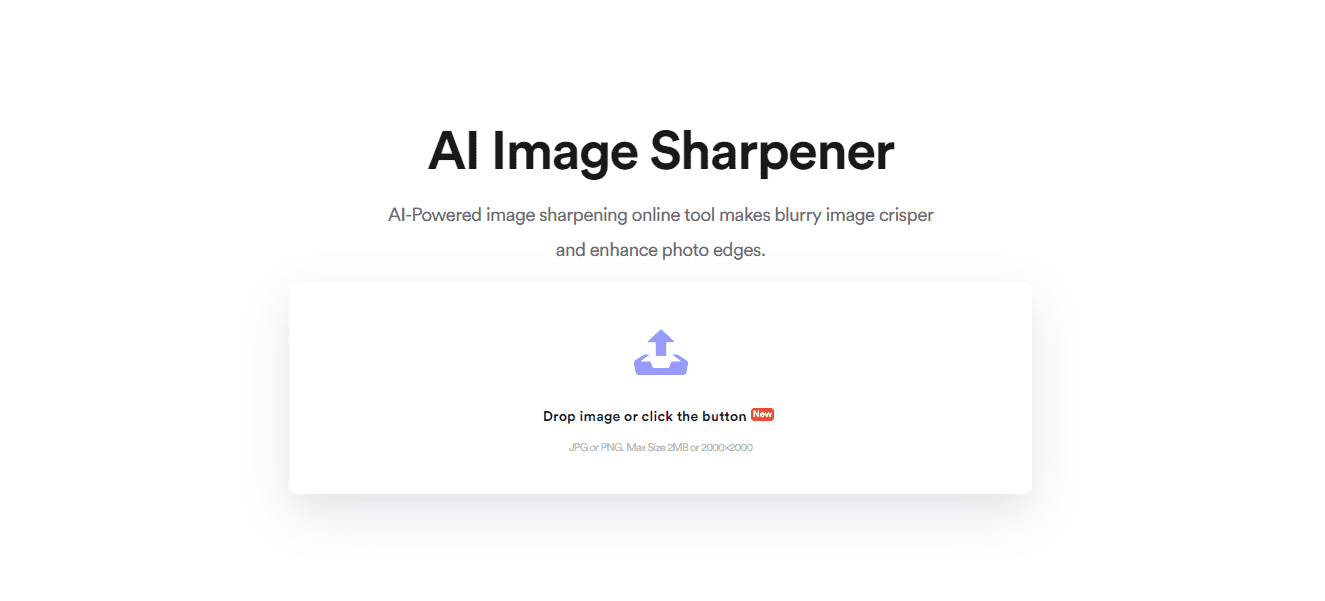 If you encounter an image with a blurry vision, you don't need worry as you've got AI Image Sharpener. With this AI-Powered Image sharpening tool, you can fix all your blurry images by sharpening them in a way that it looks natural.
The smart sharpening algorithm gives clarity to your blurry photos in the best possible way that they look best.
So, in case if you found any such photo, use the AI Image Sharpener as it will increase the contrast along the edges of the images and fix all the focus issues to rescue your images.
Background Eraser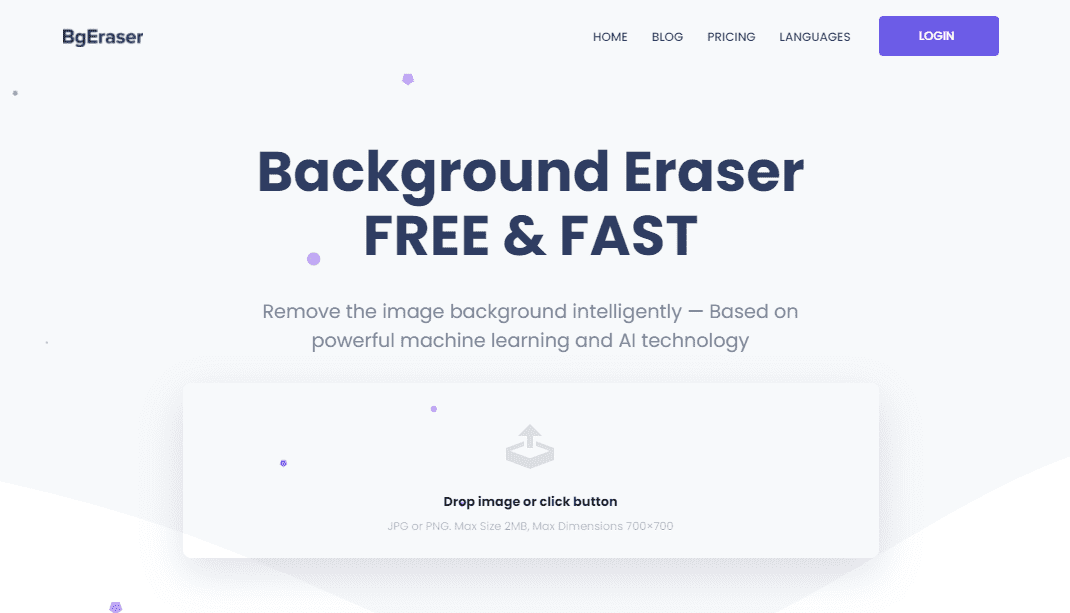 Now, this is the premium feature that is set for free just for the people who are having trouble in removing background from their photos.
Nowadays, many people want to remove the background of their products to list them on their websites but the majority fails badly in doing them.
To overcome this issue, they need to outsource the work to the freelancers who can do the job for them.
But why you should outsource the work when you have an online tool available that will do the work for you in a matter of few clicks.
Therefore, if you're looking for an automatic tool to make background transparent, then Bg Eraser (Background Eraser) is all you need to get started.
Imglarger Pricing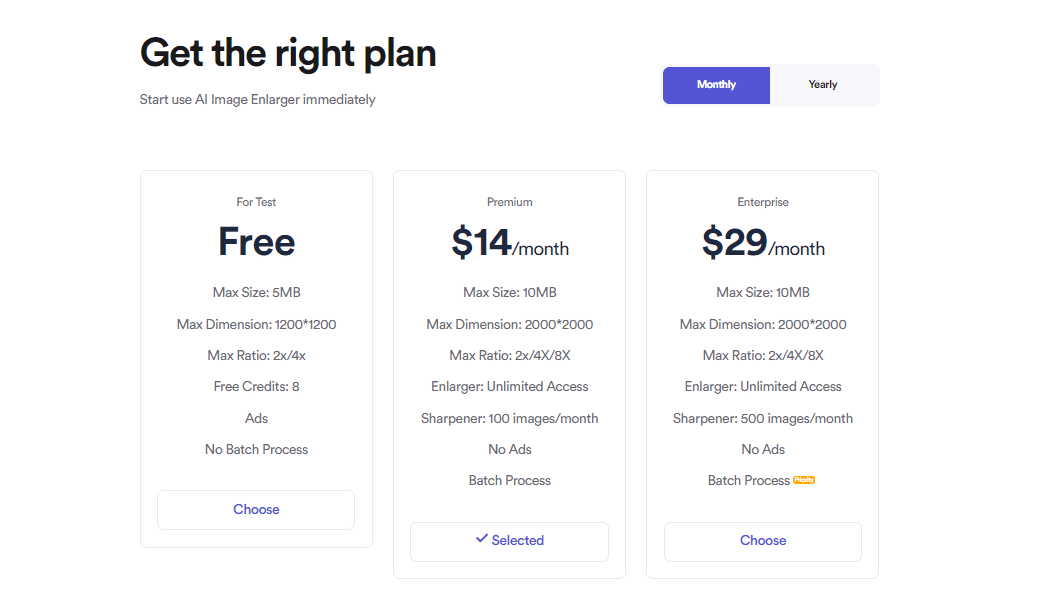 Imglarger is free for everyone to use but it does have some paid plans with more benefits such as unlimited access to enlarge images, batch processing, etc. It comes with two paid plans, Premium and Enterprise that cost $14/MO and $29/MO respectively.
The creators have set Imglarger to free because they want you to buy its premium plan that costs a few bucks. However, for a normal person, the free plan is quite enough.
Imglarger Affiliate Program
Imglarger provides you an opportunity to earn from its affiliate program that offers 25% commission of the users you brought in to buy Imglarger which is quite a decent amount to consider.
In this way, you can earn from the people simply by referring them to join Imglarger through your referral link.
So, if you've been using Imglarger for your small projects, then do consider joining their affiliate program to earn some decent income.
Conclusions
In light of all facts discussed in this Imglarger review, I'll definitely recommend ImgLarger to everyone who has been looking to upscale, denoise, or enhances their photos.
We all know that no tool can reach the level of photoshop but if we get all those premium benefits for free, then there will be no need to use photoshop. Since it is a little complex to use and secondly, it's a paid software but with Imglarger, you can get everything for free to some limited extent. If you're happy with the results, you can go with the paid plans as well which are very much affordable for all.
Imglarger is the best option for people especially newbies who don't want to waste their time in doing editing on Photoshop. So, I'll suggest you try out this amazing tool.
Do you still have any doubts about choosing Imglarger? Go check out Imglarger reviews from other people who have already experienced this software.
At Trendstorys.com, we aim to provide honest reviews to our users to help them choose the right platform.
Any queries related to the Imglarger review or if you're already experienced with this software, give your review out of 5 stars or let me know in the comments.