Summary
PPT-Design has the best PowerPoint infographic templates for your presentations having more than 2953+ PowerPoint templates that are available updated regularly. What makes it unique is the one click import feature to add infographic templates without having change in the formatting of current theme.
Premium Infographic Templates

Various Infographic Templates

Easy to Use
Pros
100% Vector Based Slides
+2953 Premium Infographics with variety of Templates
Time-Efficient
7 Days Free Trial
Affordable Pricing
Both Addons compatible with PowerPoint & Google Slides
Cons
PPT-Design is paid but it does have 7 days free trial to start with and its totally worth it.
Sometimes the design takes longer to load onto slides.
PowerPoint presentation is one thing that stays relevant and universal. Employers, employees, and students have to prepare PowerPoint presentations at almost every turn in their career or studies to convey a point or propose a new idea. But while preparing such presentations we all find ourselves wondering how can we add interesting and eye-catching infographics to deliver our point in a fun way.
And mostly we download random infographics templates from some website. Now if you have used them you must know that such infographics are truly a headache. Its near-to-impossible to insert text in such templates and changing the color scheme is another struggle. The templates are also mostly over-used and outdated.
But all this is about to change because PPT-Design is here. It specializes in offering unique and amazing PowerPoint templates that are easy to edit and adjust. Now you don't have to sit in front of your laptop for hours just to adjust a pretty-looking template.
Amazing, right? Interested in learning more? Read on to find more information. 
What is PPT-Design?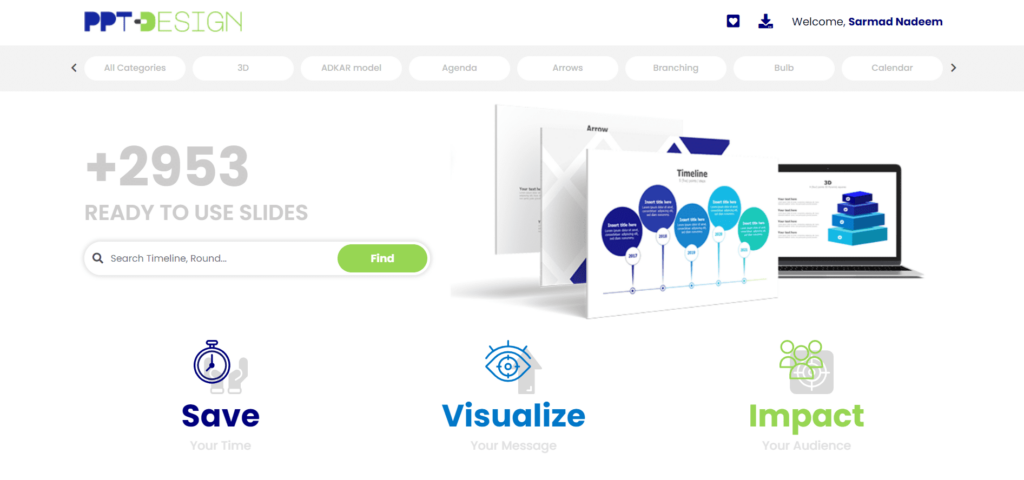 PPT-Design is a website that specializes in providing the best Powerpoint infographics templates and slides. There are 2953+ Powerpoint templates that are available on this site and they are updated regularly to add the latest designs and themes in the slides. The unique and impactful designs of PPT-Design will help you in making an impression and convey your message to the audience effectively.
In addition, the templates are easy to edit so you can add text and adjust the color scheme within seconds. Traditionally templates are hard to edit and people spend an average of about 20-30 minutes on adjusting templates.
But now you can create your PowerPoint presentation with Infographics in minutes without spending a lot of time.
You know what they commonly say: Work Smarter and Not Harder. And with PPT-Design you can work smarter to achieve your goals and get your message across. 
Plus the slides of PPT-Design can be downloaded in PowerPoint format and they are compatible with Google slides. Also, the slides of PPT-Design are 100% vector-based so there is no chance of pixelates. Moreover, the size of the files downloaded from PPT-Design is also small as compared to templates files from other sites such as FPPT, SliderHunter, etc.
Features of PPT-Design
Following are the features of PPT-Design:
Impactful and professional Designs and themes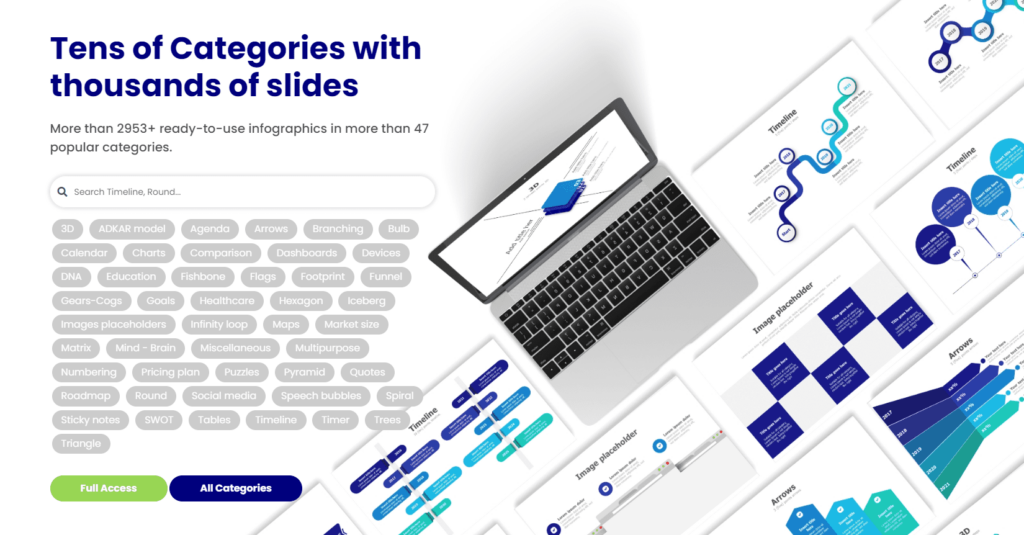 As said earlier hundreds of designs and theme styles are available on PPT-Design. This website adds designs of various categories and styles to accommodate all kinds of presentations and messages. You can download the theme or style that suits the message of your presentation and present your data in a visually pleasing manner.
Regular Updates
The PPT-Design regularly updates its templates and adds the newest designs regularly. This is to ensure that your business or academic presentations do not look outdated, regular, and boring. PPT-Design will assist you in conveying your message with the help of the latest templates and impress your audience to achieve your goals.
Vector-Based Slides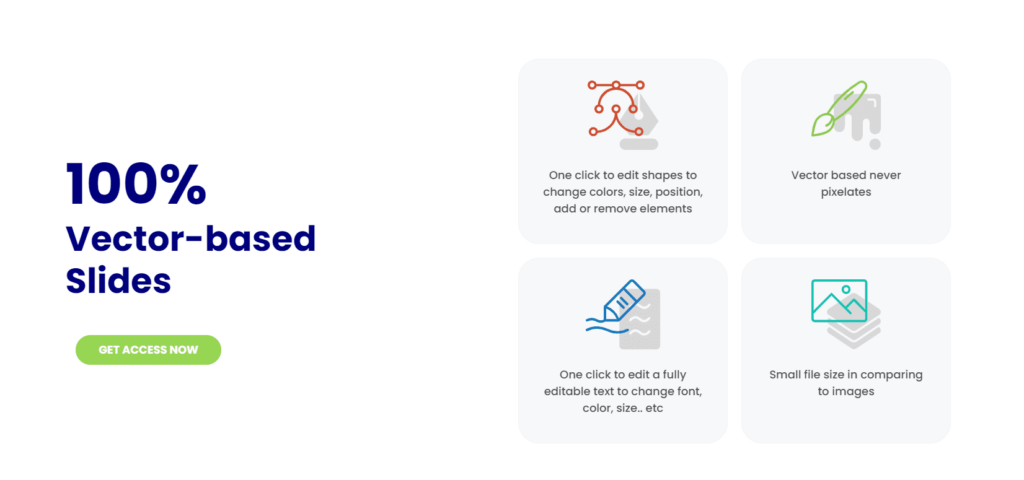 The slides of PPT-Design are 100% Vector based. This means that they never pixelate. So the quality of the images will not go down even if you download them or copy-paste them here and there. Hence feel free to use the templates as you see fit without worrying about the quality of the image.
Easy-to-Edit PowerPoint Templates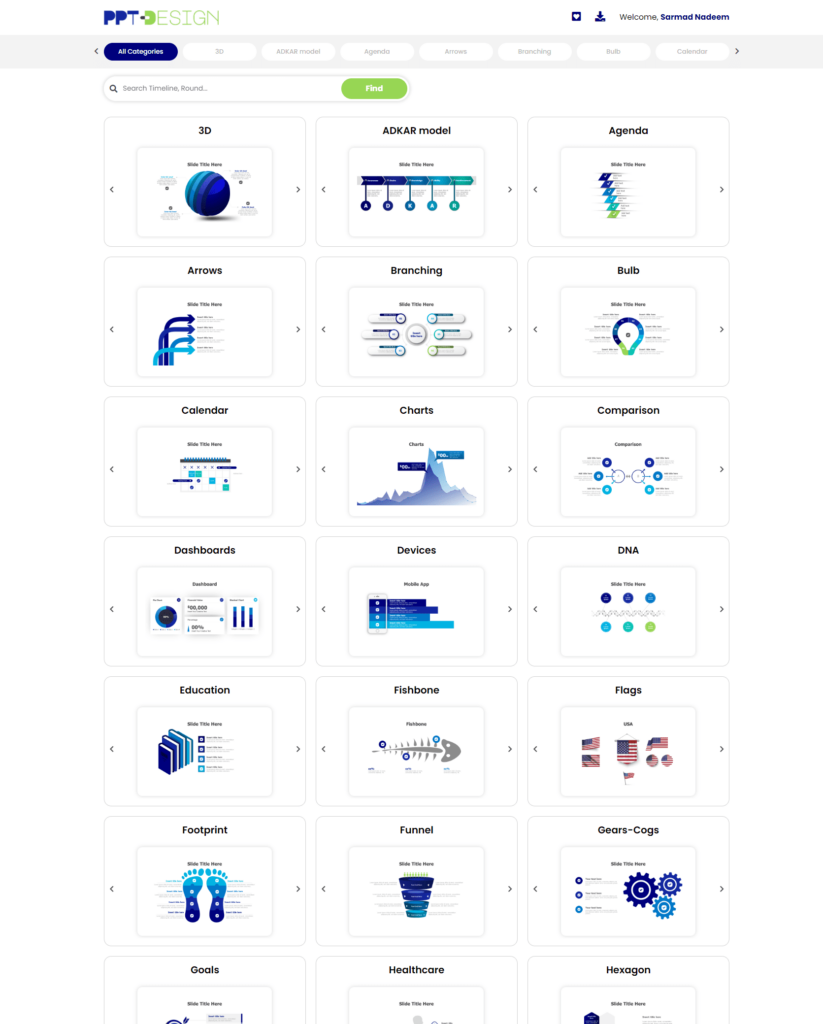 PPT-Design has worked hard to make editing and adjusting its slides very easy. It is no secret that editing the templates downloaded from the internet is hard and time-consuming. But the slides of PPT-Design can be edited with a single click. With a single click, you can edit shapes, and text, change colors or remove elements, etc.
Time-efficient
This infographics provider saves your precious time by making everything simpler and easier. As said above, the slides of PPT-Design can be edited easily so you don't have to spend hours adjusting the template for your presentation. You'll be done with inserting text and changing the color scheme within 10 minutes and even less after you are familiar with it.
PPT Infographics Compatible with Google Slides and Keynote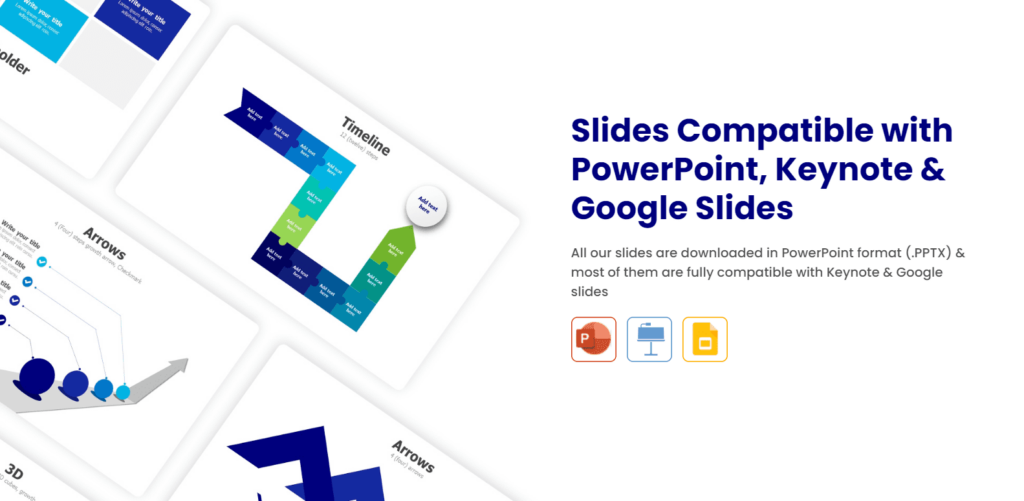 It is compatible with Google Slides, PowerPoint, and Keynote. You can open most of the slides of PPT-Design in all three apps without any hassle. Just install the add-on/ extensions and enjoy amazing infographics of PPT-Design on all three workspaces.
Smaller File Size
The size of its templates and slides is smaller compared to the infographics template of other sites. Smaller files are easier to download and put less strain on your PC. So download the infographics of PPT-Design freely and use them as much as you want.
Search by Categories
You must be wondering "how can I find the perfect template if there are hundreds and thousands of designs available?" Well, you can search through the category and find the relevant Powerpoint slides and infographics.
How to Get PPT Design Add-ons?
Now you must be wondering how to get these PowerPoint add-ons. It's very simple. Just open the homepage and you'll have two options to download addons for either PowerPoint or Google Slides.
Let's continue first with the PowerPoint Addon and see how it works.
How to use PowerPoint Add-In?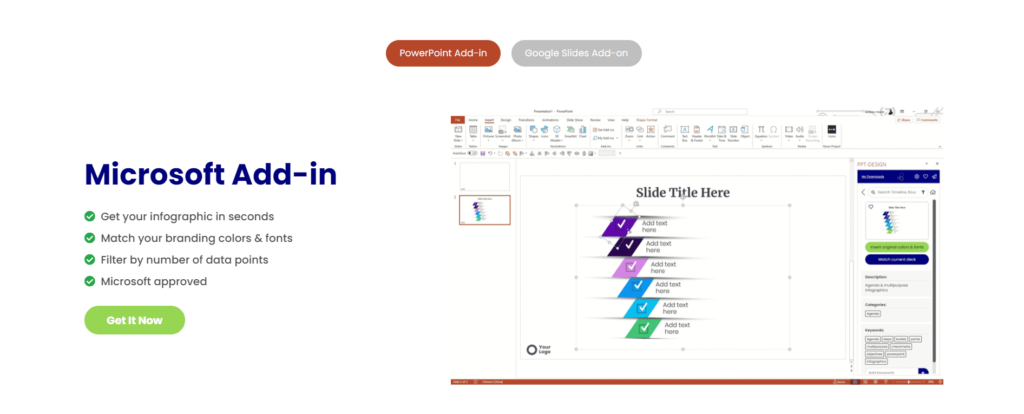 Step 1: The first step is to download the PowerPoint Add-In. Simply click on the Get it Now button and it will take you to the Microsoft app source marketplace.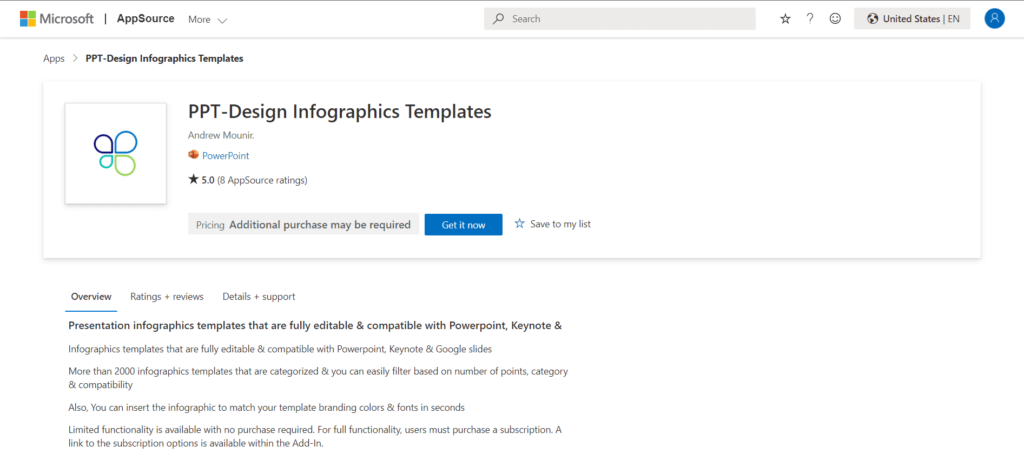 Step 2: Now again, hit the Get It Now button. It will then ask you to log in with your Microsoft account in order to install the PowerPoint add-in. Once done, you'll have the following screen below. Simply click on the "Open in PowerPoint" button.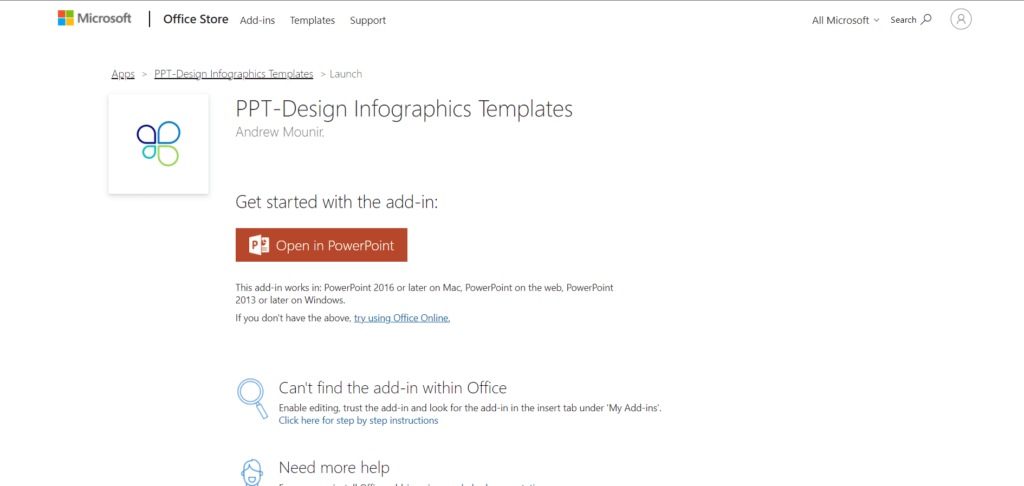 Step 3: You'll be asked to either trust this add-in or not. To install it on PowerPoint, hit the trust this add-in button, and boom, you'll get it installed.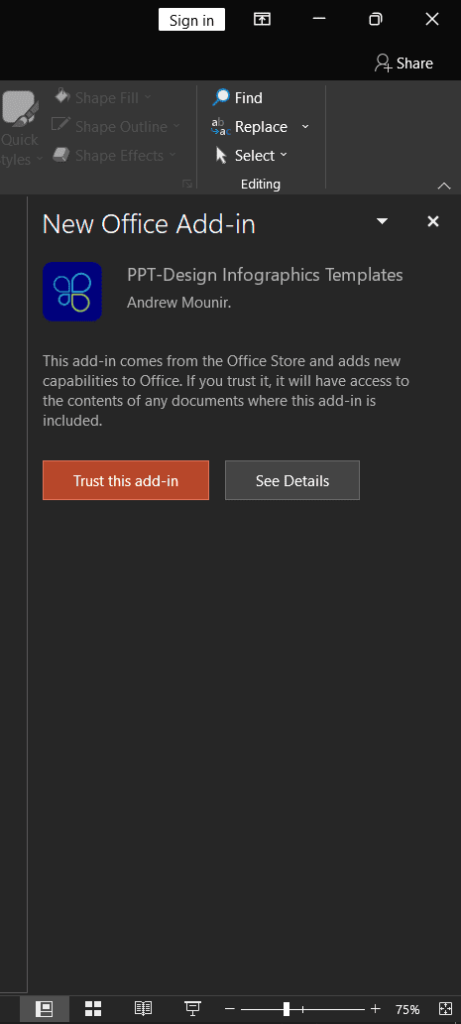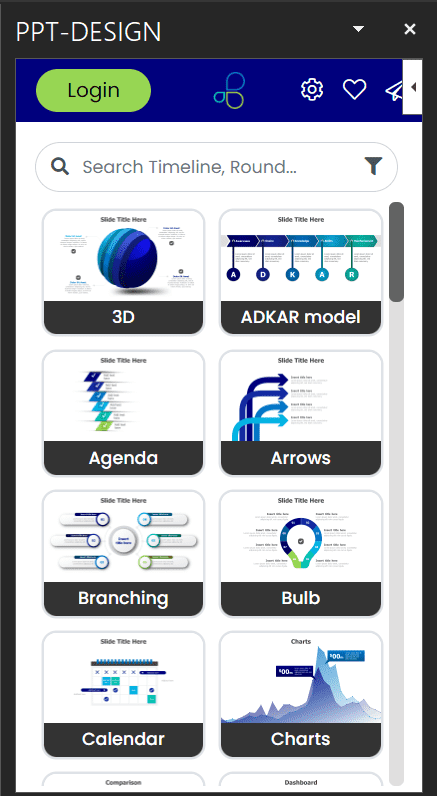 What's next? The procedure will be the same now for both Google Slides and PowerPoint.
Simply log in with your account
Choose the template that you want to import
Click on match design and boom, you're good to go.
If you can't be able to find the Add-in, head over to the top right corner of the PowerPoint and you can be able to see it.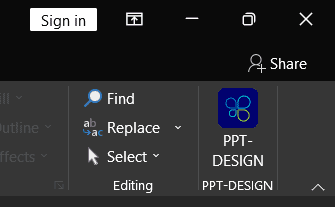 How to use Google Slides Add-on?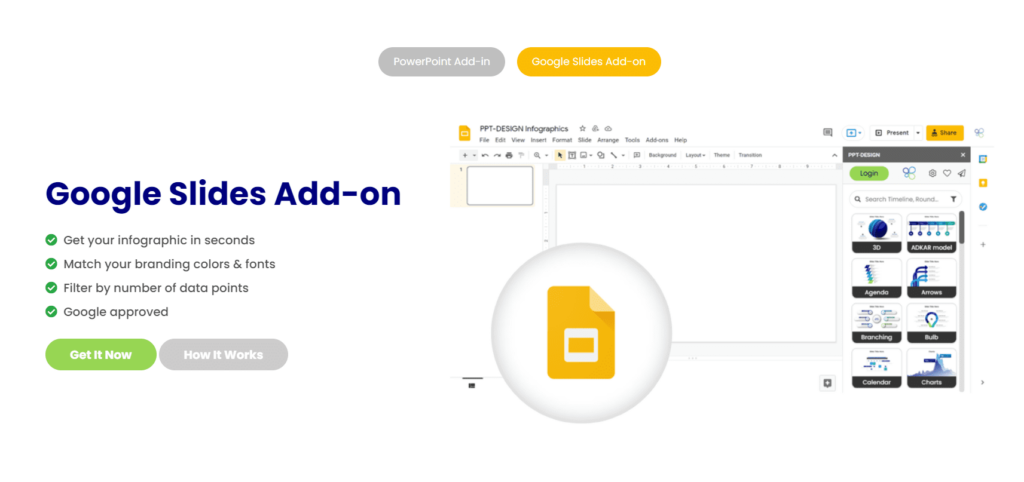 Step 1: If you don't have PowerPoint and want to save all your data on Cloud, you can use Google Slides. PPT-Design add-on is available for Google slides as well which you can download from the button below:
Step 2: This will take you to the page shown below. Click on Install to get PPT-Design Add-on for Google Slides.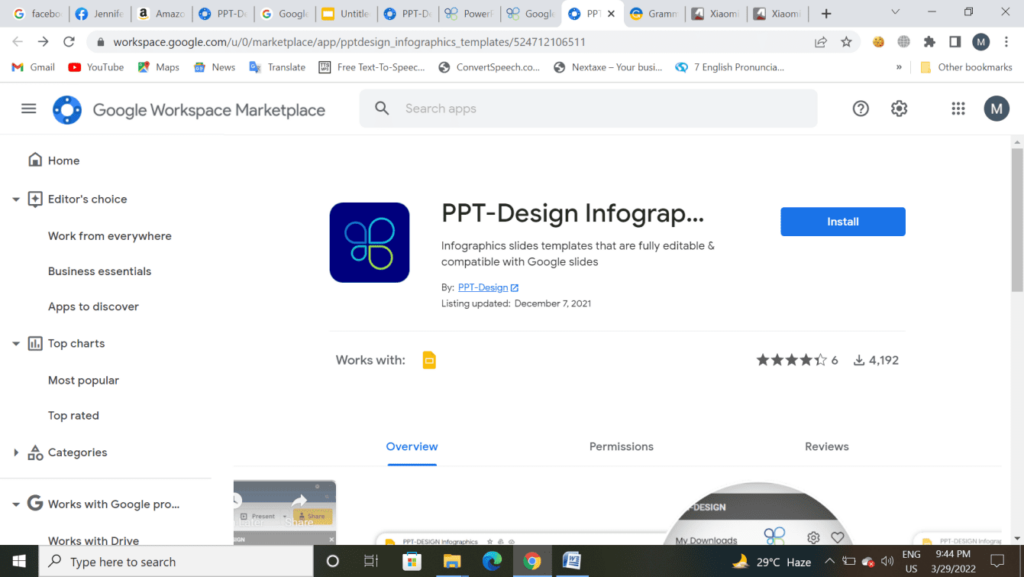 Step 3: Once you have installed the PPT-Design from Google Workspace Marketplace by following the steps mentioned above, you need to open your Google Slides and start making your presentation. When you need to add an infographic template, just click on the "Add-ons" option from the toolbar.
After this, you will see PPT-Design Infographics Templates in the drop-down menu. Just place your mouse on it and a "Get Started" option will appear, you need to click on it.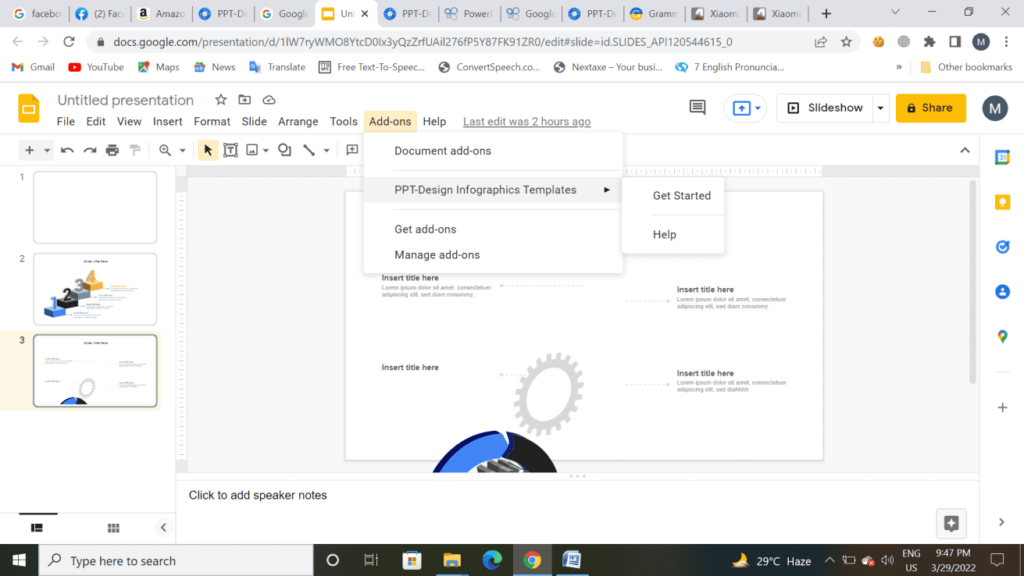 Step 4: And just like this, you are ready to use PPT-Design. A PPT-Design Menu Bar should be visible on the right side right now. But first, you need to log in with your PPT-Design Account. If you don't have an account, you can just sign up now.
After Logging in you can start reviewing Innovative infographic templates of PPT design. You can also search for Infographics by using the category search.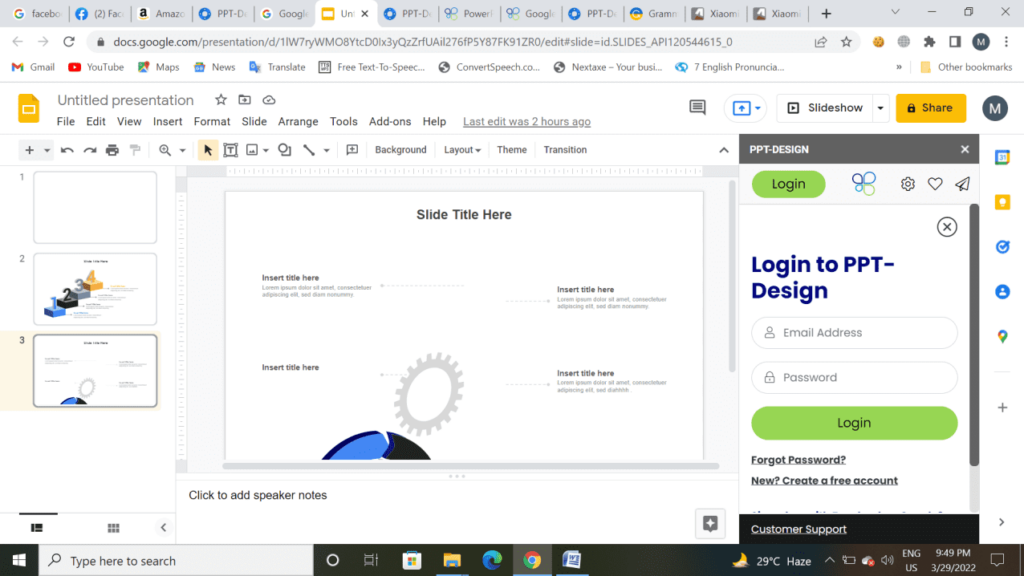 Step 5: When you find a template you like you need to click on it. After that, you will be seeing the selected template with two options i.e. Insert Original colors fonts and Match Current Deck.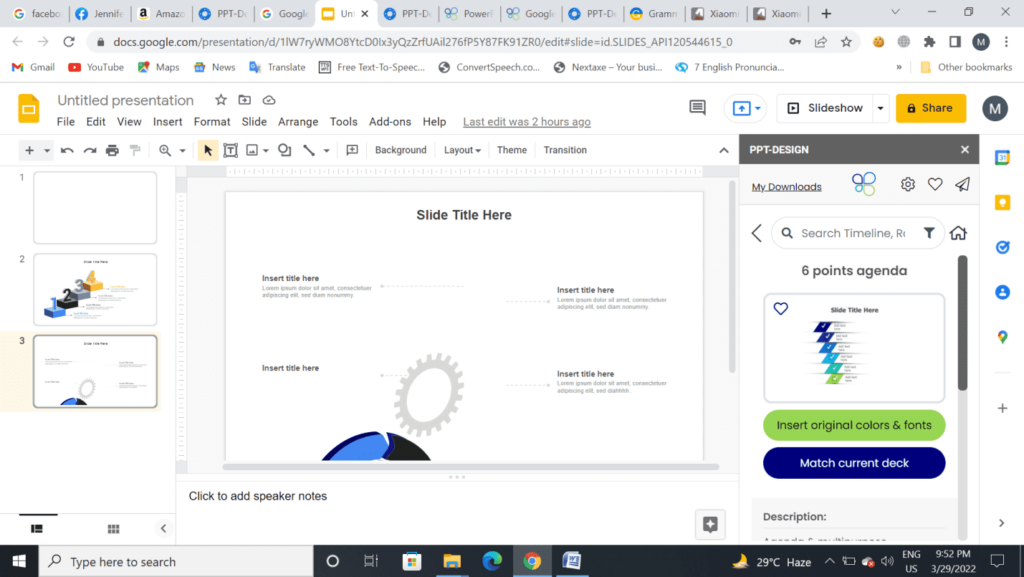 Step 6: Choose the first option "Insert original colors & fonts", if you want the template with its original colors, or choose the second option "Match current deck", if you want the template to adapt to the color scheme of your presentation. Click on either of these options and you will have the desired template inserted into your presentation.
You can click on the mock text to start adding text and move pictures with a simple click and drag motion of your mouse.
And that is all folks! Now you are ready to use PPT-Design to enhance your presentation game and convince your audience.
PPT-Design Pricing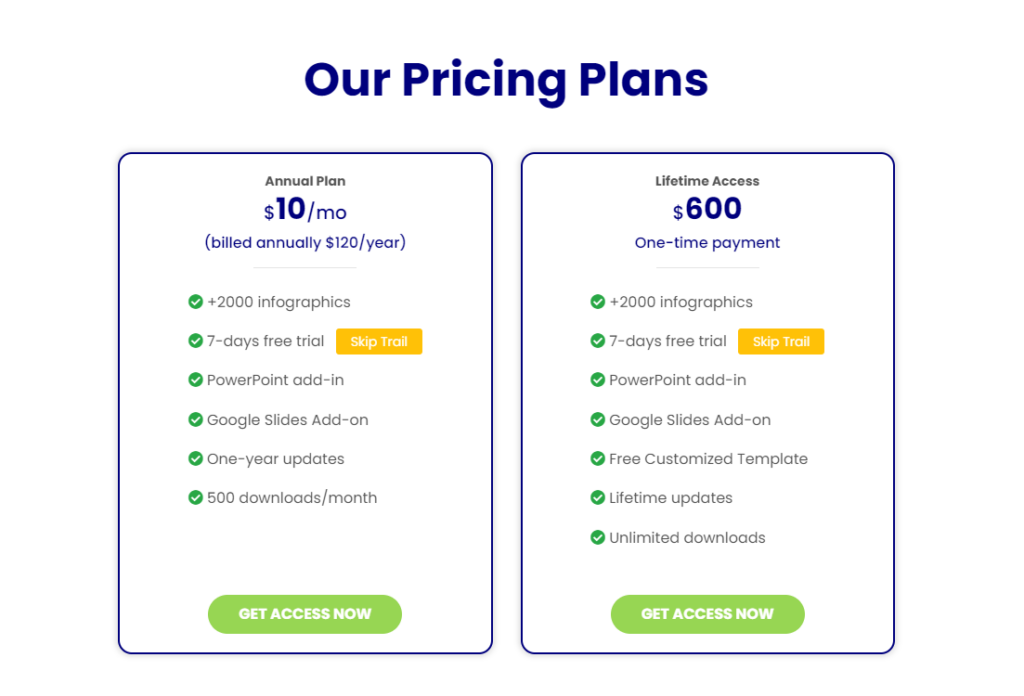 You can get the Annual plan which will cost you $120/ year and you will get 2000+ infographics, Powerpoint add-in, Google Slides Add-on, One-Year Updates, and 500 downloads/month.
There is also a Lifetime Access Plan that can be bought for $600 which comes with all the features of the Annual Plan along with a Free Customized Template, Lifetime Updates, and Unlimited Downloads. 
Free Trials
But I guess no one wants to pay for a service without trying it right? That is why PPT-Design offers a 7-Day Free Trial. So you can sign up today and decide for yourself if PPT-Design is worth your money or not.
Wrapping Up: Is PPT-Design Worth it?
Well, I personally used it to create some professional presentations for my company and they have turned out wonderfully well. The unique Infographics of PPT-Design provide the audience with a visual representation of the material and help them understand the message of the presentation better. These templates also give a professional vibe to the presentation.
All in all, I am satisfied with PPT-Design and I recommend it to those who often make and give presentations. You can just sign up today here and avail the 7-Day free trial offer to try it out.
At Trendstorys.com, we aim to provide honest reviews to our users to help them choose the platform.
Any queries related to PPT-Design Addon or if you're already experienced with this tool, give your review out of 5 stars or let me know in the comments.