Overall, ImgUpscaler is definitely a worth checking tool that can help people in improving photo quality and enhancing its blurry parts with the help of AI and Deep learning algorithms.
User Ratings (

6

Votes)

9.7
The day-old saying says that "humans are social animals". However, with the advent of the digital revolution and ready visual arts access, it can be said that Humans are Visual animals. We all love the visual representation of processes or things in images. Plus images and pictures can speak a thousand words and convey complex ideas within minutes. So good quality images can serve a personal, commercial and educational purpose.
However, images often need to be adjusted before they can be used in blogs, etc. And it is very common that during adjustment, the resolution quality drops. Some pictures already are low quality too. Either way adjustment and enlarging are bound to affect the quality of the picture. This is where ImgUpscaler comes into the scene. It is the finest image enhancer that will zoom in and improve the quality of the picture. This tool can deliver HD-quality pictures using AI technology.
As a blogger, I have to often insert images to express my ideas and leave a visual impact on the readers so I use ImgUpscaler to improve the image resolution and make them 4k. This tool has proved to be very helpful to me and that is why I thought I should share it with everyone. After all, blurred images are a common issue that many deals with whenever an image is enlarged so in my opinion, this review will help many.
Read ahead to know more about ImgUpscaler.
ImgUpscaler Review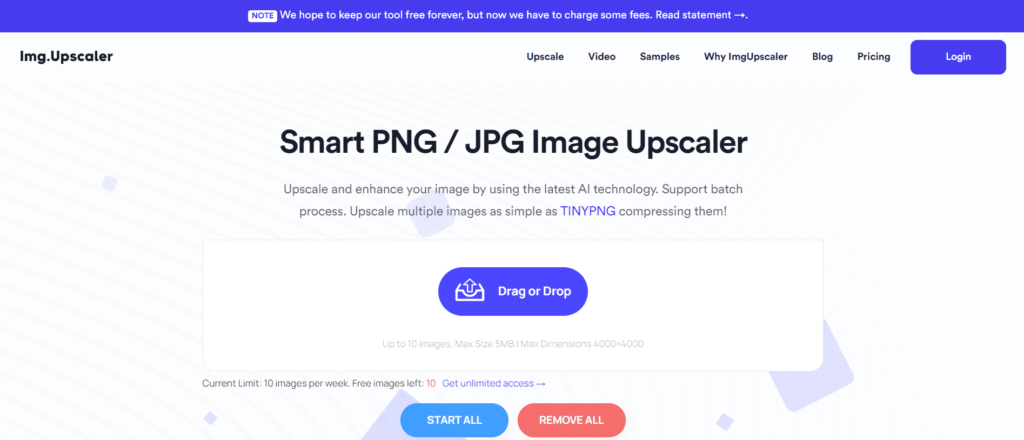 ImgUpscaler is an AI-based tool that can recover blurred images and enhance their quality to 4K within minutes. It uses advanced AI technology to recover and draw missing or blurred parts of the picture to deliver 4K quality images.
Amazing right? You just have to select and upload pictures and ImgUpscaler will do all the work for you.
This tool was designed to handle all kinds of pictures from anime cartoons to colorful snaps of nature, everything can be enlarged and enhanced using it. Img. Upscaler also uses advanced super-resolution technology to make sure that your pictures are restored properly and 100% HD output is delivered. And don't even worry about privacy because this tool protects the images and privacy of its users.
It's hard to tell that the images were even resized because the quality of its enhanced pictures is just that good. All these qualities make ImgUpscaler an amazing image-enhancing tool.
Features of ImgUpscaler

ImgUpscaler offers the following features;
4K Quality
This tool delivers 4K quality images using the latest Artificial Intelligence technology. It redraws the missing pixels of the images to provide the best-enhanced images so you can enjoy high-quality photos.
Batch Processing
ImgUpscaler also supports batch processing so you can upscale 100 images at the same time. So you can batch process all the pictures together and save your time.
Super Resolution and Artificial Intelligence
It utilizes Super-resolution technology and Artificial Intelligence technology to offer the best image recovery and upscaling abilities. ImgUpscaler makes use of tons of technologies to deliver detailed images with optimized pixels.
Easy to Use
ImgUpscaler is easy to use so everyone can use it. You just have to drag and drop the images into the "Drag or Drop" part of the website and click the "Start All" button. After this, you will get an upscaled 4K image within minutes. There is also a one-minute instruction video on the website of ImgUpscaler that explains how to use this tool in detail. You can watch it if you face any issues. 
Supports Multiple Formats
It supports both PBG and JPG Images to help its users. And these are two of the most common image formats so you should not have any kind of format incompatible issues.
Privacy Protection
It takes all the possible measures to ensure that the privacy of the users is not breached. All the photos that people resize are removed after 24 hours and ImgUpscaler will never claim ownership of any enlarged image or content. Hence you can use this tool in peace without worrying about privacy issues.
Limited free Service
You can use ImgUpscaler for free without even creating an account. It offers 10 free images per week for free but you need to pay if you want to process more pictures in a week.
Is Image Upscaler Worth it?
In my opinion, ImgUpscaler is worth your time and even money if you think you need to upscale more than 10 images per week. For example, I am a blogger and I have to resize images a lot to add to my posts so I have actually bought its monthly plan. ImgUpscaler is one the best image upscalers available in the market right now that offer unmatchable pixel quality and top-notch resolution.
It's user-friendly and also can do batch processing. Moreover, these tools can process all kinds of images i.e. landscape shots, screenshots and camera snaps, etc.
Pricing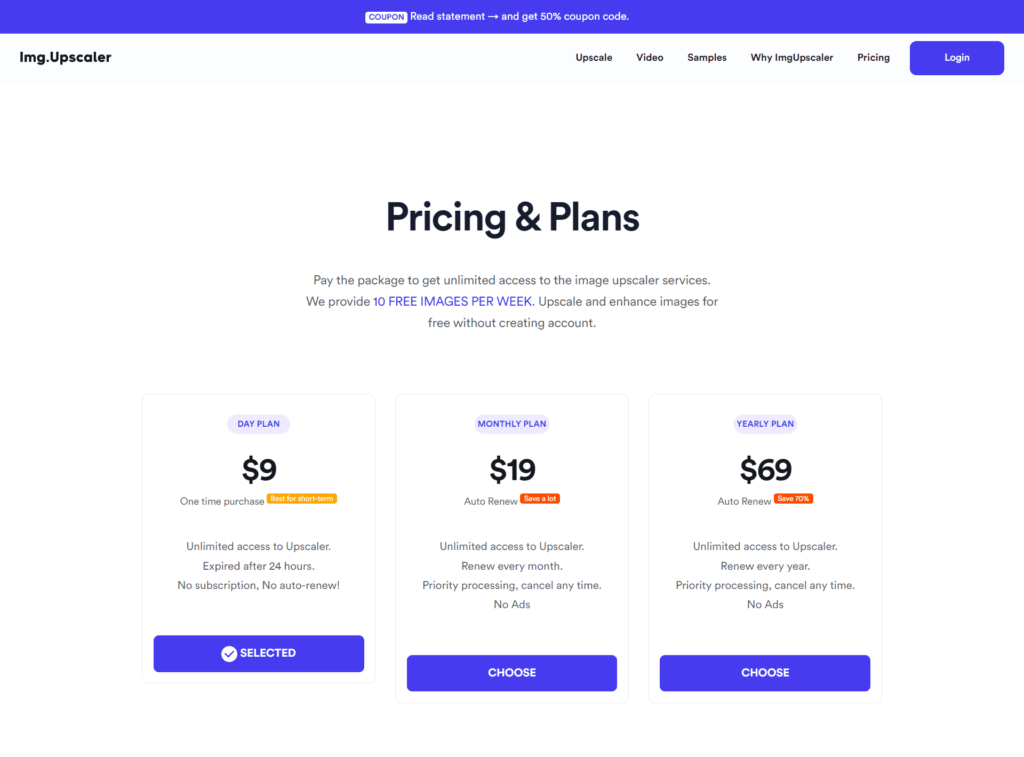 ImgUpscaler, as said earlier, is free to use if you are going to process only 10 images per week. But if you need to work on more than 10 images per week then you will need to create an account and buy its subscription.
Thankfully, this tool is pretty cheap. You can buy a One Day Plan for $9, Monthly Plan for $19, and a Yearly Plan for only $69.
The Downside of ImgUpscaler
The quality of pictures upscaled by ImgUpscaler is pretty good but it may smoothen small details at times to speed up big batches. This is the only downside of ImgUpscaler. 
Conclusion
Overall, it is a fantastic tool that can help people in improving photo quality and enhancing its blurry parts with the help of AI technology. I am sure ImgUpscaler will prove to be very helpful to you. I suggest you use the free version first and then if you need to enhance more than 10 images every day, you can buy the subscription.
If you've still got any doubts about choosing ImgUpscaler, go check out other ImgUpscaler reviews from people who have already experienced this tool and find out what they are saying.
At Trendstorys.com, we aim to provide honest reviews to our users to help them make the right decision.