Face Swapper is definitely an amazing face swap tool for professional video creators and YouTube entertainers. It is free to use with the best accuracy.
Face Swapping Technology

9.5

User Ratings (

2

Votes)

9.7
Professional Video editors, content creators, and even photographers need at times to swap faces while editing for different reasons. For example, Face swapper could be used for entertainment purposes or a special request of their client. You must have seen Face Swapping on YouTube as many entertainers use it to embody the character they are mimicking. Face Swap tools are supposed to swap the faces of two people and make it look funny without overdoing it.  
But most tools and software programs available in the market make face swaps look overly ridiculous and grotesque and that is why professionals try to avoid face swapping tools and face swapping phenomenon in general.
However once in a while, the unavoidable need to face swap arises and this is where the Face Swapper comes into the picture. If you have been searching for a professional Face swapper tool that produces realistic results then your search ends here. The Face Swapper uses modern AI technology to swipe faces and generate attractive and realistic results. 
Now you do not need to worry about absurd and ridiculous results usually produced by ordinary Face Swap tools. The free Face Swapper will take care of every step automatically and deliver your face-swapped output.
Want to know more? Read ahead to find out. 
What is Face Swapper?
Face Swapper is a face-swapping solution specially designed for content creators, video editors, and photographers. This tool can be used by anyone to swap faces in a video or image effectively. It uses various advanced technologies i.e. AI faces recognition etc., to deliver high-quality and realistic images or videos after face swapping. It makes sure that the facial features on the face-swapped output do not look absurd and cringe-worthy.
In addition, it is very easy to use this tool. With a single click, anyone can swap faces in a video or image. Face Swapper works automatically to adjust the facial expressions and face structure so you do not need to worry about anything. Professionals, video creators, and even amateurs can use this amazing tool to produce the desired result.
Last but not least, it is free to use. You can use it unlimited times to face swap videos and images. There is no limit and there is no investment. You can go to the website of Swapper and use it for free for as long as you desire.
Related: Ava Maker Review: Is It The Best Avatar Maker of 2022?
Features Offered by Face Swapper
Following are the features offered by Face Swapper:
Realistic Output
Face Swapper offers high-end and realistic results after a face swap. The faces do not look grotesque and cringe after face swapping. This advanced AI tool makes sure that the faces look realistic and attractive. It adjusts the facial features and bone structure to create suitable output ideal for professionals and video creators.
User-friendly
It is user-friendly so even if you are not tech-savvy you will be able to use this tool to face swap videos and images. The simple drag and drop or uploading feature allows the users to upload and face swap media within seconds without worrying about technicalities.
AI Technology Automation
It integrates advanced facial adjustment and other AI technologies to provide aesthetic output. Face Swapper works automatically to recognize faces and adjust the facial structure and bones to create a realistic face swap for professionals and laymen alike. The users are not required to make any adjustments or do any of the technical work. It will work automatically to produce swapped faces and make all the required adjustments.
Free and Unlimited
You do not need to pay a penny to use Face Swapper. It is free and you can use all its features without providing any personal information to it. There are no hidden features that can be bought with money. Most importantly, you can use it unlimited times to face swap images and videos, as there is no daily or monthly limit on this free tool.
How to use Face Swapper to Swap Faces?
Go to Faceswapper.ai and you will go straight to the website of Face Swapper. In the middle of the website, you will see an "Upload a Photo" button.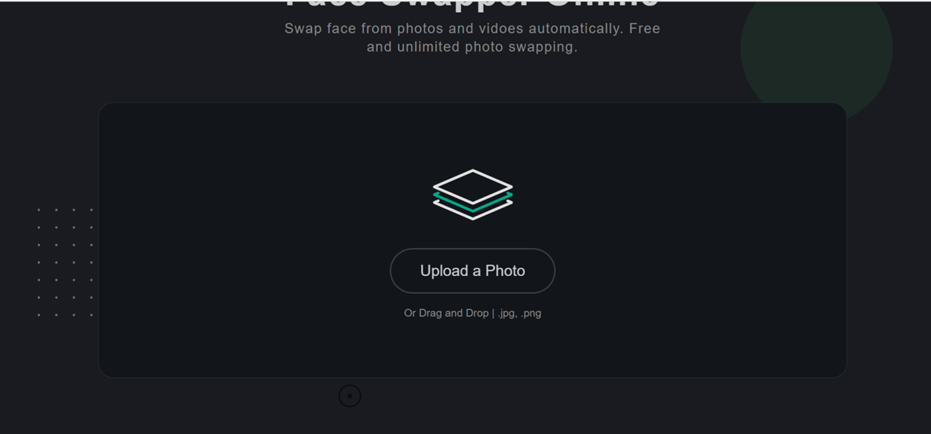 You can click on it to upload the photo/ video or you can also drag and drop the media. Then you will see something like the below: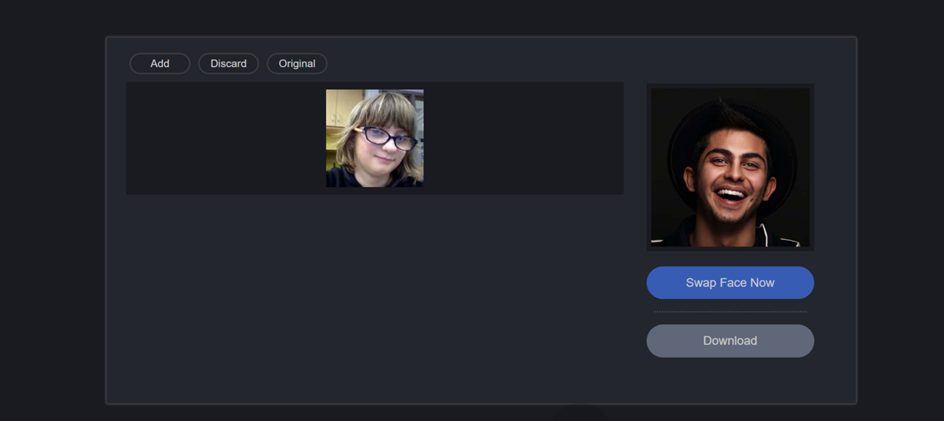 The picture in the middle has been uploaded by me and the picture on the right is the picture with which the website is suggesting you should do the face swap. Now if you want to face swap your picture with the suggested picture then just click on the "Swap Face Now" Option and within a second your media will be face swapped. If you are satisfied with the result, you can download the picture by clicking on the "Download" Option.
But if you want to experiment more, I suggest you scroll down. Here you will see various pictures that you can select to face swap. You have both, pictures of men and women to choose from.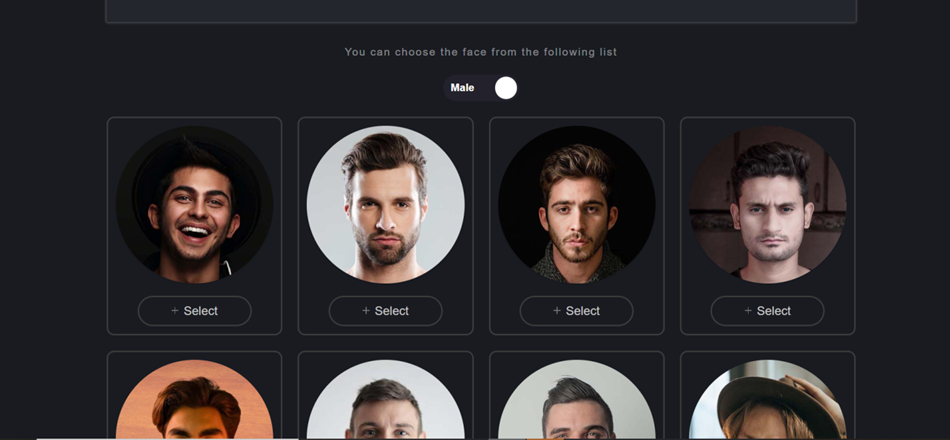 There are tons of pictures to choose from. Click on the White Button and you will be able to view pictures of women.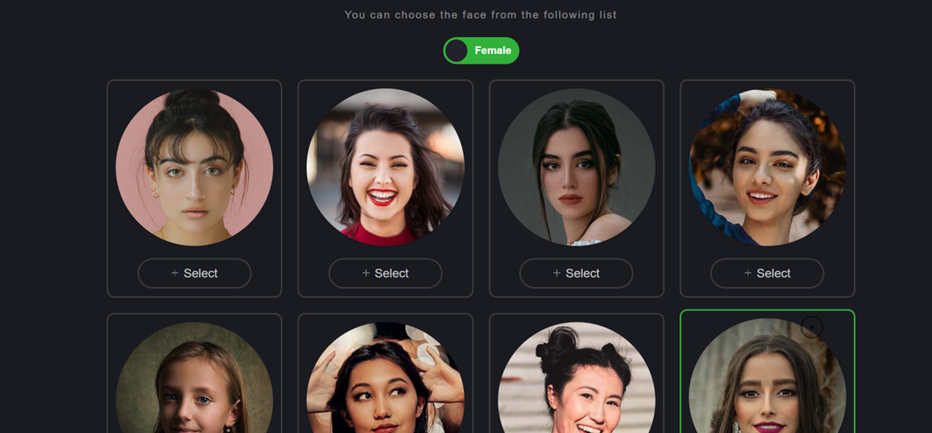 You should click on the "Select" option below the pictures if you wish to use a picture to face swap. When you click on it, you will be able to view the selected picture in the setup above, on the right of your uploaded media.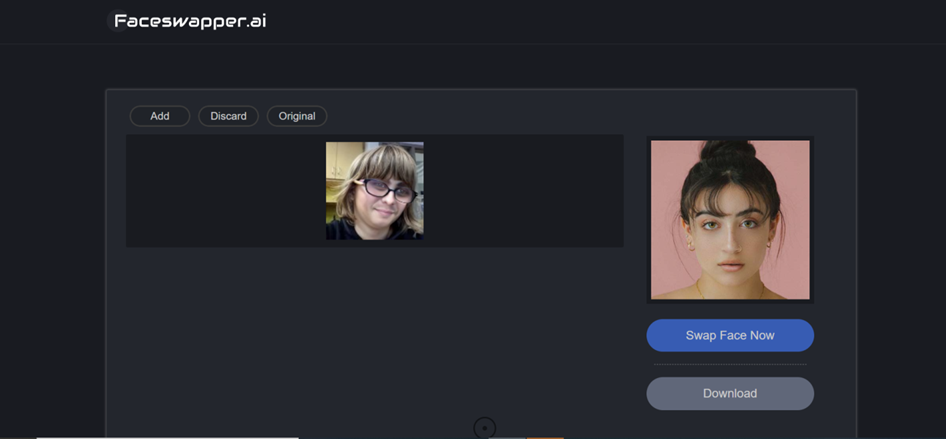 Now just click on the "Swap Face Now" and this tool will swap the faces in the media within seconds. YES! It is this easy-to-use Face Swapper.
Click on "Add" to upload another media for face swapping, Use the "Discard" option to remove the picture on the right, and Use "Original" to remove the face swap from your media.
See Also: VanceAI Productivity Tools Review
Is Face Swapper Worth it?
Well, most Face Swapping Solutions available in the market produce very unnatural and absurd results. But Face Swapper creates outstanding output results. It is also free to use which means anyone can take advantage of this professional face swapper without spending any money.
Moreover, Face Swapper is user-friendly and works automatically. Users just have to drag and drop the media and the rest of the work will be done by the Face Swapper. Therefore, Face Swapper is indeed worth it especially as compared to all other face swapping tools available in the market. 
Summing Up
Face Swapper is a next-generation face Swapping tool that uses AI tools to deliver professional results. This is the ultimate face swap tool for professional video creators and YouTube entertainers. It is free to use and even laymen can use it because it is incredibly easy to use. Face Swapper just lacks customer support but that will be launched soon too. Hence it is indeed the best Face Swapping Solution for 2021.  
After all, you have nothing to lose here as you are not spending any money. Use this AI-integrated tool yourself and see the magic. Try it Now.