Overall, Avamake is definitely a handy tool for making avatars and NFTs. It offers a wide variety of avatar customization options, including face style, mouth style, hair colors, sunglasses, etc.
User Ratings (

3

Votes)

9.8
Avatar is not a new internet trend but it has gained popularity recently as face swappers got. Avatars are graphical representations of people that are often used as profile pictures. The Avatar can have a close resemblance to the users or people can also experiment with different looks to adjust their self-concept without having to do a complete makeover. Not gonna lie I have seen people give their Avatar complete makeover or different hairstyle to see if the makeover/hairstyle will look good on them. 
But this is not the only use of Avatar, now people prefer to use their Avatar as a profile picture instead of their own picture. That is because many are reluctant to share their real picture online because of privacy concerns meanwhile others just like to use Avatar instead of their own pictures. It gives them a sense of individuality and online self-image even without using their own picture as a profile picture.
Several studies have shown that having an Avatar profile picture makes others feel like they are interacting with another human being. Avatar basically establishes a sense of connection that is very hard to create online over faceless text messaging apps. Even businesses and online entrepreneurs have started using Avatars as profile pictures.
Overall, it has been established that Avatar enhances the overall online experience of the users by bringing a sense of individuality to the user profile, building a sense of connection to the interaction, and allowing users to play with their self-image by editing the Avatar. If you want to create your own Avatar after realizing its significance then you are at the right place. Because Ava Maker is the best Avatar creator available online for free.
It will help you in creating your Avatar without charging you a penny. Plus this tool is easy to use which means you can easily utilize it to create an Avatar even if you are not tech-savvy. The diverse features, free availability, and user-friendly interface make it one of the best Avatar Maker of 2022.
Want to know more? Read ahead.
What is Ava Maker?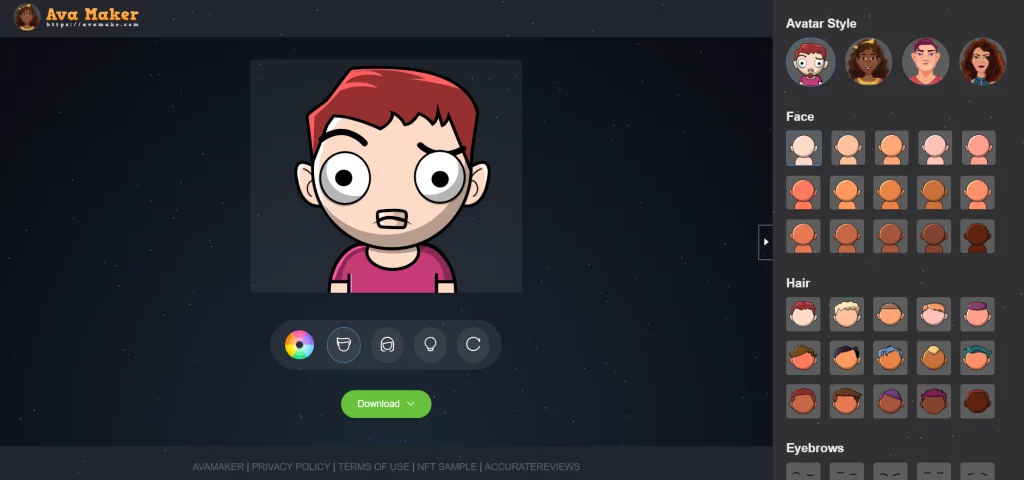 Ava Maker is one of the premium Avatar makers that provide people tons of features and options to build an Avatar of their choice. The users can make use of the extensive features to create an Avatar that resembles them or they can experiment and build an Avatar that they aspire to be etc.
Ava Maker allows users to choose from a wide range of skin tones to accommodate everyone. Other than skin tone, the user can also adjust the hairstyle, beard style, colors of hair, mouth shape, eyes, and even eyebrows. In short, it equips the users with everything they need to create a customized Avatar. This tool is also user-friendly and allows users to edit Avatar with a simple click.
Most importantly, it is free to use. You can make your Avatar for free with the help of Ava Maker. The privacy policy of Ava Maker is also strict and does not leave room for any breach or concern.
Features of Ava Maker
The following are the features of Ava Maker:
Diverse Skin tone
Ava Maker is one of the few Avatar Makers that gives users a wide range of skin tones to choose from. The creator of Ava Maker understands that human skin tones are diverse in colors and that is why the users are given the option to adjust the colors as they please.
Extensive Customization
Ava Maker offers a wide range of customization options. The users can use them to change the hair color, hairstyle, mouth shape, lips, eyebrows, clothes, etc., of their Avatar. These options help them in making an Avatar profile of their preference.
User-Friendly Interface
The interface of Ava Maker is simplistic and easy to use. You will be able to adjust all the features of this tool with a click. So you will be able to make an Avatar using Ava Maker even if you have never made Avatar before.
Free-to-use
The biggest advantage of Ava Maker is that it is available for free. There is no paid subscription for access to elite features either, all the options and features are available for use for free. You don't even need to create an account in order to use Ava Maker.
How to Use Ava Maker to create Avatar?
Just Click Here and this will take you to Ava Maker. You will see a screen like this:
The Buttons below the Avatar picture are the controls. You can click on the first one to adjust the skin tone of your Avatar. After adjusting the skin tone you should move to the next two buttons. Click on the second button if you want a male Avatar and if you want a female Avatar then click on the third button.
As soon as you select the gender of your Avatar, you will notice that the side menu on the right side starts showing relevant hair colors, hairstyles, clothing, eyebrows, etc., to help you customize your Avatar. You can click on the eyebrows, clothing, hair colors, mouth shape, lips, eyes, and skin tone option to edit your Avatar.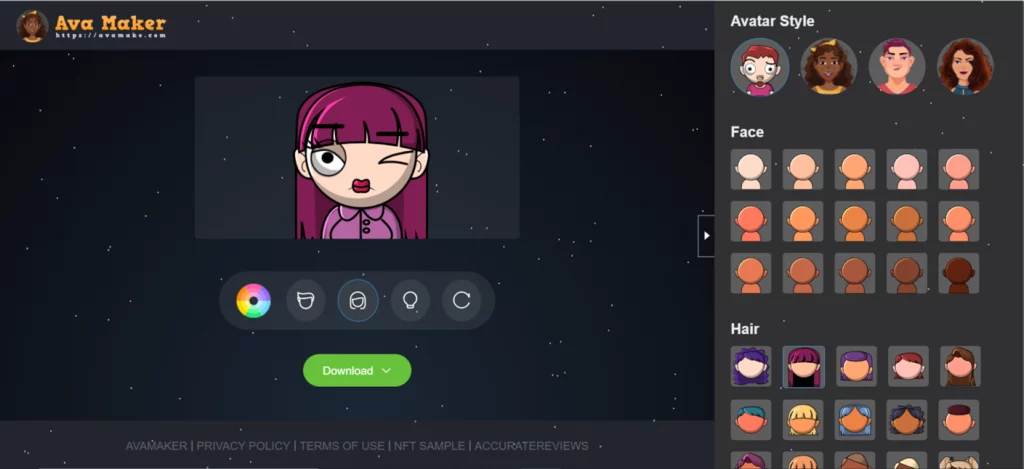 After you are done editing, just click on the Download button and save it in either PNG or SVG format. This is how you make and download your Avatar on your computer.
How is Ava Maker better than other Avatar Making tools?
What sets Ava Maker apart from other Avatar Making tools is its user-friendly interface, free availability, and privacy policy. It allows users to edit with a single click which makes it very easy to use. This tool is also free-to-use meanwhile most other tools demand money especially for accessing high-end features. And it protects the privacy of its users; this is something no other Avatar Maker guarantees.
Ava Maker won't share your Avatar, Cookies, or any other information with third parties in any case.
Summing Up
Thanks to Ava Maker it is extremely easy to make customized Avatar and improve your online experience. You don't have to pay anyone or buy any tool to get your own Avatar because you can create your Avatar masterpiece yourself without paying anything. Create an Avatar that resembles or lets your imagination run wild and have fun by experimenting.
So what are you waiting for? Go and create your free Avatar today.
If you've still got any doubts regarding Ava maker, go check out other Ava maker reviews from people who have already experienced this tool and find out what they are saying.
At Trendstorys.com, we aim to provide honest reviews to our users to help them make the right decision.