DesignCap Review
$4.99/mo
Variety of Template

Art and Resources

Powerful Designing tools
Summary
DesignCap is an online graphic design web-based app that lets you do any kind of graphic designing in a professional way like as we use to do in Adobe products.
Pros
User-Friendly Interface
Professional Graphic Designing
Library of Templates & Resources
Powerful Designing tools
Learning Center for newbies
Cons
The free plan is quite limited.
Not available for desktop or mobile applications.
Are you looking for some graphic designing tools that meet all of your expectations?
Don't have enough skills to do graphic designing on popular software such as Adobe Illustrator, Corel Draw, or Photoshop, etc.?
If yes, then you've probably come to the right place as today we've come up with a stunning web-based application "DesignCap" that lets you do professional graphic designing such as creating logos, Infographics, Presentations, Posters, Flyers, Facebook/Instagram covers, YouTube channel arts, and many more.
Today we're going to do an in-depth DesignCap review to help you make the right decision before going for this application.
In this DesignCap review, we'll look at all the features it provides and will determine either its worthy to use or not.
Let's see in a little detail about DesignCap.
What is DesignCap?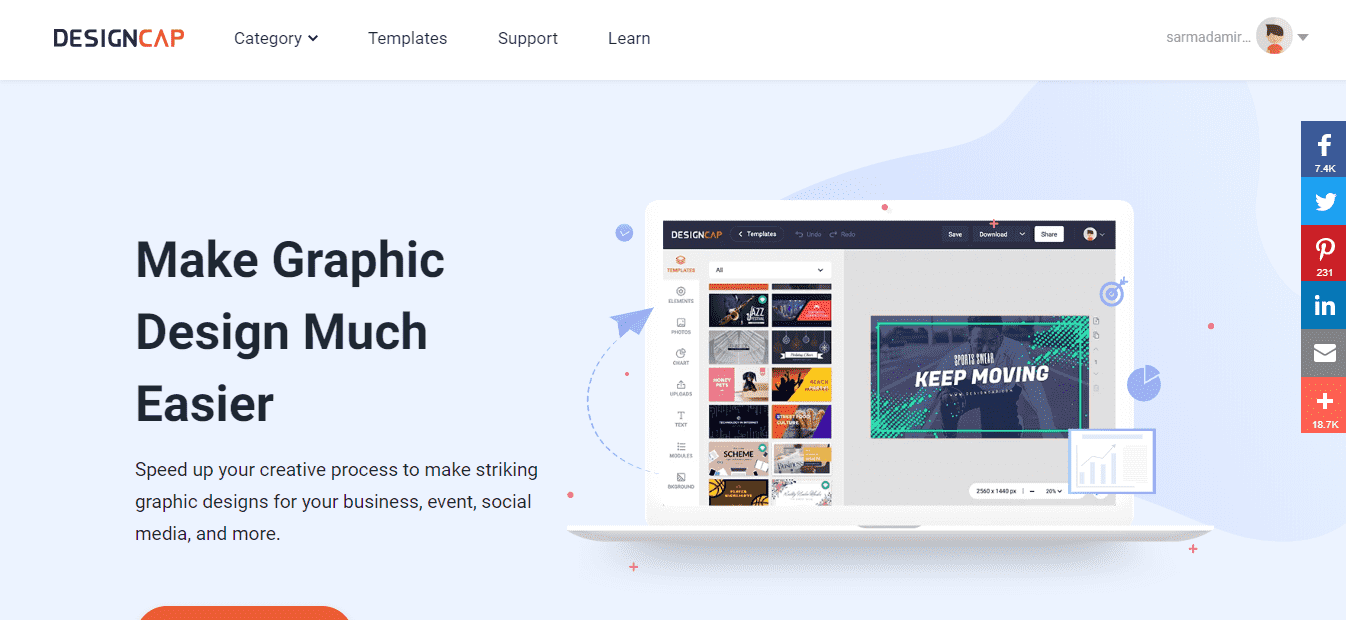 DesignCap, an online graphic design web-based app that lets you do any kind of graphic designing is quite an easy way. Using DesignCap, users can create stunning designs that best meet their requirements. It is one of the best graphic designing tools founded with the aim of helping users who don't have enough knowledge of graphic designing software such as Adobe Illustrator/Photoshop, Corel Draw, etc.
With DesignCap, you can create professional designs such as Infographics, flyers, brochures, reports, cards, posters, logos, and social media covers/banners, etc. There a lot more you can do on DesignCap as they provide tons of pre-designed templates to help you get started with it.
Here is a short overview of the DesignCap.
DesignCap Details
Company Name

: DesignCap

Founded In

: 2018

Payment Methods

: VISA/MasterCard, Amex, Discover
­­­

Pricing

:

$4.99/mo

&

$5.99/mo

for basic and plus plan respectively.

Support Email

:

[email protected]

Website

: https://www.designcap.com/
Why DesignCap worth it using?
There are several things to consider why DesignCap wins the game when it comes to designing. Fotor is a great alternative to DesignCap that mainly focuses on Photo editing but it does come with a graphic design feature. However, it isn't as effective as DesignCap is because DesignCap is only made for users who want to create any type of professional design. No doubt, Adobe illustrator & Photoshop are the best tools for graphic designing but not everyone is able to use these tools as they are a little complex.
The reason why DesignCap stands out from others is that it is the most user-friendly web-based app that even a person having no such knowledge of graphic designing can easily create stunning designs. Moreover, if someone doesn't know how to create designs, DesignCap has its own learning center by which anyone can learn how to create professional-looking designs which makes it easy for newbies to start.
DesignCap Features
Apart from other graphic designing applications such as Fotor and GIMP that does include different features such as photo editing, Photo Collage, etc. However, DesignCap is primarily made to do graphic designing in a more professional way as compared to them.
Some of the features of DesignCap are mentioned below:
Graphic Designing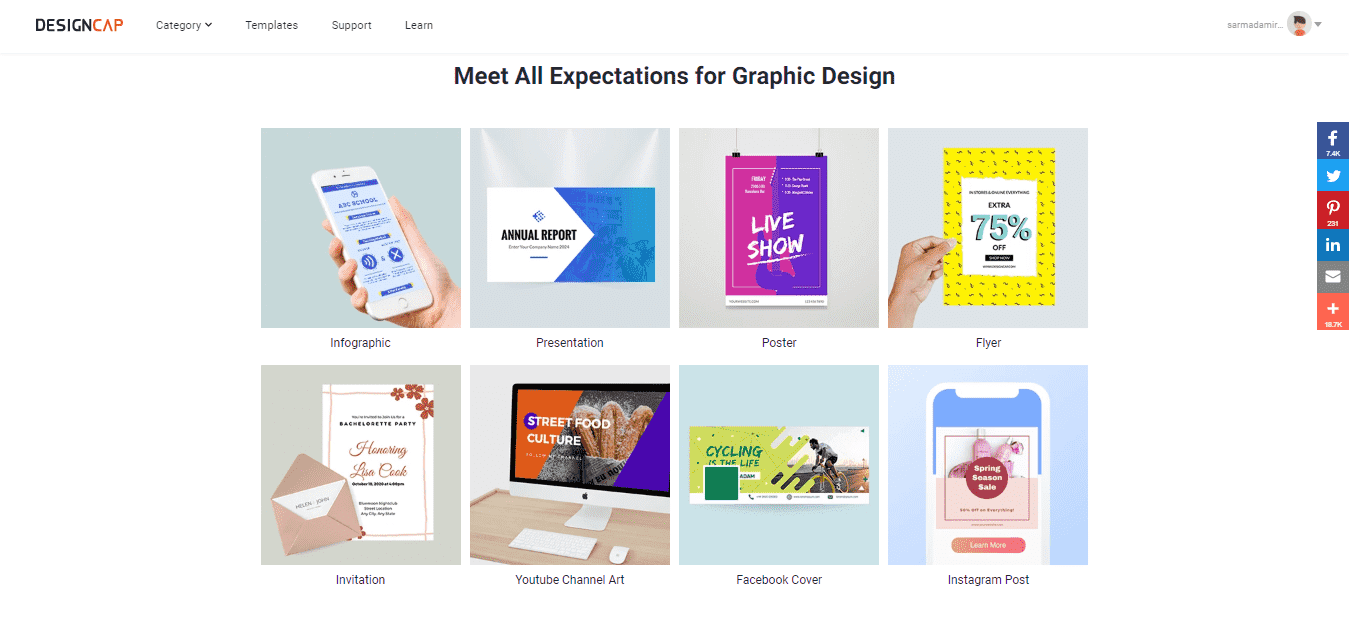 As we have already mentioned that DesignCap has primarily focused on Graphic Designs such as banners, flyers, infographics, cards, reports, posters, ads, logos, and social media designs. DesignCap has almost everything that fulfills user expectations which is the reason it has the plus point against all other graphic designing tools.
Variety of Templates

DesignCap has thousands of professionally designed templates to help you get started with designing different things like Infographics, presentations, posters, flyers, cards, brochures, posters, logos, ads, and graphics for social media such as Facebook covers, YouTube channel art/thumbnail, Tumblr banner, and posts for Instagram or Facebook, etc.
You can use these pre-designed templates and edit them to create stunning designs easily just by doing some little tweaks.
Millions of Art & Resources

DesignCap offers you a vast quantity of art and resources that contain built-in fonts, shapes, backgrounds, and icons, etc. Moreover, you can create customize your designs using their large library of stock photos to help you get the right outcome you're expecting.
Learning Center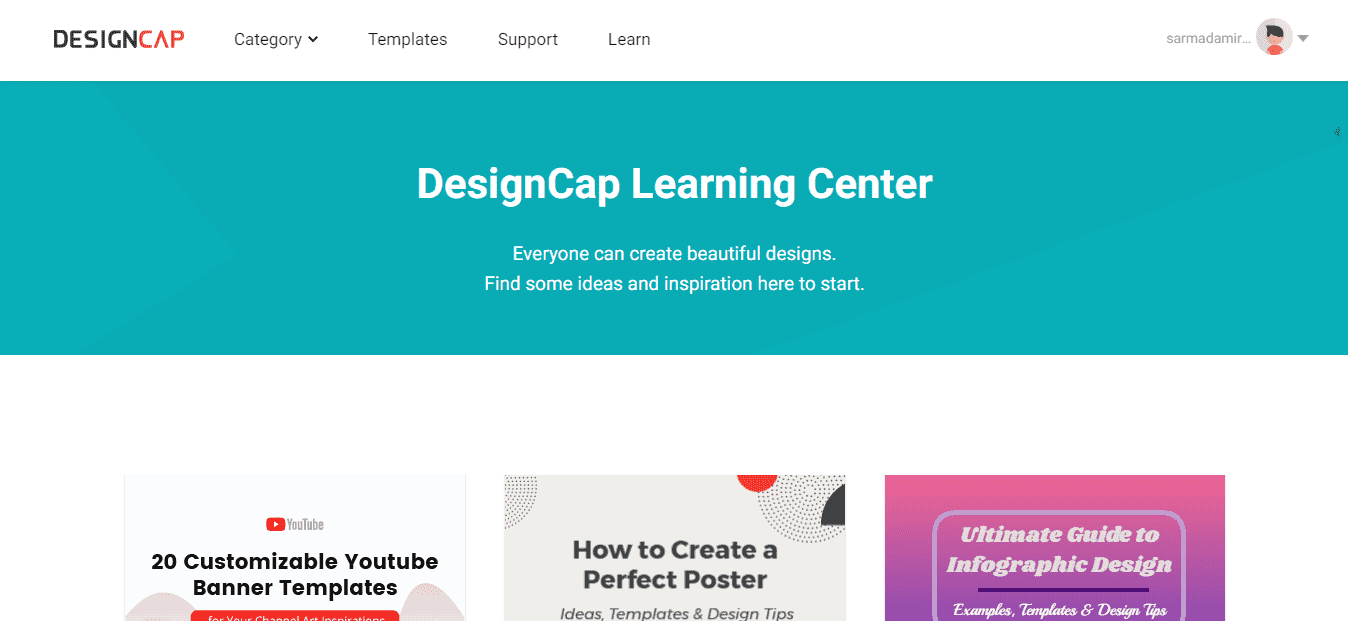 Don't know how to get started on DesignCap? Need guidance for creating designs such as logos, flyers, posters, and all that?
Don't worry! DesignCap has got you covered again as they provide a learning center where users can watch tutorials to learn creating designs at DesignCap.
Steps to create a Design on DesignCap

Creating designs on DesignCap such as logos, posters, banners, etc. isn't a big deal as we have seen in creating software like Adobe Illustrator, CorelDraw, etc. It is quite easy to create professional designs on DesignCap in just three simple steps which are as follows:
Choose a template
The first step is to choose an appropriate template for your design from thousands of templates. Simply choose the desired template and move on to the next step.
Customize
Once you've chosen the template, its time for customizations. Customize it to the fullest as per your needs using the powerful DesignCap editing tools.
Export
Done with customization? Well, then it's time to export the work. Save the created design either to your computer or share it online.
DesignCap Pricing Details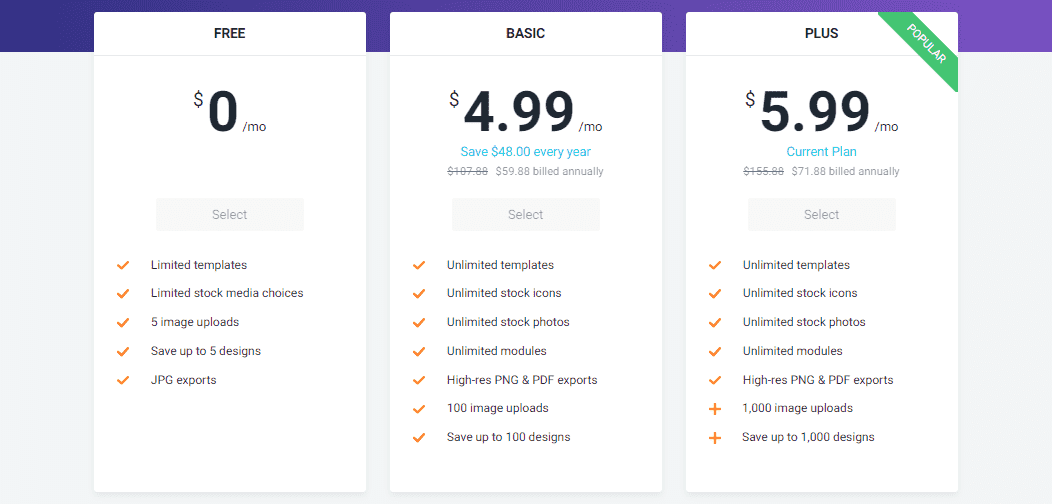 DesignCap is basically a free software that everyone can use to test it out. However, the free plan is quite limited but once you'll start using it, you'll probably plan to buy it because it is the best tool for designing after Adobe. It has basically two paid plans "Basic & Plus".
The basic plan has a price of $4.99/mo. However, you can save money by subscribing to $59.88/yearly.
The plus plan is the best plan having a price of $5.99/mo. However, you can save money by subscribing to $71.88/yearly.
DesignCap Payment Methods

To make a payment on DesignCap, you must have a working Debit/Credit card or a PayPal account. The supported cards are VISA/MasterCard, American Express, and Discover.
Do I Recommend DesignCap?
In light of all my experience with this tool, I'll definitely recommend this to everyone who is having trouble in creating designs on complex software like Adobe Illustrator, CorelDraw, etc. A newbie having no such knowledge can easily design stunning designs using DesignCap. If still anyone encounter any issues, he/she can watch tutorials by DesignCap which is another great feature to help new users in creating designs.
If you've still any doubts about choosing DesignCap, go check out other DesignCap Reviews from people who have already experienced this application and find out what they are saying.
At Trendstorys.com, we aim to provide honest reviews to our users to help them make the right decision.
Any queries related to DesignCap review or if you're already experienced with this platform, give your review out of 5 stars or let me know in comments.