Clicksfly Review
Highest CPM Rates

Quick Withdrawals

20% Referral Bonus
Summary
Clicksfly is easily one of the most trustworthy, transparent, and easy-to-use URL shorteners available. You can also make easy money out of it and withdraw it instantly thanks to the minimum withdrawal limit.
Pros
UI Friendly
High CPM rates
Timely Payments
Multiple Payout Options are available
Profitable Referral Program
Quick Support
Cons
Response times may be delayed due to a large number of requests.
Are you in search of an effective URL shortener and make decent money out of it?
Then you have come to the right place because I am going to introduce you to the best URL shortener in this review.
I have used various URL shorteners in the last few months but all of them fail to compare with the Clicksfly.
Clicksfly is easily one of the most trustworthy, transparent, and easy-to-use URL shorteners available. You can also make easy money out of it and withdraw it instantly thanks to the minimum withdrawal limit.
Are you interested? Read on to find more about Clicksfly.
What is Clicksfly?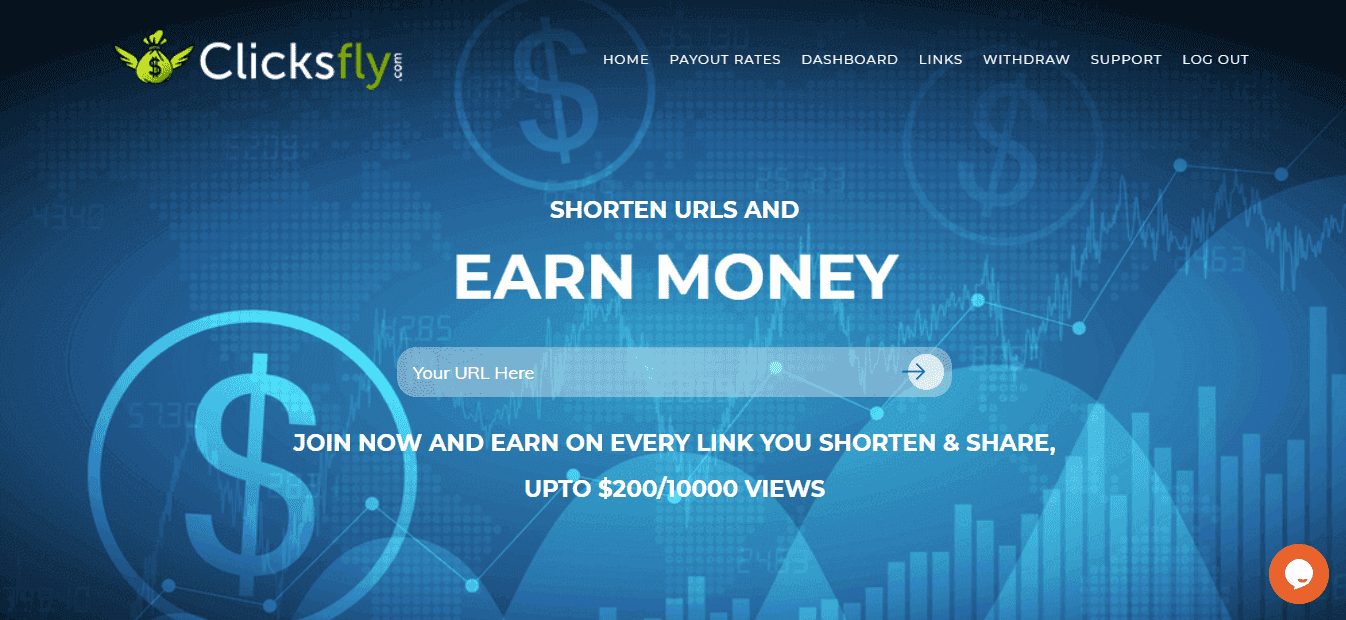 Clicksfly allows people to short links easily and generates attractive revenue just by shortening and sharing links. Many people ignore this method to make money because it seems too good to be true but guess what?
Clicksfly has been around for a while and many people are making a decent amount of money regularly by using its URL shortener so it is 100% legit. In short, it's a great alternative to Linkvertise, another popular link shortener.
Moreover, it equips you with all the tools and data you may require to improve your strategies to make more money.
How to shorten links using Clicksfly?

Anyone can shorten links on Clicksfly with their eyes closed. Just click here and you'll land on the homepage of Clicksfly. There you'll see a long link shortener box. Just post the link in that box and click on shorten. After the system is done processing you can copy the now shortened link and paste it wherever you want.
Features offered by Clicksfly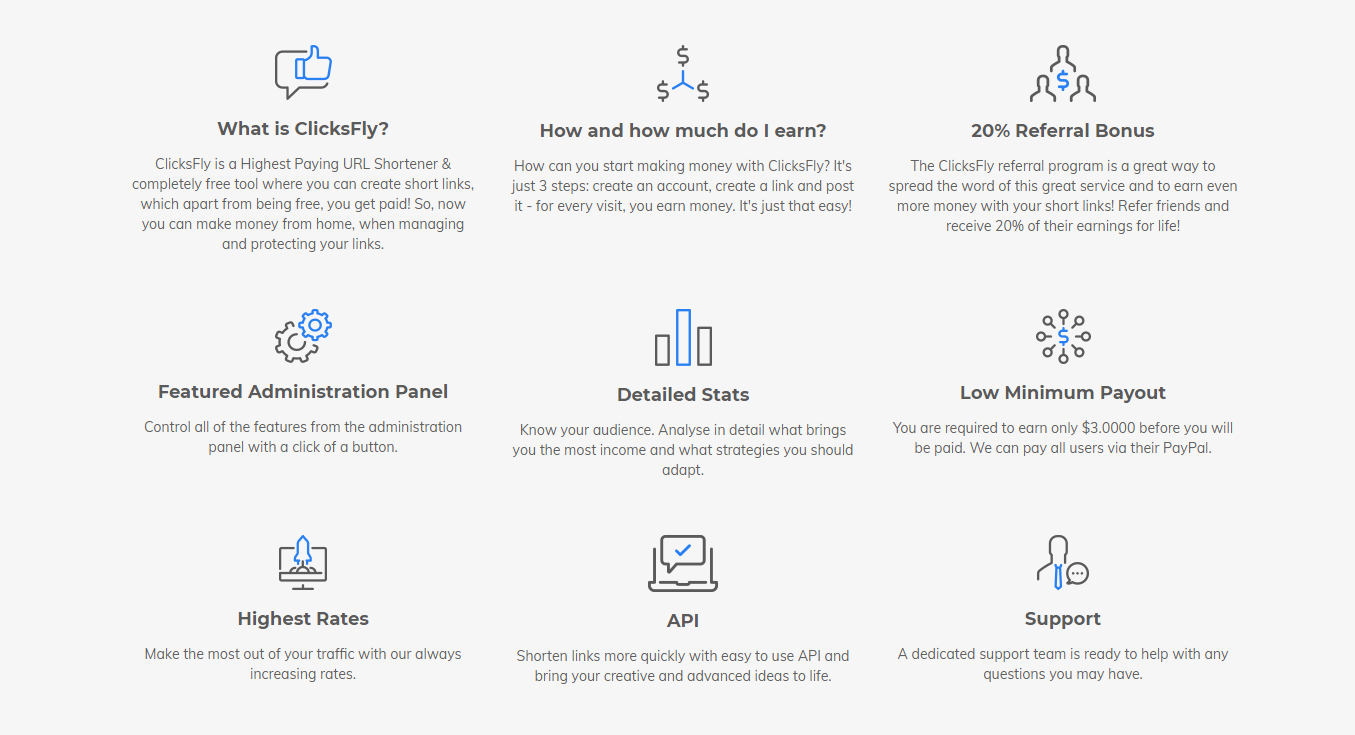 Clicksfly offers the following tools and perks to its users:
Administration Panel
Every user gets access to a user administration panel. It is designed to be beginner-friendly so you'll be able to access all features easily.
The easiest method to Shorten URL
As discussed above, Clicksfly provides people with the easiest method to shorten the links. You just have to click and paste to shorten the long URLs.
Detailed Stats
Clicksfly provides a detailed analysis of their visitors and their activities to each user. They can analyze the data to find what strategies work best for them and what brings them more revenue. This data can prove helpful to those users who are passionate about making massive revenue.
Maximum Payouts
Clicksfly provides the best rates per 1000 views in the market. You can make up to $200 per 10000 views but the rate varies from country to country. Countries like Iceland, United Kingdom, and the US are paid the highest. Click here and to find the listed rate for your country.
Minimum Withdrawal Limit
Clicksfly puts a minimum Withdrawal limit so users can withdraw money as soon as possible. Minimum Withdrawal for Paypal and Paytm is just $3 and for bank transfer, it is $50.
Referral program
Most URL shorteners offer useless and ineffective referral programs. But Clicksfly offers an attractive referral program that can help you in generating massive passive income. You'll get 20% of their earnings for life if you refer people to Clicksfly. This means that once you refer enough active members you can just sit back and relax as money rolls in your bank.
Dedicated Support
A dedicated team is working 24/7 to resolve the issue faced by the users. Most URL shorteners lack a support system which creates considerable problems for the users but the support of Clicksfly is always actively working to improve the experience of their users.
How do you make money by using Clicksfly?
You can earn revenue from two ways using Clicksfly which are as follows:
Make money by sharing Shortened URLs
You must be wondering how do you make money from Clicksfly just by shortening links?
Well, it is very easy you simply use Clicksfly to shorten the long URLs and share them on social media/blog or wherever you want to. When people click on the shortened link, they'll be directed to a website where they'll view an advertisement for merely a few seconds.
Then a skip button will appear and they can click on it to go to the original Long URL website that you shortened before.
You make money depending upon how many people click on the link and view the advertisement. So to make money, you just have to shorten as many links as you can and share them with people who will be willing to click on them.
Make revenue through Referral Program
You can also make money by utilizing the amazing referral program of Clicksfly. Just refer more friends to Clicksfly and receive a whopping 20% of their earnings for the rest of your life. Don't worry nothing will be cut out of their income though.
Hence you can make money by just introducing the amazing services of Clicksfly to your friends and also help your friends in generating revenue.
Clicksfly Payment Methods
Clicksfly supports various kinds of payment methods and you can opt for any one of them depending upon your preference.

It supports PayPal, Paytm, bank transfer, Bitcoin, Payeer, UPI, and even USDT for user conveyance. However, remember the withdrawal fee is different for each method.
How to get started?
To start making money by shortening and sharing links, you need to make an account with Clicksfly. If you want to create an account, just go to Clicksfly.com and click on the "Register" option visible on the upper-right side.
It'll take you to the registration page where you'll be required to choose a username and enter your Email address as well as password. Fill all fields, accept the terms and condition box, and click on "Register". That's it, your account is active and you are all set to shorten the links.
Wrapping up: Is Clicksfly Worth it?
Clicksfly is actually worth your time and effort so I would definitely recommend it. It is a trustworthy, transparent, and reputable URL shortener that can help you in earning easy money. You can also read online reviews and view the payment proof available on the site of Clicksfly if you are still having doubts.
So what are you waiting for? Just make an account with Clicksfly and start making money by shortening and sharing the links.
At Trendstorys.com, we aim to provide honest reviews to our users to help them choose the right network.
Any queries related to the Clicksfly review or if you're already experienced with this link shortener, let me know your thoughts about this network.