What Is The Plant Review
AI detection

Plant Analysis

Ease to Use
Summary
WhatisthePlant is an AI plan identifier tool that is developed by a team of professionals based in Hong Kong. You can discover 10,000+ plant and flower species with the help of WhatisthePlant.
Pros
Plants from many different places around the globe can be identified by using it
Any plant, flower, or even tree can be recognized
Fast & Free to use
The interface is very easy to use
24/7 Service available
In the truest sense, a great app for learning Botany
The world is full of beautiful and exotic flowers. We all see beautiful flowers and plants every day in our lives while moving from one place to another. And I know from experience that whenever I see a beautiful flower or plant, I want to know more about it i.e. its names, properties, and some common facts.
But it is impossible to know all these things about a flower unless one has access to a Plant encyclopedia and even then there is no guarantee that you'll find the information on the flower/ plant in that encyclopedia. However, this dilemma ends now that WhatIsThePlant is here with its latest AI-powered tool. WhatIsThePlant uses advanced AI technology to provide detailed information about any flower and plant in existence.
So next time you see a plant on your leisure walk or happen to come across a picture of an exotic flower online, you can use WhatIsThePlant to get to know more about it within minutes. Sounds Amazing right? Are you interested in knowing more about it? Read on to find out more.
WhatIsThePlant Review 2021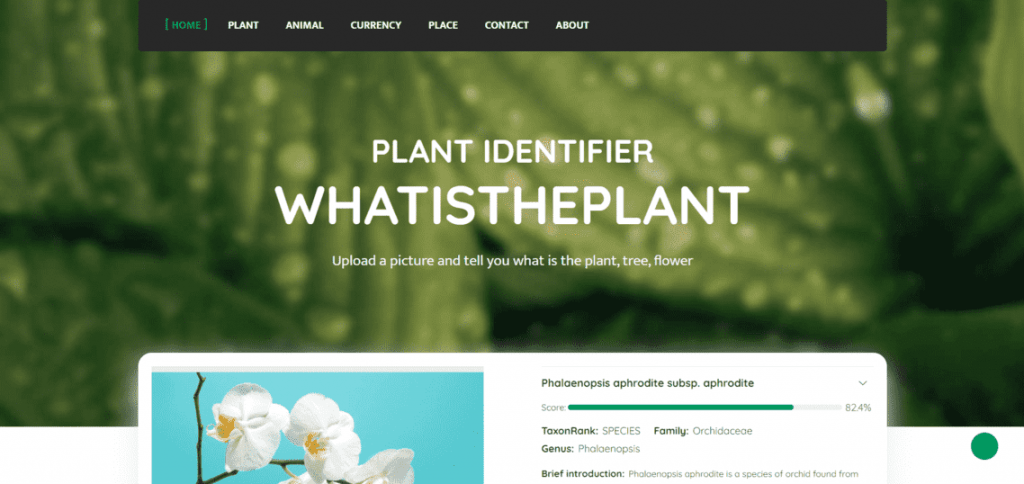 WhatisthePlant is an AI plan identifier tool that is developed by a team of professionals based in Hong Kong. You can discover 10,000+ plant and flower species with the help of WhatisthePlant. It was inspired by a project Pl@ntNet, a great alternative to What is the plant, that trained machine learning models for animals and plants identification through photos. This technology was improved and enhanced by the developers of this tool to make the best plant identifying tool in existence.
The database of WhatisthePlant has information on thousands of flowers and plants and the team of this tool is working to further expand the database. So you just need to upload the picture of any plant on the site of WhatisthePlant and you'll get access to detailed information on the flower/plant.
How This Plant Identifier Works?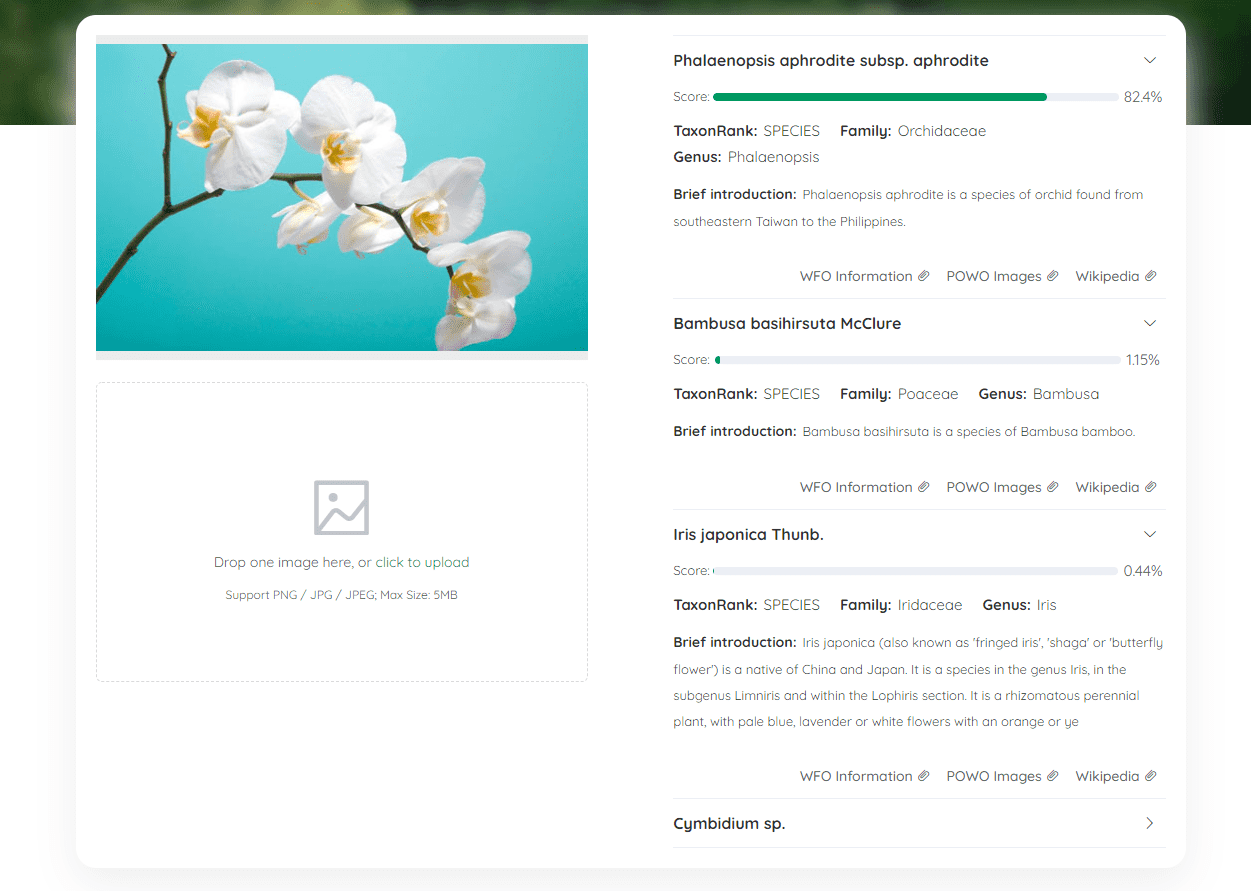 It is user-friendly so even those people who are not tech-savvy can use it very easily. You just have to upload the picture of the plant or flower and within seconds this tool will provide you with Taxonomy, species, common name, and scientific name along with the detailed introduction of the plant or flower. The photo you upload could be an image from Google or just a picture you took of a plant on your way home.
Plus WhatisthePlant also provides Collect authoritative WFO information, POWO images, and Wikipedia link for each search so you can learn more about the plant by clicking on them. Hence you can use this tool if you know how to take/download pictures and upload them.
WhatIsThePlant Features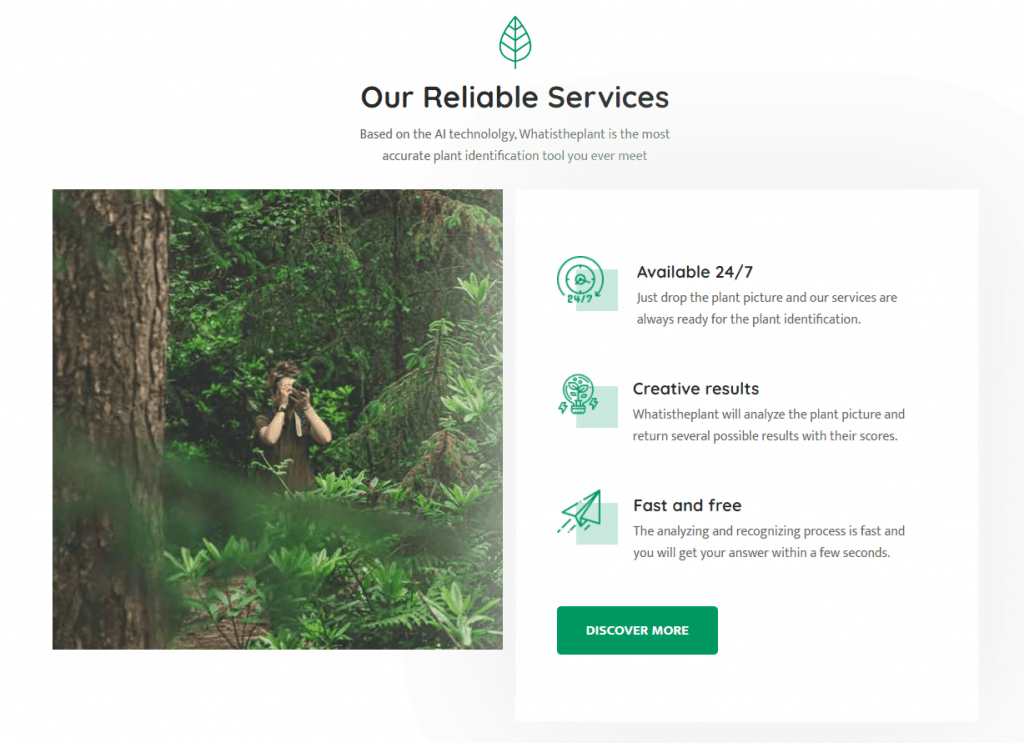 WhatisthePlant comes with the following features:
24/7 Availability
You can use this tool 24/7 365 days a year if you want to. It works all the time and has no closing or opening hours. Just open its website and drop the picture for identification anytime.
Creative Results
The advanced AI technology analyzes the picture of the plant and brings multiple results with different scores if needed. The search result with the highest score is most likely the plant you are looking for.
Free
It is totally free to use. There are no hidden charges or extra fees for a premium version. WhatisthePlant is free for everyone to use so you don't have to worry about spending money on some other identification tools that cost a fortune.
Fast and reliable
The AI technology and huge database of WhatisthePlant enable it to deliver reliable and fast results. You'll be able to view the results within seconds after you drop the picture.
User-friendly
Again, it is simple to use. You just need to drop the picture and wait for the results to pop up.
Is WhatisthePlant really the best Plant Identifier tool?
None of the other identifiers on the internet use the advanced AI technology and machine learning models but WhatisthePlant incorporates both for better results. It is also easy to use.
In addition, most of the identifiers on the internet only give a demo for free so of course, people have to buy the tools to use them properly. But Whatistheplant is totally free which is a huge plus point. It also has the biggest database which enables it to identify more plants. So it can be said that WhatisthePlant is better than most plant identifiers on the internet.
Similar AI Tools
The team of WhatisthisPlant has also developed similar tools that can identify animals, currency, and place. So you can use photos to identify and find information on any place, animal, and currency too.
Wrapping Up:
WhatisthePlant is just one of those tools that make our life easy and give us free access to information online. People all over the world are already using it to identify plants and know more about them. You can try it yourself and see what I am talking about it.
Just click here and drop the picture of any plant to know more about it.