Uscreen Review
Summary
Uscreen is a Washington DC-based video hosting company that helps video content creators host, stream & monetize their videos to make money online by selling videos.
Video Hosting & Monetization

Ability to Create OTT Apps

Customer Support
Pros
Various features and flexibility for organizing your video catalog
Supports live streaming feature along with the live chat
Provides you with the ability to have your own OTT apps for mobile phones and TVs
It has a feature that supports "geo-blocking."
Supports various monetization features such as subscriptions, one-time payments, and even rentals
Unlimited Bandwidth
No Hosting Fee or Bufferings during Videos
It can charge EU VAT
Various helpful marketing tools to help to recover abandoned carts and reducing churns
Excellent analytics and reporting tools
Cons
The limited capacity of storing videos
It does not have many customization options
Doesn't have native features for its affiliate program.
Nowadays the video monetization has become an issue for everyone. If you are not good at making catchy videos that attract your users you can never be successful on YouTube.
For making quality content in videos that are eye-catching for users and also premium in quality, you need an elite video hosting platform to make your videos enthralling.
Even the most talented video content creators aren't able to earn from their skills and passion. But the Uscreen made it all easier for all of them by providing them with an opportunity to sell their videos.
In this article, we will discuss how you can get your videos monetized on Uscreen and will discuss its pros and cons as well.
Uscreen Reviews 2021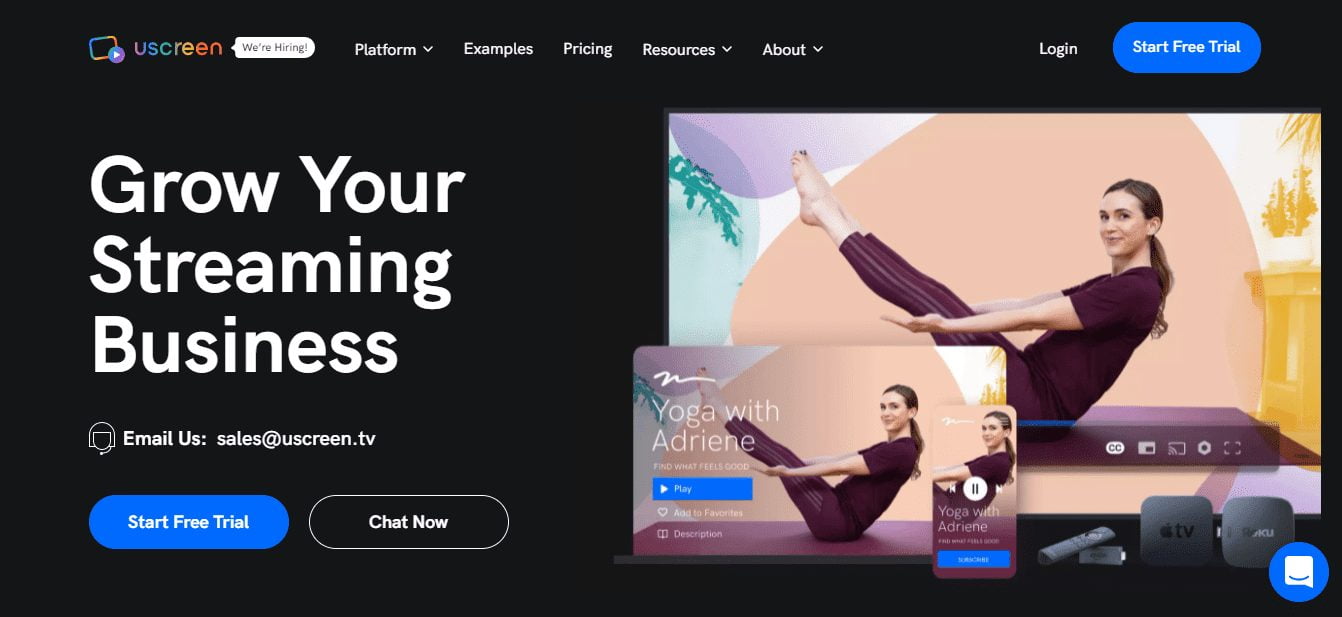 So let's know what Uscreen is and how does it solve your problem? Also, how beneficial it can be by doing a Uscreen review. This review will help you learn everything regarding this video-on-demand platform. So, let's start.
Have you ever heard about the Uscreen platform? If you haven't, then trust me, you are missing a lot, especially if you are a video content creator yourself.
The Uscreen is a Washington DC-based video hosting company that helps video content creators monetize their videos. This VOD hosting website is one of the most popular alternatives to many people, who want to build a career in video content creation. However,
Uscreen is a unique online video hosting platform that helps many freelancing video creators, companies by monetizing, managing, and posting videos to help them start earning money. It is one of the most popular video hosting platforms, and many people are using it nowadays.
You might be thinking about who and how they do it. Right? Well, you will be stunned to hear that this video hosting platform has a team of 70+ employers that estimated manage 14,000+ companies, brands, and content creators to help monetize their videos in several remarkable ways.
With Uscreen, you can start selling your content in different ways. Such as subscriptions, free trials, or one-time sales. Moreover, you can also offer you content for free to start gaining fame.
Uscreen Details
Company Name

: Uscreen

Founded In

: 2015

Headquarter In

: New York

Payment Methods

: VISA/MasterCard, Discover, American Express, PayPal, etc.

Affiliate Program

: Earn 20% commission on every referral you bring.

Support Email

:

[email protected]

Website

: https://www.uscreen.tv/
How Uscreen works?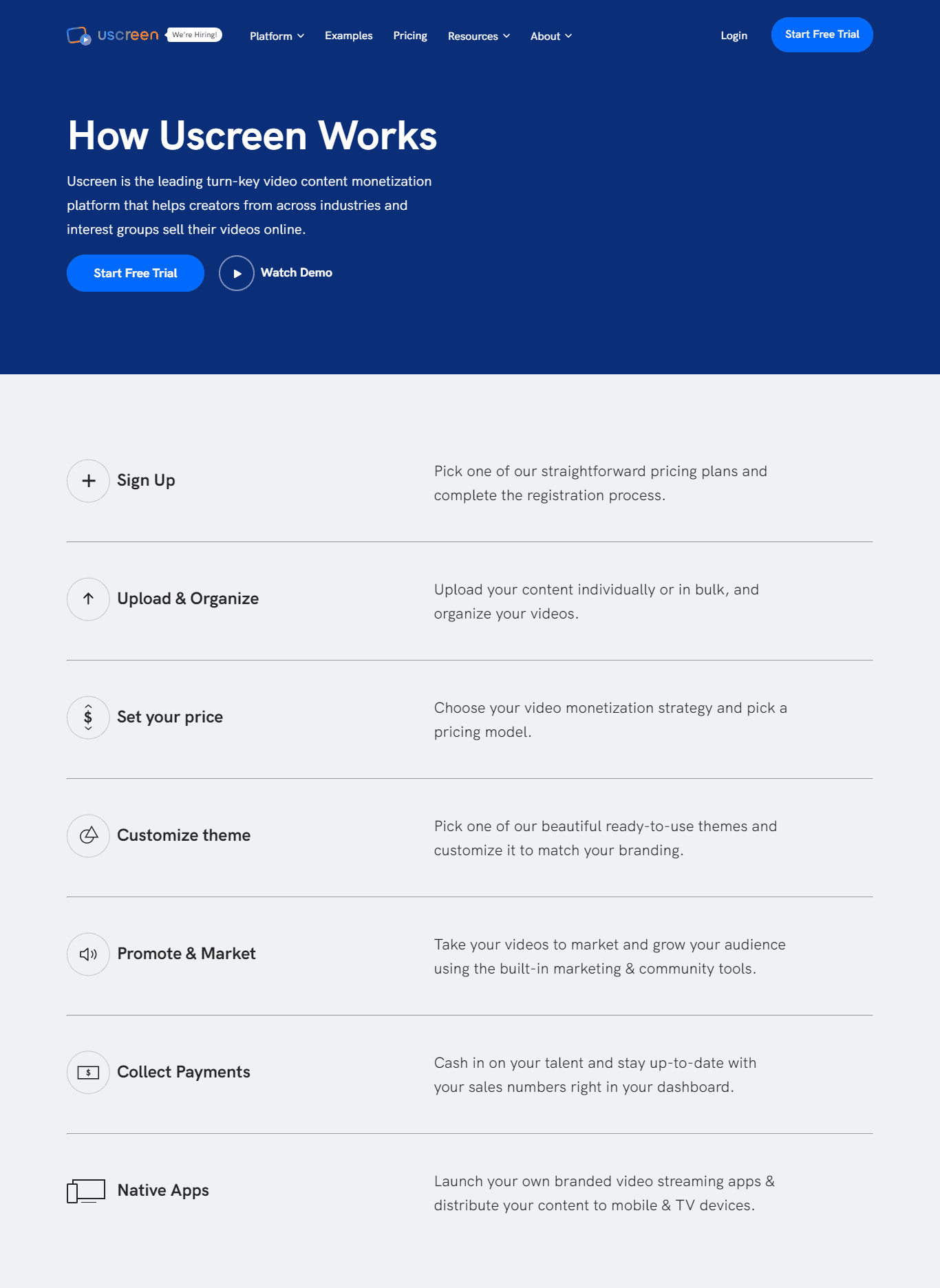 This amazing platform lets their clients use customizable themes, captions, and subtitles in their videos. Besides all this, you can also manage the speed of your video and even turn on the playback. This way, you can start earning a good amount of money as the providers will monetize your content for global distribution.
Selling your own created videos wasn't much easier this earlier, but Uscreen has made it easy for beginners to start earning money by putting their hard work on this platform. Essentially, this platform has created its own monetization principles, which helps gain fame and make money quickly.
This platform has everything you need, including starting from a website to collecting your payments and managing the audience. It's more like a Shopify for the video on demand (VOD) creators. Besides recording the videos, you can do everything else on this platform, whether it's the edits or anything else.
Let's break down their working principles into four key features for better understanding.
Conversation of sales.
Video creation.
Customer management.
Processing the payments.
Sales Conversation
You don't have to worry about the sales conversation when working on this fantastic VOD platform. Instead, you just focus on creating the unique content and leave the rest on the Uscreen. You will be amazed to see how far you can go following your passion with their help.
You can quickly start creating your videos and websites with premium features such as themes and easily create engaging content and website without any coding. In addition, you will be astonished to see how your videos will integrate with different websites.
Moreover, you can also choose what to upload and modify it accordingly to customize the sales process. Either you can provide your content for free for some time to gain fame, or you can start selling them on different packages, subscriptions, and much more.
The following video hosting platform is entirely customizable, allowing you to put your brand's name, add your logo, customize the colors, and all with the help of a visual editor, which is available on this VOD platform.
Video Creation
The customization and built-in catalog available on this platform are just excellent enough for web browsing, which also helps engage your customers with catchy content. Indeed, it is essential to think about what to put in your content as it matters the most.
But on the other hand, you will be able to put different packages, programs and other options like a subscription. Also, if you do not want your customers to get everything at once, you can easily just set up two different options to provide your customers with what you want.
Besides all this, you can also create your own OTT apps, which help your customers video any video they want and in any way they want. Moreover, this unique also includes streaming videos on iOS, Roku, Apple TV, Android TV, and other OTT apps.
Managing Customers
You will be surprised to hear about this feature. Do you know that Uscreen allows you to own all of your data? Suppose you ever leave working on this fantastic platform, and you don't have to worry about any of your data as you can easily export it.
Uscreen has made it clear that every user owns all of his/her data and can quickly get it even if you leave this platform. This is the feature that most of the platforms don't offer. As soon as you try to leave the platform and don't pay for it, the platform locks all of your data, and you lose all your hard work and hours spent working on different projects.
Moreover, the customer management of this VOD platform is robust. You might be thinking about what makes it that way. Right? Well, you can change user management, account page, assign or revoke access and even issue discounts and coupon codes.
And, the reporting feature allows you to monitor activity, analytics, watch time, device info, where your customers are watching from, etc.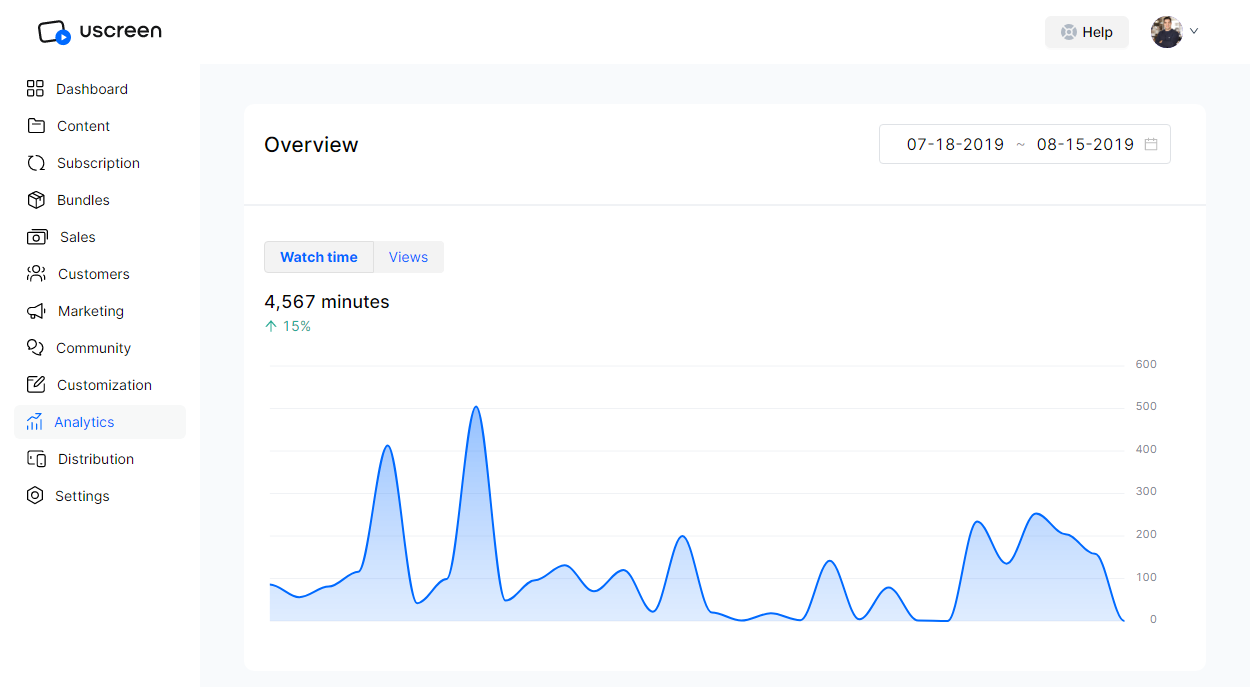 Payment Processing Features
Uscreen has one of the most advanced payment processing features, unlike any other VOD platform. You might be wondering how. Well, it is because this platform focuses on the complete lead generation process and has many options to reduce churn and analytics, which helps you in tracking your sales straightforwardly.
Two of the key payment processing features are mentioned below.
Highly Converting Payment Pages
These pages are highly optimized and always ready to use. And are created essentially for converting your leads into paying subscribers.
Various Payment Providers
Most VOD platforms don't provide several payment providers, making it hard to withdraw your hard-earned money. But this is not the case with Uscreen. This unique platform has a stripe, Paypal, and Uscreen SSL secured payout pages. And, the most important factor when you use the Uscreen payment option is that you get the same amount of money in your account directly in just one business day.
How Much Money these YouTubers & Vimeo Users Make and How?
YouTube monetizes its videos with ads, and that is where they earn all the money from. Now, you might be wondering how do they do it. Right?
Well, you don't have to be a YouTuber anymore to start earning money from your video content, as Uscreen has made video monetization a lot easier.
However, the Uscreen monetization principles are different from YouTube as they don't monetize your videos with the ads; instead, they provide you with an opportunity to sell your videos, which is just amazing.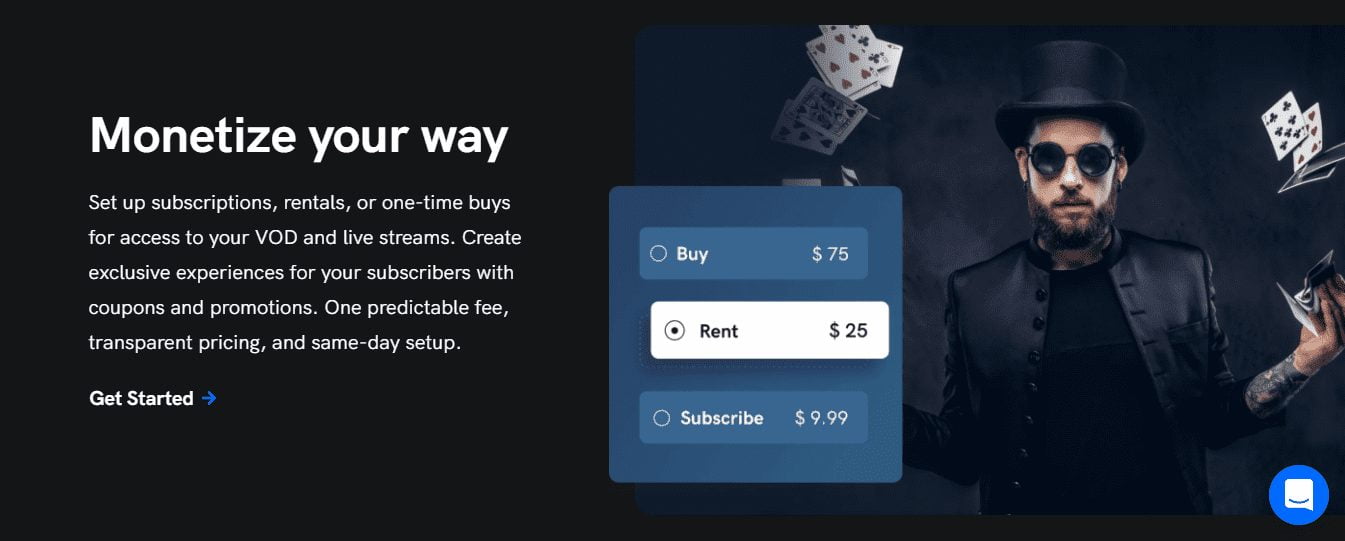 As you don't have to wait to gain subscribers. All you have to do is put all your hard work into the video content and start selling it through Uscreen with different packages. This video on demand (VOD) platform is a true savior for the people just beginning with their video creation career.
Besides just uploading and selling your videos, you can also go for live streaming, as we all know how popular live streaming videos are these days. Along with living streaming, this VOD platform also supports live chat. All you have to is sign up, purchase a subscription plan according to your needs, and start earning a good amount of money. Actually better than all of the other platforms.
The Uscreen is well-known because of its remarkable customer service, which helps in whatever you need. Whether it's about setting up your account, monetizing your videos, customer support will help you.
What is OTT App & How you can Create one using Uscreen?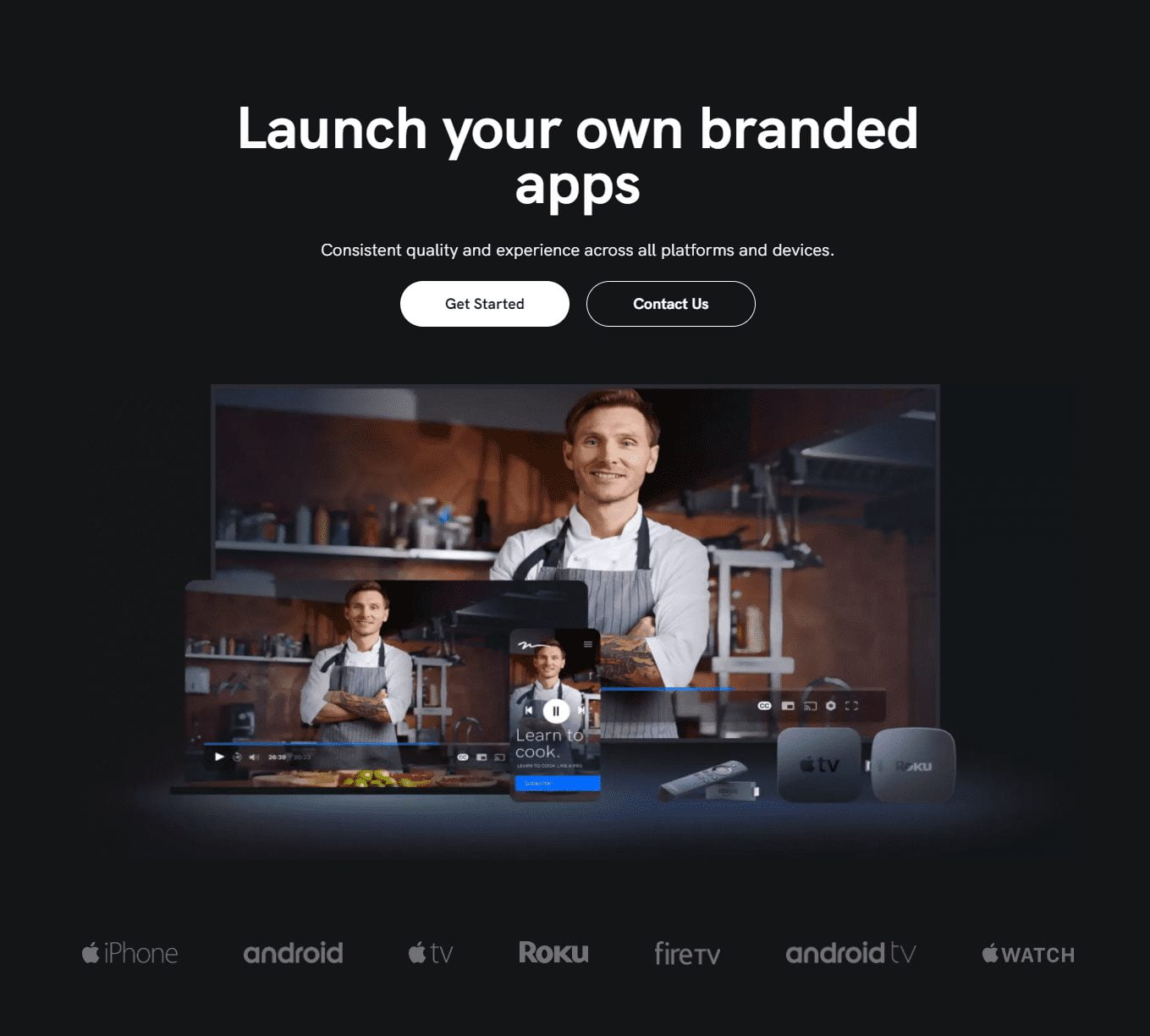 Don't know what OTT apps are? Well, let's break them down for you for a better understanding. The over-the-top (OTT) services refer to any video or streaming media that provides access to their users to the movies and video content by sending them the media they want directly through the internet.
You all must already be aware of Netflix and Amazon Prime. Well, they are over the top (OTT) apps.
Ready to create your OTT App? See the video below for a better understanding.
When should you start using Uscreen?
We all know how hard is it to monetize your videos on several platforms, but this is not the case with Uscreen. So, suppose you are a beginner and have some excellent video creating that you should invest in and start earning a good amount of money. In that case, Uscreen is the most suitable video hosting.
It lets you edit your videos with several techniques, making your content more catchy and engaging. Moreover, this video hosting platform is easy to use and does not have many advanced features, which is good as it attracts the attention of professionals.
If you are unable to monetize your videos till now. Well, this is the platform you should start working on.
What makes Uscreen different from other video hosting platforms?

After knowing more about this video hosting platform named Uscreen, you might be wondering what makes them so popular. Right? Well, the Uscreen has some potent servers, helping you start your video creating a career in a better way.
It is the right knowledge base platform with exemplary, responsive support. And, what's better than earning money from your passion? So, start publishing your videos on this platform, gain fame and make a good amount of money.
You might be thinking that the Uscreen is just another youtube or Vimeo. Right? Well, this is not the case. Making a comparison of Uscreen vs Vimeo is no right. Let's know why. Unlike youtube or Vimeo, monetization is not based on ads when it comes to Uscreen. Instead, this video hosting platform lets you sell your videos under your own brand.
See the 10 reasons why Uscreen is the best choice in detail.
Uscreen Features

Following are some of the well-known features that Uscreen provides.
Data Possession
Most of the VOD platforms do not allow you data proprietorship, you lose all your data, which you spent hours on working in case you leave that specific platform, but do you know the Uscreen lets you keep all your data? Even if you stop working on this platform.
Uscreen doesn't take a Revenue Share
The creators spent hours on one project. Thus it is their right to keep all the revenue without any deduction, which Uscreen keeps in mind. So you get to keep all your income, which you generate on this VOD platform.
Moreover, you receive all your payments instantly without any delay.
Decent Earnings
I have seen people complaining about several VOD platforms that they aren't making enough money, but you will be astonished to know how much the professionals that work on Uscreen make a month, $35,000+ yes, you read it right.
However, an average Uscreen content creator makes $10,000+ a month, which is still a good amount compared to the other platforms.
Live Streaming
Nowadays, live streaming is much more popular than just uploading videos as it helps in efficient ways when it comes to earning money and popularity. And, the Uscreen supports the live streaming feature, which means you can even live stream on this platform and that too without any lag as their servers are potent enough to handle.
Exceptional Customer Service
When it comes to the customer service of Uscreen, it's just beyond your expectation. This great platform has its own customer service team that just does not reply to your queries instantly but also helps beginners set up their content creation and businesses. Isn't it just awesome?
Bandwidth Costs are Zero
Every VOD platform I've seen charges additional bandwidth fees, which is unfair, but if we talk about Uscreen they don't charge you any additional charges for encoding costs or bandwidth. Instead, the packages are designed efficiently and charge you for encoding costs and bandwidth only on time.
Just pay once for the Uscreen subscription and upload as much content as you want without worrying about additional hidden charges.
Some features of Uscreen that customers' love and examples
There are various Uscreen benefits that customers love and always examples of when it comes to Uscreen.
Only video website with prebuilt, highly converting, personalizable themes
Easy content hosting and delivery with the help of premium CDNs, excellent for high-volume video delivery
Ability to have your own OTT apps for mobile phones and TV
All in one video hosting platform with complete control
No share from revenue, no hidden charges
SEO features for the website and videos
Built-in marketing and community tools added
No hosting fees for creating your own website
Supports Chromecast and Airplay
Owning your audience entirely
24-hour customer support
Content scheduling
Improvements that Uscreen need
Most of the customers are not happy with the basic plan price. As we mentioned, it costs $99 a month, which some people find expensive. However, if the basic plan costs a little less, it would be a lot greater experience on this fantastic VOD platform.
The Uscreen does not support or let you send emails or do affiliate marketing, which some customers explain as a con, which indeed is. However, if they allow their users to do it, it would be a great experience.
As we mentioned, the Uscreen limits the number of videos you can store, limiting the users. This limitation should be removed for better experiences.
Rest this VOD platform is up to the mark.
Uscreen Alternatives
There are various Uscreen alternatives. Some of them are mentioned below.
Vimeo

Zype

Dacast
Muvi
kajabi
Thinkific
Teachable

Cloudapp
All of these platforms are VOD but work differently and have unique features as well. And, when it comes to the pricing they also differ a lot. However, the Uscreen is best amongst all of them when it comes to features, pricing, opportunities. Moreover, it's one of the most easy-to-use platforms.
Uscreen vs. Vimeo
Well, if we do a comparison of Uscreen with Vimeo, Vimeo is assuredly a great alternative to the Uscreen, but it does not provide the features Uscreen offers.
Both platforms offer a free trial, and both have free versions but what makes them different is that the Uscreen has a lot more opportunities when it comes to business that wants to grow by monetizing their videos.
On the other hand, Vimeo is a good platform for individuals who aren't working with any company and just want to sell their video content. However, Uscreen still has a lot more to offer as compared to Vimeo.
Working on Uscreen is a lot easier than any other VOD platform as it provides various features and pays you well.
So what more do you need to get started?
Uscreen Affiliate Program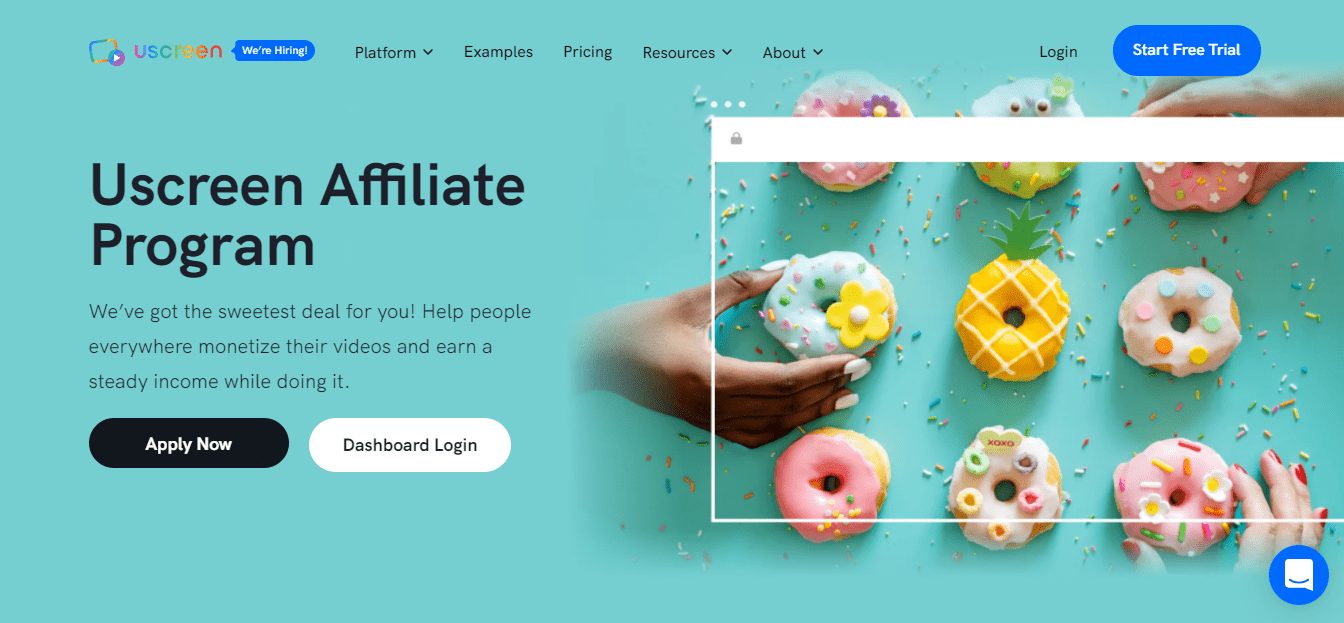 Are you concerned about whether Uscreen provides a Uscreen affiliate program or no? Well, don't be worried as they do. And, trust me, their Uscreen marketing program is one of the best programs you will ever encounter with. So, let's know more about what features make it the best.
You invite a referral to the Uscreen, and you get 20% commission on each of their payment; the bigger their income, the better amount you receive, isn't it just incredible? Also, these payments will roll in for the lifetime recurring commissions till the referral is working on this platform.
Another winning opportunity Uscreen offers is when you bring customers to the Uscreen; you start receiving bonuses and an extra commission rate. Moreover, a free Uscreen accounts for yourself.
No minimum balance limit to start receiving your commissions.
Tracking your leads and conversions was never this easier, but now it is. You can track them all in the affiliate dashboard.
You get your commission every time your referrals receive payment, even if you just have one referral.
It's standard that users switch their subscription plans, and do you know it benefits you the most? As they change from primary to advanced subscription, your monthly commission will be adjusted according to their new monthly payrolls.
Uscreen Subscription Plans: Pricing & Details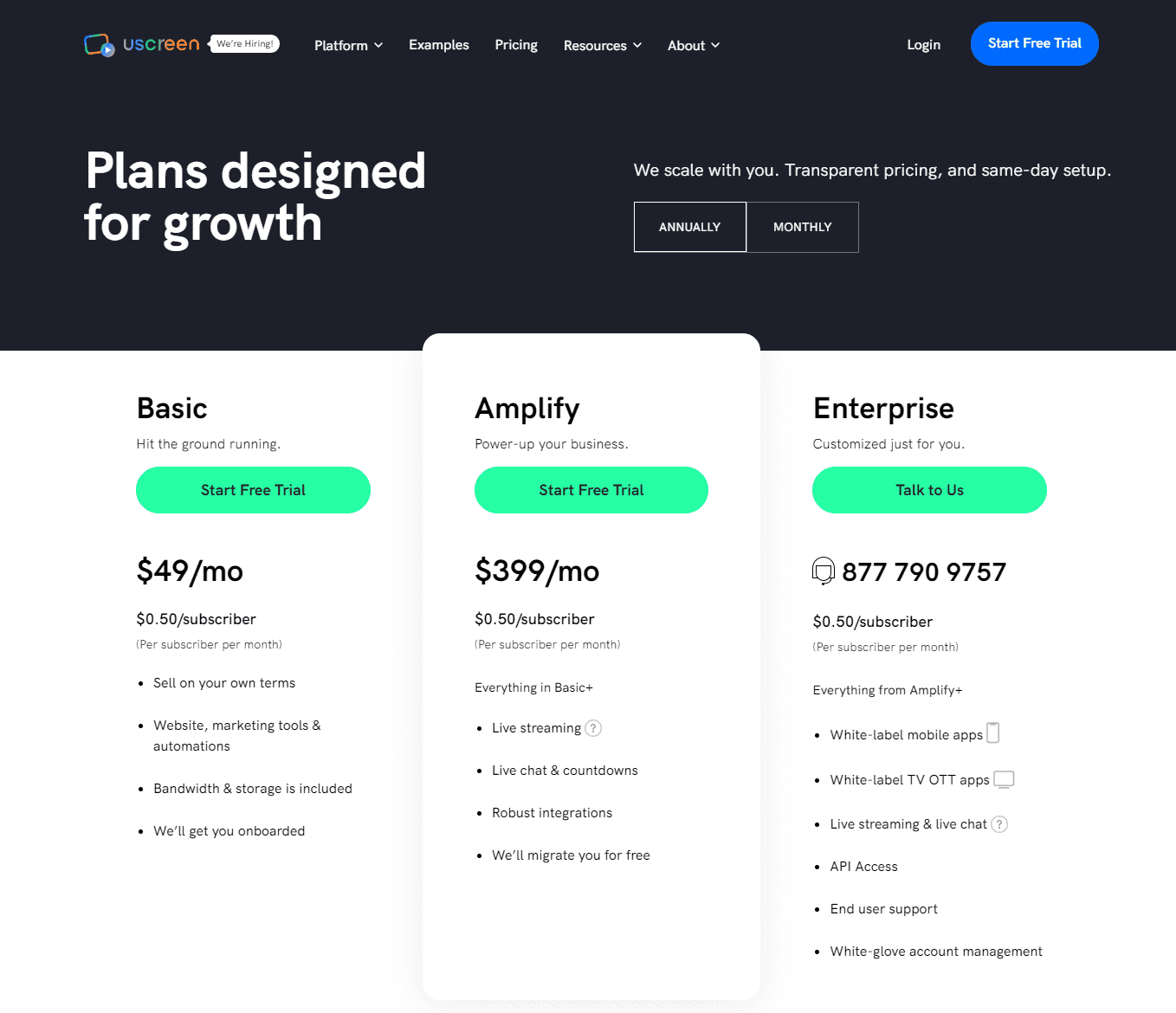 Are you thinking of getting a Uscreen subscription but don't know about the subscription plans and which one you should go for? Well, we will break down all of their subscription plans for you for better understanding.
Uscreen's first and basic subscription plan comes for $49 a month. It's perfectly suitable for beginners who are just starting their career in video streaming and more.
The second Uscreen subscription plan probably known as Amplify comes for $399 a month. Again, it's for better scaling and is created for businesses who just want web. However, if you wish for other advanced features, you can still customize a plan for yourself or your business—advanced features such as adding apps to your list, etc. The pricing will depend on which apps you want to add.
You can easily subscribe to any plan you would like to either through directly signing up to the platform or from the dashboard by adding a plan as shown in the picture below.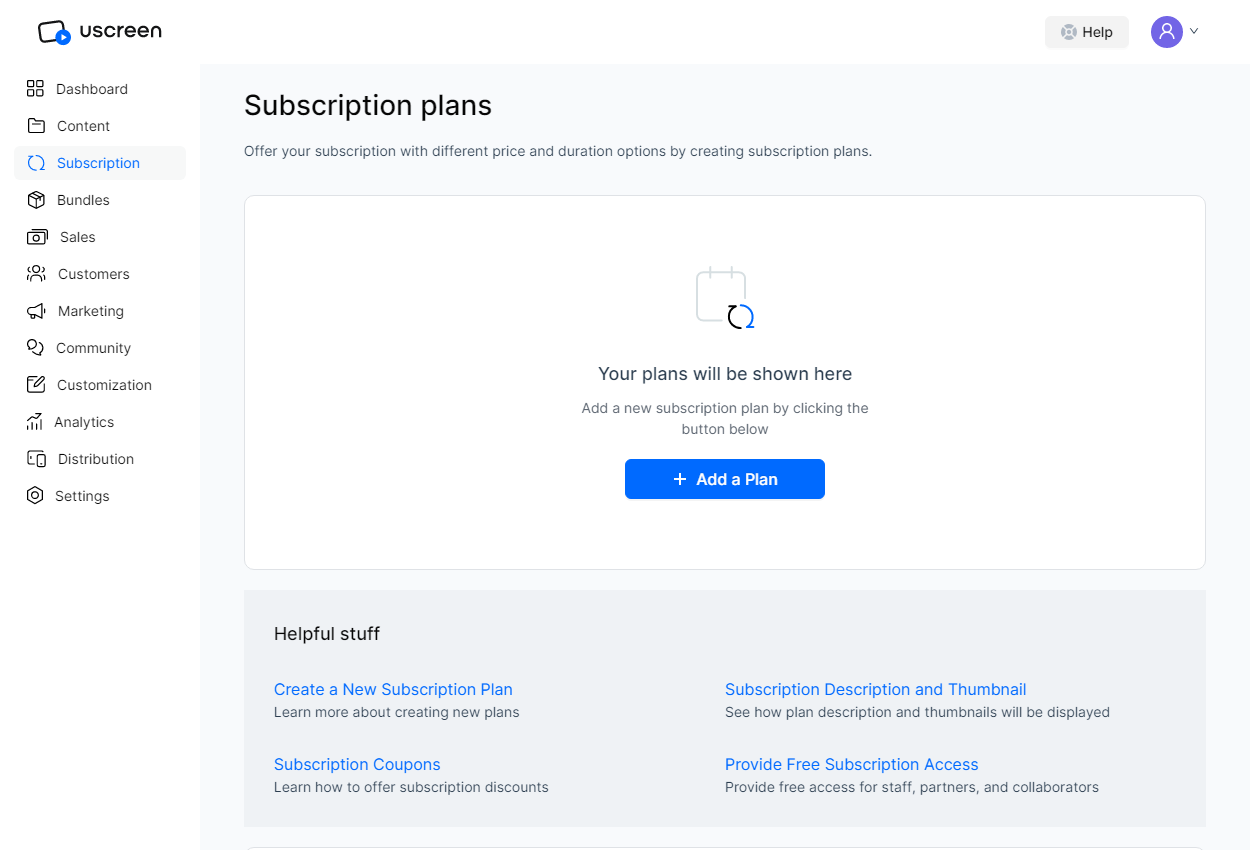 But remember, in the end, it's always the fixed fee and does not charge you any hidden costs later or takes share from your revenue.
Does Uscreen offer a Free Trial?
Yes, Uscreen offers a free trial to their new users to help them learn more about this amazing VOD platform. However, the Uscreen free trial does not last long, but the user still has enough time to experience the features and a lot more to know what is going on with this VOD platform and how to start working on it.
Do I Recommend Uscreen?
If you have excellent video editing skills and want to get your videos monetized but can't find a way? Then you should go for this amazing platform. You will assuredly get your videos monetized easily with different strategies.
Moreover, you don't need to be a professional to work on this platform. For business owners who are looking forward to expanding their earnings and business, the following platform has the potential to do it.
Therefore, in light of my experiences, I'll definitely recommend Uscreen to everyone who has been looking for a platform that provides video hosting, streaming, and monetization feature to make money online by selling videos.
If you've still got any doubts about choosing the Uscreen video platform, go check out other Uscreen Reviews from people who have already experienced this platform and find out what they are saying.
At Trendstorys.com, we aim to provide honest reviews to our users to help them make the right decision.