Hashtag challenges on TikTok are one of the most popular activities on the platform with a high engagement rate and increasing popularity among global brands. Hashtag challenges continue to help brands find their target market while also entertaining followers with great content. Here are some of the ways brands have achieved success in hashtag challenges.
5 Best Tips for Launching Hashtags Challenges on Tiktok
Following are the best tips for launching hashtags challenges on Tiktok which are as follows:
Have a Data-Driven Plan
Creating viral content is usually not mere luck. A content creator or a brand marketer should be able to identify the likes and dislikes of the market they are targeting in order to create content worth the virality.
Identify the patterns that exist within popular hashtags challenges on TikTok. Some of the things that you can ask yourself are: What features do these videos have in common? What are the most interesting parts of those videos, is it the sound, dance, or the challenge itself? Do these videos feature TikTok influencers?
The TikTok analytics tool will also allow you to view top hashtags and even top words used in captions. Take advantage of these data when deciding a direction for your hashtag challenge campaign.
Create Hashtags with High Shareability
Good hashtags challenges can only reach their maximum potential if they are being shared as much as they could. However, sharing your content does not only include the number of times your content is being reproduced on the app, but it also includes how often it appears in conversations, how many people are recreating your challenge, and how memorable your hashtag is in and out the TikTok app.
First, your hashtag needs to be memorable. This means clever but also easy to remember. Secondly, it should be easily searchable. Once your hashtag is memorable enough to be a part of daily conversations, it should be searched for in order for people to see the related videos. Thirdly, you can benefit from adding a touch of your brand. This means relating your hashtag to your brand name or tagline. People will not only remember your hashtag but also your brand with it!
Make Your Brand a Priority
Especially in the age of social commerce, social media activities should put entertainment at the forefront of their strategy. However, this does not mean that your brand is any less of a priority. Integrating your brand name, image, or products is an important part of a brand's hashtag challenge. If your challenge goes viral without users associating it with your brand, then the challenge will not be optimal for your brand.
One of the most popular ways to do this is by incorporating your product into the challenge. Chipotle's #ChipotleLidFlip challenge is a great example of how a fun challenge that may seem unrelated to your brand can give a spotlight to your product effectively and entertainingly.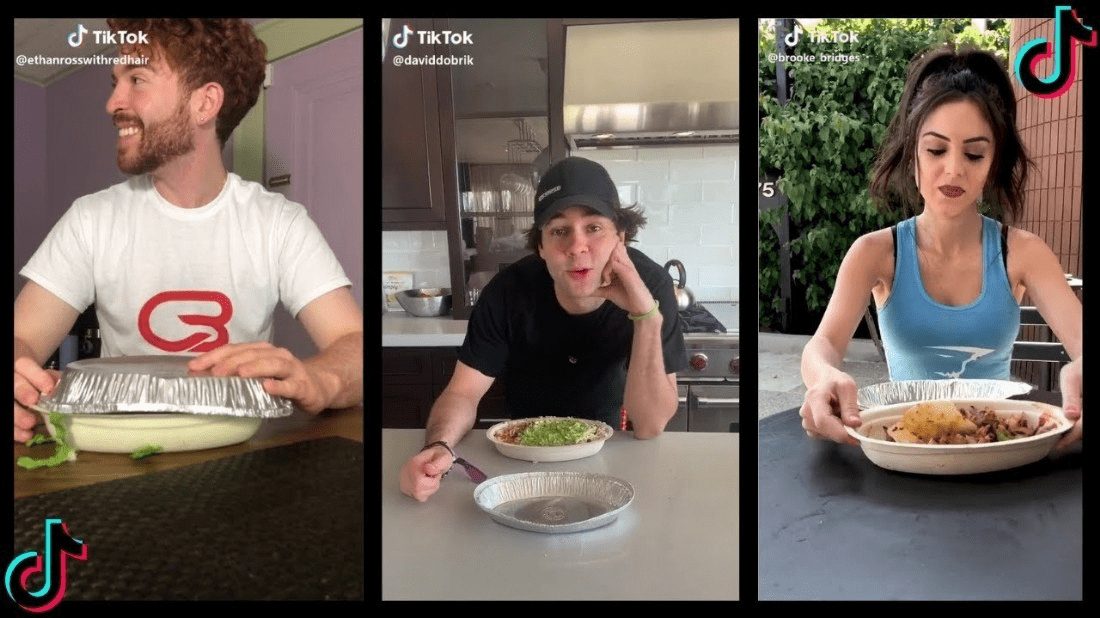 Use Sounds that Resonate
Your video must be perfected with a sound that is entertaining as well. In the same principles as with hashtag, sounds should also be both clever and memorable. It has to appear to many people and be easy to recite.
You can utilize your TikTok analytics tool to find popular videos and the sounds they use. You can also look at TikTok influencers' latest activities to find out TikTok trends and more. A good choice of sounds can amplify your discoverability.
Promote Your Challenge
Although the goal is to organically increase shares, you should always promote your own challenge through all your platforms. This could mean sharing your challenge content across all social platforms you have or promoting inside of TikTok by partnering with TikTok influencers.
TikTok influencers can help trigger more shares as they usually have followers who love to repost or share their content. Be sure to choose influencers that have high TikTok engagement using the TikTok influencer analytics that you have.
Conclusion
There is so much that you can achieve with TikTok hashtag challenges. However, maximizing your impact needs strategies that require tools such as TikTok analytics tools to help you produce the best and effective TikTok content.