Standout Digital Review
Summary
Standout Digital is an online learning platform for people who wants to learn digital marketing and growth hacking techniques.
Features

Value for Money

Support
Pros
User-Friendly Interface
Live training webinars
Quality Instructors
Free Website builder
lifetime availability of course modules
24/7/365 support
Cons
A free trial isn't available. However, free videos are available to have an idea of course.
Doesn't have an affiliate program.
Quite costly but worth it.
Got tired of joining online courses but not getting the outcome you're expecting?
Want a platform that actually does what it shows?
If yes, then you've come to the right place as today we're going to do a review on standout digital, a platform where you can become a digital entrepreneur by learning digital marketing, eCommerce, business strategies, growth hacking techniques.
So, if you want to learn digital marketing and came here with the intention of having a Standout Digital review to know if it's worth it or not, then stay with me and keep reading the entire Standout Digital review.
What is Standout Digital?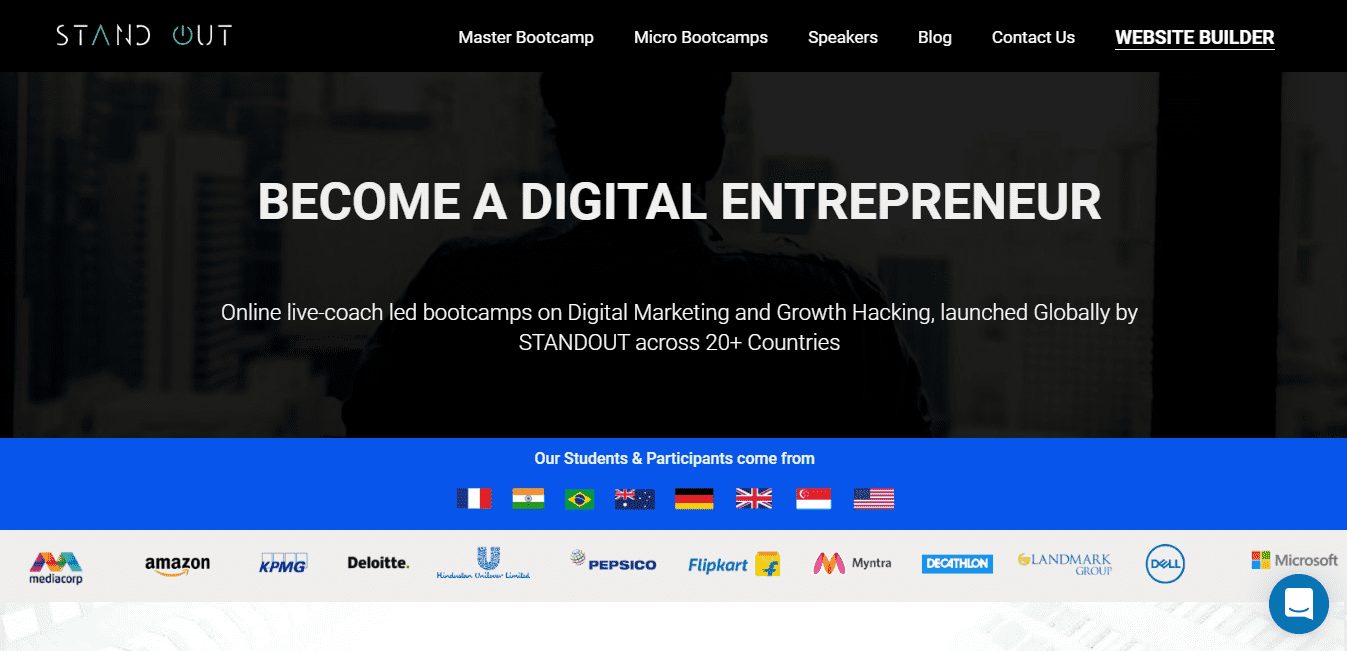 Standout Digital, an online learning platform for people who wants to learn digital marketing and growth hacking. It is probably the best place where people can get what actually they're looking for as there are online live-coach boot camps on everything related to digital marketing and growth hacking.
It was founded by Vatsa Vishesh in august 2019 with the aim of helping people learn the most demanding skill, digital marketing, and growth hacking techniques to all those who want to get more output without investing much. Standout Digital has been functioning in more than 20+ countries giving everyone an opportunity to get benefit from their amazing boot camps.
Following is the short overview of the Standout Digital review that you might need to know.
Standout Digital Details
Why Standout Digital is the best platform for Learning?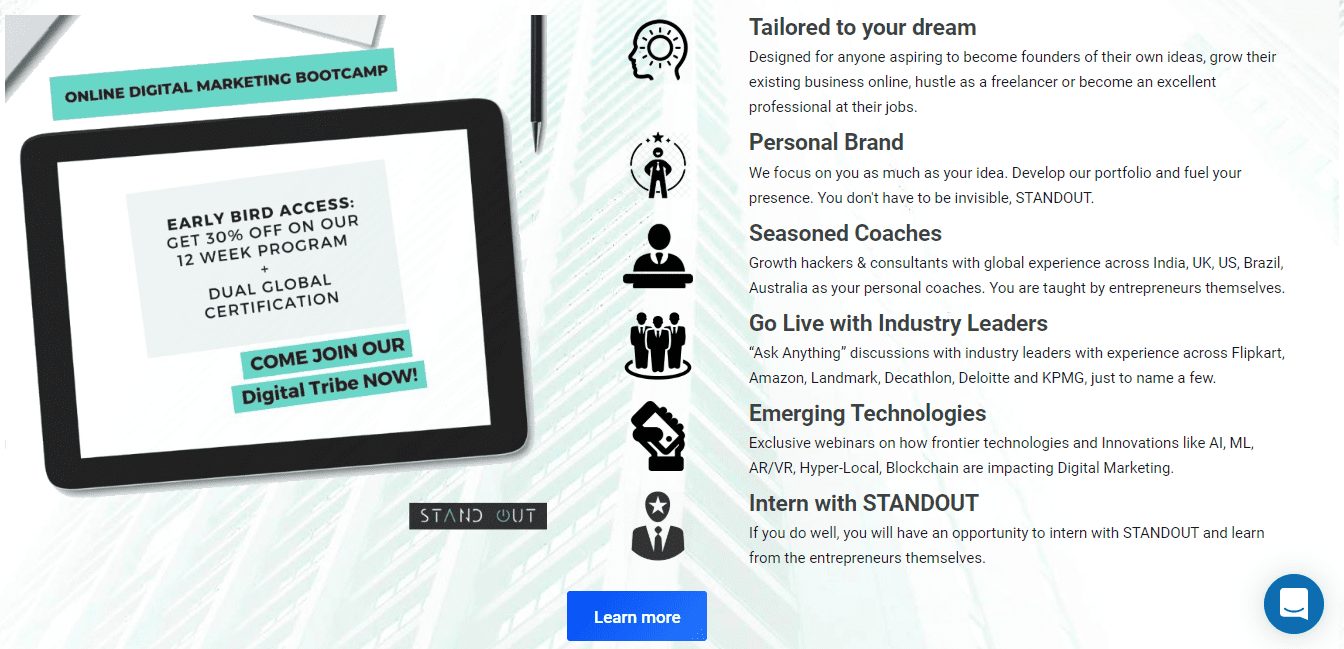 This is probably one of the frequently asked questions when an individual is planning to join that why going for Standout Digital worth it? Why it is considered the best learning medium for students who have a keen interest in learning digital marketing?
Well, Standout Digital is functioning since 2019 has students from more than 20+ countries. The reason it stands out from others is because of the quality it provides to the students. The online live boot camps are quite beneficial that even a newbie having no such knowledge can easily understand the concepts as they have one of the best instructors that teach you everything practically. With the concept of tailored learning, everyone who has the will to become something in their life can easily chase their dreams.
Despite having no free trial, Standout Digital offers some free webinar videos that you can find at micro boot camps to have an idea of the whole course which is a great thing to consider.
The beauty of Standout Digital is that it offers you to create a free website using their website builder that has almost all the premium features available needed for an online business website.
Standout Digital Marketing Features
Unlike other learning platforms, Standout Digital is way far better having unique benefits which are as follows:
Lifetime access to all courses

Standout Digital offers live training webinars that are available for a lifetime once you've purchased them. You can access the course modules anytime anywhere from the website portal. Moreover, they also provide 100% cash-back for gold medalist students.
Quality Trainers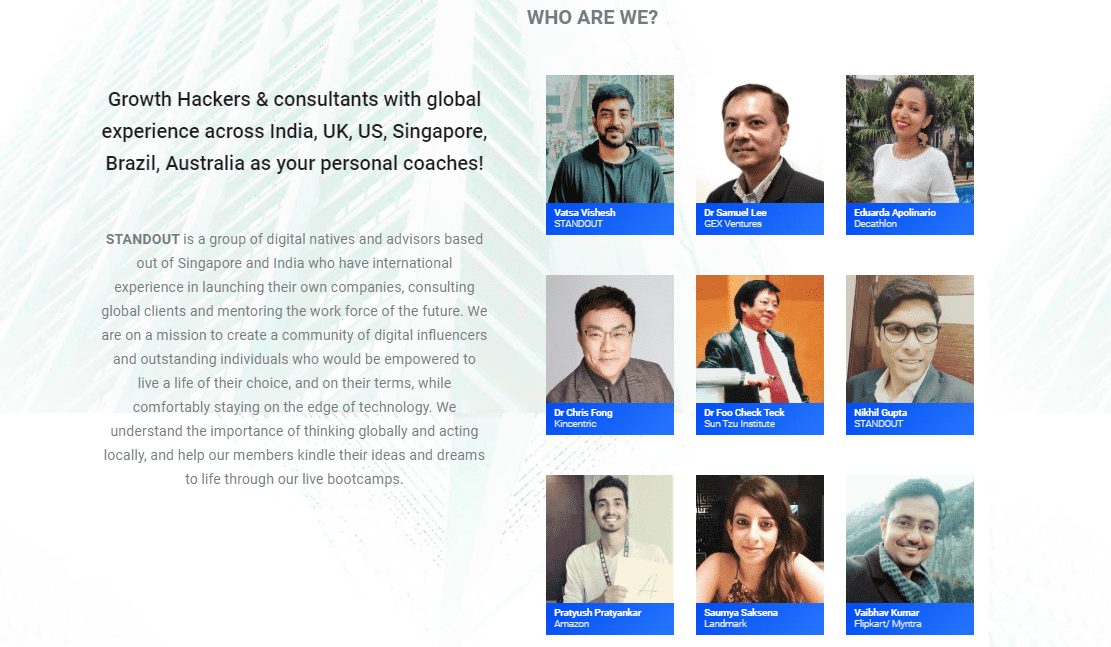 Yes, you heard it right. Standout Digital has one of the best instructors available for students who want to learn digital marketing and growth hacking. It is basically a group of digital natives and advisors from Singapore and India who have experience in launching their own businesses. To see all the trainers from Standout Digital, click here.
Best Support available

If you get into any trouble while learning, you can seek their support quite easily. The best thing is that you can schedule a 1-on-1 call with their coaches. You can ask questions with industry leaders with experience across Flipkart, Amazon, Landmark, etc. You can even use the live chat feature on their website that is available 24/7 for you to answer your queries.
Website Builder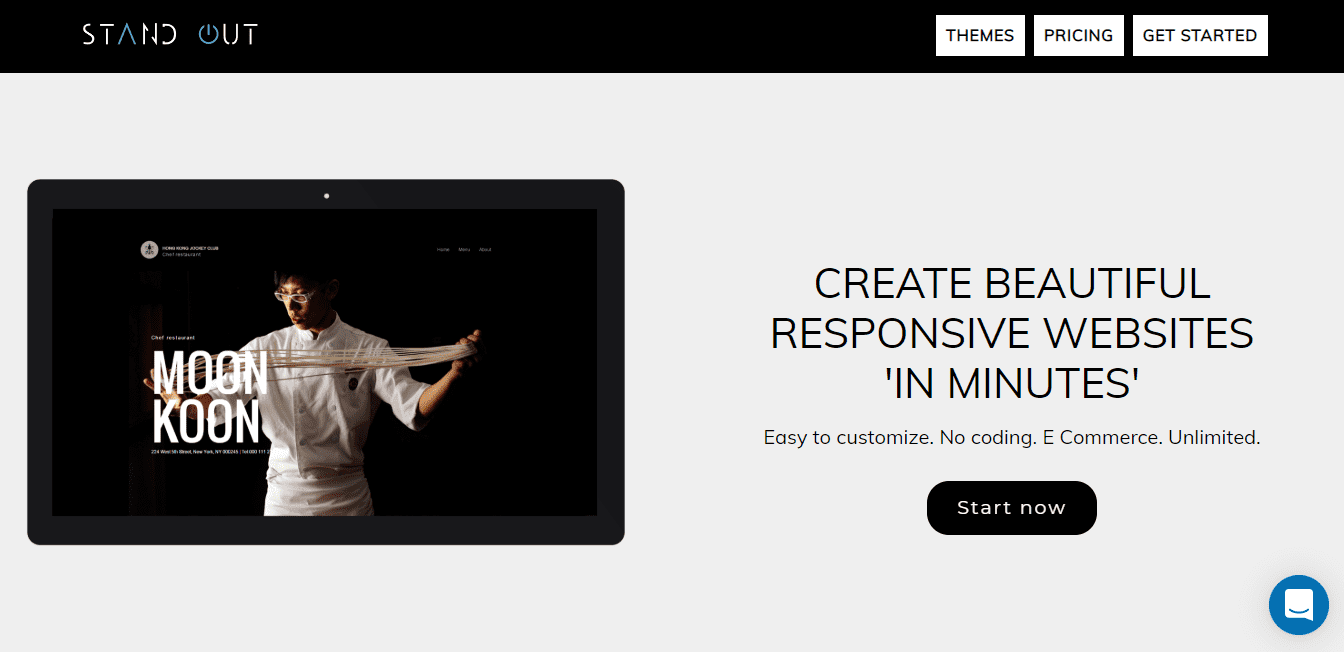 Who doesn't like to have a website for their business? Of course, everyone loves it. Standout Digital offers a website builder that allows you to create a website for your business having many premium features available. They do have a paid plan as well in which you can connect your custom domain along with other benefits.
Master Bootcamp Vs Micro Bootcamps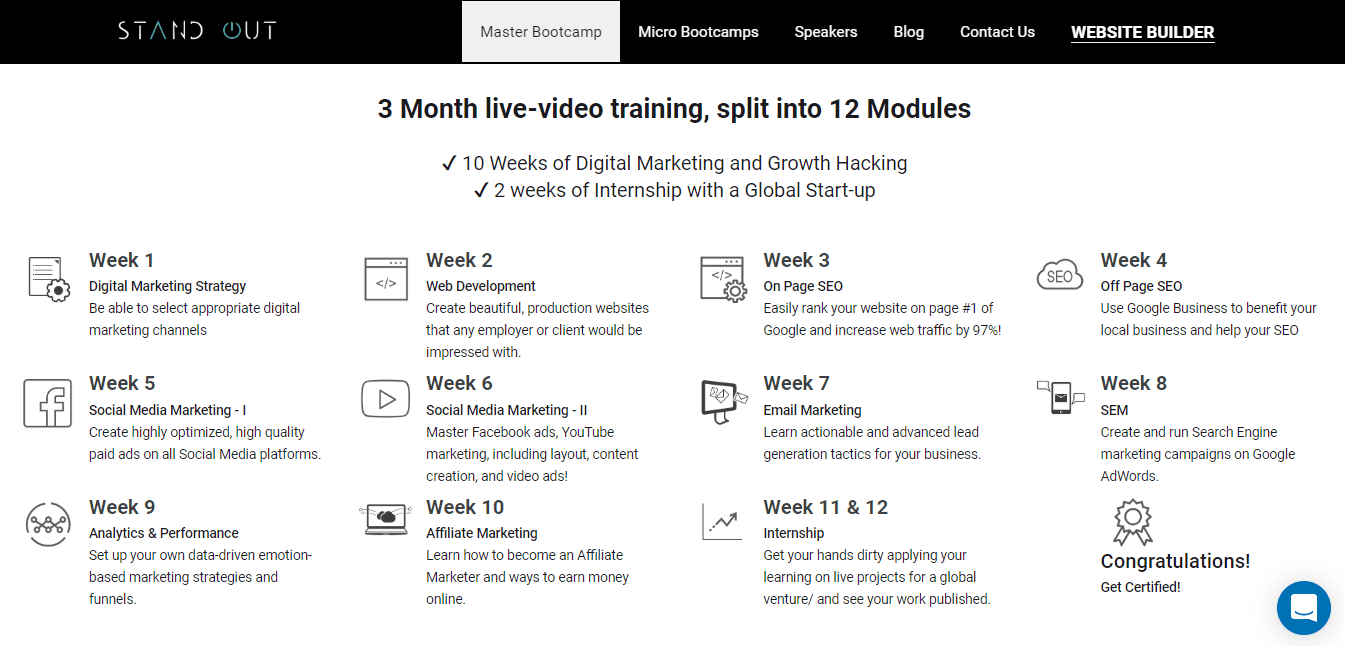 Standout Digital has named its courses as Master/Micro Bootcamps. The Master Bootcamp has everything you need to know about digital marketing. The course duration is 3 months and is limited to 15 participants only. The charges for the Master Bootcamp are $997 SGD that will be available for a lifetime once you have purchased it.
You'll likely learn all these tools mentioned below if you go for the Standout Digital Master Bootcamp.

As digital marketing is a quite vast field, therefore, Standout Digital has divided it into sub-niches and named it Micro Bootcamps. Anyone who wants to learn some specific skills in digital marketing like Search Engine Optimization (SEO), Search Engine Marketing (SEM), and Social Media Marketing (SMM), etc. can easily go for it. You can find the detailed information from here as pricing might varies for each course.
Standout Digital Payment Details
To make a payment on Standout Digital when joining for any of their Bootcamp, you need to have a Debit/Credit Card such as VISA/MasterCard, Discover, American Express.
Do I recommend Standout Digital?
In light of all the facts mentioned above, my answer will be clearly YES! It is the best choice for those people who want to learn digital marketing and growth hacking skills. The benefits they provide to its students are simply astonishing. Having quality trainers, they have dominated everyone in the field of digital marketing. You can easily make money online by providing digital marketing services once you have completed the course. There are many other methods available to earn money such as using Link shorteners, affiliate marketing, etc.
So, if you've been looking for a learning platform where you can be able to learn digital marketing, then I'll definitely recommend Standout Digital as it has been functioning since 2019.
Do you still have any doubts about choosing Standout Digital marketing? Go check out Standout Digital review from other people who have experienced their courses.
So, what are you waiting for? Join Standout Digital now and get some skills without wasting any time.
At Trendstorys.com, we aim to provide honest reviews to our users to help them make the right decision.
Any queries related to Standout Digital review or if you're already experienced with this network, give your review out of 5 stars or let me know in comments.