Prosperity Funnel$ Review
Summary
The prosperity funnels tool offers unlimited application methods, providing a gamified funnel experience. Users can earn rewards by going through funnels created by anyone. Also, it can be used to convert leads, share new information, and connect with customers. In a nutshell, it's a great way to market products in a creative way.
Ease to Use

Marketing Offers

Rewards System
Pros
User Friendly
High Engagement
Great opportunity for users to earn money
Exciting Rewards
Live Webinar Rooms
Reporting System
Dedicated Support
Cons
Considerably new to the market
Customer support sometimes takes longer to respond
Those days are gone when only coding experts or tech-savvy people could create marketing funnels and reach their target audience. Now anyone can set up funnels, engage their target audience and convert them into leads with the help of Prosperity Funnel$. This app reinvents advertising by helping people in setting up funnels and enhancing their engagements rates.
But advertising; is just one of many things this app can make simple. It can be used by anyone; from marketers to business owners and even casual users.
Business owners can use Prosperity Funnel$ to spread the word about a new product or service or a company could use this app for employee training; the possibilities are endless. Prosperity Funnel$ aims to be a place for people to come together and interact to share fun and new information.
Sounds Interesting? Read ahead to learn more about this amazing app.
What is Prosperity Funnel$?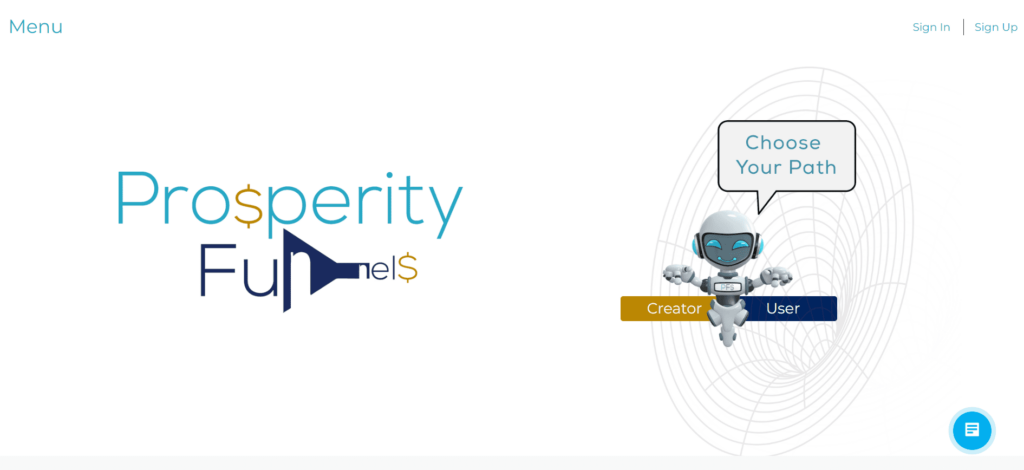 Prosperity Funnel$ is a gamified funnel marketing tool with unlimited application methods. Anyone can use it to create funnels on their mobile phones and users can go through them to earn rewards. Business owners can also use this app to connect with their audience, share new information, and convert them into leads.
Plus the Creators can use this platform to create a step-by-step call to action process for a reward or discount. The rewards are distributed in the form of Prosperity Diamonds (PD) and these Prosperity Diamonds can be claimed in form of real money.
Yes! Real money. So with Prosperity Funnel$, the only limitation is your imagination.
Most importantly, it was created with the average person in mind so even if you are not good at using technology; you can use this app. People with zero knowledge of coding can sign up today and start creating gamified rewards-based processes.
And if you are a user, you can just download the Prosperity Funnel$ app today to get new information about the products you are interested in and complete tasks to get some cash.
Features of Prosperity Funnel$

Prosperity Funnel$ is essentially building a new feed where business owners and creators can share information for the highest engagement rates and users can just scroll through it to earn money. It makes this possible with the help of the following premium features;
Tools to create Funnels
It offers tools to create funnels and ads. Prosperity Funnel$ has made it very easy to create funnels for the average person. You can also find guidelines that will help you make funnels from scratch.
In addition, the creators can customize the point system so users can engage and earn rewards; this will improve engagement rates and bring in leads.
Hence prosperity funnel$ is revolutionizing how funnels are created and how marketing will work in near future.
Live Webinars
Prosperity Funnel$ allows people to host live webinar sessions. Creators can connect their zoom accounts easily and set their own buttons. The creators also have access to a webinar control panel which allows them to customize the experience of the users as they desire.
Moreover, they can also customize call-to-action and the reward i.e. the users would get the reward for attending the webinar till the end or clicking on any link, etc.
YouTube Embedding
This feature is especially popular among YouTubers and vloggers. They frequently use this feature to increase the views and likes of their YouTube videos. The creators can integrate a YouTube Video into the app and then set a reward for liking and watching the full video.
The users will get a reward for completing a task and the creator will get more views/likes; as a result, both will walk away happy.
Calendar Scheduler
The creators can set event schedules to remind users about a new task or funnel list and get more engagements. Whereas the users can choose to receive the reminders through email, push, or text notification. Also, the users actually join an event they set a reminder for and get a reward.
Group Chats
Prosperity Funnel$ even comes with a Group Chat feature. The creators can create group chats and they control who will join the group. They can open it for the public or set it on private for a limited number of people. Group Chats are an effective mode of communication as they allow creators to share information with a large group of people instantly.
The creators can also set up Group Chat rewards for users i.e. perhaps for inviting users to the chat or for being active in the chat.
Comprehensive Analytics and Tracking Report
The creators can keep track of all the leads in the funnel process. They can view where the leads are and what the users need to do to complete the process. Creators can send an email reminder to users with reward offers to urge them to complete the process.
Easy to navigate
Prosperity Funnel is easy to navigate because it was created for average people: average people who don't know a thing about coding or who are not tech-savvy. Anybody can sign up with this app to start making funnels or just make money as a user by scrolling.
Unlimited Applications
As said earlier, the Prosperity funnel is not just an advertising tool-it is an all-purpose gamification tool that can be used to create a news feed, educate employees, get leads, share information, receive rewards and engage with people.
Make Money
Users can sign up for free with Prosperity Funnel$ and earn free money by just scrolling and completing simple tasks. The users get rewards in the form of Prosperity Diamonds (PD). They can claim rewards when they hit a minimum of 500 PD or $5.
The creators can also improve their engagements rates, and brand value and get leads with the help of this app. So Prosperity Funnel$ helps both creators and users in making money.
This app also offers various other perks and features.
What can the creator do with the help of Prosperity Funnel$?
The creators can create endless funnels and ads to improve their engagement rates, get clients and catch leads. The funnels can be shared publicly or with a restricted number of people. Besides this, the creators would need to connect to their wallets so that users can receive the reward for completing the call-for-action task.
But that is not all, the applications of Prosperity Funnel$ are endless.
Applications of the Prosperity Funnel$
You can tap into the endless potential of Prosperity Funnel$ and use it as;
As a marketing tool for your YouTube channel and get more views/likes/subscribers.
Education and Grooming tool for company employees.
Marketing and funnel marketing tool.
A platform to share information about things you are interested in and interact with like-minded people etc.
The only limit that comes with Prosperity Funnel$ is your own imagination. So, streamline your creativity and come up with innovative ideas to take advantage of the potential of Prosperity Funnel$.
Creator Rewards

What can Users do with the help of Prosperity Funnel$?
First of all, the users can download Prosperity Funnel$ for free and start scrolling through a feed that is filled with topics they are interested in. Plus while scrolling they can complete tasks, engage with funnels, and make money.
Amazing right?
We all scroll through social media but we don't make any money off of it. Here on Prosperity Funnel; you can scroll, learn about things you are interested in, engage with people and earn some money.
Rewarding System

Prosperity Diamonds (PD)
The users are rewarded in the form of Prosperity Diamonds and one Prosperity Diamond is equal to $0.01.
Affiliate Program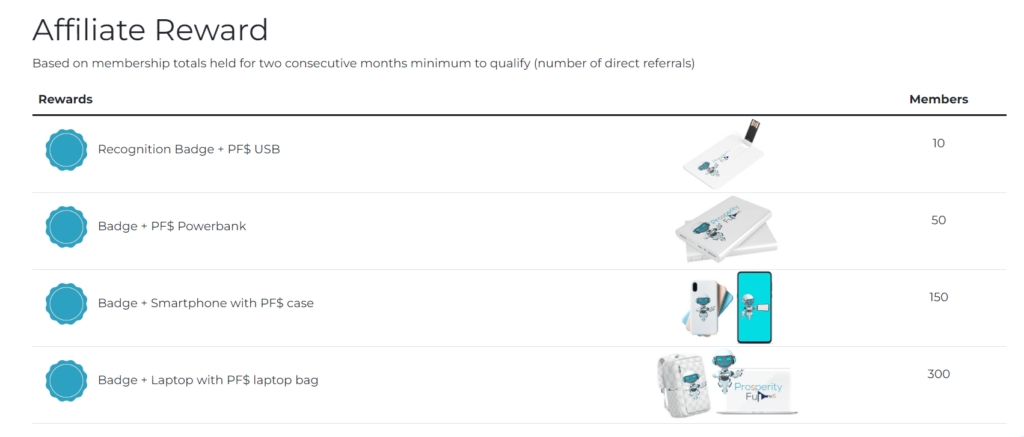 An affiliate program is a great way to make passive money. Prosperity Funnel$ has a lucrative affiliate program in place to make sure its creators keep inviting more people. Affiliates earn 15% of the membership fee on each referral and 2.5% commission on all wallet uploads.
Top 5 Trending Funnels and Affiliates
Every month the most active and engaging members will get a chance to get more rewards through Top 5 Trending Funnels and Top 5 producing Affiliates. The rewards depend upon how big the reward pool is, as 1% of every wallet load for prosperity Diamonds gets split into the two pools with both getting 0.5%. At the end of the month, the rewards are distributed to the top 5 members.

The 1st place will get 50% share of the pool, 2nd place will receive 20%, 3rd place will be rewarded 15%, 4th and 5th place will get 10% and 5% respectively.
User Rewards

Explorer and Expert Badges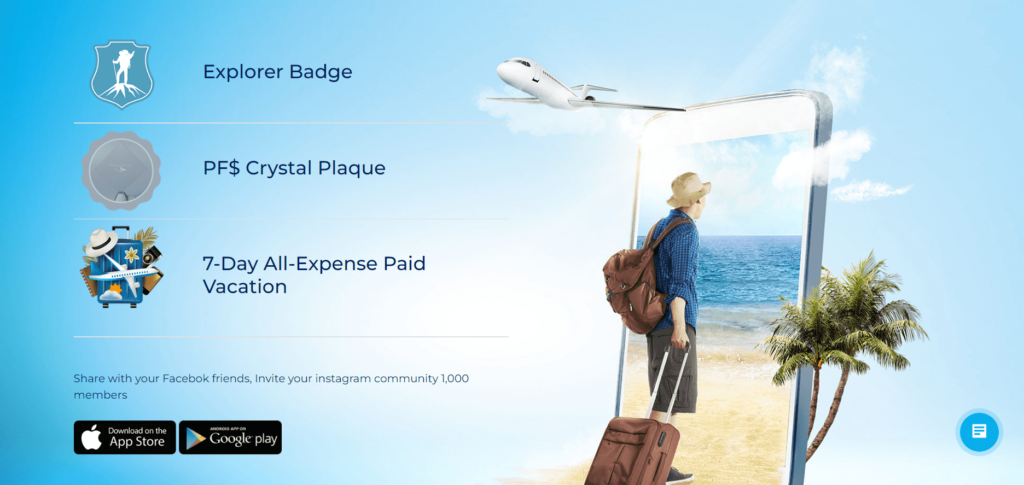 As the name signifies, the explorer badge allows you to explore the world. You'll get 7-day free vacations with all expense paid by Prosperity funnels and this is something really cool.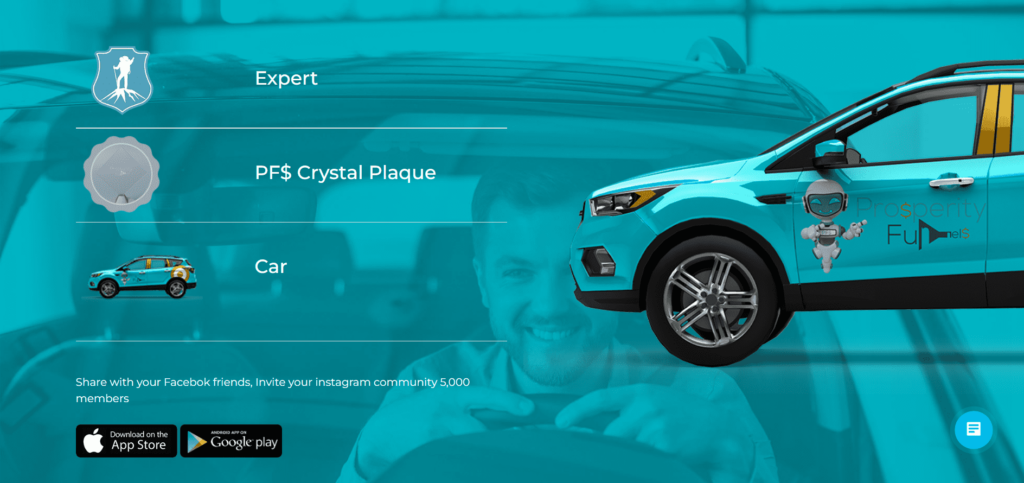 Here comes the expert badge, where you gets a nice looking car after earning the expert badge. I'm literally amazed to see these exciting rewards for users.
The membership fee for creators
You can join Prosperity Funnel$ as Creator for $17 per month or $149 for the whole year. If you feel like it, you can also buy a lifetime membership for just $297.
Keep in mind that this is way cheaper as compared to the marketing tools available in the market. You can see pricing here.
More Innovative Features Coming
Let me tell you that Prosperity Funnel is coming out with some unique and new gamification features in near future. Trust me you don't want to miss out on what's coming next. This is just the beginning and you better hop on the train to fully take advantage of the features to come.
We are also planning on integrating more money transfer options i.e. PayPal etc to make money withdrawal easy for the people.
Final Verdict: Is Prosperity Funnel$ worth it?
Yes, it is. I myself tested this briefly and I have to say I am impressed solely by the broad application of Prosperity Funnel$. I can see it revolutionizing the world of marketing and even social media in near future. You can use your creativity to streamline your business, spread information, and improve the brand value of your business with the help of this app. 
For any remaining questions, I recommend visiting Prosperity Funnel$ website. Sign up as a creator and pave your way to the success you have always wanted by getting hot leads and clients. Or you can sign up as a user and enjoy a newsfeed that is actually related to the topics you are interested in as well as complete tasks to earn Prosperity Diamonds.
At Trendstorys.com, we aim to provide honest reviews to our users to help them choose the platform.
Any queries related to Prosperity Funnel$ or if you're already experienced with this tool, give your review out of 5 stars or let me know in the comments.