Melio Review
UI Friendly

Free for Everyone

Customer Support
Summary
Melio is a streamlined tool that increases cash flow and minimizes busy work for businesses and vendors. It was designed specifically for small businesses to eradicate payment issues.
Pros
Fast and Convenient
No fees
Easy to use
Unlimited management
Unlimited users
It syncs with various accounting software.
A great option for Freelancers
Live support is available
Cons
Vendor Management isn't available
Bill can't be paid in batch
For a vendor to receive a live check, it takes a week.
Managing invoices takes a lot of time every day? Are you getting hit with late fees from your vendors? If yes, then you've probably come to the right place as staying on top of your accounting shouldn't be done just after hours. Automation software can make the process a lot easier so you can get back to what matters: cultivating relationships and increasing revenue.
Don't limit yourself to spending all of your profit to take advantage of this service. Using software like Melio Payments, which is free, you will be charged a transaction fee each time you send or receive money by credit card. If you're looking for a platform that can cater to your personal needs for collecting online payments, then Melio may be the ideal solution for you. It offers unlimited companies/clients, unlimited users, and free check delivery (ACH).
A wide range of features including live support is available from Melio, an accounts payable solution based in the U.S. Moreover, Melio will provide you the organizational support you need, whether you are an accountant or a business owner.
We'll discuss all the other features Melio offers in detail but let's just have a short overview of Melio and how it works.
What is Melio?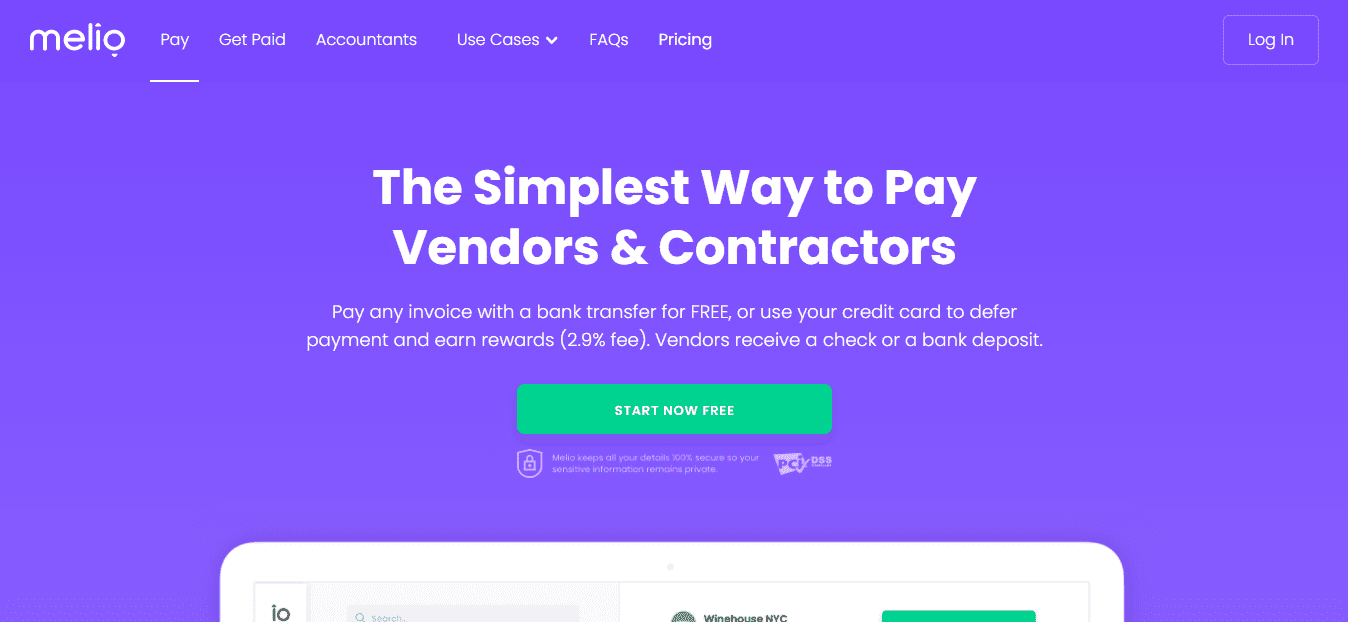 Melio is a streamlined tool that increases cash flow and minimizes busy work for businesses and vendors. It was designed specifically for small businesses. Many small businesses are still using old-fashioned paper-based billing methods to pay their bills that are significantly more complicated to use & more costly.
No matter who you are working with, if they only take checks, you can pay by bank transfer or debit card! With your credit card, you can use your cash where cards are not accepted and earn card rewards!
Melio is an online account payables service that allows users to pay their bills easily from their bank accounts or credit cards, by bank transfer or debit card. Users of Melio are able to connect their accounting systems to Melio and schedule transaction payment synchronization to QuickBooks automatically.
When it comes to accounts payable software you are looking for a simple account management platform that can be used on both your laptop and phone, Melio can be an efficient tool that can save you time and money compared to the expensive accounts payable software suites.
Following is the short overview of Melio Payments that you might need to know:
Melio Payments Details
Company Name

: Melio Ltd

Founded In

: 2018

Headquarter In

: New York

Payment Methods

: VISA/MasterCard, Discover, American Express, PayPal, etc.

Affiliate Program

: Make $200 when you refer a Melio customer and they make their first payment.

Support Email

:

[email protected]

Website

: https://www.meliopayments.com/
How Melio Works?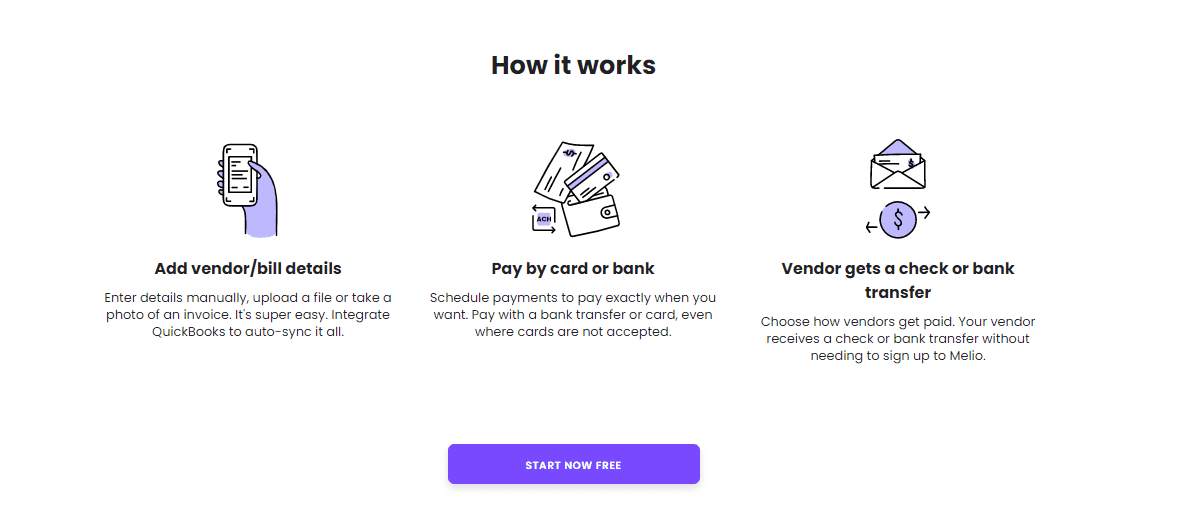 So how basically Melio does the job for you? To make a payment to your vendor or for paying bills, you simply need to follow these three steps:
Add vendor/bill details
Pay by card or bank
The vendor gets a check or bank transfer
Simply you need to first enter details manually, or upload an invoice or photo an invoice. The process is very straightforward. Auto-sync QuickBooks to do everything for you.
The next step is to schedule payments so you pay exactly when you want. If you cannot pay by credit card, use a bank transfer.
Vendors may get paid in a variety of ways. So choose the one that suits you best. Melio offers your vendor the option to receive checks or bank transfers without needing to have a Melio account.
Melio Features
Following are the highlighted features that Melio Payments provide to its users.
Payment Scheduling
Receiving the money on the scheduled date is not an easy task. Late payments hurt which they understand. This is why Melio takes care of everything and makes sure that you receive all of your payments on time so your business isn't disrupted by late or missing payments.
Using a credit card for payment
Making transactions for your business is more frequent than you ever thought possible. Sometimes you need to use your credit cards because it is difficult to balance your account in a positive amount, which in turn makes it difficult to save any additional money.
Some clients and service providers accept credit cards, while others do not. Now that Melio has enabled this feature, you can now pay with a bank transfer, a check, or even PayPal.
You need to know about it. Melio works mainly with credit cards, so your payment can be made there, and they will handle all payments for your vendors on your behalf.
That's so simple, isn't it? I believe you now have a good idea of how Melio payments work 😉
You can pay with Melio in several different ways. ACHs, debit cards, and credit cards are all examples of electronic funds transfers. Transfer payments are free, but credit card payments are subject to a 2.9% transaction fee.
For vendors or stores that don't accept credit cards, you can choose to pay using your credit card instead. Melio takes care of sending out checks for vendors, who receive either a check or a bank transfer. Payments can be sent to vendors without them having an account with Melio.
QuickBooks integration with Melio
This will bring joy to all QuickBooks users as Melio has partnered with QuickBooks now. The sync has now enabled them to provide a higher level of service to mutual customers.
Everything related to your accounting and payment will be handled in one place. Melio uses the same credentials as Quickbooks to log in. So you don't need to have an account with different login details.
Melio still has plenty to offer. Here are the integrations available:
Silicon Valley Bank
VISA
MasterCard
Diners Club International
American Express
Discover
Evolve Bank & Trust
Pay your marketing & advertising activities with Melio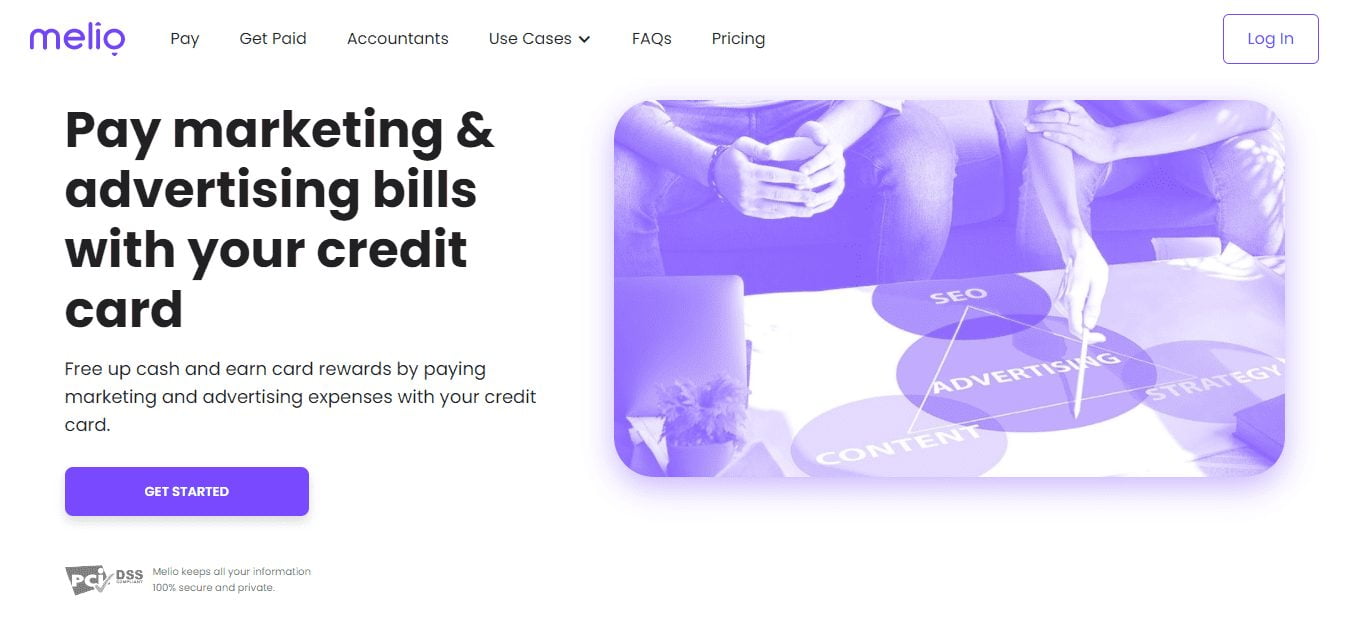 With Melio, you can easily pay amongst the following entities listed below:
Online advertising
Marketing freelancers
Print
Promotional items
Trade shows
Marketing consultation
Sponsorships
Local TV ads
Sponsored articles
Business listings
Newsletters
No monthly fee
The Melio accounts payable system was specially made for small businesses and freelancers, with a free platform. The software is completely free. There is no monthly subscription fee, and no delivery fees when sending checks to vendors. The receiver doesn't even need to pay for anything for receiving funds into their account.
For me, this is probably the best feature of Melio that impressed me.
Security
Taking security seriously is something Melio does. During 24/7 monitoring, certified data centers house servers. HTTPS and AES are among the leading types of encryption used on the platform.
Furthermore, it complies with PCI. To prevent fraud, system tests are completed daily (manually and automatically) to protect sensitive data. To process payments, Melio uses the TabaPay credit card processor. A key feature is that TabaPay is certified to the highest level on the Payment Card Industry (PCI) which requires a yearly independent audit to keep its certification status.
With this platform, you're always guaranteed your money is safe.
Technical Support
Melio Payments provides live chat support throughout all of its plans. The Accounting Plan comes with live accountant support so you do not have to worry about getting a generic answer to your specific accounting question. If you click the "support" link on the left-hand side of the menu inside Melio's Dashboard, you'll be taken to the Melio help page. Clicking that link will open a chat-like popup dialog box that can be used to ask a staff member questions and queries.
The Melio FAQ page makes it easy to get all your questions answered instantly. Additionally, Melio can be reached through her website or via social media.
Is Melio mobile ready?
Melio's payments experience is available on a mobile device as well as on your desktop computer. Simply log into meliopayments.com to make vendor payments, whether you are at your desk or on the go.
Melio Me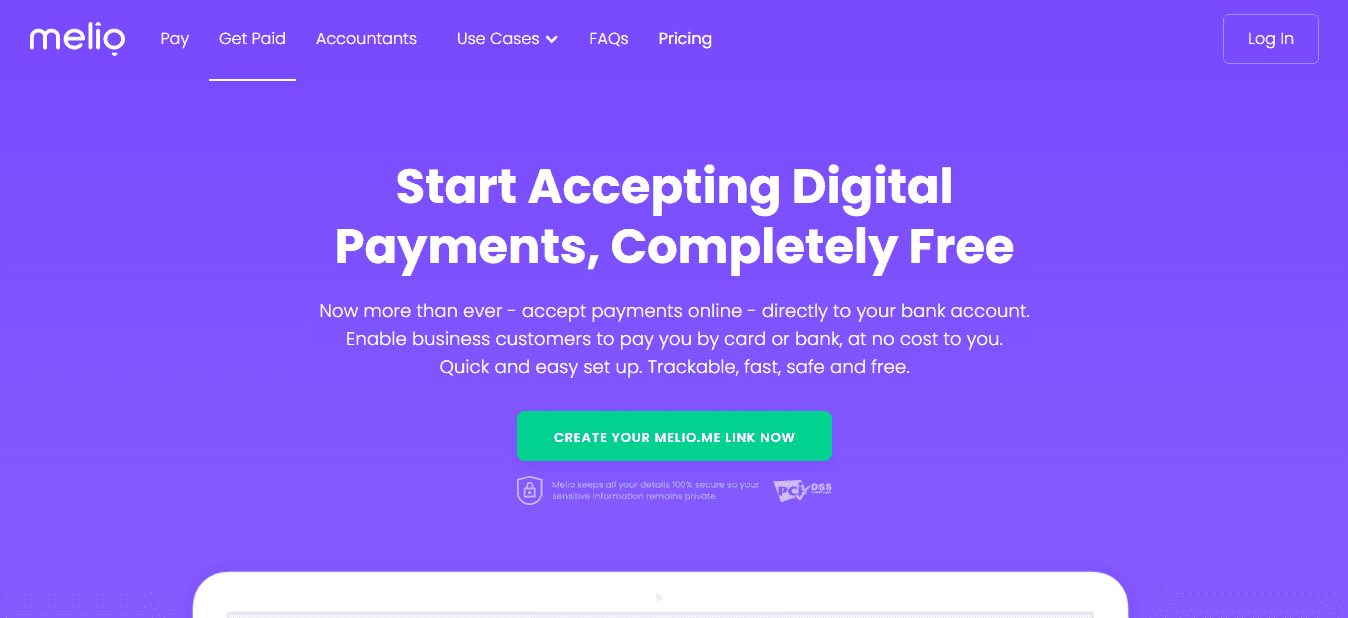 Online payments are made and tracked faster through Melio.me. Neither you nor your customers have to create an account with Melio in order to send you payments. It is a free and easy way for businesses to have a mobile-friendly landing page that allows them to receive payments with custom URLs that they can share with their customers.
In addition to paying with a credit card, users can also use any bank transfer, which occurs freely.
Melio Pricing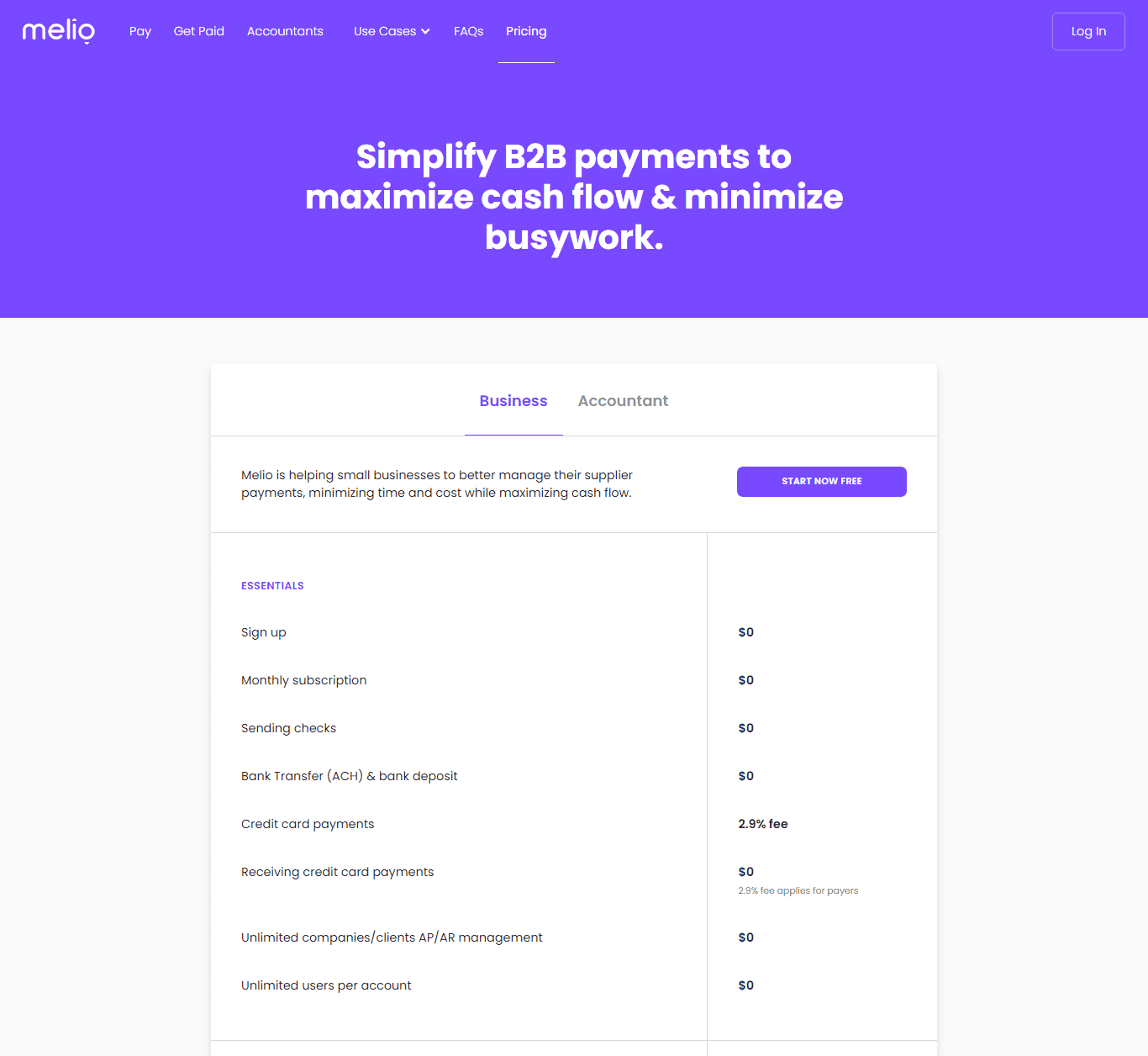 For many, Melio's free-to-use pricing model maybe its appeal, where you'll never have to pay anything, either for the registration fee, continuing subscription, sending checks, or bank transfers. Further, Melio does not charge a fee to the recipient following a transaction.
But if a payment is sent by credit card, you can delay the payment and Melio gets their 2.9% fee. Melio explains that this allows the company to handle electronic payments run through ACH (Automatic Clearing House) without having to pay a fee while maintaining its own revenues of course.
Melio Affiliate Program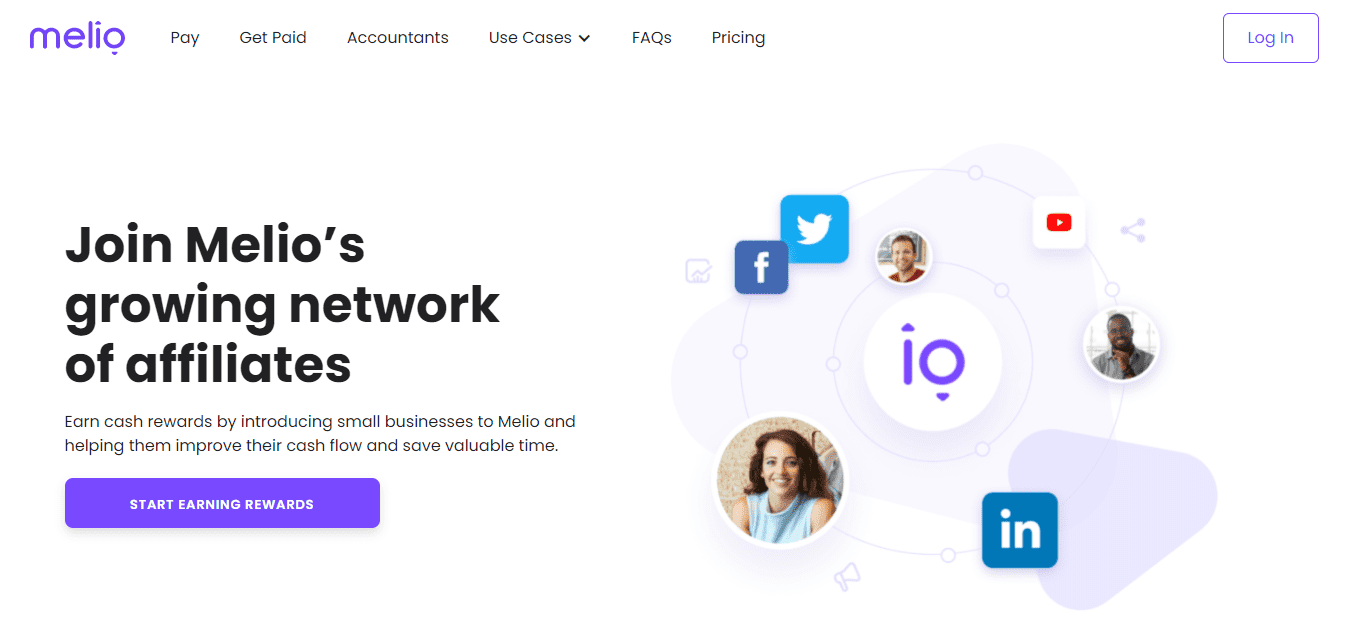 Melio users can get full use of their affiliate program when linked up with their network. You can earn huge commissions as an affiliate by simply sharing your unique link. To track referrals, Melio uses cookies. The cookie expires after 90 days if your unique URL is clicked on by another potential customer.
Even better, you'll get a $200 referral fee each time someone new makes their first Melio purchase. To earn more, you can check various recurring affiliate programs to earn a lifetime.
Once you see these references at the end of the month, you can transfer the amount to your bank account through Stripe or PayPal. Ten to fifteen days are required to complete this process. If a commission was earned in January, you should expect to receive payment by mid-February.
Do I recommend Melio Payments?
Businesses and accountants benefit from Melio's no-cost plans that are tailored to their needs. Invoicing software for small businesses like QuickBooks works seamlessly with the Melio, so you don't have to build a system from scratch.
The unlimited management and unlimited users of Melio make it the perfect alternative for accounts payables. In addition, there's no payment or contract required. Moreover, tax forms are handled by Melio, and live support is available as well.
Therefore, in light of my experiences, I'll definitely recommend Melio Payments to everyone, especially small business owners who find it difficult to make payments online as Melio will do the job for you in an efficient way.
If you've still got any doubts about choosing Melio Payments, go check out other Melio Reviews from people who have already experienced this platform and find out what they are saying.
At Trendstorys.com, we aim to provide honest reviews to our users to help them make the right decision.