Overall, an effective VPN that lets you surf and shop safely in any country with blazing fast speed. And guess what? It's Free and worth it using.
Easily unblocks Netflix, BBC iPlayer, Hulu, etc.

10

Unlimited data bandwidth

9

User Ratings (

2

Votes)

9.6
VPNs serve many purposes. The most obvious is that they hide all of your internet browsing activity. In addition to securing your online activity, VPNs prevent spying software, trackers, and hackers from infiltrating your system.
Normally, a VPN protects your privacy and security online by hiding your IP address. Unblocking region-locked content is also possible through VPNs on HBO Max, Hulu, Netflix, and Disney Plus.
With all the tips and tricks, a PC that is efficient for gaming and streaming can boost frame rates. Internet speeds, however, have a significant impact on gaming and streaming. Getting rid of ping may not require an expensive gaming router or a lengthy ethernet cable. To get the most out of your streaming and gaming, all you need is a VPN service.
By encrypting your IP address, VPN servers reduce hacking risks. By using a secure VPN tunnel, users can enjoy safe online activities. If you use a VPN, you won't be able to be spied on, tracked, collected, or captured by government entities, internet service providers, or others. You can also send and receive encrypted files online.
Deciding which VPN provider is right for you can be difficult. With so many options available, where do you start? Here's my iTop VPN review, which shows what it offers, along with its pros and cons.
iTop VPN Review 2022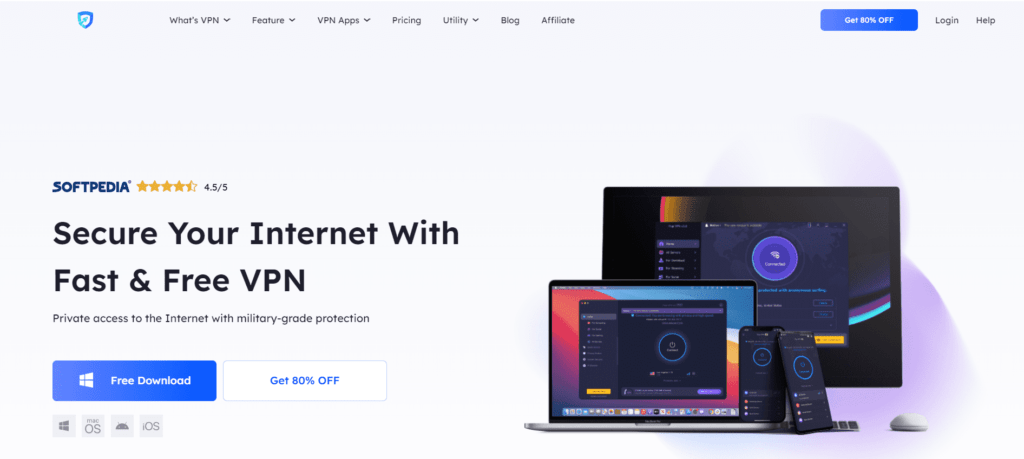 More than 1800 servers are available through iTop VPN in countries such as Russia, Brazil, Japan, India, the Philippines, the United Arab Emirates, and many others. With its advanced Salsa20(chacha20)256-bit encryption, users can remain anonymous and safe.
iTop VPN was built to make sure users can experience social interactions, games, and movies without any limits or limitations. With dedicated servers of WhatsApp, PUBG, Free Fire, Netflix, BBC iPlayer, etc, users will be able to enjoy seamless, lag-free gaming & streaming experiences.
Android, iOS, Mac, and Windows devices can be connected to iTop VPN.
iTop VPN Features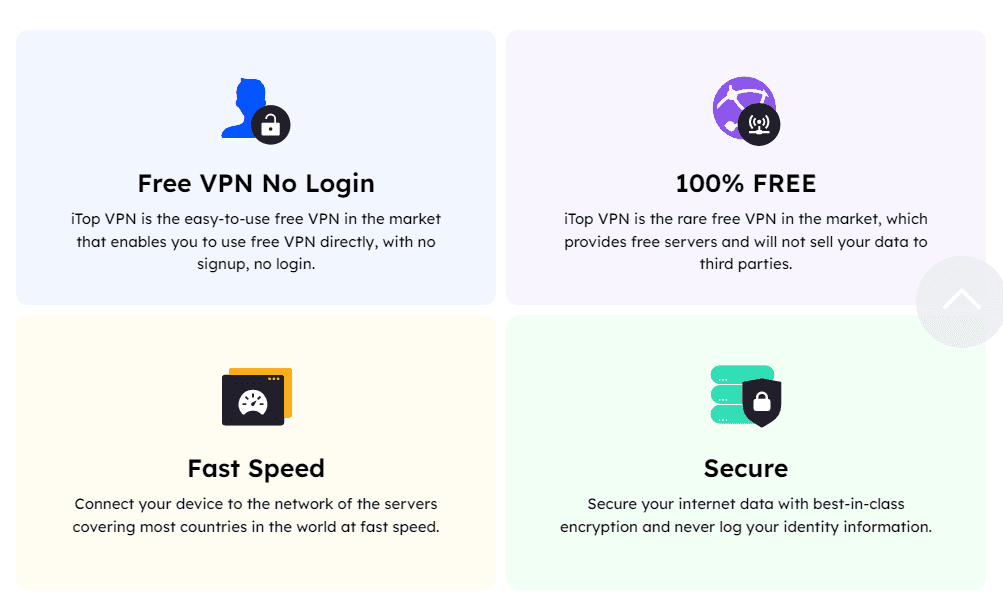 Following are some of the highly known features iTop VPN provides to its users.
User-friendly interface.
Many people find it difficult to figure out how to use VPNs. If you are optimizing VPN for a specific device, it can be even more frustrating. With iTop VPN, your experience is more pleasant overall. The interface is straightforward, easy to use, and intuitive. It was designed for ease of use. Users can perform many actions in a single step.
Protection & Encryption
With the Security Reinforce function, iTop provides anti-malware protection, as well as privacy and ad blocking options. Firefox, Waterfox, Internet Explorer, Safari, Chrome, and Edge are equipped with these features to block harmful links and ads.
The data on iTop is encrypted using HTTPS, UDP, and TCP protocols. There are no similar protocol options, such as IKEv2, PPTP, and L2P. iTop uses a 256-bit encryption algorithm called salsa20 (chacha20).
In accordance with the company's Privacy Policy, they don't track your activities while using the service, including browsing history, bandwidth used, or the time spent on VPN servers.
Neither your original IP address nor the address of the server you are connected to are stored by iTop. In the absence of an independent audit, there is no proof to support those claims made in their privacy policy
The iTop VPN comes with an ad blocker. As a result, you will experience a better user experience on the web, but companies will still be able to receive the information you choose to share.
When a "kill switch" identifies that a VPN connection is no longer active, it immediately stops all traffic. If you do not have a "kill switch," your internet activity will become accessible to trackers such as ISPs. You can prevent this by installing a circuit breaker. Additionally, circuit breakers ensure that your data is safe and secure by eliminating the chances of losing your IP address or personal data.
Other Security Features
Other security features offered by iTop VPN include:
DNS protection – No one can change your DNS settings.
Security Reinforce – Any apps that may cause harm will be blocked.
User Privacy – Changes browsing settings to ensure anonymity and privacy.
Split Tunnelling – You can manage VPN connections separately for each app.
DNS Protection is available to all iTop users. However, Browser Privacy and Security Reinforce can only be used by subscribers. However, those extra settings do improve a VPN's security, even if they are not a necessity for great performance.
Global Server Coverage
Any of iTop VPN's servers worldwide can be accessed at any time of day or night from many well-known locations. With faster internet, you can access content that is typically only available in certain regions. Netflix, Amazon Prime and other networks can be available that you cannot access in your area.
The number of servers is currently over 1,800. Those are impressive numbers, even if they are not as many as those provided by other competitors. Finding a good connection port shouldn't be a problem. There is one downside to iTop's VPN servers, in that they do not vary as much as those of its competitors.
Netflix and other streaming services cannot be unlocked using iTop because it does not provide dedicated IP addresses. This can be difficult, but it is not impossible. iTop distinguishes itself from its competitors by having various servers for different purposes.
Streaming new episodes of your favorite shows and playing online games are two services they offer. You can choose from the following:
File sharing: Upload and download torrent files.
Streaming services: Amazon Prime, Disney+, Netflix, Hulu, etc.
Online social media sites: such as Facebook, Instagram, Omegle, Snapchat, Telegram, Tik Tok, Twitter, and WhatsApp.
Video Gaming: For COD Warzone, PUBG, Valorant, etc.
If none of these categories relate to your needs, choose the "All Services" option. Then, you'll see a list of all the iTop servers available.
In the United States, very few VPN providers offer free servers. The reason for this is that maintenance costs are high there. On iTop VPN, the United States servers are free.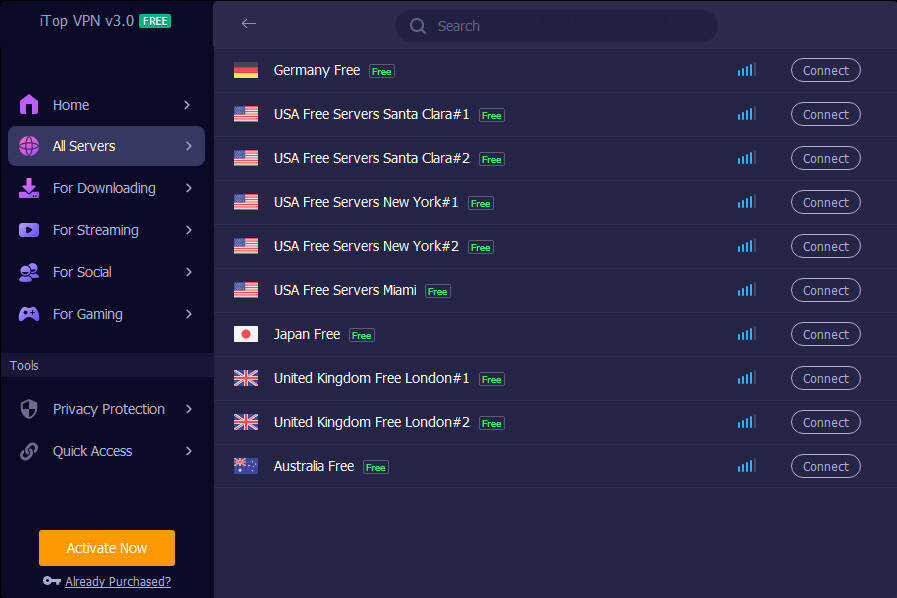 Up to 5 devices can be connected simultaneously
Since most of us work with multiple devices at once. There is a problem in that obtaining VPN licenses for each device can be costly. The same license can be used on up to five different devices with iTop VPN. iTop VPN runs smoothly on Mac OS X, iOS, and Android. You can use it immediately after connecting.
iTop VPN Protocols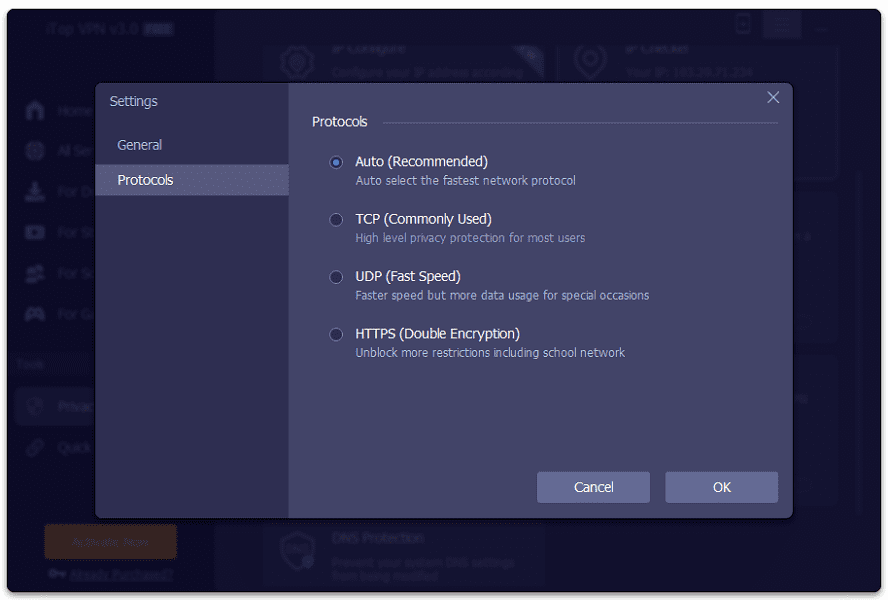 This is common practice among VPN providers. In contrast, iTop offers a limited number of encryption protocols. IKEv2 and other advanced protocols have not yet been mentioned. They include:
IPv6 and TCP encryption.
UDP encryption increases the speed of networks. UDP encryption works in conjunction with TCP encryption.
HTTP protocols – These aren't exactly encryption protocols. They are more like data transfer protocols.
CyberGhost or ExpressVPN are both more secure than iTop VPN. Other protocols, such as OpenVPN, L2TP/IPSec, IKEv2, and L2TP/IPsec, are used by these VPNs. It's possible that the "military-grade encryption" claim from iTop is overstated.
iTop VPN Pricing & Details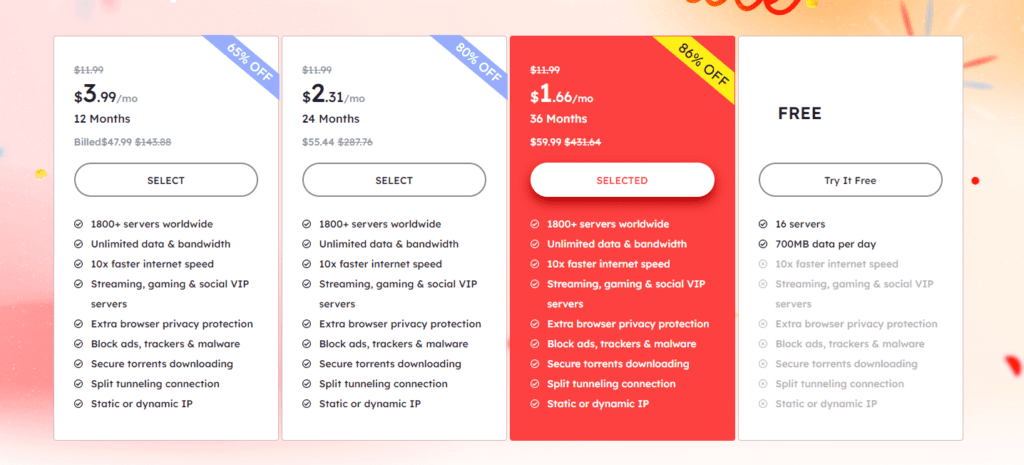 iTop VPN charges $11.99 monthly, which is similar to other providers. Purchasing the service on an annual basis lowers the price to $2.31 per month.
You can connect up to five devices at once. However, for the average user, this should still be sufficient.
The free plan offers basic services (up to 700MB per day and a maximum of 16 servers) for no additional charge. The virtual location is the only one available. The free version cannot unblock geographically restricted streaming services.
While using iTop VPN on Android smartphones, there are many advertisements. You are prompted with ads every time you tap a feature or choice, which can be frustrating.
Free Windows editions of the VPN software do not have many ads. Paid subscription options are frequently mentioned, however.
If for any reason you're unhappy with the plan, you can cancel it. The refund policy promises a minimum 60-day-money back for any plan. See refund policy regarding each plan.
iTop VPN Review Conclusion
Virtual private networks let you shop and surf safely in any country, are fast, and have great encryption protocols. iTop VPN impressed me with its download speeds, ease of use, and geo-unblocking features. Unfortunately, the free version lacks live chat, security protocols, and many ads. Perhaps it isn't the best VPN. However, we liked it. Their servers are plentiful, and it works well. Furthermore, it offers enhanced security. In addition, iTop VPN is pretty reasonably priced, especially for a longer contract. People who want to use this VPN for a specific purpose can get it through dedicated servers.
On the other hand, some people might find the inconsistent speeds irritating. A lack of support for it and a lack of impressive protocols make it a weak product when compared to its alternatives. Therefore, If you're looking for a decent mid-tier VPN and don't want to spend a lot, iTop VPN is a good option.
But iTop VPN has many advantages. The kill switch and comprehensive safety features, as well as the fast speeds, make it a worthwhile purchase.
If you've still got any doubts about choosing iTop VPN, go check out other iTop VPN reviews from people who have already experienced this VPN and find out what they are saying.
At Trendstorys.com, we aim to provide honest reviews to our users to help them make the right decision.