Instagram has quickly become one of the largest and most profitable social networks in the world: as of January 2020, there are nearly 1 billion active users on Instagram.
That's a huge audience and a huge opportunity!
What do you think about that? I think let's start succeeding!
You can tackle success on Instagram in many ways — timing, consistency, hashtags, backlinks, videos, and more.
Being able to act on these strategies and taking them extremely seriously as part of your overall marketing strategy can be a big contributing factor to whether or not you succeed on Instagram or not.
Here are the best 4 tips we've come up with to help you succeed on Instagram.
Discover The Optimal Time To Post On Instagram
Like most other networks and platforms, two of the things that matter most are simply:
What time you are posting
How consistently you're posting
Here's a quick reference to the best times to post to Instagram according to AdEspresso: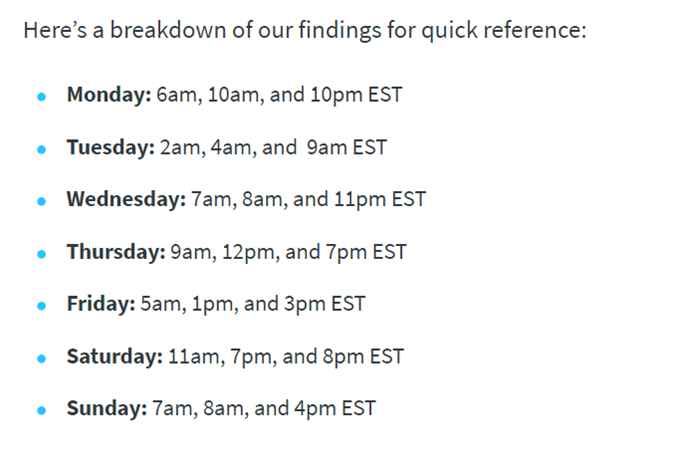 It's important to note that these optimal times may change over time and that the best way to figure out the best time to post on Instagram is by trial and error on your own account and by making decisions based on your own Instagram accounts data.
Post Consistently On Instagram
After timing, the next most important thing to do is to post consistently.
We can't recommend this point enough. It's crucial that you post consistently.
Customers like consistency and if you're not being consistent in your social media, what makes you think people will believe you are consistent in your service?
Also, the less consistent you are, the less reach you will have and the more reach your competitors will have.
I strongly suggest posting at least once a day, for 7 days a week, and if possible, even more!
Yes, you heard right!
Reach The Next Level With Videos
Yes, you can easily reach the next level in your Instagram strategy by simply transitioning to professional videos.
Think about it… how many of your competitors are using professional videos to get more customers on Instagram?
But seriously… I don't mean poorly made videos.
I mean professional videos that tell your story.
Not many rights?
Well, that's a key component that can literally separate your business from the rest of your competitors.
Why?
Because stories generate sales.
I know what you're thinking though, video editing is really difficult, and if you want to hire a professional editor, it's going to cost your business an arm and a leg and right now you can't afford to do that.
WRONG.
You don't need to hire anyone, luckily in today's times, technology is so advanced that professional video editing can be done by anyone with zero experience in just a matter of minutes! These tools are dead simple and I'm very grateful for them because my editing skills are horrible.
Now that you know our top 3 strategies for succeeding on Instagram, go out there and make a difference for your Instagram presence. Post at the right times, post consistently, and don't forget to leverage professional videos!
Always Have A Call To Action
Having a call to action is probably one of the most important things in success on social media. In order to have a good call to action, it's important to really understand the industry and think about what would compel users to try and respond. A question you can ask yourself is "what will drive my user to engage with my company?" – in order for you to understand this, it's very important that you take the time to do market research and understand the industry entirely. I personally have found that most businesses fail because they are looking for a quick buck or they hear about a certain type of industry being profitable – if you don't have the passion for the industry then there's no point at all creating content around it.
Instagram captions are HUGE when it comes to marketing a product or selling a service, or even getting people to engage with your account. For example, letting people know a service or product is limited is one of the best ways to get people to feel rushed to buy the product. Recently, Uber Eats had a new feature that gives you 5 minutes to get food with no delivery fees – this is a fantastic example of compelling people to rush to get a benefit.
It's very important that you have a strategic method of doing this. You have to be able to give someone a reason for that service to feel limited – in the example of Uber Eats, all the leads that are on the program are actually very warm leads as they all want food delivery. Offering those warm leads a cheaper option has a very high success rate. For your Instagram, since it costs NOTHING for someone to like your photo or comment, it makes it that much easier. Find a way to differentiate yourself and think outside the box in your particular industry, and then drive the point home to try and get people to like your content. This might mean you will have to research, not just on Instagram but on all platforms to understand what people really like.
I hope this article has helped you understand a thing or two about how to get success on Instagram!