Inflact Review
UI Friendly

Inflact Modules

Customer Support
Summary
Inflact is a platform/Instagram assistant that is committed to helping people in finding their target audience, engaging clients, and planning content.
Pros
Great Marketing Tools
AI Powered
Transparent Pricing Options
Secure to Use
24/7 Support Available
Cons
No Trials available
Uses Instagram Bots that might be risky for your account.
Instagram is one of the most competitive social media platforms for E-commerce and big brands that are fighting for clients and consumers. You know there is a target audience on every social media platform and if you can reach out to them you can make them your clients to make sales. Even if you are an influencer; you can land several commercial deals if you have a big Instagram following.
But how do you get followers and reach a wider audience to run a successful business or become an influencer? Well, there are several service platforms available for Instagram marketing and the fast growth of the Instagram account. And Inflact is one of the best among them.
It has become quite popular among the Instagram community because it delivers what it promises. In addition, Inflact has about 51065 users globally. Plus Inflact is one of the few marketing tools that possess AI (Artificial Intelligence) technology that allows it to actively adapt to the Instagram algorithm and allows the users to reach the target audience efficiently.
You may be thinking; what are the services offered by Inflact? Is Inflact worth it? Is it better than all other Instagram growth services? You'll find all the answers in this post.
What is Inflact?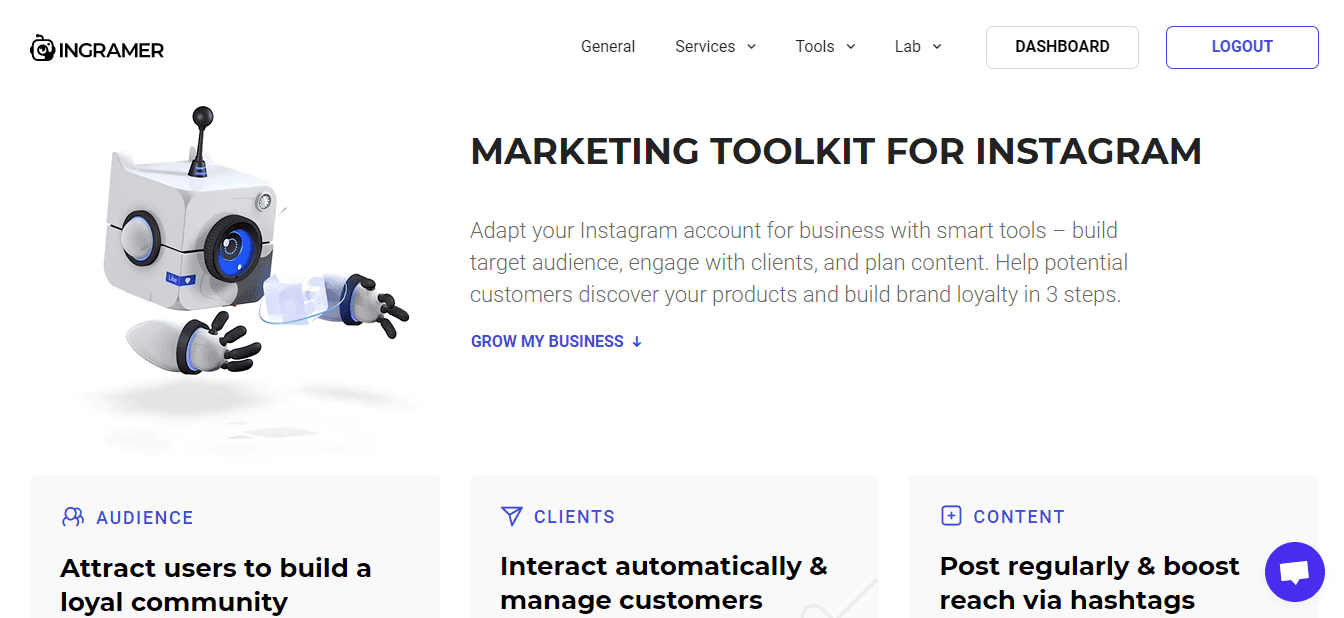 The Inflact is a platform/Instagram assistant that is committed to helping people in finding their target audience, engaging clients, and planning content. It is basically an all-purpose Instagram promotional service platform that allows Instagram users to get real followers and likes by using tools like premium filters, hashtag generators, profile analyzer, and detailed analytic reports.
You can use its tools and service to schedule posts, communicate with clients, and build a loyal following that is interested in your content.
Following is the short overview of the Inflact Review that you might need to know.
Inflact Details
Services offered by the Inflact
Let's take a closer look at the services offered by the AI bot, Inflact to figure out if it's worth it. It has three service modules i.e. Promo Module, Direct Module, and Posting module. Each module targets a particular aspect of Instagram marketing.
Promo Module
The services in the Promo module are focused on building the following of the Instagram profile. It targets the audience and drives potential customers to your profile so you can make sales. You can also easily boost activity on your account with the help of the promo module.
This module will lead the audience and potential consumers to your page with the help of its AI integrated mechanism. It will make sure that people who are interested in your content/ product will view your profile with the help of customizable username, location Gender, and language filters. Inflact is probably the only marketing tool that offers gender and language tools. You can even blacklist some usernames/hashtags to avoid interaction with specific people.
It also allows the users to automate post likes, views, and likes, and comments. In short, this feature helps the users in completely automating the interaction of their Instagram profile and also enables them to build their fan following to sell products.
Hashtag Generator
Using a hashtag is the only legal and authentic way of promotion on Instagram and it works great with its algorithm. This is why it is necessary for users to use the most appropriate and trendy hashtag.
The Hashtag generator can generate Hashtag for a photo, post, URL, or even keyword. You can click on any hashtag to view a detailed analysis of the hashtag i.e. popularity, activity, and the post using it. This can help in formulating a hashtag strategy and choose the most appropriate hashtags for your Instagram posts.
Profile Analyzer
Profile analyzer is one of the most in-demand marketing tools but it is available on Inflact for free. It is a great tool that allows the users to view quite extensive analysis of profiles i.e. number of posts, average user activity of a post/page, top most liked posts, top hashtags, number of followers, top caption, and amount of posts per day.
If you use this feature wisely; you can definitely take ideas and information from some successful Instagram accounts.
User search for Instagram
This is another free advanced Instagram tool that allows users to do an extensive search by usernames, bios, email addresses, names, and phone numbers.
You can also use search filters for profile categories, the number of profiles, and gender.
Direct Module
The Direct Module allows the users to automate messages and chats. This feature enables the users to chat online from several Instagram accounts or send mass direct messages to all of their followers.
Automatic Messages
Users can utilize this feature to send automatic welcoming messages to their new followers. A warm and professional welcoming automatic message goes a long way to engagement.
You can also automate responses for different labels so your clients will receive the preferred answer based on the labels/ keywords. Hence you do not need to check messages again and again; Inflact will generate keyword-based conversation.
Mass Direct Message
Moreover, you can send bulk DMs when you launch a new product to all of your Instagram followers.
Plus the Direct Module services allow people to manage chats of multiple Instagram accounts, label chats with colors, fill in customers' personal details and do "message search".
Posting Module
This tool allows users to schedule as much content as they want. There is no limit so they can upload as many posts/ stories once and then focus on their business. The posts will get published at the scheduled time and the users can also preview their posts to see how they'll look after posting.
Instagram Downloader
Want to download Instagram images, videos, stories, IGTV etc. in a matter of few clicks? Don't worry! Inflact has made it easy for everyone. You can easily download the best top notch content from Instagram right away using its universal Instagram downloader or by using other tools such as Instagram image downloader.
Simply follow these steps to download.
Copy the link of the content.
Paste it into the box
Click the download button
Choose a folder to save the content to
Stories Viewer
Want to check someone story without letting them know? Inflact allows you to watch Instagram stories anonymously. You can save stories IG from any public profile automatically without using any third party application.
Simply write the username in the search bar, hit the search button and there you go. All content will be available in front of you.
Customer Support
Inflact has a dedicated customer support team that can be contacted 24/7 via chat or you can email them at [email protected]. The customer support representatives of Inflact are known to respond as soon as possible. Furthermore, they are very good at solving issues and answering queries.
Is Inflact worth your time and money?

To answer it simply; yes it is. Inflact is an AI integrated Instagram marketing bot that comes with various features that its predecessor and even competitors lack. It uses its AI technology to adapt its services and tools to provide top-notch results.
However, Inflact will only work for you if you know how to use its features and tools to get optimum results. People sign up for it but give up since they can't figure out how to make the 3 service modules work.
So make sure you watch the tutorials and guides available on the Inflact website before you start working.
Comparison of Inflact with Other Instagram Marketing Tools
Now, most of the Instagram marketing tools just focus on one aspect i.e. Grum (it allows the users to schedule content publications) or Hashtag for Likes (it suggests most trendy Hashtags). However, Inflact offers all the marketing features in one platform. It is an all-purpose Instagram marketing tool that actively uses AI technology to deliver better results than all of its competitors.
Hence investing in it is far better as compared to other Instagram Marketing tools. If you opt for other tools; you'll need to use multiple platforms/tools to schedule content, automate chat messages and view profile analysis, etc. Why would you bother with that if you can just invest in Inflact and use its all-purpose marketing services from one platform?
Inflact Pricing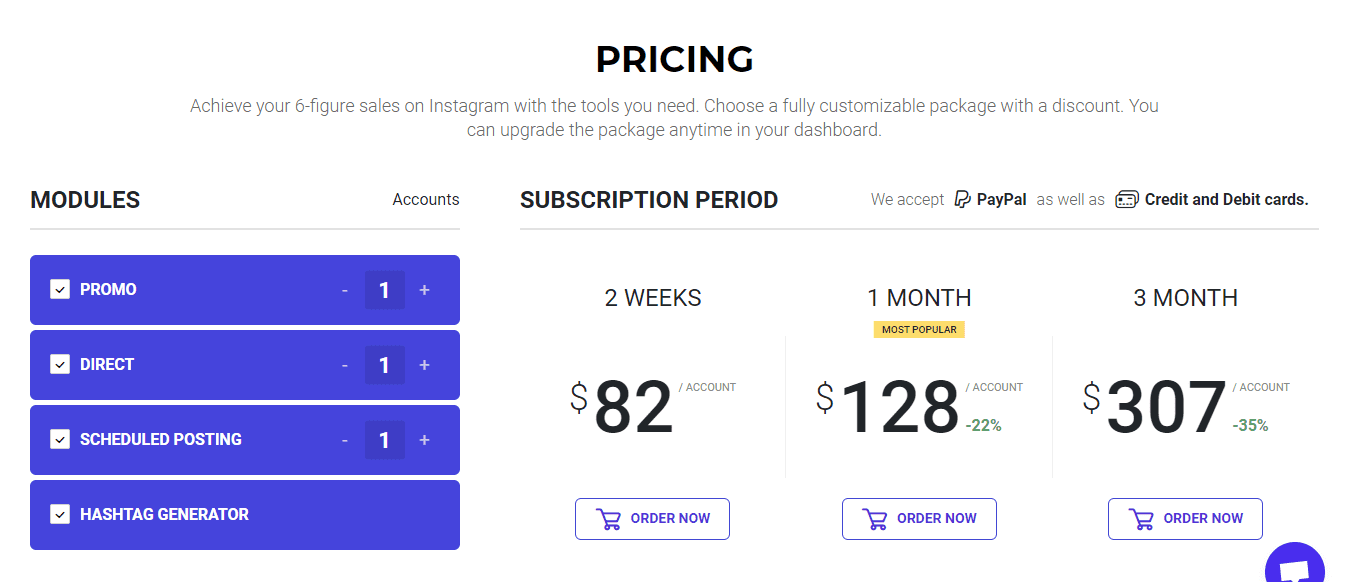 You can buy all the modules for two weeks for $82/ account. However, their most popular package can be bought for $128/ account for a month. If you want to buy a 3-month subscription for all 3 modules then that would cost you $307/ account.
In case you want to buy only one service module, then charges will be different. The Promo Module alone can be bought for $57/ per account per month whereas the Direct Module can be bought for $29/account per month and the Posting Module costs $18/ account alone for a month. You can just buy one module to try it out initially and then buy all of them later if it works for you.
Wrapping Up
Inflact is worth your time and money. It is the only multifunctional Instagram marketing tool that delivers what it promises by providing different types of service modules, professional customer support, and AI (Artificial Intelligence) mechanism.
If you utilize its services properly; you'll see positive results very soon. So it's time to invest in Inflact and get followers, likes, customers along with sales. Do not hesitate, you can only make revenue if you make smart investments and then use them to the fullest to your advantage. So what are you waiting for?
Therefore, in light of my experiences, I'll definitely recommend Inflact to all people who're looking for the best reliable hosting for their websites.
Buy the Inflact services, build your Instagram profile, and make the revenue you always wanted to make. Good luck.
If you've still got any doubts about choosing Inflact, go check out other Inflact Reviews from people who have already experienced this application and find out what they are saying.
At Trendstorys.com, we aim to provide honest reviews to our users to help them make the right decision.