ImgDownloader Review
Free to Use

Bulk Image Downloading

Safe & Secure
Summary
The easiest way to download images from any website, Google Image, Pinterest Image, or Instagram profile! Just copy and paste the URL to get all photos right away.
Pros
Convenient to use.
Bulk downloading is available without any subscription.
Download bulk images from any website, Instagram, Google, Pinterest, etc.
User privacy is strictly concerned and monitored.
Subscriptions can be canceled at any time.
24/7 support available
Cons
Instagram bulk downloading is only available for paid users.
Considerably new in the market but worth it.
Instagram is included among those websites that are widely used for socializing. People from all over the world share their videos, pictures, and vlogs to entertain their community. Being a user what if you want to download any of the shared videos or pictures to enjoy watching it later?
There are plenty of image downloaders available for this purpose. But most people simply don't like to download them. Instead of they rely on online browsers. Today we will introduce the best image downloader that allows you to download pictures and videos according to your need.
Sometimes we need a picture for education or business purposes. For example, most of the content creators on YouTube simply take pictures from the internet and add them to their videos. But what if you desire to download a bulk of images for your school project and you are already running short of time? Downloading a picture one by one from chrome and Pinterest can be hectic.
So what's the solution to these listed problems? How the job can be done without any hindrance? Here we go!
ImgDownloader Review 2021
So here is a simple solution. You can use image downloaders for chrome and Pinterest available online and as well as in the form of applications.
The truth is most of the tools claim that they do their job best. But none of them is too good in its performance. After analyzing and searching, we have found the best image downloader for all the websites. ImgDownloader is an advanced yet easy tool to be optimized to download the bulk of images at a time.
A time-saving tool is available on the internet. You can use it just by visiting their website. Steps are not too complex to be followed. They are simple and easy.
ImgDownloader Details
Website Name

: ImgDownloader

Founded In

: 2021

Pricing

: Free to Use but do have the Pro Plans.

Payment Methods

: VISA/MasterCard, Discover, American Express, PayPal, etc.

Support Email

:

[email protected]

Website

: https://imgdownloader.com/
Features & Advantages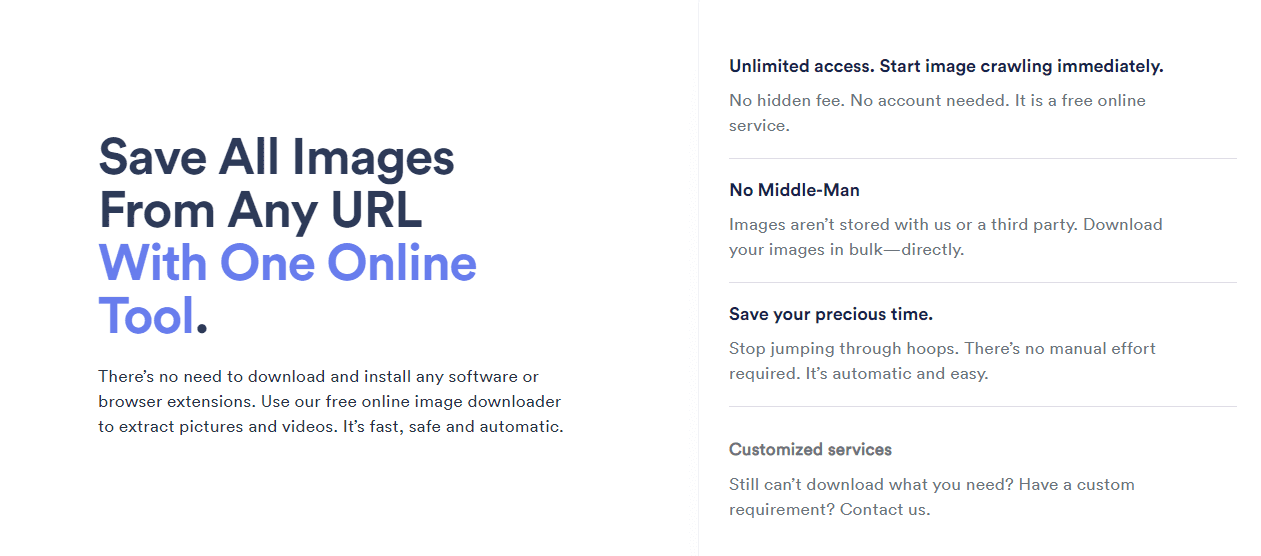 Following are the benefits they provide to their users.
Easy to use.
No need to register yourself to download images.
You don't have to download it to your PC or add it as an extension to your browser.
No third party insolvent between the user and the website. Which means the website is safe and secured.
In case of registration, the user's sensitive data will remain confidential.
Once the downloading process started, you don't have to put in any effort as the rest of the procedure is automatic.
The website is open to any person and can be accessed free of cost to download the bulk of the images from any website.
In case of any difficulty, their customer support team is available.
In the free version, imgdownloader is providing enough services to help users across the world in the best possible way.
How to use ImgDownloader & what can we do with this single tool?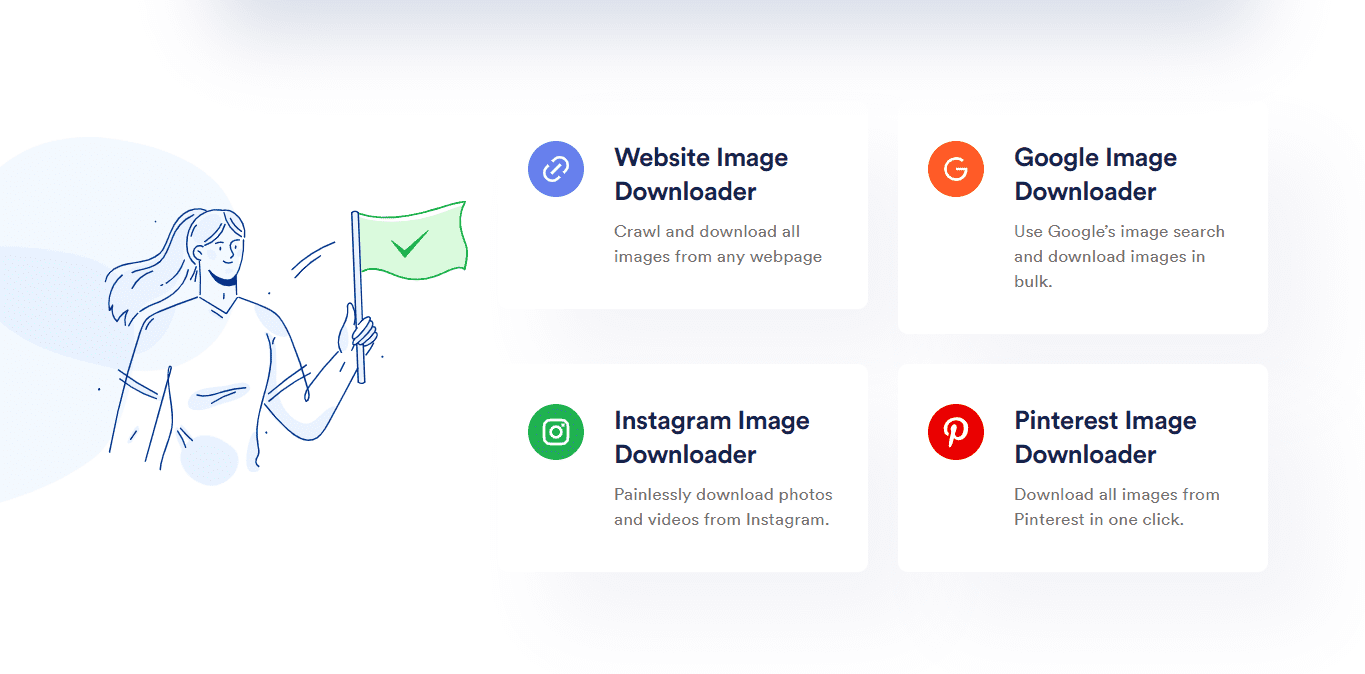 After having a quick review about its features and advantages you probably wanna know how to use this amazing tool?
The steps are pretty simple. Follow them one by one.
Visit the URL https://imgdownloader.com/ to open the website.
To download an image from Instagram or any other website, locate your requested option on the screen and click on it.
Then paste the copied URL of the desired video, audio, or picture into the box.
Press the search button.
Fetched results will be shown on the screen in no time.
Click on the download button to download it.
For google images, write the targeted keyword in the box, the bulk of the images will appear.
Press "download all" for bulk download.
For a single image, click on the "download" of the desired image.
What makes ImgDownloader differ from the others?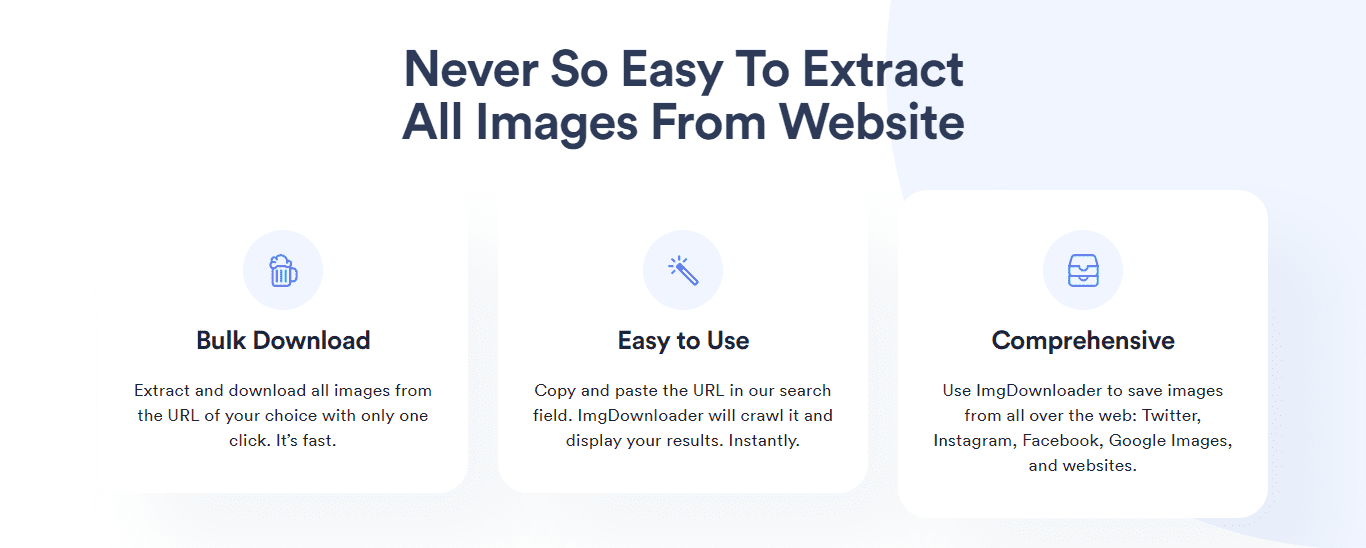 You have already known about the different downloaders. To access the features of those image downloaders you need to install them on your device. If the service is providing online like online browsers, it is demanded from the service provider to register your account first.
The plus point of optimizing IMGDownloader you have a direct approach to their services. Without adding an extension to your browser or registering your account, you can utilize their free image downloading service for any website. For content creators, bulk downloading is an additional feature.
The other alternative solutions are Tab save and Tools Bug for bulk downloading.
ImgDownloader Pricing & Plans
Currently, they are providing three packages at reasonable prices:
By creating a free account, you get access to their all basic features. And the exciting thing is that whether you register your account or not their free features are open to everybody.
What will you get? 8 credits as well as the opportunity to download 50 images for bulk downloading each time. But a single image can be downloaded only from Instagram which is not very provoking but still beneficial.
Premium package comes with a variety of additional services. You can cancel the subscription at any time if you want.
By signing up to their premium account, for 9 months you will receive 100 credits with 200 images for bulk downloading. Moreover, by having a premium account you can unlock the aesthetic feature of bulk downloading for Instagram as well.
As a pro user of IMGDownloader, you have the permission of 400 images for bulk downloading with 400 credits for 19 months. The rest of the subscription plan is as same as the premium one.
It doesn't matter which subscription plan you are subscribing to, customer's email support is available 24/7. But for free users, it is acquirable 24/5 a week.
Conclusions
There are thousands of image downloaders available in the market but trust me none of them is as trusted as ImgDownloader is. the best part is that the tool itself is not storing your images at the server which is quite fascinating.
Therefore, in light of my experiences, I'll definitely recommend ImgDownloader to everyone, who faces difficulties in downloading images in bulk from Instagram, Pinterest, Google, etc.
However, if you still have any doubt go and use it by yourself. Or else, read the reviews of the users about the ImgDownloader. Your trust will be built in no time.
At Trendstorys.com, we aim to provide honest reviews to our users to help them make the right decision.