Google is an American multinational company which is known for its internet-related services and gadgets and is considered as one of the four biggest technology companies among amazon, apple, and Facebook. Larry Page and Sergey in 1998 founded Google. Initially, Google was established in California later on it was incorporated in Delaware in October 2002. Scott Hassan was unofficially part of the company as he was involved in coding of the search engine. Google has always helped search for information and made things easier for us. Initially, Google was only known as a search engine, but over time, it had made several gadgets to make our work easier. One of the gadgets that are getting popular nowadays is Google Chromecast.
Google Chromecast is a hardware dongle device that enables you to stream media to your televisions wirelessly. A Chromecast needs a power supply and an HDMI connection to connect to the device. Chromecast is a streaming media adapter that allows the user to stream online. Chromecast gave fierce competition to other streaming devices like Roku's Streaming Stick and Apple TV. Chromecast can stream content from Netflix, Hulu, youtube, google play, and the chrome browser.
The first version of chrome cast was launched in 2013, the second model in 2015 and the third model was introduced in 2018 with an updated design and speedy processor the latest model is Chromecast Ultra. The gadget has no remote control; you need a smartphone or tablet to stream content.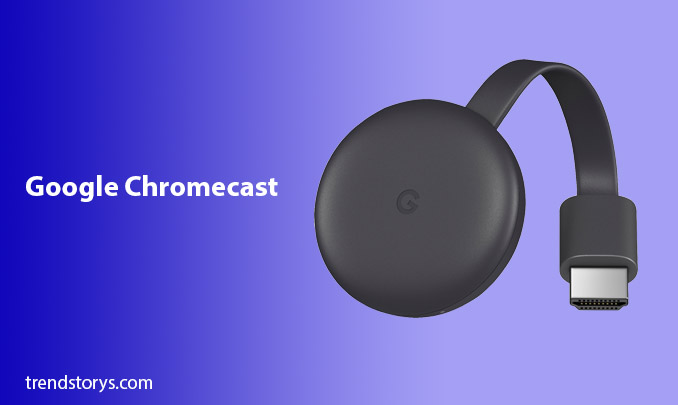 HISTORY:
Engineer Majd Bakar initially introduced Chromecast. In 2011 Bakar joined Google joining Google to work on products that change the way of streaming and device was launched in July 2013.
FEATURES OF FIRST GENERATION:
2.83 inches length
512 MB RAM
2GB flash storage
built-in HDMI plug
launch price 35 $
34g weight
FEATURES OF the SECOND GENERATION:
the cable was flexible and magnetically attached to the device body
1.2 GHz processor
512 MB RAM
256 MB of flash storage
Price 35$
39.1 g weight
FEATURES OF THE THIRD GENERATION:
supports 1080p video
does not support 4K video
Price 35$
40g weight
FEATURES OF CHROMECAST ULTRA:
works well with google home
powerful processor
2m long power cable
video is Up to 4K Ultra HD over HDMI
OPERATIONS:
Chromecast has two ways to stream content, firstly uses mobile and web apps supported by google cast; secondly by allowing Google Chrome to mirror the content running on pc. However, in both cases, playback is initiated through a cast button.
STEPS TO OPERATE CHROMECAST:
To operate Chromecast follow the steps mentioned below:
Connect iOS or Android device to the Wi-Fi network
Access the Openfit app, where you will see the Cast icon at the top right-hand corner
Tap the Cast icon to play by connecting to your Chromecast
HOW TO CONNECT CHROMECAST:
To connect Chromecast to your tv, you must have a Wi-Fi system already setup. By using a wireless router, we can stream from mobile, stream from the internet or use it as local storage. After connecting the chrome cast, it is not necessary to keep the application open, and we can use the phone for multiple purposes.
CONNECTING CHROMECAST WITHOUT WI-FI:
In an Android device, you can use your Chromecast without a Wi-Fi connection. The process is the same as connecting through Wi-Fi. The device will look for Chromecast that you want to connect, by entering four-digit code that will appear on your screen your device will establish a connection.
PROS:
portable
multitasking
cheapest streaming device
CONS:
no remote may lead to some difficulties like changing volume when your phone is another room
cannot record shows
slow boot time
Google never failed to amaze its user, and there are still researches going for the advancement of Chromecast. There would be a better form of Chromecast in the future with more advantages.