Glorify App Review
$12.99
Variety of Templates

Design Tools

Value for Money
Summary
Glorify App is an all-in-one design tool specifically made for ecommerce business owners to help them create stunning product images for better conversions.
Pros
UI Friendly Interface
Powerful design tools
Tons of resources for creating designs
Free trial available
Affordable pricing rates
Glorify Academy to help you get started with creating designs.
Affiliate program available
Priority support
Cons
New in the market
New features aren't available yet but they'll probably release soon.
Are you an entrepreneur who is running eCommerce businesses?
Having fewer conversions on your products?
Don't have engaging product images to grab your users' attention?
Want to design beautiful, attractive, and highly engaging product images for your eCommerce websites?
If yes, then you've surely landed on the right place as today we're going to review Glorify App, a platform specifically designed to provide entrepreneurs with an easy and enjoyable way to create stunning product images and marketing assets through tons of templates, and editing tools. All this in a few clicks.
Many people who have a website and want to sell products or services, do not realize the importance of having high converting eCommerce images. Images are one of the most important aspects when it comes to selling products online because people remember images instead of words. Images can be found everywhere on the web. You will find them on product packaging, advertisements, and even promotional material. This means that there are endless opportunities for you to increase your sales by including images on your website or blog.
So, if you want to create attractive images for your products and you came here with the intention of having a Glorify App review to know if it's worthy or not, then stay with me and keep reading the entire Glorify App review to find out how it is way better than Canva.
Glorify App Review 2020

Glorify App is an all-in-one design tool specifically made for ecommerce business owners to help them create stunning product images for better conversions.
In the world of ecommerce, graphic designing for a company can be the difference between success and failure. In order to make a good graphic design for a product, you need the right skills and experience in the field.
But what if you don't have graphic designing skills to create images for your ecommerce products?
Don't worry! Glorify App has got you covered since it is one of the best designing tools and probably the great alternative to Canva because it mainly focuses on designing images for ecommerce products.
Following is the short overview of the Glorify App Review that you might need to know.
Glorify App Details
Company Name: Glorify App
CEO and Co-founder: Omar Farook
Founded In: 2019
Payment Methods: VISA/MasterCard, American Express, PayPal, etc.
Pricing: $12.99/MO & $37.99/MO for Pro and Business plan respectively.
Affiliate Program: Starting at 30% commission for every sale.
Support Email:

[email protected]

Website: https://www.glorifyapp.com/
Why is Glorify App Worth Using?

Want to turn your eCommerce business into a money-making machine?
Yes, Glorify App can help you achieve your goals.
Each buyer who lands on your store to buy a product tends to look at its image first and that's where he decides by looking at the appearance of the product and how it is presented.
I have seen many people who get impressed just by seeing images of the product and this eventually turns them into buyers.
But the majority of eCommerce business owners fail to get sales because of the poor presentation of the products.
To overcome this problem, Omar Farook, co-founder at Glorify App, made this amazing application to solve the problem of many users, helping them create stunning images for their products.
The key is to use the images that best represent your business, your company, and your brand. If you do this you will be able to build a store that will be recognized and sought after by customers.
But where to choose the best tool for your eCommerce business?
You can find the right companies that offer the services that you need, but you have to be smart about choosing them. A good graphic design tool can help you figure out exactly where you should go for the best graphic design tools.
Glorify App is all you need to run an eCommerce business. It is an easy-to-use design tool made for entrepreneurs and eCommerce business owners to create eye-catching images for the products.
It has tons of thematic templates of all sizes available to choose from according to your product niche. Moreover, features like Background remover, Image effects, Shadows and reflections, Logo maker, branding, etc. is everything you need to design awesome pictures.
Let's discuss all the features of Glorify App in a little detail.
Glorify App Features
Glorify App provides its users with endless benefits to help them generate awesome results.
Some of the highly known features are as follows:
Image Editing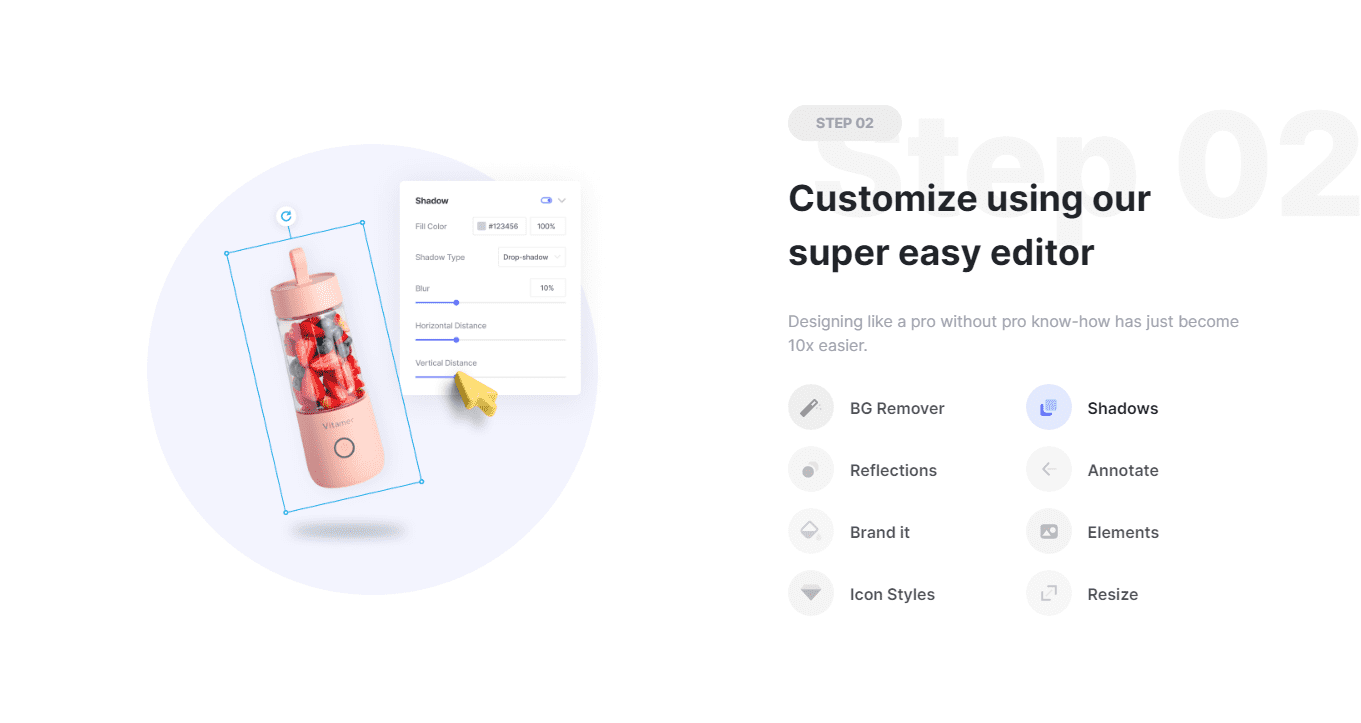 Glorify App is the only place where you get endless possibilities of creating and editing your product images with various editing tools which are as follows:
BG Remover

Shadows & Reflections

Image Effects

Smart Resizing

Annotate

Elements

Niche & Theme Selection

Branding

Logo Maker 1.0

And many etc.
You can easily remove backgrounds, add shadows, reflections or effects to your product images. This will give your images a professional look. Depending upon your product niche, there are a bunch of different templates and designs available to choose from.
Moreover, GlorifyApp gives you access to its logo maker which allows quick and effective logo creation, access to brand fonts, brand colors, etc. for creating unique designs.
A good thing about Glorify App is that it saves all your files in its cloud so you can access your files anytime and anywhere in the world.
And guess what? That's totally free. 😉
In the coming days, Glorify App has been working on introducing new editing features to its users such as Package designing, Mockups, Animation, Logo maker 2.0 (new and improved version), Print templates, 3d viewer, and batch processing (for processing multiple designs at once).
Stock Library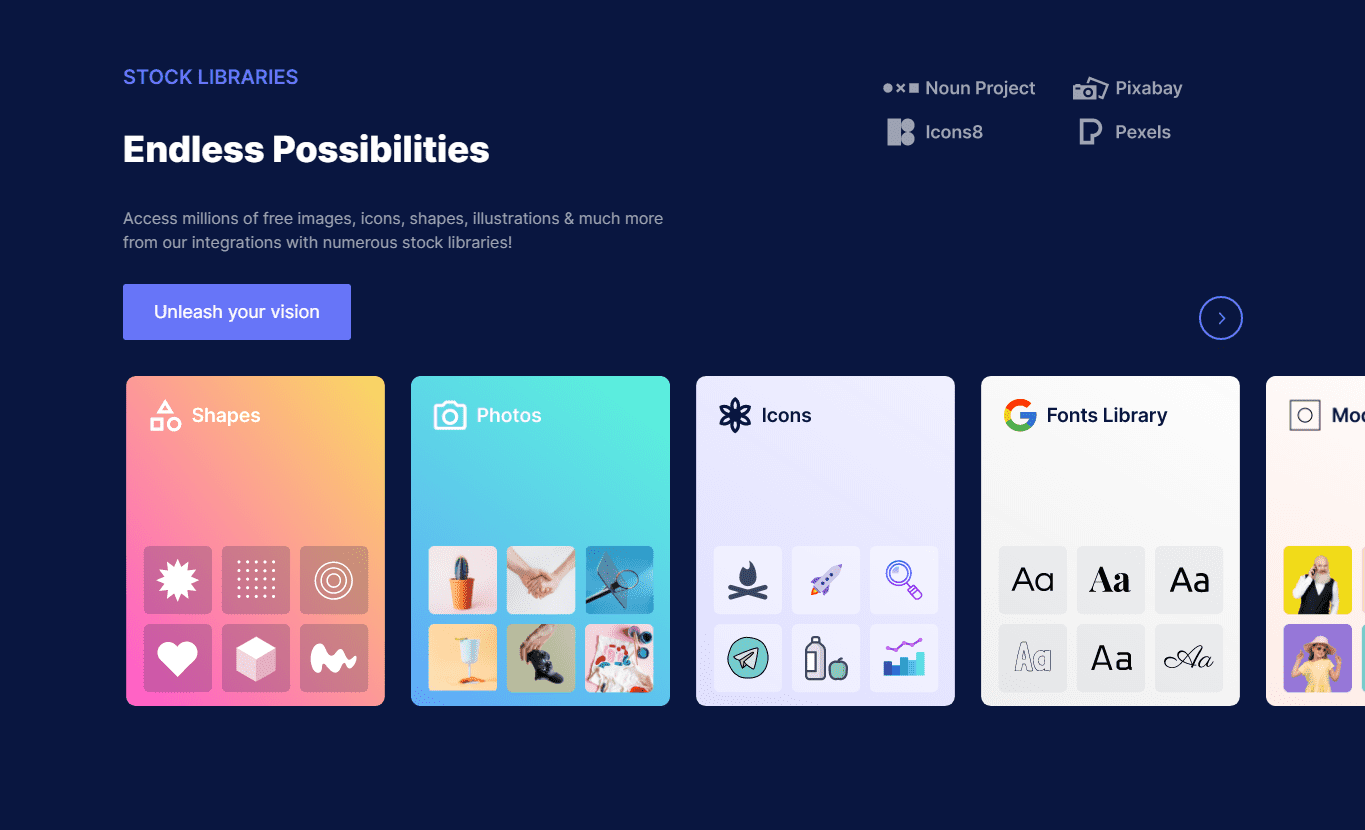 To make your product images stand out, Glorify App rewards its users with the stock libraries that contain almost everything required to create quality images.
The stock library contains royalty-free photos to use for designing eCommerce product images to the fullest.
Moreover, the shapes, Icons, Color pallets, Google fonts, Visual effects, and real human models to better express your product.
Collection of Templates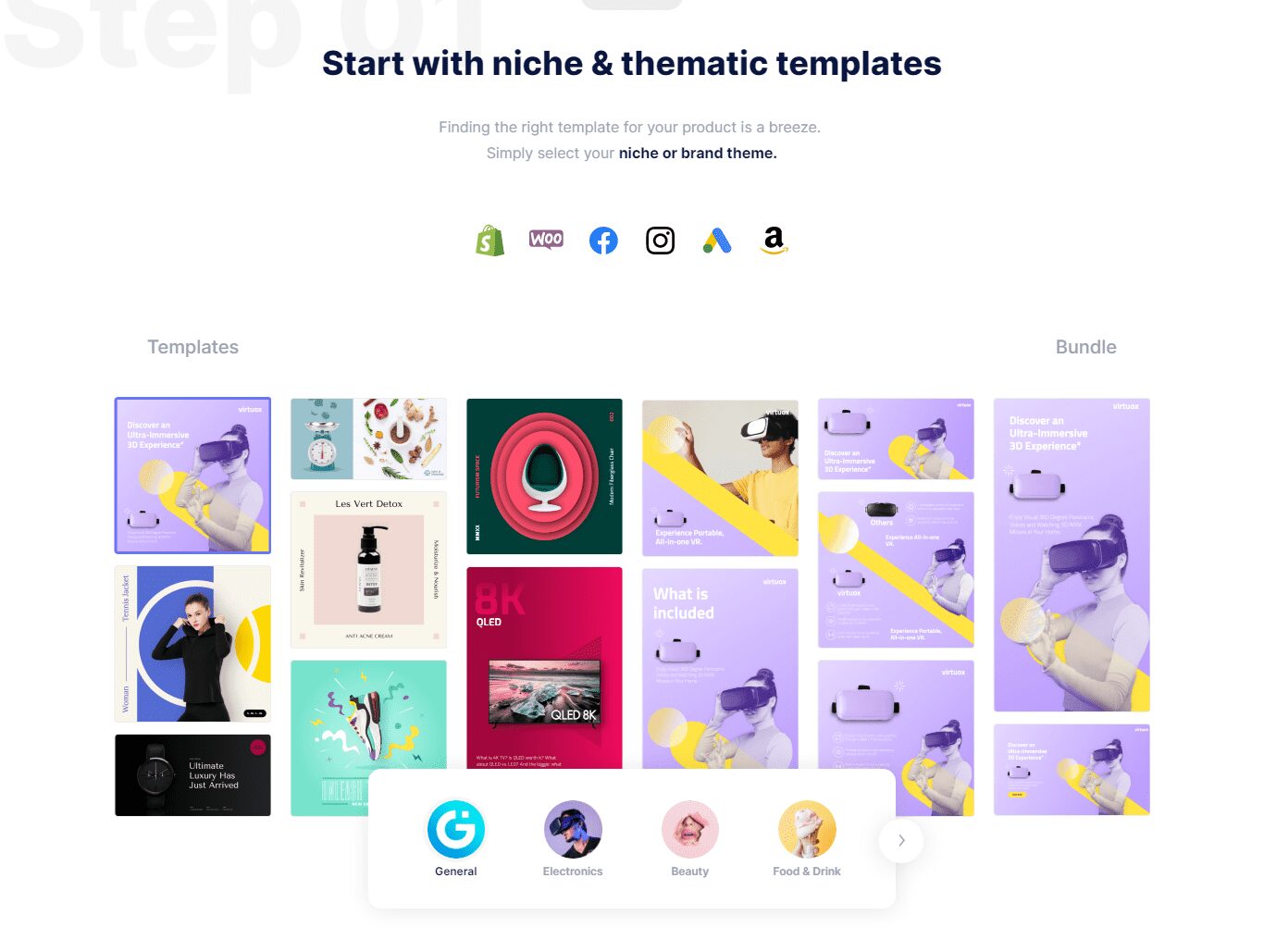 Glorify App has thousands of professionally designed templates to help you get started with designing different marketing assets such as :
Social media covers

Social media posts

Video thumbnails

Paid advertising

Headers for website, email, or blog

Page content

eBooks

Marketplaces such as Fiverr, Amazon, etc. (Coming Soon)
You can use these pre-designed templates and edit them to create stunning designs easily just by doing some little tweaks.
All these templates come with the standard sizes required by each platform, and this includes Facebook covers, Twitter images, square posts, stories, header for websites, and most importantly eCommerce product listings.
Learn, Create & Grow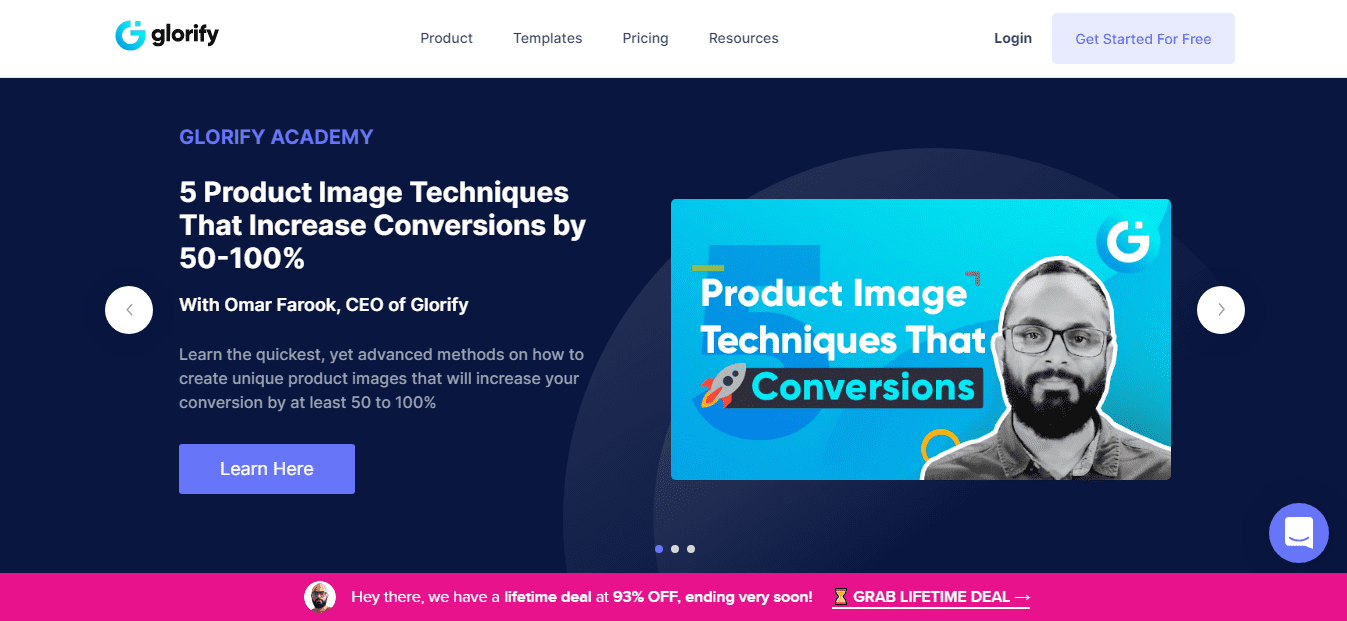 Don't know how to create stunning designs?
Having difficulties using Glorify App even with its extremely user-friendly interface?
Want to learn everything related to creating designs using Glorify App?
Don't worry! Glorify App has again got you covered. They provide an ongoing stream of resources for their users through live webinars, eBooks, Podcasts, etc.
They even have planned to launch an academy with several designing courses for building a business rapidly.
Glorify App Pricing & Details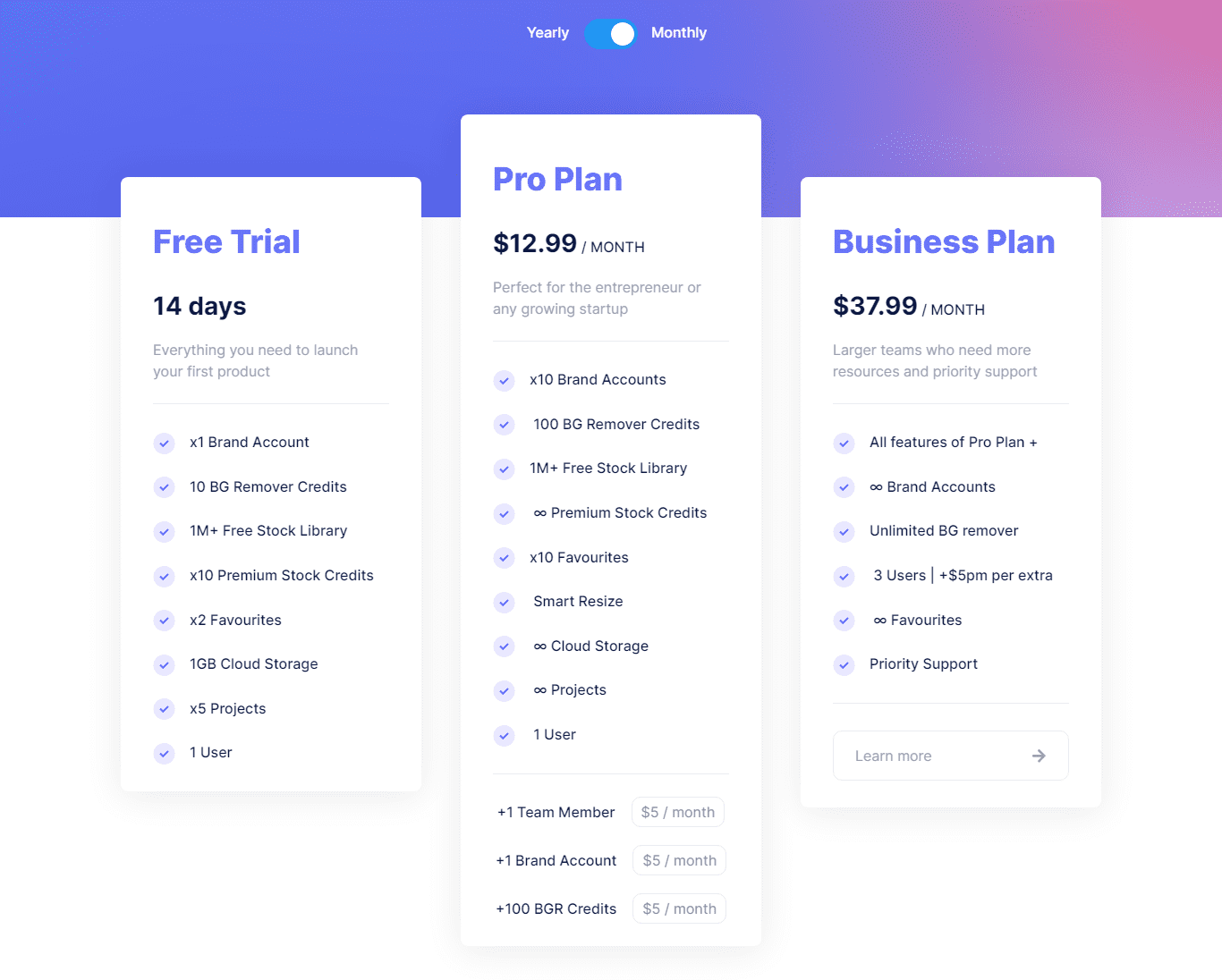 Glorify App is basically a paid web-based application for which you need to buy a subscription to use it for your eCommerce stores. However, to care about its users, they do have a trial period of 14 days (almost half a month) which is more than enough to test out the software.
The Pro plan has a price of $12.99/MO. However, if you want a subscription for a year, you can buy it for 119.88/year, saving $36.
Glorify Business plan costs $37.99/MO that contains all features of the Pro plan adding some additional benefits such as unlimited brand accounts, unlimited BG removal, and priority support, etc.
See the detailed plans here.
Glorify App Free Trial
Glorify App allows its users to test their application for a trial period of 14 days which is quite enough to get satisfied.
However, the free trial has some restrictions with limited features but that's totally fine since you aren't paying anything for that. Moreover, those features are quite enough to test the quality and performance of Glorify App for your eCommerce business.
Glorify App Lifetime Deal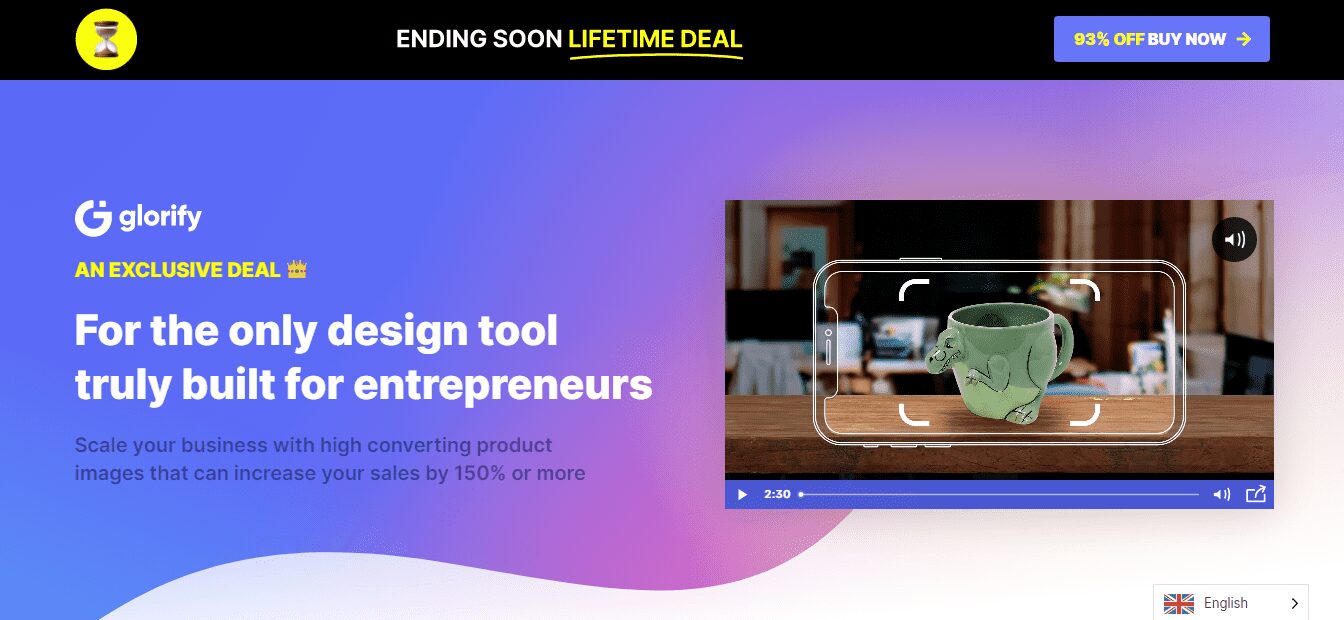 Loving Glorify App but having difficulties paying each month?
Struggling with maintaining a budget for Glorify App?
If yes, then why not buy a Glorify App for life?
They have an amazing deal that lets you buy a Glorify App for life. You just have to pay the amount once and then you can use it for a lifetime without paying any bucks each month. Click here to access this limited deal.
If you're a single user who wants to use Glorify App for maintaining your eCommerce business, you can go with the "Pro Solo" plan that costs $97 only but is limited to 1 user.
There are two other plans available as well depending upon the requirements. "Pro Startup" & "Enterprise" cost $197 and $397 respectively.
If you have a large team and don't want to get into any trouble of limited resources, then you should simply go for the Enterprise plan that costs $397 (One Time Payment) and you're good to go for life 😉
Glorify App Vs Canva
Many users question which is better? Canva or Glorify App?
We all know that both are graphic designing applications and there is no doubt Canva is really good for creating stunning designs that allow you to create almost anything.
However, the main difference between Glorify App and Canva is that Glorify App is completely focused on only one goal, to help entrepreneurs and eCommerce business owners to sell products more effectively.
Basically, Glorify App is more focused on designing products for eCommerce. Canva fails to provide such specific features that Glorify offers to its users which is the reason it stands out in the online market.
Do I Recommend Glorify App?
To be very straightforward, Compared to Canva, Glorify App will be the best choice ever you'll make to create designs for your eCommerce products.
The reason behind this is because it provides tons of different options for designing purposes. If you don't want to spend money on Glorify App, you can simply go for Canva since it is a free tool for everyone but it won't offer you the exact requirements for your business design needs. Spending a few bucks on Glorify App will save you from a lot of problems and help you grow your sales.
Glorify App is the best option for people who don't want to waste their time creating designs on complex tools like Adobe Illustrator or Photoshop.
Therefore, in light of my experiences, I'll definitely recommend Glorify App to all people who're looking for the best design tool.
If you've still got any doubts about choosing Glorify App, go check out other Glorify App Reviews from people who have already experienced this application and find out what they are saying.
At Trendstorys.com, we aim to provide honest reviews to our users to help them make the right decision.