Scheduling Efficiency

Content Finder

Value for Money
Summary
FPTraffic is a social media marketing tool that lets you manage posts in your Facebook pages, Facebook groups, Tumblr, and Twitter accounts.
Pros
Unlimited Social media Profiles
14-Day Free Trial
Advanced Content Manager
Efficient in Scheduling
Affordable plans
100% Refund if you aren't satisfied with the results
Cons
Have limited platforms for scheduling posts
Tired of managing your social media posts?
Don't have enough time to post content on social media platforms such as Facebook, Twitter, Tumblr, etc.?
Want to automate the process of posting without doing all work manually?
If yes, then you've come to the right place as today we're going to do FPTraffic review, which is an online social media marketing tool that schedules a month of content in less than 30 minutes.
The use of social media has increased dramatically over the past couple of years. As a result, social media companies have had to increase their services in order to keep up with the demand for their products.
Social media scheduling is one such service. As the name suggests, this service allows you to schedule your social media postings on a regular basis. You are in control of when you post and who you post to, allowing you to better manage your social media accounts for maximum results.
You are in charge of how often you want to post to your social media accounts. You may choose to post every day, weekly, monthly, or any other interval that works best for you. Additionally, you can also schedule multiple social media postings at once. Now, with a good social media scheduling program, you can run your social media account more efficiently around the clock.
So, if you want to manage your social media pages effectively and came here with the intention of having an FPTraffic review to know if it's worthy or not, then stay with me and keep reading the entire FPTraffic review.
FPTraffic Review 2020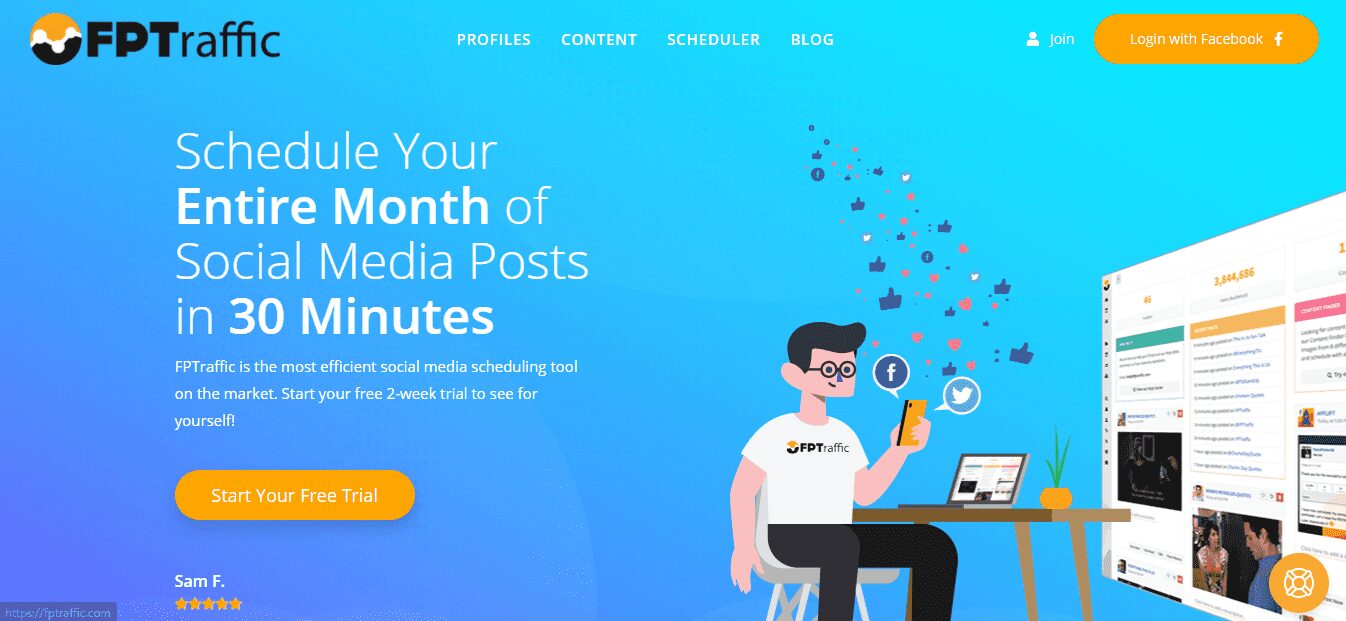 FPTraffic is a social media marketing tool that lets you manage posts in your Facebook pages, Facebook groups, Tumblr, and Twitter accounts.
It offers a powerful tool for managing and scheduling your social media profiles. Many users are reporting great results with using the tools provided by FPTraffic. The website allows you to schedule posts to all of your social profiles, which allows you to manage them more effectively. It will also allow you to manage and view your social media pages in real-time to ensure that you're able to schedule postings to them at the right time.
It allows you to track the performance of your PPC campaigns in real-time and makes recommendations based on the data. You can either opt for rich content or videos or simply use your personal content that fits your page requirement and make posts accordingly. You can even insert affiliate links or other relevant links into your posts and schedule them according to the content's relevancy.
Following is the short overview of the FPTraffic Review that you might need to know.
FPTraffic Details
Company Name

: FPTraffic

Founder & CEO

: Luke Kling

Founded In

: 2013

Payment Methods

: VISA/MasterCard, American Express, PayPal, etc.

Pricing

: $10/MO and $100/Yearly

Affiliate Program

: 30% recurring commission for every person referred

Support Email

:

[email protected]

Website

: https://fptraffic.com/
How FPTraffic Works and Why It's Worth Choosing?
When you choose FPTraffic and take advantage of all of its features, you get a complete traffic management system in one package. Social media management tools work best in conjunction with FPTraffic because you can't manage everything effectively by yourself. FPTraffic will help you to schedule and create your streams.
"Your posts are automatically scheduled" is perhaps the single most important feature on this FPTraffic check, isn't it? By setting up when your streams will run, you'll ensure that they are always posted at a certain time. This means you'll never have to guess when they'll show up again, allowing you to maintain a higher level of productivity. First, however, you must add the times when you want your posts to show up.
There are a number of ways to do this, and it's often best left to FPTraffic to handle the rest. From the main menu, go to scheduled posts. Select the times for each of your posts that you'd like to schedule. Depending on the number of people who will be viewing your page, this could range from once per day, to hourly, or even daily. Once you've set the times, you'll be good to go.
Once you're done setting up times, you'll need to find places where you'll post them. FPTraffic allows you to post your content anywhere you'd like. This includes your Facebook, Twitter, Tumblr accounts, as well as any other social sites that support FPTraffic, such as Google's Chrome. You can also choose to syndicate your posts, which is useful if you own multiple blogs or websites.
The FPTraffic dashboard shows the overall performance across all the various campaigns that you have run. You'll get the detailed analytics of each Facebook page, profile, or any other platform account that you set up. If you are an internet marketer and do not know how to monetize your Facebook Page, you will find FPTraffic incredibly useful for tracking, managing, and organizing your social media marketing efforts.
FPTraffic Features
FPTraffic provides its users with various benefits such as managing unlimited profiles, scheduling content, finding new content using its content finder module to explore new and unique content for their pages.
Let's discuss all these features in a little detail:
Managing Unlimited Profiles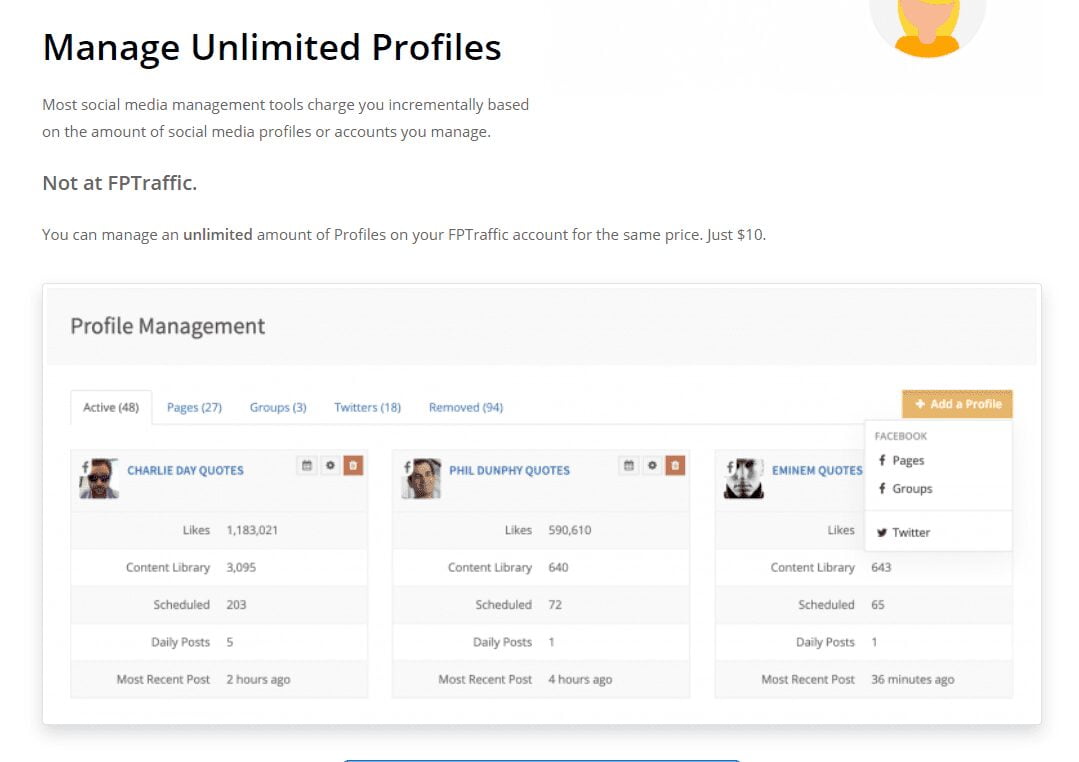 Yes, you heard it right!
FPTraffic allows you to manage unlimited social media profiles which is really great thing to consider since its alternatives don't allow or charges extra for additional profiles.
With FPTraffic, you can manage the following social media profiles:
Facebook Pages
Facebook Groups
Twitter
Tumblr
I know they're less but FPTraffic promises to provide more platforms soon.
Content Manager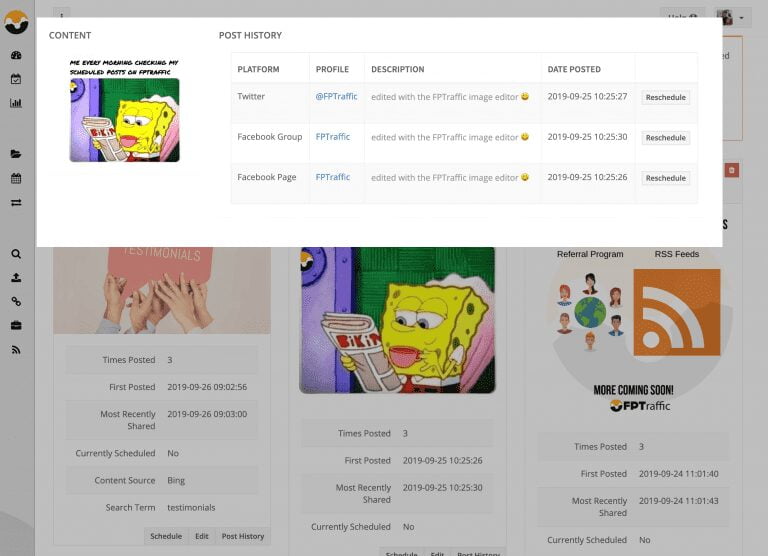 Another great feature of FPTraffic is managing your social media content, helping you find new content ideas, scheduling the content, editing and analyzing content, etc.
FPTraffic manages all your content in its content library where there is no limit to adding all your posts.
What I like about the content library is that you can easily have a track of your content of how many times it has been posted? When the content was first published? When it was recently updated? Or if it's currently scheduled for post or not.
In this way, this really helps to have a track on post history.
It's not over yet!
If you don't have any content to schedule, don't worry! FPTraffic has again got you covered since its content finder helps you to find a billion pieces of content across popular content resources such as Bing, Reddit, Amazon, Tumblr, YouTube, Giphy, Flickr, eBay, etc.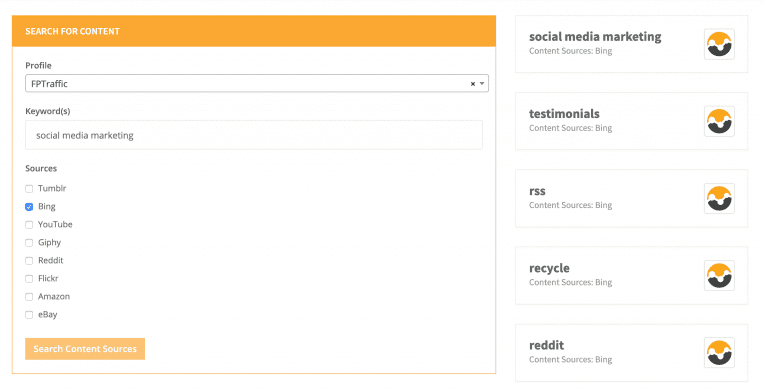 Once you have the content, you can either schedule it directly or can edit the content using FPTraffic easily. This means you don't need to edit the content using any other complex tool like photoshop etc. This includes Filtering, Resizing, Cropping, Transforming, Drawing, Adding text, Shapes, Stickers, Frames, etc.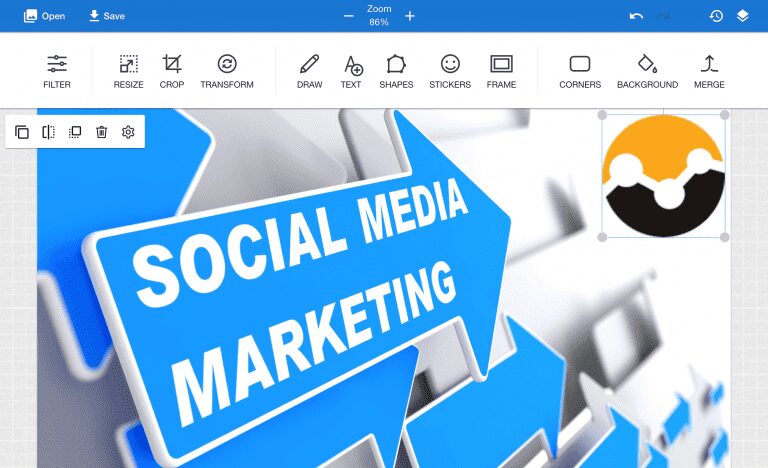 Scheduling Posts
So how FPTraffic differentiates from other social media scheduling tools?
Well, there are various other tools available on the internet that promises you to schedule your posts effectively but none of them are as efficient as FPTraffic is.
You can easily schedule your posts for one month in just a few minutes.
Doesn't it sound cool?
Moreover, you can upload content in bulk using in two ways; either using its URL scheduler or Photo uploader.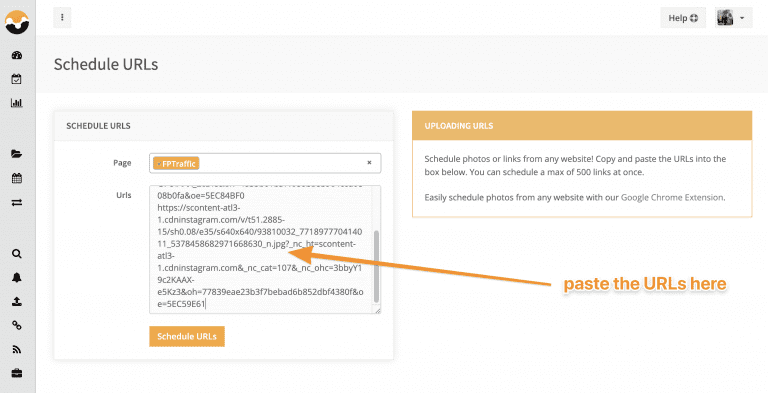 With the URL scheduler, you can upload up to 500 links at once. The FPTraffic scheduling tool will automatically detect if its image link or website link and schedule it accordingly.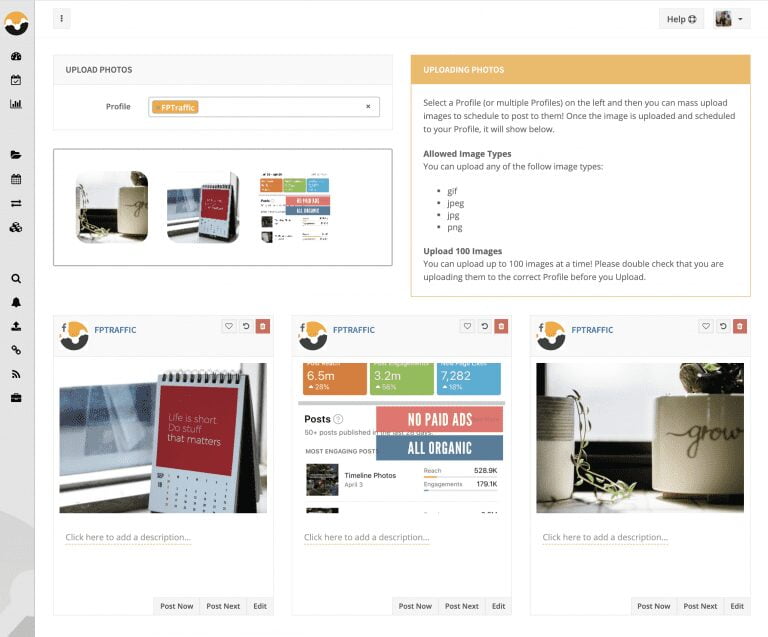 With Photo uploader, you can upload your whole folder full of photos to schedule at a one go for the selected profiles.
FPTraffic Pricing & Details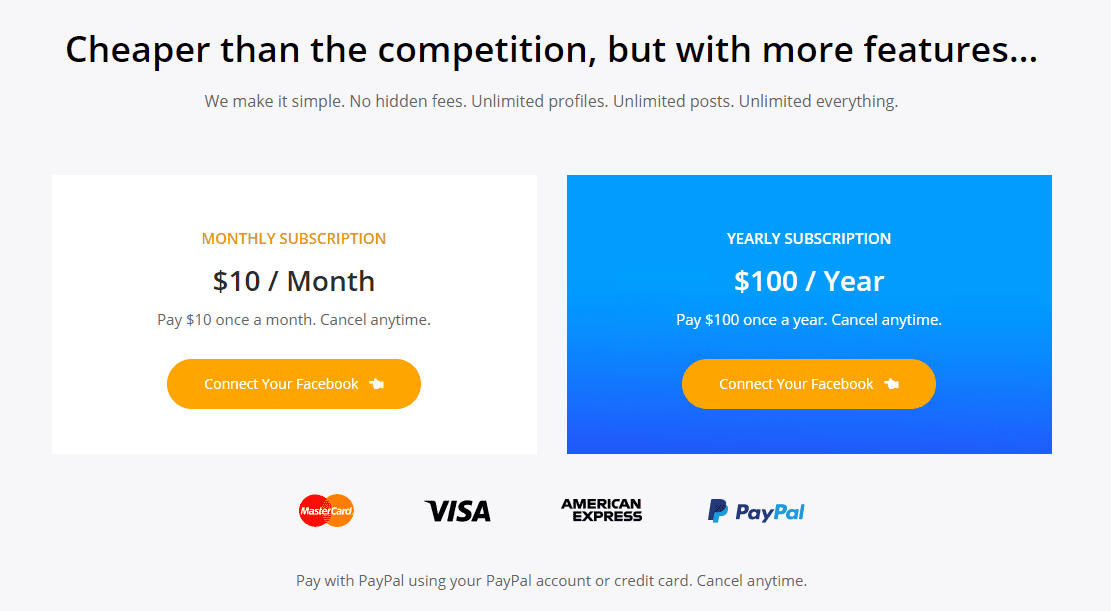 FPTraffic takes a small fee of just $10/MO while providing all premium features that others fail to provide or charge more that isn't affordable for all users.
You can even buy a yearly membership for $100/Yearly and can save 20$ but I'll suggest going with the monthly membership and see if it's giving decent results or not. Once you're satisfied with FPTraffic, then you can buy the yearly membership 😉
The payment methods for buying membership are VISA/MasterCard, American Express, PayPal, etc. A good thing about FPTraffic is that if you're not happy with the content, you can simply ask for a refund within 30 days.
FPTraffic Free Trial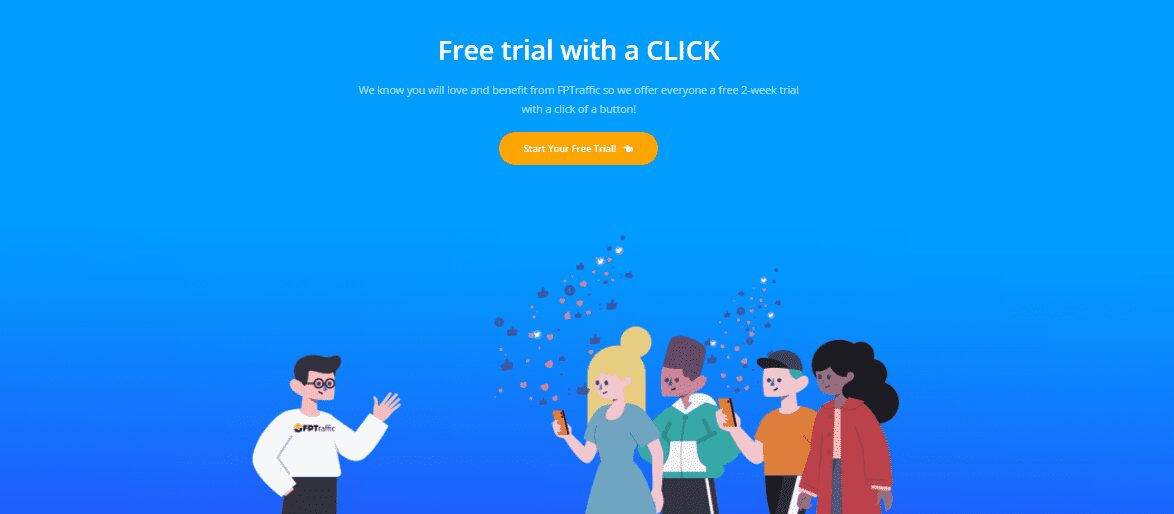 Of course, everyone loves to get a free trial of every paid tool for testing purposes. But not every tool provides you a free trial. However, FPTraffic never fails to amaze its users as it provides you 14 days free trial with all the premium features without any kind of limitations.
Upon the creation of an FPTraffic account, you'll be rewarded with free two weeks trial which is enough to get satisfied.
After using it for a period of time, I feel that it is worth trying since they let me utilize their free trial. The social media scheduler is extremely easy to use and anyone that uses it will tell you how easy it is to use and has lots of potentials.
Unlike other companies that ask for your credit card information for starting your free trial, FPTraffic doesn't require any such information which means you're good to go.
FPTraffic Affiliate Program
Looking to earn some bucks from FPTraffic? Why not join the FPTraffic affiliate program that offers 30% recurring commissions for every person you've referred.
To get your payments, add your PayPal email in your account settings.
So, if you have planning to join FPTraffic, you must join their affiliate program too. There are several other recurring affiliate programs that you might need to know.
Do I recommend FPTraffic?
For those of you who don't have enough time to manage their profiles and want to automate the process, FPTraffic would be a great place for scheduling unlimited posts. As you get hands on to this amazing tool with its free trial, you can decide whether you want to continue your membership to get benefit with its premium features that no other provides with that much efficiency as FPTraffic do.
I personally tested FPTraffic to manage my social media marketing profiles and it is by far one of my most useful tools. It helped me manage all of my accounts at once and I can easily track what I am doing on a daily basis. I have a small video group and I can easily schedule a post at a specific time and view all of the comments and activities that take place. In addition, I can see who is saying what and who is actually getting the most results with the ads that they have posted. In my opinion, this is the most powerful tool that I have come across so far.
Therefore, In the light of my experience with this tool, I'll definitely recommend FPTraffic to everyone who wants to automate the process of posting content on their social profiles.
Do you still have any doubts about choosing FPTraffic? Go check out FPTraffic reviews from other people who have already experienced this tool.
At Trendstorys.com, we aim to provide honest reviews to our users to help them choose the platform.
Any queries related to FPTraffic review or if you're already experienced with this tool, give your review out of 5 stars or let me know in comments.