Ecofriendly means technology which is not harmful to the environment. We have been amazingly lucky to be given the right to live on Earth, with a diversity of resources. Unfortunately, human beings have taken these resources for granted, wasting them, and not thinking about the future due to which the rate of global warming and environmental degradation is increasing. This uncontrollable increase in global warming is heading towards the need for producing more eco-friendly equipment. Scientists have invented much eco-friendly equipment, one of which includes eco-capsule. The purpose of eco-capsule is to reduce the impact of the home on the environment. The architects spent a lot of time to determine strategies to be used for reusing the natural resources with this amazing micro-home.
The story of Eco-capsule began in 2008 when an architectural studio Nice Architects, firm based in Bratislava participated in the Andes Sprout Society Idea Competition to design a small housing unit.
Architect:
Eco-capsule is operated by solar energy. Its walls are made up of layers of fiberglass; collects and filters rain for drinking water and is designed for 1-2 individuals. In addition to that, it consists of a folding bed, kitchenette,  shower, fold-out table, working windows, and even storage space with an installed solar power output of 600W and wind power output of 750W. Eco-capsule has no limit to where it can go. Its small size makes it easy for a person to carry the eco-capsule anywhere easily by towing it by a car or a van.
Eco-capsule Shape: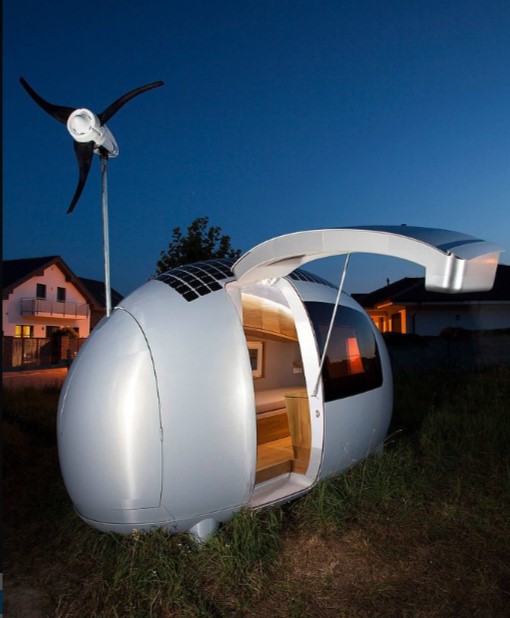 Eco capsule is an egg-shaped micro-housing mobile resembling a spaceship. Its spherical shape is characterized by small surface area to internal volume. To minimize energy loss, architects designed the outside shell so it will have a relatively low surface area and a significant internal volume to support all regular activities.
Size:
It is just 14.6 feet long by 7.4 feet wide by 8.4 feet tall. Weight of the capsule is about 3,306 pounds
Features of Eco-capsule:
Rainwater collection system filter water from any natural source
Electric plug, car charger
Simple transportation
AC, heating, ventilation
High-capacity batteries
An onboard computer and smart weather prediction tune up the system to maximum efficiency in local conditions.
The walls can resist temperatures as high as 104 degrees Fahrenheit and as low as 14 degrees Fahrenheit.
They have built-in heating and air-conditioning.
Resources:
Rainwater collection
Wind turbine
Solar panels
Water filtering
Warranty:
The company provides a 100% guarantee of manufacturing quality. Sale representative of the company in your area will be responsible for repairing it. The manufacturer claims that eco-capsule is designed in a way that it will meet all the certifications and safety regulations of one's country.
It is an incredible example of how a fictional product can transform into reality. Price of the eco-capsule is roughly $89,000 each.
Eco-capsules future is still to be determined. Architects described a wide range of usage for capsules. They can be used from a tourist lodge to an emergency housing unit, but it's still not clear how are they supposed to be transported.