Dealify Review
Summary
Dealify is an amazing deals platform for growth hackers who wants to grow their businesses using low-cost strategies.
Lifetime Software Deals

Affordable Rates

Growth Hacked Techniques
Pros
User-Friendly Interface
Affordable & Lifetime Deals
Best for Growth Hackers
You can run your own deal by submitting your products
20% Affiliate Commission
30 Days Money Back Guarantee
Cons
Not have a variety of Deals
Few payment methods
Are you looking to grow your business online?
Not getting the results with the tools you're using right now?
Want a platform that helps you skyrocket your business?
If yes, then you've come to the right place as today we are going to do a Dealify Review which is one of the best platforms for the people who want to grow their businesses using creative & low-cost strategies.
So, if you're a business owner and came here with the intention of having Dealify Review, then stay with me and keep reading the entire review.
What is Dealify?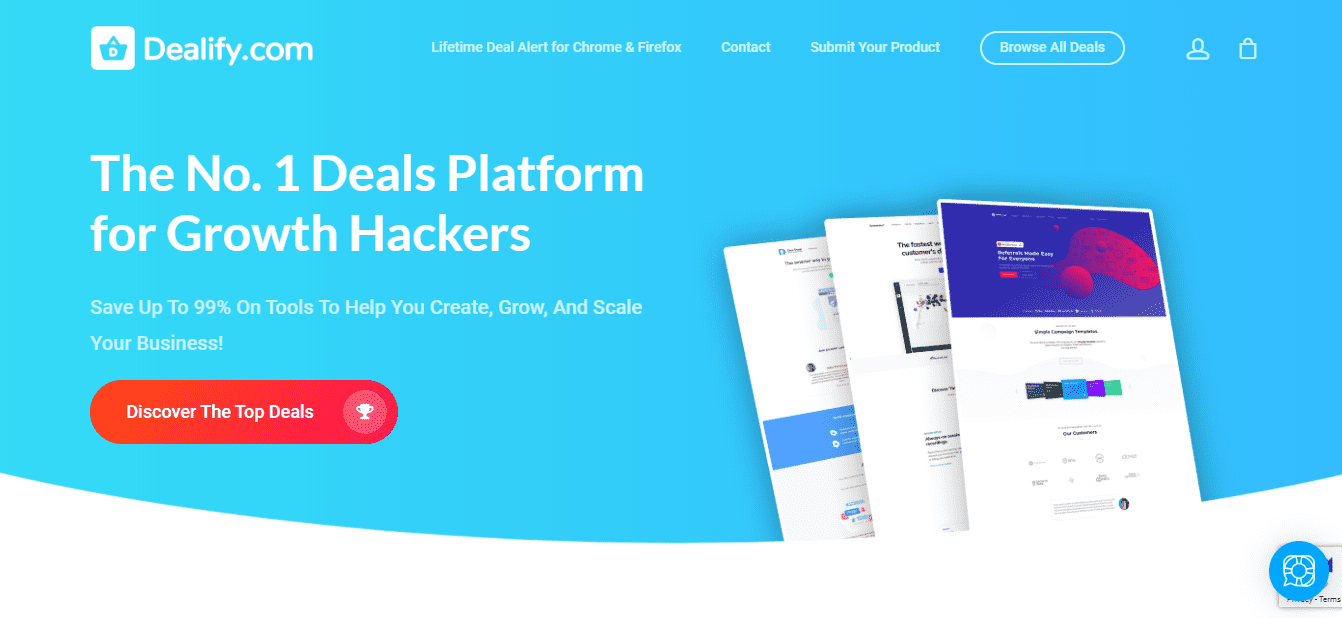 Dealify, the #1 deals platform for growth hackers who wants to grow their businesses using low-cost strategies. Dealify is the best place to get exclusive software deals, discounts, and many other offers for growth hackers, marketers, and founders.
It was founded by Tom van den Heuvel in 2018 with the aim of helping small startups with the best software deals to grow their businesses. Dealify not only helps you increase your revenue but also helps in giving valuable advice for your business.
Following is the short overview of the Dealify Review that you might need to know.
Dealify Details
Company Name

: Dealify

Founder & CEO

: Tom Van Den Heuvel

Founded In

: 2018

Payment Methods

: VISA/MasterCard, PayPal, etc.

Affiliate Program

: Revenue shares up to 20%

Minimum Affiliate Payout

: $50

Support Email

:

[email protected]

Website

: https://www.dealify.com/
Why Dealify is the best place for buying deals?
We have seen many market places that offer different deals such as software, products, plugins, etc. But Dealify is quite unique among them as it is the only platform that offers you amazing deals with lifetime access to all products purchased from Dealify. It is the best place especially for newbies or growth hackers who wants to grow and build their businesses without investing much.
Dealify not only offers you the amazing deals but also helps in scaling your business by giving appropriate advice which is the reason it stands out from others.
Dealify Features

Apart from other websites that offer deals, Dealify is somehow different. Dealify is primarily made to help small startups to skyrocket their businesses with the amazing lifetime deals Dealify provides to its users.
Some of the features of Dealify are mentioned below:
Lifetime Software Deals
Dealify offers you exclusive deals that are actively used by themselves. If any of the software deal gets purchased, it can be used for a lifetime which means you don't need to renew anything which the best thing to consider while purchasing from this website.
Best Platform for Growth Hackers
Don't have enough money to grow your business? Looking for strategies to promote your business at a low cost? Don't worry! Dealify has got you covered again as it is the best platform for growth hackers who want to skyrocket their businesses using low-cost strategies. Dealify helps you in achieving the tasks with amazing techniques and advice to generate the required outcome.
Run a Deal on Dealify
Have a product to promote? Want to generate leads and sales? If yes then, Dealify would be the best ever place to list your product. With the large network of the customers and the tailored campaigns, you can grow your customer base and revenue by promoting your product on Dealify. They don't have absurd commission rates as they want you to get more profit from the product.
Dealify also allows you to list your product free for everyone. Once you have started running a deal on Dealify, you'll be provided with detailed insights and advice on how to improve your product.
How to Submit the product on Dealify?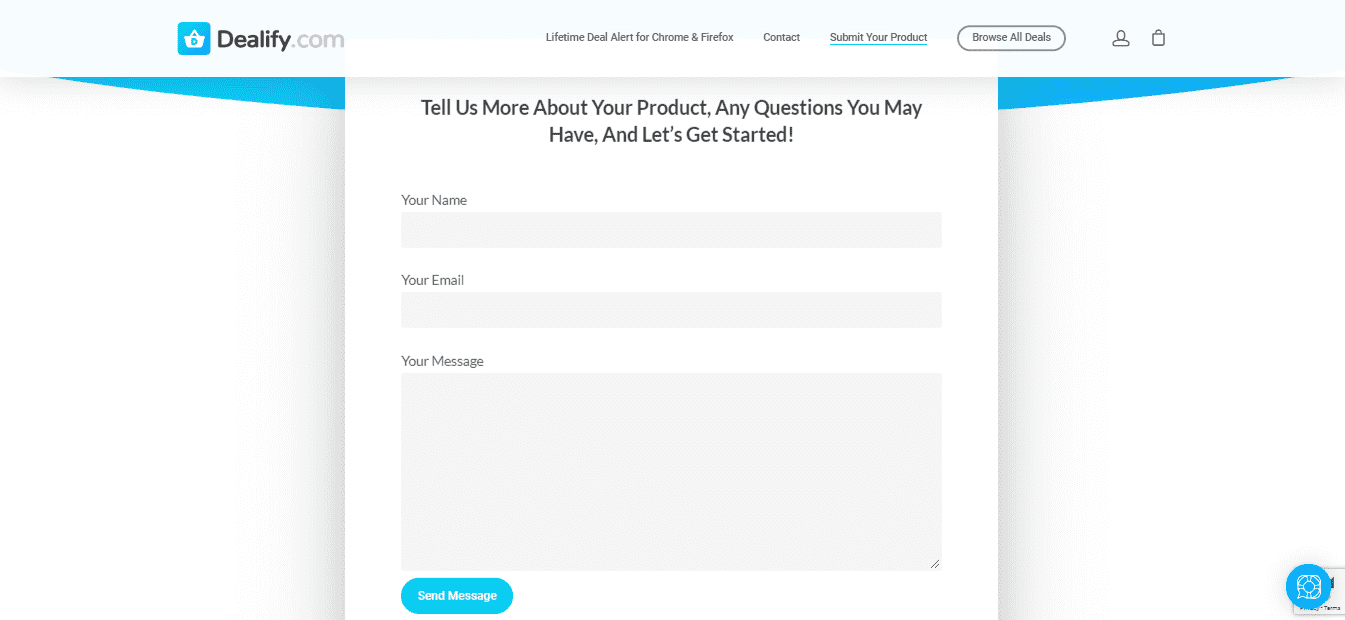 To run a deal, you need to submit your product on Dealify. This can be done simply by clicking on the "Submit Your Product" option in the navigational menu. After that, a contact form will appear where you can fill up the name, email, and the product information which you want to promote. Dealify will look over your request and respond to you in less than 24 hours.
Dealify Chrome/Firefox Extension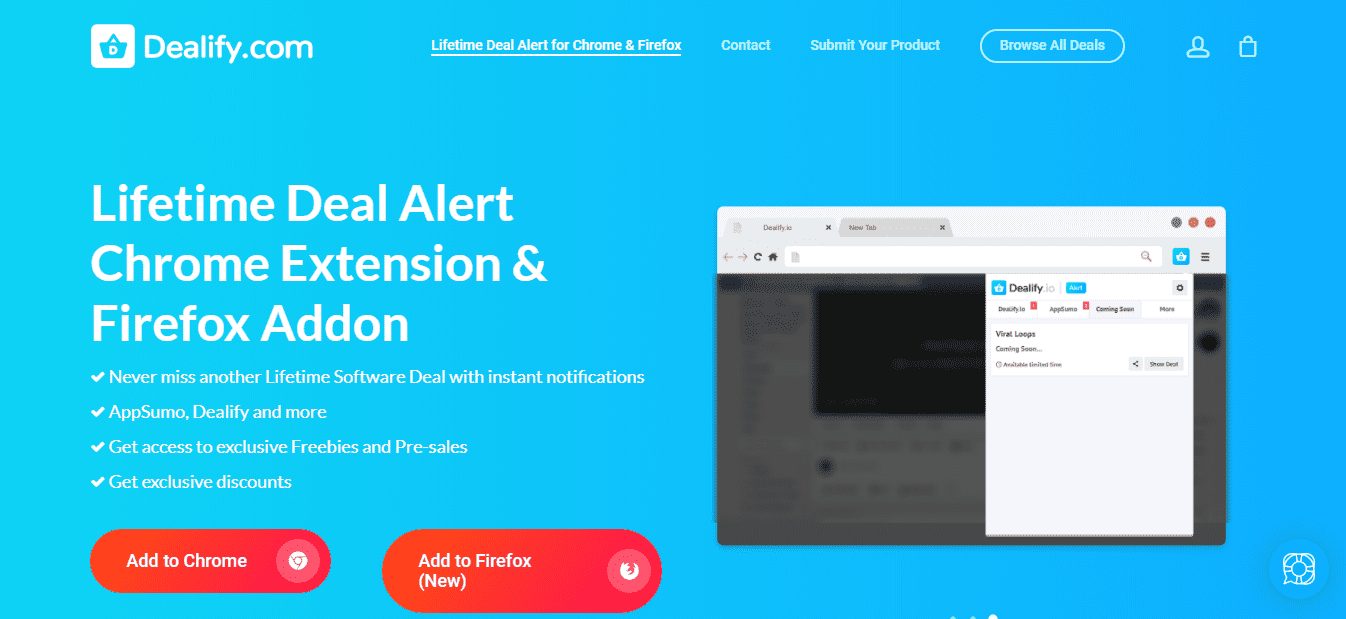 Do you love buying deals from Dealify? Don't want to miss any deal notification? Want to stay updated with the latest deals?
If yes, then you need to download the chrome/firefox extension which dealify offers free for a lifetime to let you stay updated with the latest news about deals. With the dealify extension, you can get access to exclusive freebies and pre-sales with discounted offers. Moreover, you can get different deals from AppSumo, Dealify, Stackcommerce, SaaS invaders, etc.
Dealify Affiliate Program
Dealify provides you an opportunity to earn even more from their affiliate program that lets you earn up to 20% from each referral.
You can earn decent revenue using their affiliate program. They normally pay after every 90 days. However, if you need an early payout, you can simply write an email and they'll pay out on your manual request.
You must need to meet the following criteria to receive payouts.
You have earned your commissions through legit people.
You have referred at least 5 customers.
Lastly, you must have a minimum balance of

$50

to request a payout.
To stay legit in the eyes on Dealify, you should refer the affiliate links only to your friends, customers, social media, email list, sharing links on YouTube videos, or by writing a blog post, etc. You can even use the best link shorteners to earn more money simply by shortening the affiliate links.
So, if you have planning to join Dealify, you must join their affiliate program too. There are several other recurring affiliate programs that you might need to know.
Dealify Payment Details
To make a payment on Dealify when purchasing deals, you need to have a Debit/Credit Card such as VISA/MasterCard, American Express, or a PayPal account.
To get a payout from Dealify, you must need to have at least $50 in your account. Dealify usually pays on Net 90 basis but if you need an early payout, you can request them by writing an email and they'll process your payout.
Do I Recommend Dealify?
The answer will be clearly YES! But why? Well, it is the best platform for those people who want to grow their business by using growth-hacked techniques. Dealify has one of the best deals at affordable rates that can be purchased just once and then you'll continue to use them for a lifetime which is the reason people prefer Dealify more than other deal websites. Therefore, In the light of my experience with this website, I'll definitely recommend this platform to everyone who is looking to promote their products on Dealify, want to buy deals, or looking for ways to grow their businesses.
So, if you've been looking for the best platform for buying software deals, then Dealify will be the best ever choice you'll make as it has been functioning since 2018.
Do you still have any doubts about choosing Dealify? Go check out Dealify review from other people who have already experienced this platform.
At Trendstorys.com, we aim to provide honest reviews to our users to help them choose the platform.
Any queries related to Dealify review or if you're already experienced with this network, give your review out of 5 stars or let me know in comments.