Daoad Review
Summary
Dao.ad, previously known as DaoPush, is a great platform for advertisers and as well as publishers. Despite being new, it is a rapidly growing ad network that fulfills all needs.
Performing Ads Quality

Value for Money

Dedicated Support
Pros
High-Quality traffic with 1B+ Impressions daily
Supports Multiple Ad formats

Minimum deposit and payout of $10 only.

Timely payments

High CPM Rates for Publishers

24/7/365 support
Cons
Considerably new in the market
fewer payment methods for publishers
Many people want to earn money through their website but don't know the exact way of how to do it. The majority goes for Google AdSense and then fails eventually due to low CPC rates and their tough terms and conditions. Due to a lack of knowledge and interest, people quit and look for other ways and start investing somewhere else.
So, if you're one of them and looking for the best advertising network to promote your business online or want to monetize your website, then you've come to the right place as today we have come up with the Dao.ad review for you to help you get started with it.
In this Dao.ad Review, I will give step by step guidance in getting started with this new advertisement network. discussing its pros and cons and other important details so that you can decide whether it's good for you or not.
Therefore, If you came here with the intention of having a Dao.ad review, then stay with me and keep reading the entire Dao.ad review as all your questions will be answered in this article.
Dao.ad Review 2020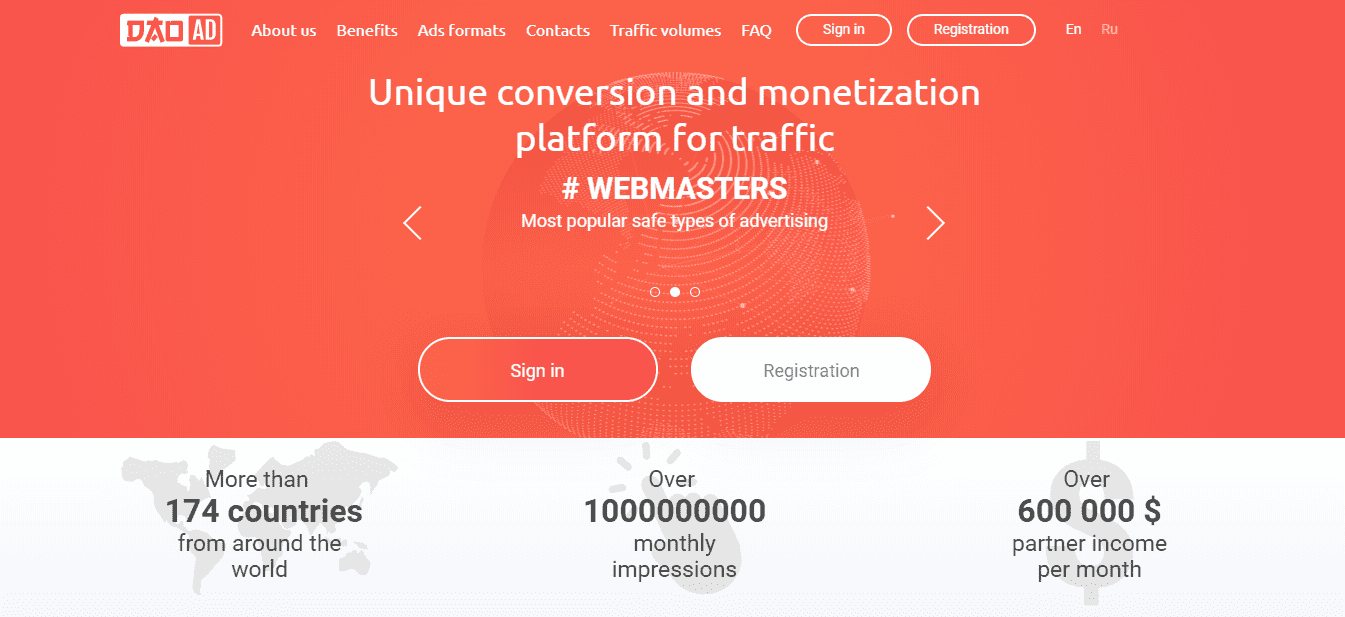 Dao.ad, previously known as Dao Push is a platform for advertisers and publishers that allows them to display ads digitally to help advertisers grow their businesses and publishers to earn some decent money. If you are an advertiser, it will help you in gaining your targeted audience and you can grow your business easily in less interval of time.
The goal of the company is to provide a platform where advertisers can meet publishers and work in the most effective way.
Dao.ad is a newborn company that came into existence in February 2019. The focus of the company is mainly on push notifications, pop-under, in-page push helping the users to do it in the best way.
The founders are creators of Terraleads. Apilead, and Install Monster. Dao.ad is their new project and the company is looking to provide quality services to the advertisers and publishers which is why Dao.ad came into existence.
Follow is the short overview of the Dao.ad review that you might need to know.
Dao.ad Details
Company Name

: Dao.ad (Previously Known as

DaoPush

)

Founded by

: Creators of Terraleads, Apilead & Install Monster, etc.

Founded In

: February 2019

Pricing Models

: CPC, CPM

Minimum Deposit

: $10

Minimum Payout

: $10

Payment Gateways

: WebMoney, CC, Paxum, Capitalist, Cryptocurrencies, G2A, Payoneer, Wire Transfer, Qiwi, Advcash, etc.

Support Email

:

[email protected]

Website

: https://dao.ad/
What Make Dao.ad Worth Choosing?

The question that might arise in your mind is what makes Dao.ad worth choosing for your business? Or why it performs so good for publishers who want to generate revenue from their website.
Well, either you're an advertiser or a publisher, Dao.ad is everything you need despite its a newly created network founded in 2019 but with the speed, they are growing is quite noticeable.
Dao.ad is a trustworthy platform that will give what you are looking for and you will even get the results in less interval of time. It is operating in more than 174 countries and is considered the best platform for both advertisers and publishers.
If you ask for daoad reviews from any of the existing users who have already experienced it or experiencing this platform, you'd likely get some positive reviews about it.
Another reason to choose Daoad is that it provides high CPM rates which you cannot find anywhere else. This is a major reason why you should choose this platform being a publisher for monetizing your website. It provides 1B+ daily impressions to its advertisers and giving the surety of conversions.
Dao.ad Advertising Formats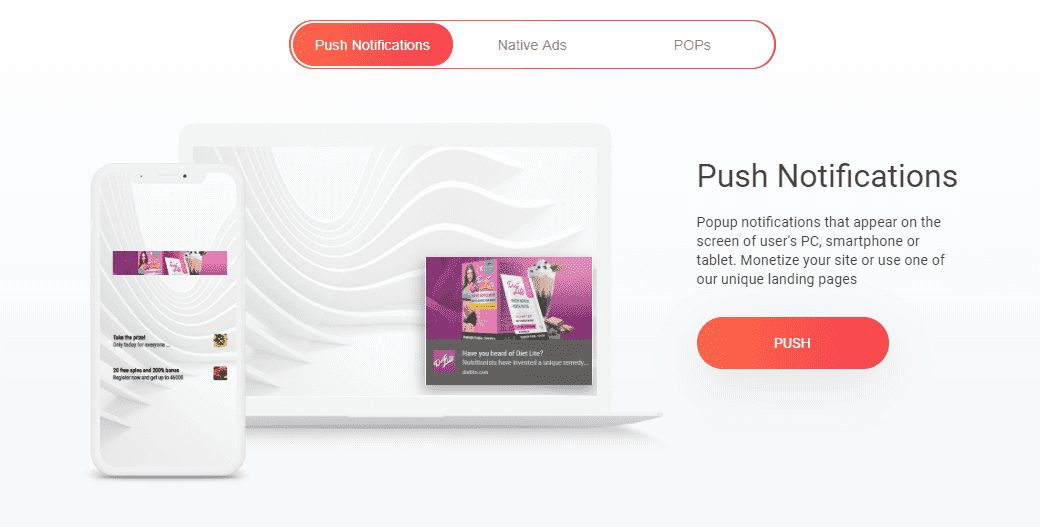 Daoad provides a variety of ad formats to the publishers and as well as advertisers such as push notification, pop-under ads, and native ads. Having multiple ad formats makes it easy for publishers to choose how they want to show ads to their audience for getting a high engagement rate.
Following are some of the ads format that Daoad provides:
Push Notifications
Push notifications are explained as the type of ads that are available even if your audience isn't visiting your website, but it comes on the audience web browser if they opt-in for it. This is the reason why push notifications are considered as the best ad format to engage the audience even if they're using the site.
Once a user allows notifications to show, the browser will keep pushing notifications whenever something new gets published on the site. The ads shown are of user interest that helps in bringing revenue to the publisher as well as the advertiser.
Pop-Under Ads
If we talk about the current era, Pop-under ads are one of the best performing ads as they generate high engagements than other ad formats. It appears in a new tab underneath the main page a user is viewing. This is the reason why Dao.ad considers pop-under ad format as it is quite effective in bringing engagement.
Pop-under includes the highest revenue of all formats, a perfect balance of income, and user experience as it doesn't interfere with the content and is google compliant.
In-Page Push Ads
In-page push notifications are explained as the type of ad format that shows ads while you are browsing or scrolling through the website. Nowadays, it is observed that you can reach more customers in a more effective way just by scrolling. This is a plus point for an advertiser to reach out to their targeted audience in less interval of time.
Getting Started With Dao.ad
Either, you're an advertiser or a publisher, Dao.ad got solutions for both of them. In this Daoad review, we will see how to get started on Daoad being an advertiser and a publisher.
Let's go with the publisher part first.
Dao.ad For Publishers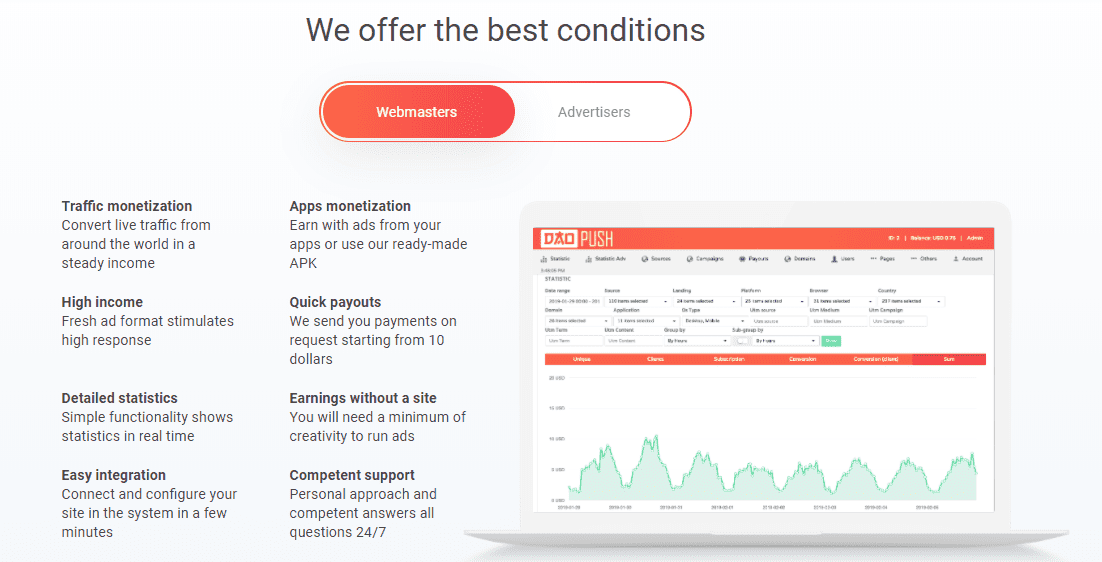 Not getting the results that you're expecting? Searching for a reliable ad network to generate some decent money?
If yes, then Daoad is the one you're looking for. Being a publisher at Daoad, you can increase your revenue and get instant payouts for the earned amount with the minimum payout of $10 which is quite a great thing to consider.
Setting up your account on Dao.ad is not tough at all. All you need is to go to their website, fill the form as a webmaster by providing details such as email, password, skype, and telegram, etc. and you're good to go.
Once done, verify the account and add your website which you want to monetize.
If you don't have a site and still you want to earn through it, Daoad allows you to earn money simply by running ads but for that, you will need a minimum of creativity before running advertisements.
Benefits for Publishers
Unlike other networks, Dao.ad provides you high eCPM rates that will help you in getting good revenue.
The integration of the ad formats is quite easy as compared to the other advertising networks.
Provides complete coverage having 100% fill rates
Performance monitoring system
Flexible payment methods
5% referral program for publishers
24/7/365 support
Dao.ad For Advertisers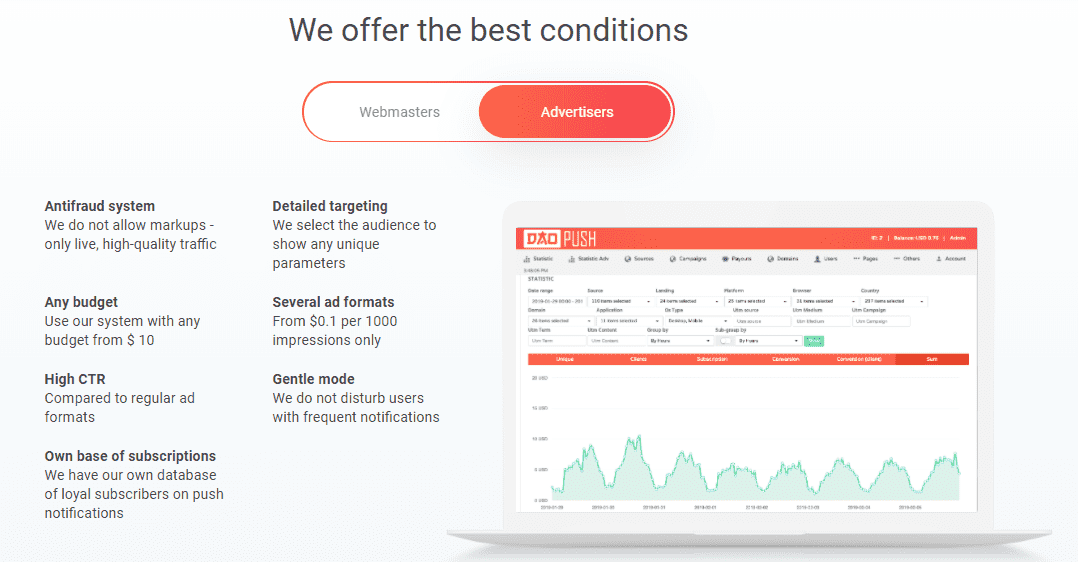 Advertising your business within your budget is quite difficult in today's era. If you're having a startup and you don't have enough money to spend on its promotion, then there is no need to worry from now as Daoad solves this problem too by giving advertisers the lowest CPC rates.
With Dao.ad, you can become an advertiser easily by filling up their signup form just like a webmaster account, and then you will be added to their family.
Dao.ad surprisingly provides 1B+ daily impressions from different ad units that help advertisers in bringing high conversions to their businesses. The ads shown are of great quality and the money you invest in will have great ROI (Return On Investment).
So, don't sit back and give Dao.ad a try for some healthy and positive results for your business.
Benefits for Advertisers
1B+ daily impression across 174 countries
Anti-fraud System enabled
Better ROI (Return on Investment)
High CTR (Click Through Rate)
A minimum deposit of $10
Multiple pricing models (CPM, CPC, etc.)
Advanced reporting system
Dao.ad Payment Methods
There are multiple payment methods available at Daoad either for depositing money being an advertiser or withdrawing the earned amount as a publisher.
The minimum deposit and withdrawal amount are as low as $10 which is great for both advertisers and publishers.
Being an advertiser, if you want to deposit funds into your account, there are several payment methods available such as WebMoney, CC, Paxum, Capitalist, Cryptocurrencies, G2A, Payoneer, Wire Transfer, Qiwi, Advcash, etc.
Being a publisher, if you want to withdraw your earned amount from Daoad, you can do it by using any of the available payment methods such as PayPal, Webmoney, etc.
Dao.ad Referral Program
Want to know the secret that you can earn even more from Dao.ad?
Dao.ad invites you to join their referral program where you can earn more simply by inviting people to join Daoad. If you are a publisher, then this will benefit you a lot as you will get 5% of the referral's income.
So, if you've been planning to join Dao.ad being a publisher, you should join their referral program too.
Conclusions
Taking into consideration all the facts and figures discussed in this Dao.ad review, I will recommend Dao.ad to everyone who wants to monetize their website or want to promote their business online. Despite being new, it is the rapidly growing advertising network that offers high CPM, CPC rates to its publishers.
Dao.ad surprises its advertisers with the high engagement rates as they claim to have 1B+ daily impressions which is quite a great number to consider.
So, if you've been looking to promote your business as an advertiser or if you want to monetize your blog being a publisher, then Dao.ad will be a great choice.
Do you still have any doubts about choosing Dao.ad? Go check out Dao.ad reviews from other people who have already experienced this platform.
At Trendstorys.com, we aim to provide honest reviews to our users to help them choose the platform.
Any queries related to Dao.ad review or if you're already experienced with this advertising network, give your review out of 5 stars or let me know in comments.