Optimization Features

Value for Money

Customer Support
Summary
Cyberlab has been the best PC optimizer since 2004 that gets rid of junk causing your PC to run slow. It removes all the junk files, unwanted programs, tracking cookies, spyware, and more.
Pros
User-Friendly Interface
Premium Features included in Free plan
Best Optimization Services
Offers Web Protection
Monthly Updates

Daily American Based Email and Chat Support
Cons
Cyberlab Ultimate could offer a few more features like a duplicate file finder, deleted file recovery, and software updater.

No phone support
Are you tired of a slow PC?
Want to get rid of all the unwanted programs that are making your PC run slow?
Want to make your PC blazing fast like when it was brand new?
If yes, you are at the right place as today we going to do Cyberlab review, which cleans your PC from junk files, registry issues, tracking cookies, removes spyware, and unwanted applications to secure and optimize your computer!
Read on to find out how we rate Cyberlab and how you can be aware of some of the hidden scams in this industry.
Unlike many other review sites that earn money through online advertising but we don't earn any commission for recommending this product as I personally found it to be the best PC cleaning software.
Cyberlab Reviews 2021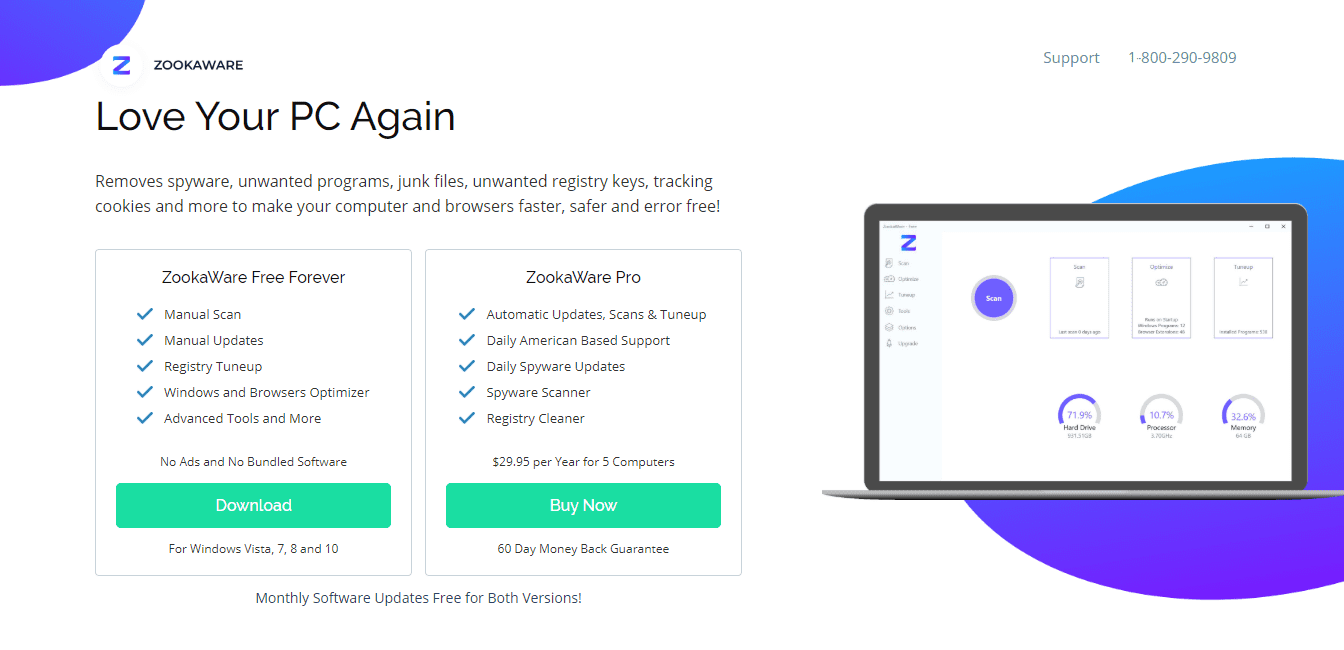 Cyberlab, previously known as Zookaware, is a PC optimizer that gets rid of junk causing your PC to run slow. It's rated as one of the best PC cleaners that speed up your PC by removing all the junk files, unwanted programs, tracking cookies, spyware, and more.
Cyberlab provides you full privacy protection, stops popups from Adware, fixes browser problems while making your computer run faster by freeing up disk space, and removing unwanted programs.
Cyberlab has been helping users optimize and secure their PCs worldwide since 2004. It was founded by Carl Haugen and has always been based in the USA.
Cyberlab Details
Industry-Specific Scams to Watch For
Before you choose any software in this industry we encourage you to understand the issues, problems, and even some scams so you make an informed decision.
Many times we'll see 5-10 or even more antivirus companies detect a program in this industry due to their aggressive remote support sales, deceptive popups, bundling software, or other deceptive company practices. Some of these software companies get away with their tactics because they are based in India, China, or move to a tax haven country with few to no consumer protection laws in place.
Many companies in this industry use their software solely as a way to sell remote support. Every time you call their phone number for the support you're actually reaching a third party call center whose sole job is to sell you a remote support package for usually $199-299. The person who answers the phone won't know anything about the software product or be able to provide support, they are simply salesmen for remote support.
While Advanced SystemCare from Iobit is very popular and it has a pretty interface, we see all the usual complaints about the third-party remote support complaints they send their users to. We feel sending support calls to a third-party company whose sole focus is selling you remote support is a deceptive tactic. Instead, they should create software that solves your issue and when you have a question they should offer support and not a salesman.
Other popular products, like Reimage, are detected by Windows Defender for their deceptive popups. According to Crunchbase Reimage is owned by Kape Technologies a company with a questionable history of installing browser hijackers. Kape Technologies founder is Teddy Sagi, an Israeli billionaire ex-con who's worked for Israel's equivalent of the NSA for three years and later held close ties to the spy organization while distributing malware according to Forbes.
And other programs in this industry are detected, sometimes by numerous, antivirus companies for bundling other software inside theirs. Some software is simply to show ads on your computer to download and buy other software.
Possibly the most downloaded software in this industry is CCleaner. Since being purchased by Avast they have come under fire for collecting users' computer data without their consent.
CCleaner bundles Avast antivirus with the download and most troubling is the free version of Avast antivirus records the user's browser history and sells it to third parties.
Recently Microsoft Defender started detecting CCleaner due to these issues.
One of our other favorites is Glary Utilities. Due to them being based in China and all the recent issues with the Chinese Communist Party having access to China-based tech companies and their data we don't recommend using any software from a Chinese company at this time.
Cyberlab's Commitment to Your Privacy and Security
We are impressed with Cyberlab's commitment to your privacy. They don't track anything you do on your computer or in the software.
Cyberlab has a clean reputation and is whitelisted by most antivirus companies worldwide. Whitelisting is the most rigorous process that software has to go through to meet all the safety requirements antivirus companies demand to protect its users. It goes way beyond simply not detecting the software, whitelisting means they will not detect ZookaWare and they feel it is totally safe for their users.
Why is Cyberlab Worth it?
We like that Cyberlab doesn't sell remote support, they don't bundle other software with theirs, they have no ads, no viruses, and don't outsource their support. When you contact them you're contacting a Cyberlab employee that is not earning a commission to sell you something else.
Cyberlab provides software updates every 2-4 weeks with improvements, new features, and updates. This is in addition to the daily spyware updates.
We love their method of dealing with bugs. If you find a bug in their software, report it to Cyberlab's support team and they will extend your subscription by twice the amount of time it takes them to fix the bug! With a policy like that it's no wonder Cyberlab is well tested and runs so smoothly on our computers!
Cyberlab Features We Love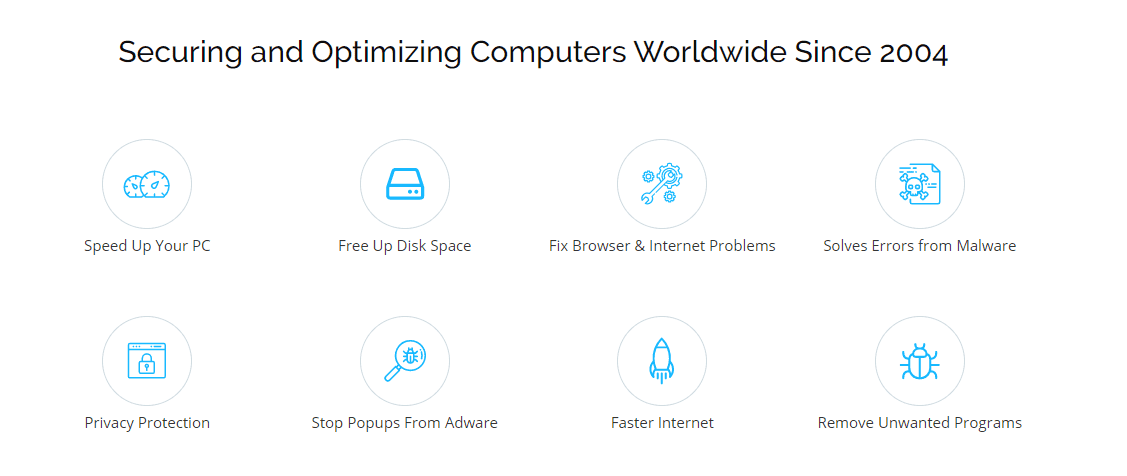 Cyberlab's uninstaller goes much beyond the standard Windows uninstaller. It offers batch uninstalling for those spring cleaning days. It has great sorting and viewing options. It can remove the entire program and its registry entries and not just the files the program wants to uninstall by default.
Often times when a program is uninstalled it leaves lots of files on your computer which can clutter it up. Cyberlab's real-time Uninstaller Monitor watches for programs that are uninstalled and alerts you when there are leftover files not removed by the program's uninstaller. Uninstaller Monitor displays an alert in Cyberlab Free and can be set to manual or automatic modes in Cyberlab Ultimate.
A service monitor is a great way to be alerted when a program adds a new service to your computer. These are sometimes used to display ads or other unwanted popups. Cyberlab alerts you in real-time so you can easily allow them or remove them before they start showing you ads!
Registry Tuneup is a great feature that defrags your computer registry, optimizing and compacting it so it runs like new!
We have seen many other software that offers you very limited features and you must purchase it to use all the features. However, the scene is different at Cyberlab because they have a free version with over 20 free features which is one of the many reasons it stands out from their competitors.
Cyberlab Free vs Pro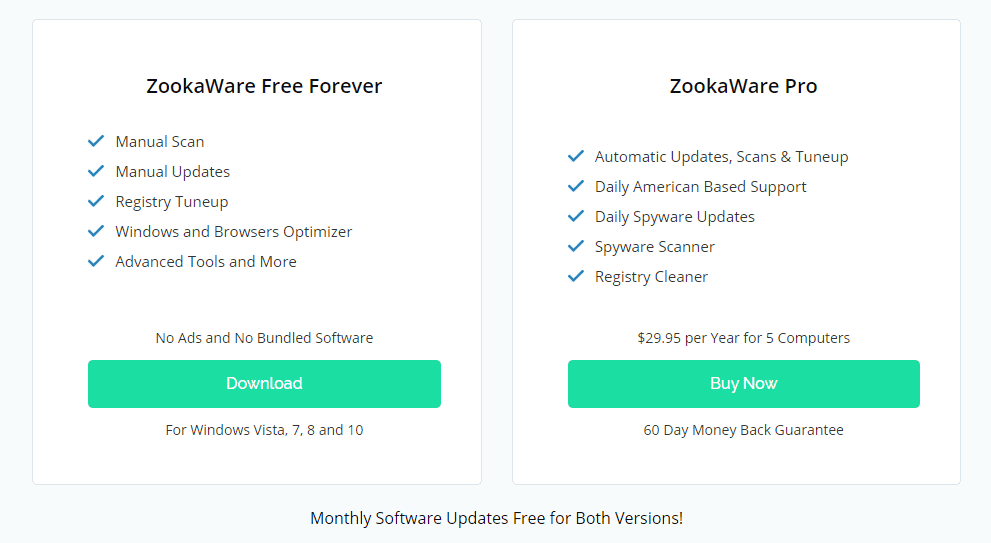 Yes, you heard it right! Cyberlab has two plans available, Free and Pro.
Cyberlab Free
The Free version is free forever and includes over 20 free features to secure and optimize your computer! You get monthly software updates included in Cyberlab Free. The beauty of Cyberlab Free is there is no bundled software, they don't ask you to download any other software, they don't try to sell you anything else, they don't spy on you and there are no irritating ads so you won't get annoyed while using it.
Cyberlab Ultimate
Cyberlab Ultimate is a yearly subscription good for up to an impressive 5 computers, plus you can remove a computer from your subscription, add a new computer or transfer to a new computer at any time for free! It adds automation for all of Cyberlab's great features, spyware scanning, full scan removal, daily spyware updates, and daily American-based support. At $29.95 for up to 5 computers, it's really a great deal especially when you consider the monthly updates and new features continually added.
While most of their competitors offer a one computer subscription and a few offering a 3 computer option, Cyberlab is the only one in the industry that offers a standard subscription that lets you use Cyberlab Ultimate on up to 5 computers at the same low price, or sometimes lower, than their competitors offer for one computer.
Daily American Based Support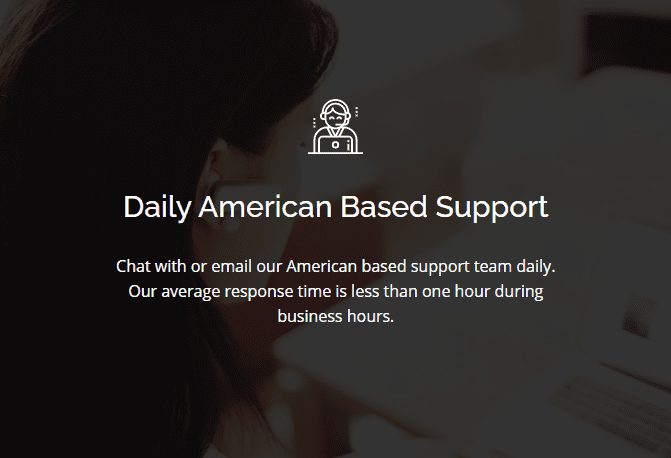 Great support is rare these days and that's where Cyberlab really shines! With daily American based support and great follow up with typical response times under 30 minutes during business hours we think Cyberlab is the best option in this industry for support. Included with Cyberlab Ultimate is American based daily support through live chat and email. Cyberlab guarantees a response to all emails outside normal business hours in less than 24 hours.
Cyberlab is Simple to Use

When you download Cyberlab the first thing you'll notice is how clean and easy it is to use. You'll likely get everything in seconds as it is the most user-friendly software whether you're a newbie or seasoned pro.
You just need to hit the scan button and Cyberlab will do everything for you. It removes spyware, unwanted programs, tracking cookies, and registry errors. Moreover, it will free up the disk space from Windows, over 30 third party programs, any file or folder you can custom select, and internet browsers such as Chrome, Edge, Firefox, Internet Explorer, and Opera. They even offer a 3, 7, or 35 overwrite option to shred all the junk files found in the scan!
Cyberlab Ultimate Pricing & Details
Cyberlab Ultimate is $29.95 per year which covers up to 5 computers! Cyberlab offers a 60 day no questions asked money-back guarantee. If you aren't 100% satisfied just let them know and Cyberlab will refund your entire purchase amount in less than 24 hours.
Cyberlab Ultimate offers numerous payment options like all major credit/debit cards, PayPal, all major currencies, and localized country-specific payment methods.
Do I Recommend Cyberlab?
The answer is clearly YES! But why? Cyberlab Ultimate has the most competitive pricing at $29.95/yearly for up to 5 computers. Great features, great support, and a well-designed program for securing and optimizing your computer.
Therefore, In the light of my experience, I definitely recommend Cyberlab to everyone who is looking to optimize their PCs.
Do you still have any doubts about choosing Cyberlab? They have over 450,000 Facebook fans, an A+ rating from the Better Business Bureau, great user reviews online, in business since 2004, and independent reviews from software review sites.
At Trendstorys.com, we aim to provide honest reviews to our users to help them choose the right product.
Leave a comment below about this Cyberlab review or if you're already a Cyberlab fan leave your own review out of 5 stars below!