CloudCone Review
Summary
CloudCone is one of the most well-known cloud hosting companies that provide both Software as a Service (SaaS) and Infrastructure as a Service (IaaS) solutions.
Easy To Use

Competitive Pricing

Quick Support
Pros
100% uptime SLA
Beast in Performance
Easy Deployment
Affordable Pricing
Various Payment Methods
24/7 Fully Managed Support
Cons
Sometimes slow support due to a large number of requests.
No Free Trial Available
Tired of using shared hosting resellers platforms?
Sites performing slowly even with the VPS hosting providers?
Looking for a reliable VPS reseller platform that can handle all your clients in an efficient way?
If yes, then you've probably come to the right place as today we're going to review CloudCone and will see if its VPS Reseller Platform is worth it using or not.
In shared hosting, your site will share resources, such as CPU, disk space, and memory, with other sites on the same hosting server. Picture shared hosting like living in an apartment where you have to share places such as a swimming pool and backyard.
Although shared hosting is the cheapest option, you may have limited bandwidth and your site may slow down if the server is overcrowded with other websites. The pool is great when it's not crowded, but crowded conditions can ruin the experience – that's how shared hosting works.
However, when compared with VPS, you will still share a single physical server with a VPS, but each user is allocated a set of resources, which means other websites on the same server won't affect your website. Dedicated VPS hosting is ideal for users who need access to resources 24/7. However, it is significantly more expensive than shared hosting.
In keeping the previous conversation, a VPS partition is similar to having a penthouse, which means you have all the amenities you need without having to share it with anyone in which CloudCone is one of them.
What is CloudCone?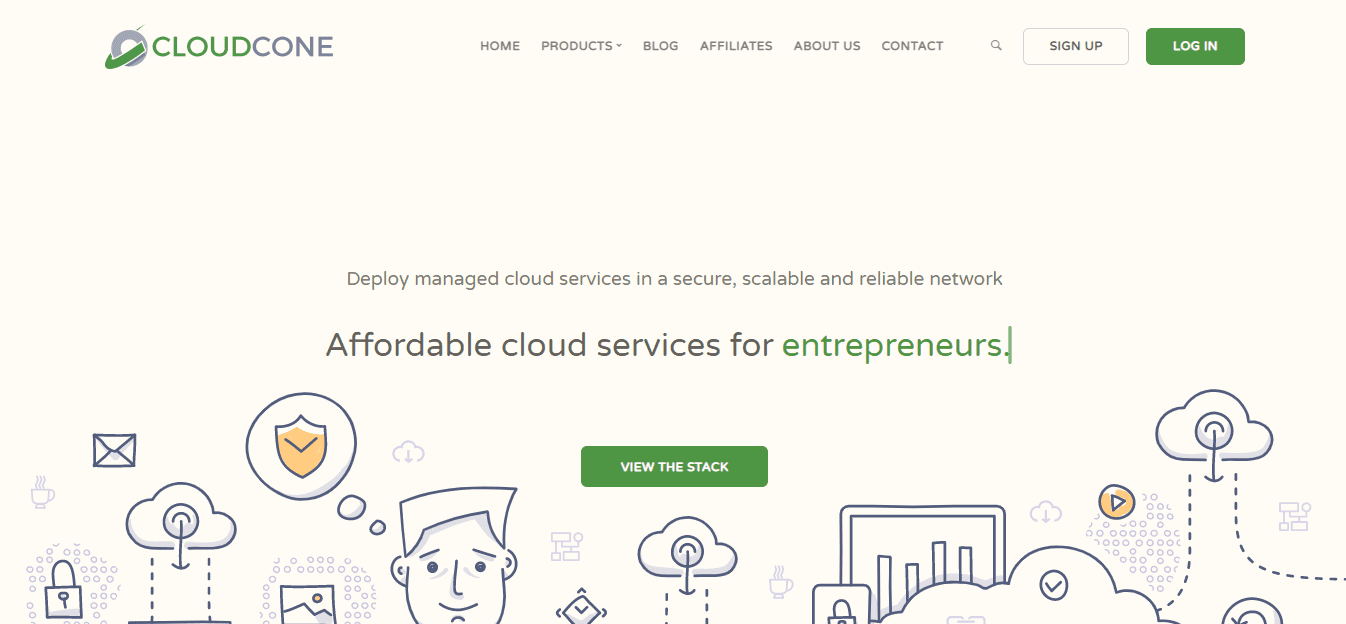 CloudCone is one of the most well-known cloud hosting companies that provide both Software as a Service (SaaS) and Infrastructure as a Service (IaaS) solutions. CloudCone is committed to providing affordable web instances, dedicated servers, applications, improved software, and high computing cloud environments to its users all over the world. They aim to create a collection of cloud services and solutions that will enable its users to deploy scalable, secure, fully managed, and high computing infrastructure within minutes.
Right now CloudCone manages and supports 300,000 cloud deployments and over 52 global CDN catches that is a testament to the quality of its service and also to its global influence and brand value. To further equip its users all over the world CloudCone has introduced it's 100% White labeled VPS Reseller Platform that will allow you to buy resources in bulk and deploy as many VPS instances as you need.
You can rest assured that it is a 100% secured, safe and white-labeled reseller platform since CloudCone has a reputation to provide game-changing software and platforms to its users for more than 8 years. Plus the reseller platform comes with countless advantages both for you and your clients that will be discussed later.
CloudCone Details
Company Name

: CloudCone LLC.

Founded In

: 2017

Payment Methods

: VISA/MasterCard, American Express, Discover, JCB, UnionPay,
PayPal, AliPay, etc.

Affiliate Program

: Earn up to 30% commission for every sale.

Contact Email

:

[email protected]

Website

: https://cloudcone.com/
The Game-changing Reseller Platform of 2021: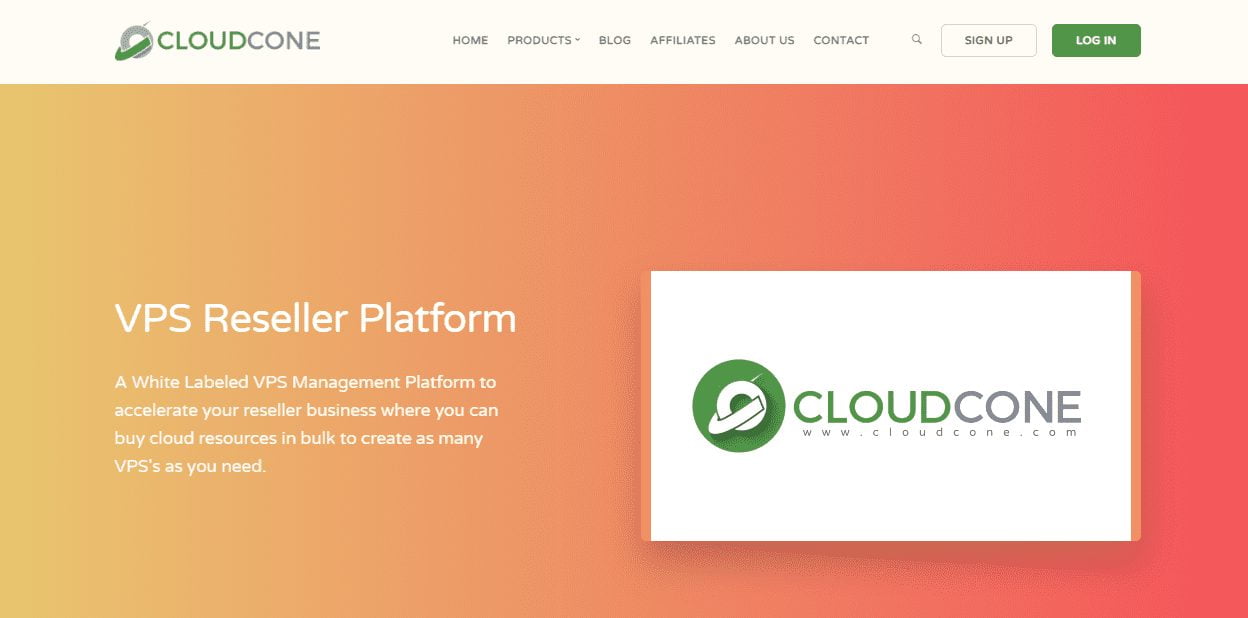 This reseller platform launched by CloudCone helps its users in better managing their clients and enables them to enjoy all the perks of a reseller business with no downsides. The White-labeled Reseller platform is backed by cutting-edge technology and enterprise-grade hardware hence it is guaranteed to enhance productivity, scalability, and cloud management.
This platform equips the reseller with Power API 4 and the end-user gets considerable control that allows them to fully manage their VPS cloud. Moreover, the platform will allow your clients to fully customize their VPS server, from the brand name, hostname to domain name everything can be customized by your clients as they please. Your clients will be able to style their web page as they want and there will be no mention of CloudCone's name.
It also gives the user access to the partner Dashboard which is a next-generation management tool designed to give the users admin-level access to all the VPS servers. The dashboard also gives the reseller quick access to advanced statistics, resources, and OS templates among many other features. It is also very user-friendly so even novice resellers will be able to find their way around it easily.
The reseller can also easily integrate the WHMCS module, though it is non-mandatory, for efficient and automated billing. It can be integrated very easily thanks to the power API of this platform and can prove very helpful in scaling up and down the resources of the deployed VPS servers. You'll be able to control the resources of countless VPS clouds with just a few clicks, won't it be amazing? That is why this VPS reseller platform by CloudCone is the game changer and the future of the reselling business. And the best thing is that it does not end here; this VPS reseller platform has far more to offer. Read on to find out more about its features.
Features of this VPS reseller platform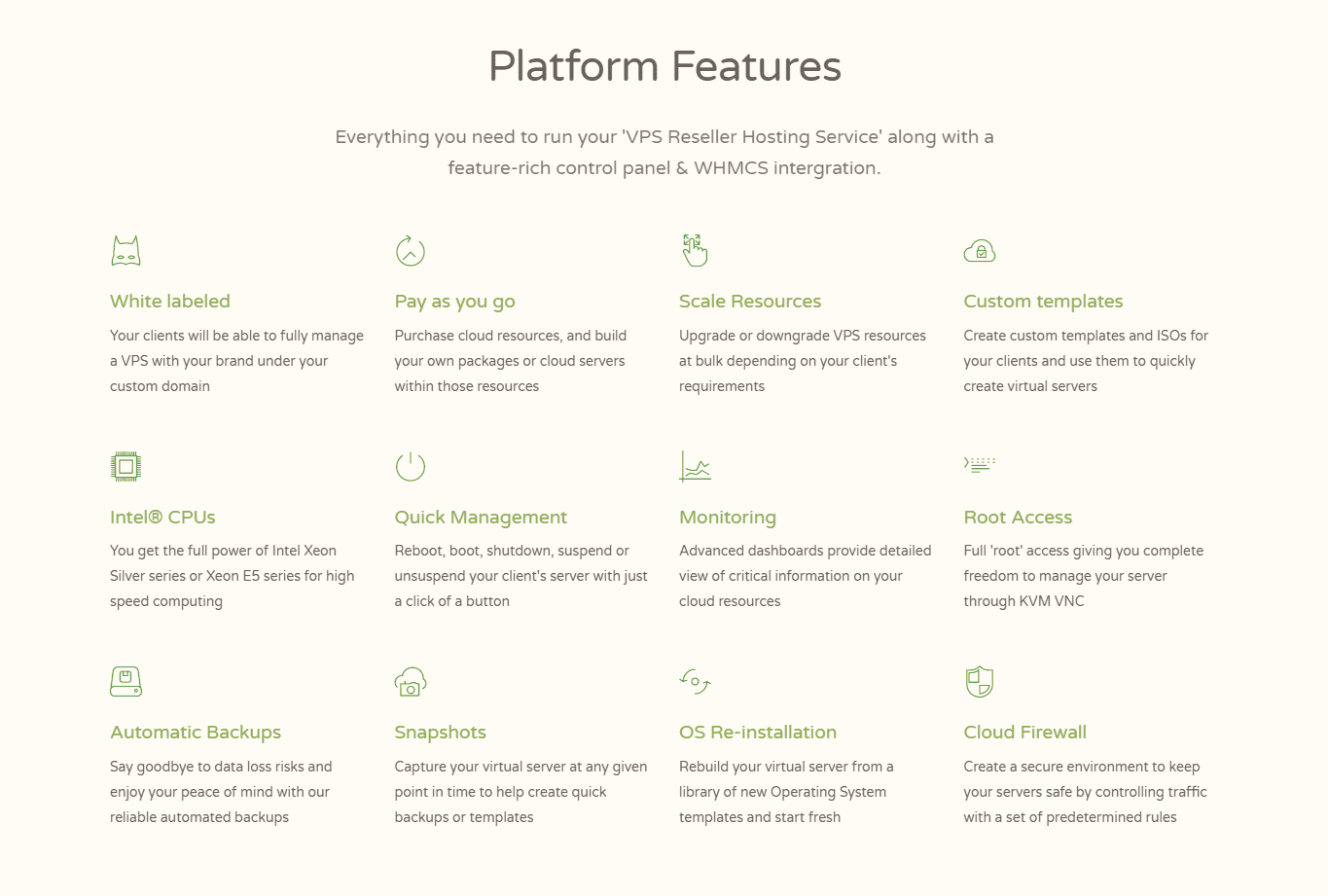 The VPS reseller platform launched by CloudCone is backed by the latest generation Intel Xeon CPUs to power high computing clouds and deliver maximum redundancy. Furthermore, as discussed before it comes with a Partner Dashboard, WHMCS integration module, and Power API that allows the reseller to utilize the full potential of reselling business. However, that is not all; this platform comes with an extensive range of features that make it one of the best reseller platforms in the market.
The reseller gets the facility of automatic backups that can protect their client against data breaches and data loss. The reseller is also equipped with Snapshots and Application Recipes that will allow them to deploy complex virtual servers with desirable apps within seconds.
There is also an End User VPS Management Page that will give your clients some administrative control over their VPS server. The clients of the reseller can use this page to reboot, shutdown, reset the root password, boot and view server information, etc. In addition, the reseller can generate a shareable and secured link to the End User Management Page with just one click and send it to their clients to give them easy access.
The clients of the reseller can also fully customize their pages and web designs. They can use Javascript to add or remove text and make their brand page unique by using the "Header HTML, CSS or JavaScript" input box. This is the major advantage of the 100% White Label platform. The clients of the reseller can even customize minute details like the widget of the live pop-up chat. Plus the brand name, hostname, and domain name can also be changed according to the desire of the client.
Furthermore, the reseller platform also features;
Enterprise-grade Firewall.
Two-Factor Authentication.
Custom Templates.
VPS Recovery mode.
Powerful API.
Complete root access.
WHMCS integration module.
Advanced Monitoring through Partner Dashboard.
Multi-brand management solutions.
JSON API.
Pay-as-go-model.
100% white labeled guarantee.
KVM VNC.
Most importantly, it is affordable so you can buy it at a low cost and sell it with a big profit margin.
Components of the Reseller Platform
This platform has three components that work together to smoothen your reseller business. The components are
End-User UI.
WHMCS Integration Module.
Partner Dashboard.
End-User UI
The clients of the reseller will have access to some administrative task through the End User VPS Management Page if the reseller permits it. They'll be able to rebuild, reboot, and boot their servers from the End User VPS Management Page.
The End-User UI is fully customizable with HTML, CSS, or JavaScript, so you can give your customers an entirely custom experience.
The clients will also be able to view server information, take snapshots, restore backups, and access server templates. This means the clients will have considerable control over how their VPS server works.
WHMCS Integration Module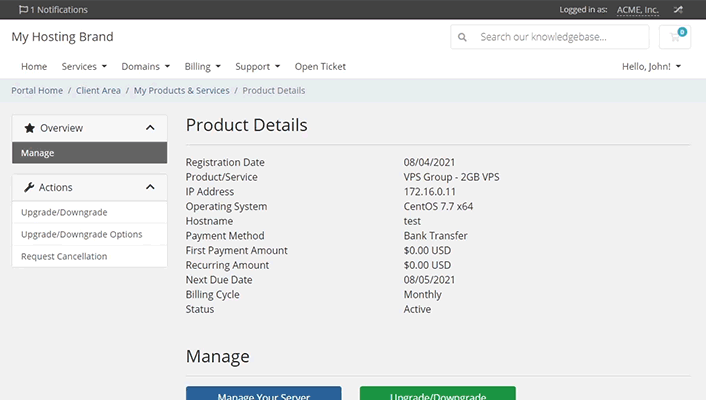 The seller can choose to integrate WHMCS Integration Module to automate the creation, termination, and suspending of VPS packages or upgrades/ downgrades of VPS servers. This will allow the reseller to efficiently suspend or create new VPS servers without worrying about billing complexities. The reseller can also choose to use any other billing software.
Partner Dashboard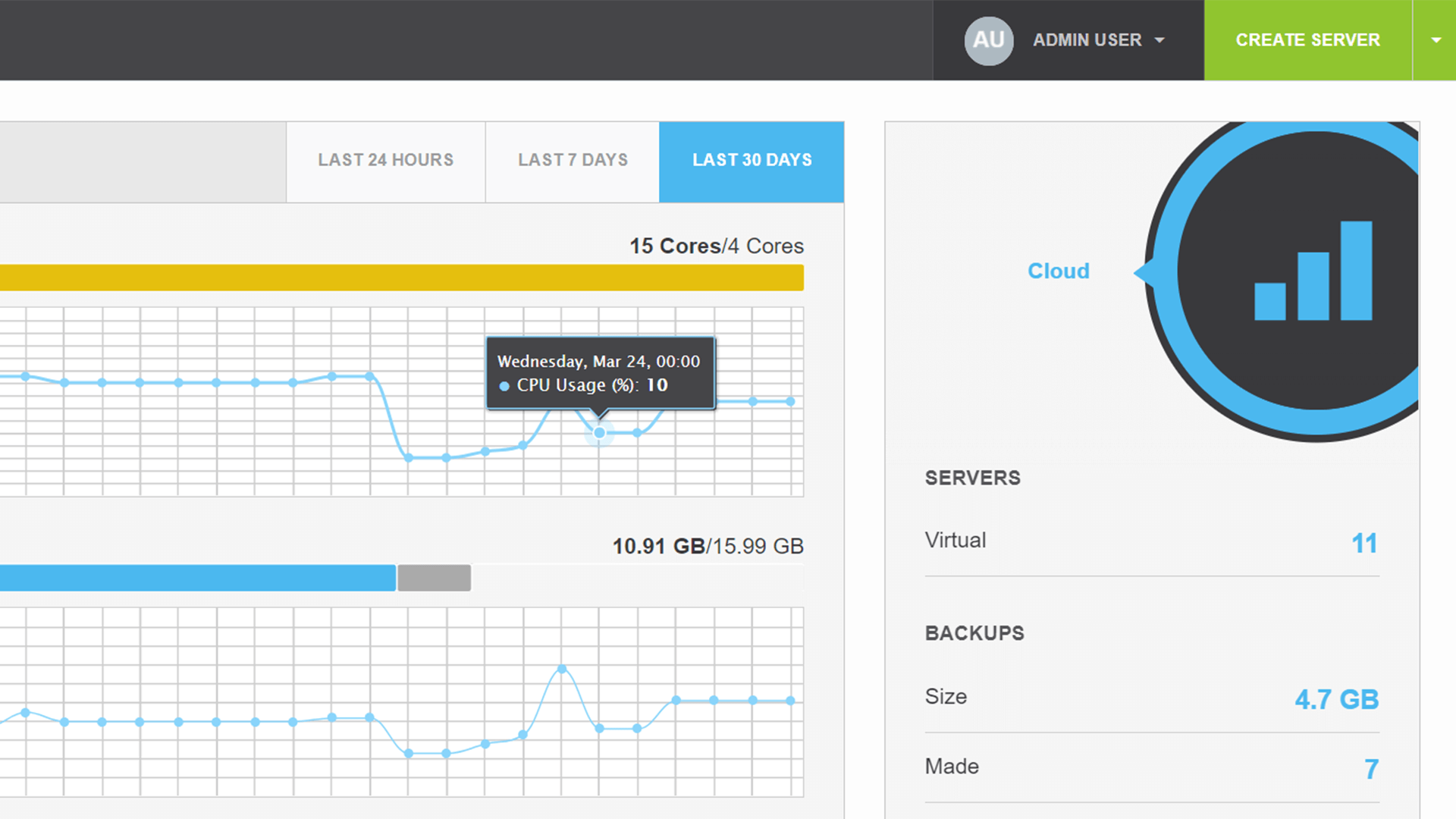 The Partner Dashboard is the latest multi-management control panel that allows the reseller to fully control all the VPS servers deployed. It gives the reseller the option to rebuild, destroy, create, boot, reboot suspend and unsuspend any of its client's servers. The reseller can also scale up and down the resources of a server through this dashboard. It also allows them to deploy Recipes and other custom templates for their clients.
It is the next-generation tool that allows robust monitoring of all the VPS servers deployed by a reseller. Also, even novice resellers can easily use it since it is user-friendly.
Reseller Advantages
100% White reseller platform.
Affordable Entry Point Price.
Full access to administrative tasks.
Partner Dashboard.
Secured and Scalable platform.
WHMCS Integration Module.
Pay-as-you-go Model.
Reseller Client Advantages
Access to considerable administrative tasks.
Totally Brandable/ Customizable End-user Page.
Able to boot, reboot and shutdown their VPS servers.
Access to custom templates, recovery mode, and snapshots.
Secured and protected VPS server environment.
CloudCone Pricing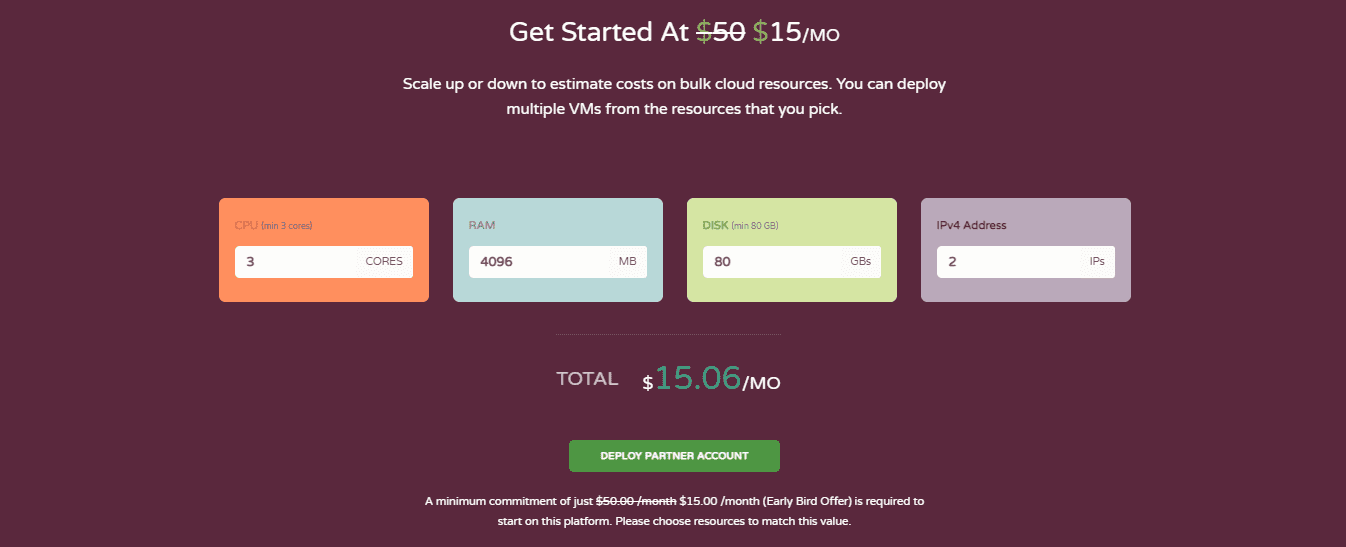 The minimum pricing to join this VPS reseller platform is $15. However, you can use the scale-up/down feature to estimate costs for bulk cloud resources. You can deploy multiple VMs based on the resources you pick.
Note: This is the early bird pricing that offers noticeable discounts than the standard pricing.
Their reseller program offers competitive entry-level pricing for bulk cloud resources. If you decide to scale up, you can deploy another VPS within the extended limits.
How to get started?

It's very easy to sign up with this platform and set up your reselling business. Follow the simple steps described below to get started.
Just Click Here and create an account on CloudCone. Then select the "Calculate Price" button. Choose the resources you need and then click on "Place Order".
After you place your order; you'll be contacted by the support member for confirmation of the order. After confirmation, it'll take less than 48 hours to build your platform and resources.
Do I recommend CloudCone VPS Reseller Platform?
Yes, it is totally worth it buying. It provides tons of attractive features and benefits to both resellers and the clients of the resellers which makes it the best reselling platform. The next-generation hardware, technology, management tools, quick access, scalability, and white label make this platform the future of the reselling business.
Therefore, in light of my experiences, I'll definitely recommend CloudCone VPS to all people who're looking for the best reliable hosting for their websites.
So what are you waiting for? Sign up today with this reselling platform if you don't want to be left behind.
If you've still got any doubts about choosing CloudCone, go check out other CloudCone Reviews from people who have already experienced this VPS provider and find out what they are saying.
At Trendstorys.com, we aim to provide honest reviews to our users to help them make the right decision.