BM-800 Mic Review
4450 PKR
Sound Quality

Noise Cancellation

Build Quality
Summary
In the budget of 4-5k PKR, What I personally believe is that BM-800 is dominating all other microphones in the market. It has everything a person needs such as recording, streaming, or even singing.
Pros
Easy to Assemble
Good Build Quality
Quite Affordable for Beginners
Best Noise Cancellation
Complete mounting kit with shock mount, pop filter, etc.
Sounds Professional like High-End Microphones
Cons
Comes with XLR – Doesn't come with traditional male to female XLR connections
Plastic connections and tighteners are not durable
Looking for a studio-quality microphone at an affordable rate?
Don't have enough budget to purchase a high-end microphone in Pakistan?
If yes, then you have come to the right place since I'll be doing BM 800 mic review to introduce you to the best Studio microphone in Pakistan.
It all started when my friend launched his small studio setup at a coworking space in Islamabad and I, being the supportive friend, helped him with almost everything. We had to buy studio equipment too as they are a necessity for a studio and you know what I learned from this tiring shopping experience?
Most studio microphones available in the market are overpriced pieces of metal scraps. Hence finding a capable studio microphone was frustrating, but we did manage to get BM 800 Mic that proved to be a lifesaver.
This microphone did not cost us a fortune but still houses all the high-end features to provide great audio quality. It can record both vocals as well as instruments and deliver natural audio output. We also did not have any difficulty in setting it up and even its body is quite sturdy.
In short, BM 800 Mic was everything my friend wanted in his first studio microphone. But we were able to find this microphone after 5 rounds of the market and endless hours of research.
That's when I realized that many people must be struggling like we struggled since the market is full of so many different kinds of pricey microphones that don't quite deliver what they promise.
Therefore, I decided why not do a review of BM 800 Mic and share my thoughts with everyone, in hopes to save some of you countless hours of research and multiple trips to shops.
BM-800 Condenser Microphone Review
It is an XLR condenser microphone made by a rising manufacturing brand named ZINGYOU. This BM 800 Condenser microphone has everything a professional studio needs. It cancels out the background noises and records crystal clear vocals. Plus this microphone can record both vocals and instruments so whether you want to record yourself talking or singing or playing instruments, this BM 800 Mic got you covered.
In addition, BM 800 Mic is sturdy and durable as it is built with Aluminum alloy. It has a shock mount, anti-wind foam cap, Mic adjustable suspension scissor arm stand, and pop filter to offer professional recording features. It is also available in Gold, Black, Silver, and Red, so you can buy it in your preferred color.
This BM 800 Condenser microphone has a flat frequency of 20Hz to 20KHz and this frequency range is optimum for all types of studio recording. Plus it can record sounds up to 132dB. BM 800 Mic also comes with 48v Phantom Power Supply, V8 Audio Interface, and the rare ability to record bass sounds perfectly.
Being a BM 800 Condenser microphone, it will record all the nuances as well as tones of the voices and instruments for you. The large diaphragm of this BM 800 Mic also sets it apart and delivers excellent sound quality. Most importantly, it is priced reasonably so it does not cost as much as some of the other recording microphones that are literally looting people in the market.
You can even refund it within 7 days of purchase without a reason.
BM-800 Specifications
| | |
| --- | --- |
| Brand | ZINGYOU |
| Type | Large-diaphragm tube condenser microphone |
| Colors | Gold Black/Black/Silver Black/Silver Red |
| Connector Type | 3-pin XLR to IEC |
| Audio Sensitivity | 28 dB |
| Polar Pattern | Cardioid (Unidirectional) |
| Frequency Response | 20Hz to 20KHz |
| Max SPL | 132 dB |
| Impedance | <= 200 ohms |
| Recommended Load Impedance | = 1000 ohms |
| Weight | 346 grams |
| Material | Metal, Aluminium Alloy |
| Signal to Noise Ration | 78 dB |
| Buy From | Check Price on Daraz |
BM 800 Specs
Features of BM 800 Mic
I bet you can already tell that BM 800 Mic is a recording studio gem. But let's talk about its features in detail so you can better access its abilities;
Durable body
It has a full metal body made from aluminum alloy that can handle one or two impacts. You can expect this microphone to last longer thanks to its sturdy and stable build. Moreover, the high-quality material used in building BM 800 Mic also helps in recording clear audio.
Professionally Equipped Microphone
This BM 800 Mic is equipped with everything it needs to provide studio-grade audio recordings. It comes with a professional pop filter, anti-wind foam, V8 sound card, power cable, and shock mount, etc to help people in recording sounds and instruments professionally.
Switches
It comes with Switches that allow people to adjust various aspects of this microphone like bass, attenuation, and pad. There is a 15mV/Pa Pre-Attenuation Switch, Bass Roll-Off Switch, and various other attenuation switches. More switches mean you have more control over sound output. You can use these switches to receive ideal audio output according to your needs.
Records Both Vocals and Instruments accurately
Some microphones are good at recording vocals while others are better at recording instruments like acoustic pianos and guitars etc. But being a BM 800 Condenser microphone, this microphone is good at recording both. It will record your vocals and instruments with all the subtleties and cancel out background noises too.
Noise Cancellation Mechanism
BM 800 Mic features an amazing noise cancellation mechanism to get rid of all the background noises and provide accurate audio. It has a high signal-to-noise ratio so the maximum amount of audio signals are caught by this microphone while minimizing the useless noises. This reduces the audio distortion while recording.
Also, BM 800 Mic has 3-layer protection which protects the system from unwanted background noises and enables it to offer disturbance-free vocal performance.
High-Quality Diaphragm
Now those of you that are familiar with studio equipment must know that the Diaphragm of the microphones plays an important role in recording and providing a pristine audio experience. That is why this microphone has a thin but larger than average Diaphragm. The diaphragm helps it in offering an accurate representation of what was recorded.
Easy to Assemble
Of course, you have to assemble the microphone and it can actually prove to be a hassle if you are new to this. That is why BM 800 Mic comes with an instruction manual and an assembled instruction video.
However, the veteran will be able to assemble it on their own as it is very easy to set up.
Unmatchable Attraction for Consumer
You must have heard about, the 7-day returning policy that almost every product has. But most of such policies require you to have a reason to return. However, BM 800 Mic can be returned even if you have no reason to return it. It also comes with a 30-day replacement service and a 1-year warranty so you can buy it with confidence.
What Sets BM 800 Mic Apart from Other Microphones?
Well, first of all, the amazingly cheap price of this high-quality BM 800 Mic sets it apart from other microphones. You can't find any other microphone packed with this many features at its price tag.
Also, the incredible sound quality and the ability to properly record both vocals along with instruments make BM 800 Mic even more attractive as compared to its competitors. Because unfortunately, most microphones can only accurately record either the vocals or the instruments. The sturdy and full-metal build is another plus point of BM 800 Mic.
The large diaphragm and 3-layers for noise cancelation further enhance the recorded sound quality and enable it to provide better audio than most of the expensive microphones in the market. Overall it is a top-notch microphone that would suit any world-class studio.
BM-800 Addons
In order to take the game to the next level, using addons such as phantom power or v8 sound card can surely make a huge difference in sound quality.
BM-800 with Phantom Power Supply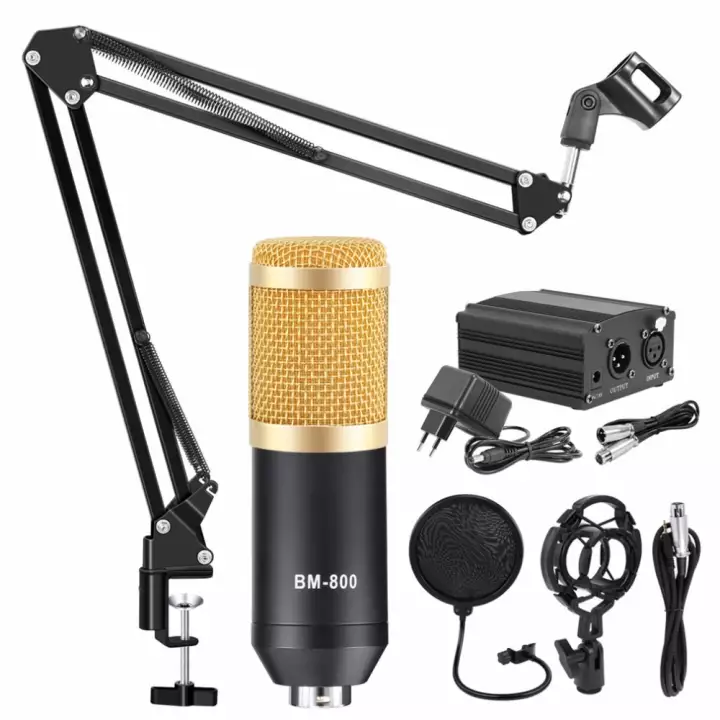 The 48v Phantom Power Supply empowers BM 800 Mic to record the optimum amount of audio signals and deliver precise audio. But some stores separately sell the phantom power supply. However, if you want to get the complete microphone kit along with phantom power at an affordable price, you can check the below link:
BM-800 with v8 Sound Card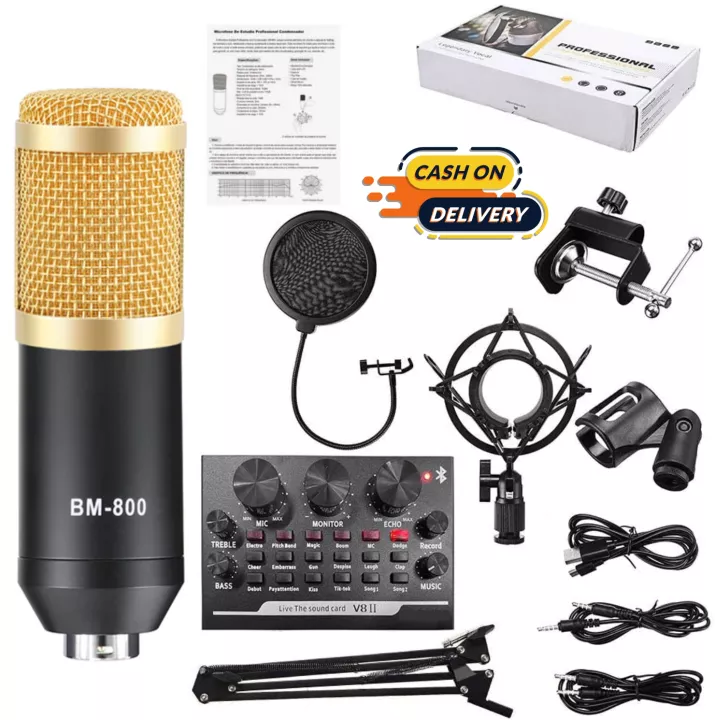 With the BM 800 mic coupled with the V8 Sound Card, It is the perfect choice for YouTubers wanting a good sound quality for their videos.
You can flawlessly stream, record, and sing while you live stream. See pricing details below.
Who can use BM 800 Mic?
Believe me, this microphone is the best choice for YouTubers, podcasters, streamers, and singers alike. BM 800 Mic will record both vocals and instruments while canceling the background noises so it is also great for acoustic instruments recording and professional studio work.
Your listeners will receive crystal clear audio with no distortion or disturbance if you record with this microphone. I recommend it to you if you are starting your career on YouTube or opening your studio.
BM-800 Price in Pakistan
If you have ever shopped for studio microphones, you must know how expensive they can be. I was baffled when I looked at the hefty price tags of some of the well-known microphones.
Most professional microphones cost around 10k PKR and sadly, according to my friend who has been working in studios for 5 years now, their sound quality is not as good as they claim.
But BM 800 Mic solved our problem. It costs only 4-5k PKR in Pakistan which is a total steal. So it is an ideal microphone for you if you want quality within a limited budget.
The prices may vary but digitechpk offers the best prices on all of its products. Get the complete BM 800 condenser microphone studio kit from the following link for an affordable price.
Final Verdict: Best Overall Microphone
My friend has been using BM 800 Mic for 4 months in his studio and he has not complained about it. For a mere 5000 Pakistani Rupees, he bought a microphone that records as any high-end expensive audio mic does. So, I would admit that BM 800 is overall the best budget microphone in Pakistan available in the market.
This microphone picks up maximum audio signals for delivering unmatchable audio output. If you don't believe me, you can go and explore the market. You will spend endless hours researching and talking to different people but believe me you will end up with the same conclusion as me. BM 800 Mic is the best choice for those who want HD recorded audio at a reasonable price.
I hope this BM 800 Mic Review proves to be helpful to you.
If you've still got any doubts about choosing BM-800 Mic, go check out other BM-800 reviews from people who have already experienced this tool and find out what they are saying.
At Trendstorys.com, we aim to provide honest reviews to our users to help them make the right decision.
Frequently Asked Questions (FAQ)
Is BM 800 A good mic?
As a result, the BM-800 is an excellent microphone if you have a limited budget. A pre-amp would improve results, but it works perfectly without one. Metal is used throughout, and everything feels high quality and durable
Do you need phantom power for BM-800?
Using a phantom power supply will surely improve your sound quality but not having one isn't something to worry about. It still sounds quite professional.
What is V8 Sound Card?
With this multifunctional live sound card, you can choose between 12 types of electronic sounds and effects, as well as modes for mobile use. Both Android and iOS devices can be used with it. The USB cable is used to connect laptops and desktops.
Can I sound the same without using phantom power?
Yes, you can. But you need to do some post-processing using software like Audacity.
Does BM-800 work on a phone?
When used with a smartphone, it will likely record very low sound volume. There is no Phantom power supply, so do not expect the best quality without it.