One captures a vast audience, the other a refined one. But is there any difference between Bing search and Google search? In our comparison of the world's two largest search engines, we uncover all the most significant SEO differences between Google and Bing. Google reigns supreme.
There is quite a bit of controversy surrounding Bing vs. Google SEO. Due to Google's apparent dominance, many people question whether they should invest any time or resources in optimizing SEO.
It isn't always necessary to optimize SEO for Bing and Google at the same time. Consequently, you may not need to choose between the two. The following comparison will help you understand the differences between Bing SEO and Google SEO.
Which is more popular, Bing or Google?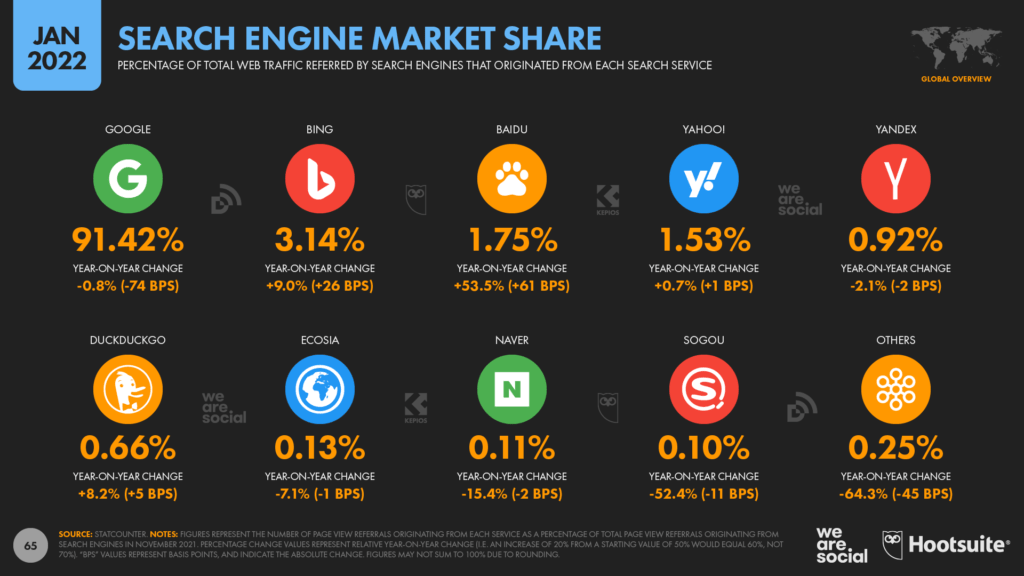 You probably want to know how many people use Bing compared to Google? The average daily search for Bing in 2021 was 200 million. Bing currently has 3.14% share of the worldwide search engine market.
In spite of 3.14% sounding small, it's actually thousands of searches per day and a ton of potential to grow your business. Taking Bing SEO into account as part of your marketing strategy makes sense, even though Bing doesn't have the same reach as Google. This is especially true when you consider the differences between user bases, which we will discuss below.
Which users use Bing?
The refined demographic of Bing Ads is quite attractive for smaller businesses, just as it is when comparing Bing Ads with Google Ads. The software giant Microsoft owns Bing, which has a storied history with Windows, the Office 365 suite, and Xbox consoles. In total, there are over 1.5 billion Windows-based devices worldwide.
Bing is the engine that powers the embedded search bars in Office and Windows 10. Many people might not even realize that they are using Bing search. You might use Bing instead of Google if you fall into one of these categories.
1. Population Statistics
Google's demographics are different from those of Bing. Google tends to be the search engine of choice for white-collar workers, while Bing is the search engine of choice for blue-collar workers.
In addition, Bing users are generally older, with an average age of 45. Consequently, those who use Bing tend to earn more, to be more educated, and to have more children. Bing traffic tends to convert better because its demographics tend to be more affluent and mature.
Based on the number of people who use Bing nationwide and the overall market trends, optimizing for Bing makes sense. Many sites invest exclusively in SEO services, which will give you an edge over competitors.
2. Working Places and Offices
In most corporate environments, office workers will frequently use Bing. You are very likely to get a desktop computer from your boss unless you work in a creative studio. In many offices, Bing becomes the default search engine because Windows is the operating system of choice.
Security concerns usually prevent staff members from downloading external software is highly professional environments such as law firms. Bing is the only option now, as Chrome is no longer an option.
If you have ever typed into the search bar ribbon in the Microsoft Outlook email or Office document or right-clicked a word inside, you've also used Bing! In addition to Skype and Teams, other Microsoft apps are also integrated with Bing. This makes Bing a particularly good place for business-to-business searches.
3. Bing Integration with Xbox & Alexa
Microsoft gives 65 million Xbox users the opportunity to relax and unwind during their free time. In addition, Xbox is well integrated with Bing, so you can access gaming news, entertainment, and games from your Xbox.
Another household name, Alexa, is also a big source of searches on Bing. People are embracing smart speakers more and more as more people integrate Bing into their homes through Alexa.
How does Bing SEO differ from Google SEO?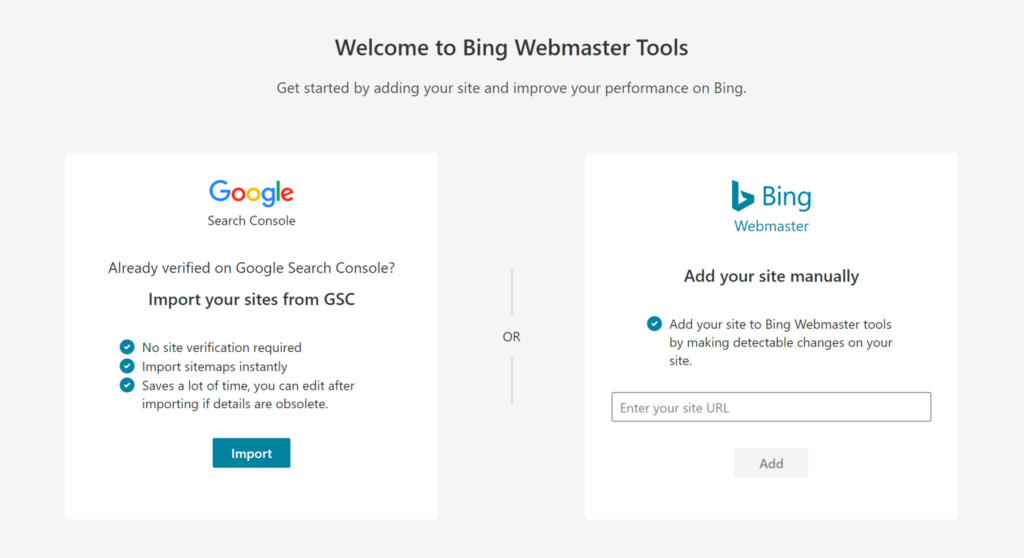 Comparison of Google and Bing SEO
The good news is that you don't have to reinvent the wheel in order to optimize for Bing. When comparing Google SEO and Bing SEO, there are a few key differences that need to be understood, particularly regarding on-page, off-page, and technical SEO. Keep reading to uncover 3 major differences between Google SEO and Bing SEO.
1. On-Site SEO – Key differences between Google SEO & Bing SEO
Google and Bing have different ways of reading keywords for on-page SEO. Bing, on the other hand, examines the exact keyword, while Google examines the keyword within context. The idea may be primitive, but it has benefits for older and retired SEO tactics.
Additionally, Bing takes multimedia into account more favorably. Video, photos, and audio are given high rankings by Bing. Due to the 'entity understanding' that Bing undertakes for websites, it uses multimedia as a ranking factor, whereas Google relies much more on text-based content.
2. Off-Site SEO – Bing SEO Vs Google SEO
Bing places a much greater emphasis on social media signals than Google when it comes to SEO, which is clearly one of the biggest differences between search engine optimization. In the eyes of Bing, a website with strong social signals is more relevant than one with weak signals. A website's pages are better able to gain likes, shares, and recommendations the more social media users interact with them. Get social proof whenever possible.
Likewise, Bing tends to favor small businesses when it comes to Local SEO, assuming the searcher wants to see results nearby. In contrast, Google favors more established companies, as it places a high value on credibility. In terms of link building, Google prefers websites with strong backlinks, while Bing favors sites with little or no backlinks. As part of its scoring system, Bing reads the words or phrases on your website that link to the pages of your website, whereas Google takes context into account. Bing backlink optimization will be easier with this method.
3. Technical SEO – Which is better: Google or Bing?
A page's first 100Kb was crawled by Googlebot in its early days. The situation changed in 2021 when Google began crawling most of the pages. Nevertheless, Bing still caches only the first 100kb of your pages, so it's very important that your most important content appears at the top of your page.
Bing actually wants you to focus on the content above the fold instead of leaving your SEO goodies until the very end. If you want your page to play a role in improving your search engine rankings. Be sure not to make your pages too big!
Bing SEO vs Google SEO: Where is the Better Place?
Having gained this information, you can now begin to work on optimizing your SEO campaign for Bing and maximizing visibility on Microsoft's own search platform. Even if you get the most technical, SEO will always focus on matching the searchers' query to the most appropriate answer. Because of this, you should always prioritize the user over the nuances between Bing SEO and Google SEO.
Bing & Google aren't the only search engines available. Your website will appear well in other search engines such as Yahoo, Duck Duck Go, and Baidu as well. 
Quick Tip: Optimizing for Google will definitely push you forward on Bing search results. So, instead of optimizing Bing separately, Optimize your site for Google Local SEO and leave the rest.
If you're not sure how to optimize your website for Google, consider hiring a digital marketing agency to manage your website in order to grow fast.
We believe this article has brought some value to you. If you've any questions, feel free to let us know in the comments.