BgEraser Review
100% Free

Accuracy

Easy To Use
Summary
BgEraser, a free online tool based on Artificial Intelligence & Machine Learning, specifically made for erasing backgrounds and unwanted objects from images.
Pros
Easy to Use
Based On AI & ML
Safe and Free to Use
Accurate Object Remover
Flexible Pricing Plans
Available for both Web-based application and Desktop App (Windows & Mac)
Cons
The free plan is quite limited but good for testing.
Don't know how to remove background from images using Photoshop?
Want to make your photos transparent without using Photoshop?
If yes, then you've come to the right place as today, we're going to BgEraser review, an amazing tool known for removing background from images with just one click.
So, if you're looking for the best background eraser tool online, then you don't need to worry from now on as BgEraser has got you covered.
Let's have a look at the BgEraser review in a little detail.
BgEraser Review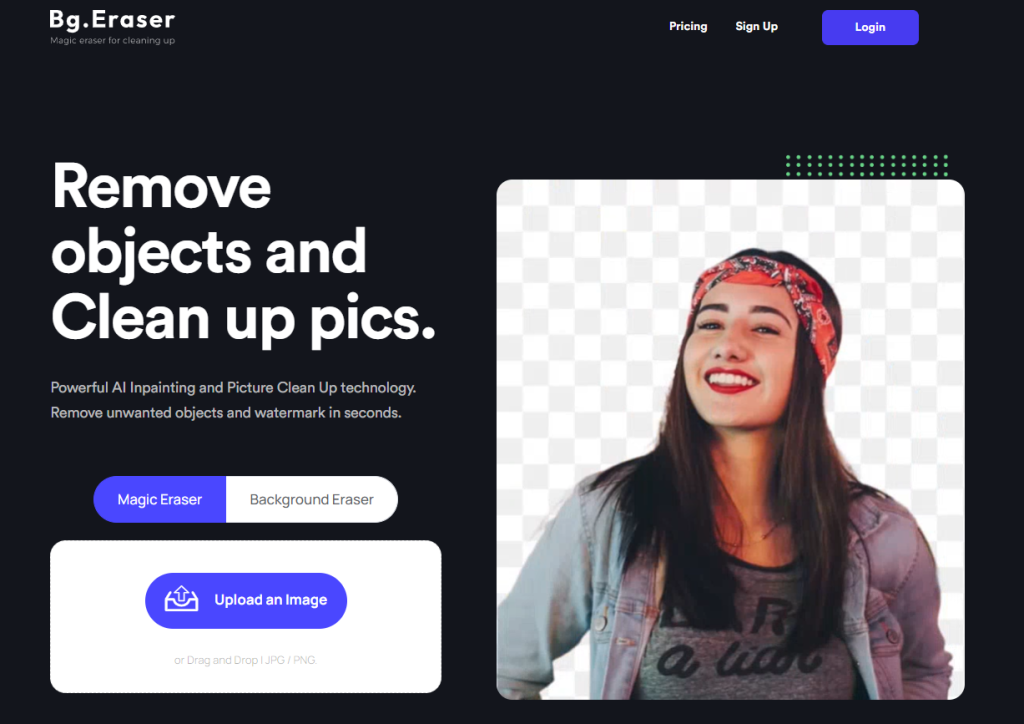 BgEraser, a free online tool based on Artificial Intelligence & Machine Learning, is specifically made for erasing backgrounds and objects from images to make them transparent.
One of the most effective ways to erase a certain part or background from an image in Adobe Photoshop is to apply the Background Eraser Tool to any unwanted or blank background area. The BgEraser tool works just like the eraser in the Quick Selection tool, deleting unwanted pixels as you drag the image around.
In order to get the best results from the BgEraser tool, make sure that your image has good lighting. If your image is unlit or in poor light, the colors in the background will not be able to be seen and erased properly.
Nowadays, many people want to remove the background of their products to list them on their websites but the majority fails badly in doing them.
To overcome this issue, they need to outsource the work to freelancers who can do the job for them.
But why you should outsource the work when you have an online tool available that will do the work for you in a matter of few clicks.
Therefore, if you're looking for an automatic tool to make background transparent, then BgEraser (Background Eraser) is all you need to get started.
Following is the short overview of the BgEraser review that you might need to know.
BgEraser Details
Company Name

: BgEraser

Founded In

: 2019

Pricing

: Comes with two plans (Free & Paid)

Affiliate Program

: Earn up to 25% commission

Platforms

: Available for both PC/Mac and a web-based application

Support Email

:

[email protected]

Website

: https://bgeraser.com/
What Makes BgEraser Different?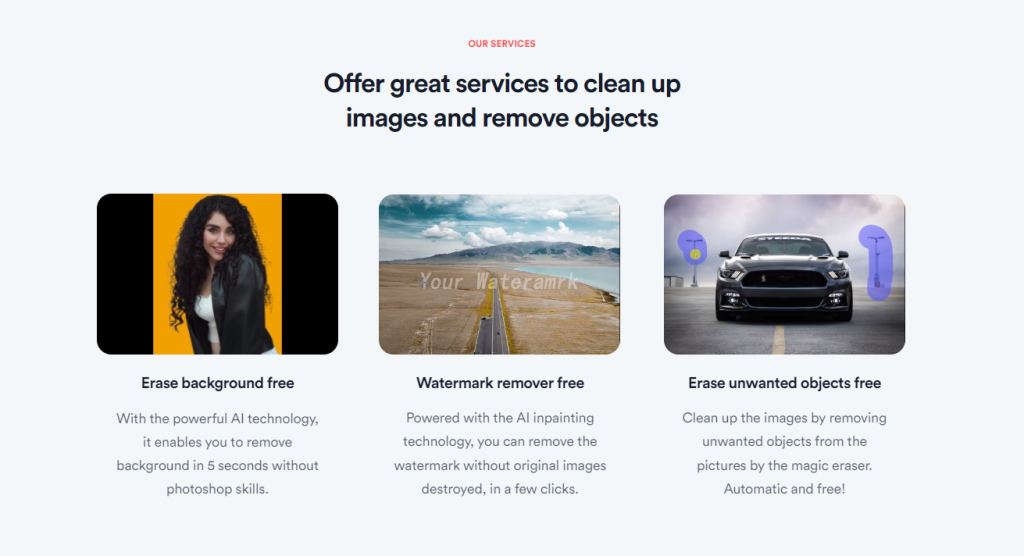 So why BgEraser is worthwhile choosing? Well, the first reason that makes it noticeable that it is free for everyone. The creators have made it free for the people who are having trouble in removing background from their photos.
Secondly, BgEraser is the only tool having strong AI and ML learning that provides 100% accuracy and provides you the best results as per your expectations.
BgEraser is a fully automated background removal tool bundled with an unwanted object removal tool as well which means you don't need to use Photoshop or any other complex software to remove background manually which is the reason many users prefer BgEraser over other tools.
BgEraser Features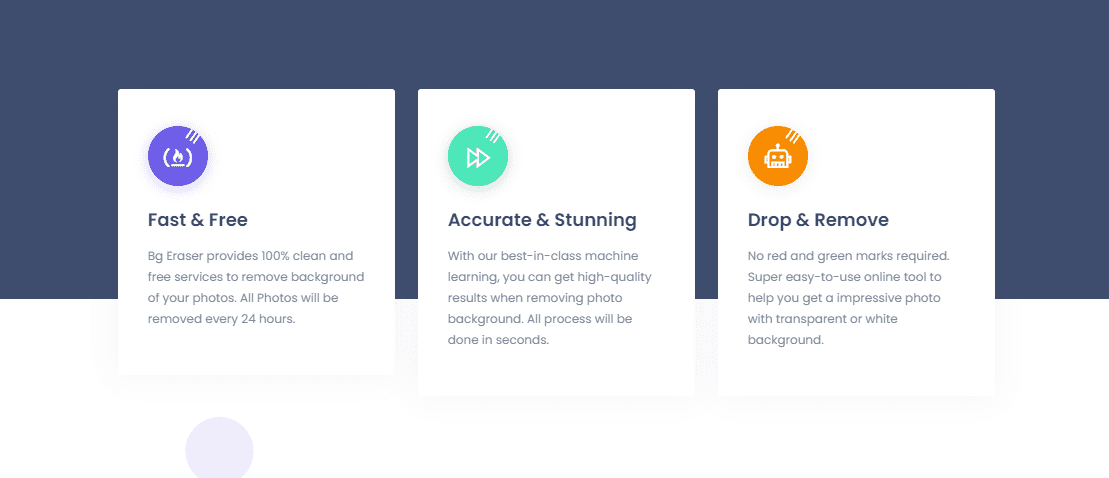 The following are the features BgEraser provides to its users:
Fast & Free
The first thing that clicks the mind is that BgEraser is a free tool for everyone who wants to eraser the background from their images. You don't need to do anything manually. With just one click, BgEraser will do the work for you. Moreover, they promise to delete all your pictures after every 24 hours. No photos will be stored and used for other purposes, so you don't need to worry about anything.
100% Accurate
With their best-in-class machine learning and AI algorithm, you can get high-quality results when removing photo background. All processes will be done in seconds with greater accuracy. With BgEraser, you'll get results beyond your expectations.
Drop & Remove
Now that's a really nice feature to consider while using BgEraser that it won't ask you to mark red or green for removing the background. It would do everything automatically on its own. You just need to drag the photo and BgEraser will remove the background for you.
What can you erase with BgEraser?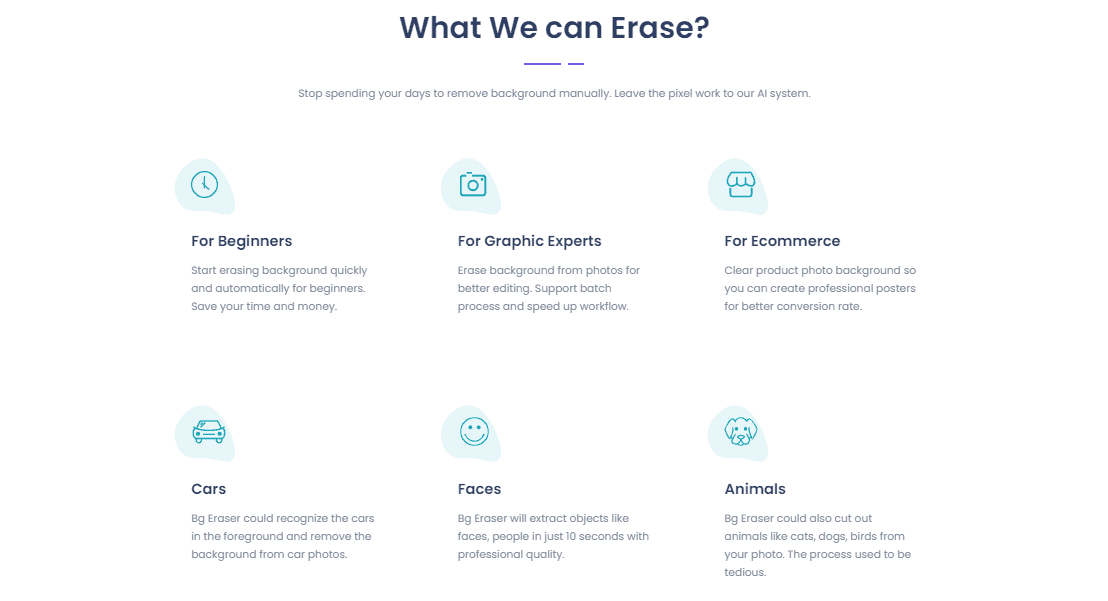 Nowadays, many people have been searching for freelancers who can do the background removal work for their products.
If you're one of those people, then you don't need to pay them as BgEraser will do the work for you.
Following is the list of items for which BgEraser will work perfectly for you.
eCommerce Products
Cars
Faces
Animals
And many other categories.
It is best for graphic designers who don't want to spend time doing editing on Photoshop, instead, they can use BgEraser to save time.
How to Remove Background or Objects from Photos Using BgEraser?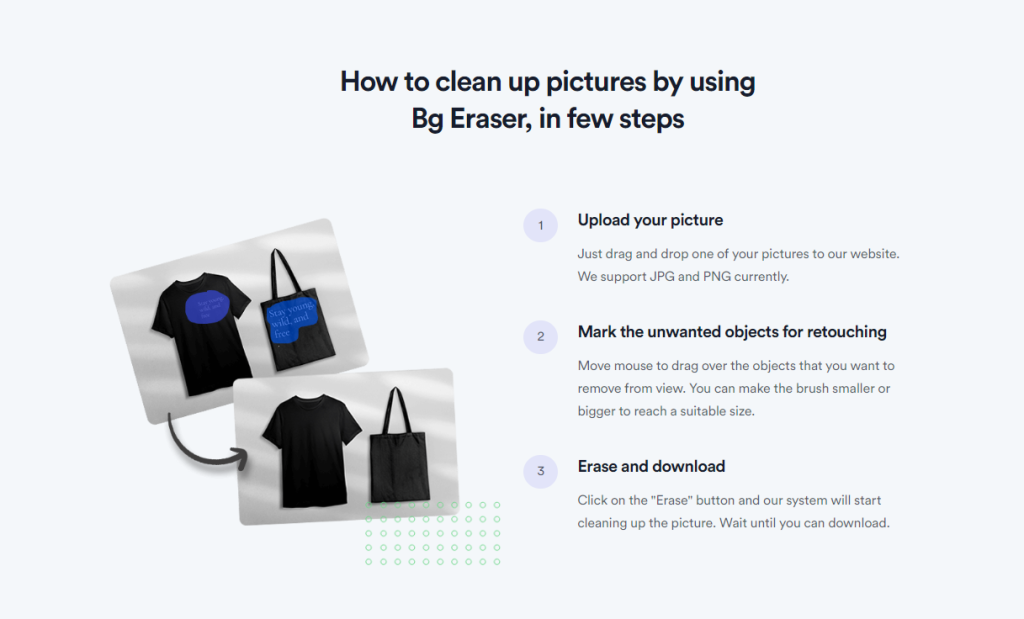 BgEraser is one of the easiest tools for removing background or any unwanted objects from images with just a matter of a few clicks.
Following are the three steps:
Select Mode (Magic Eraser or Background Eraser)
Upload Images
Click Erase Now
Download the Output
For removing objects from images, you need to brush over the selected area which you want to remove. This is how simple it is. Isn't?
BgEraser Pricing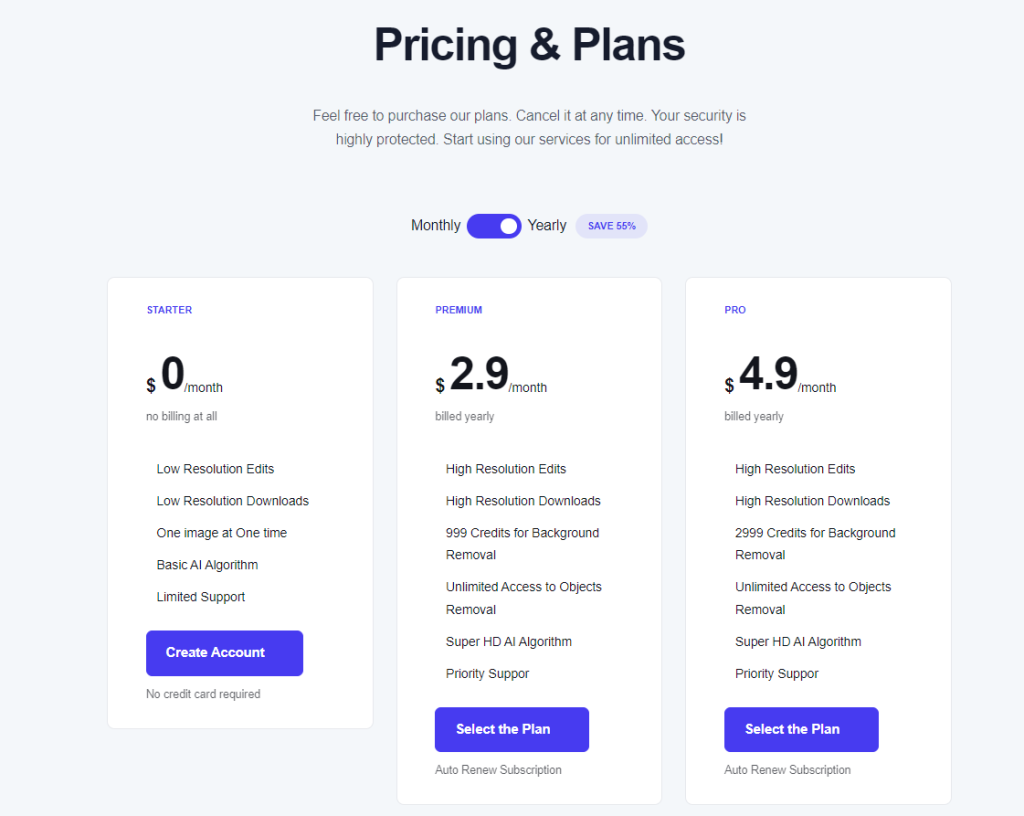 BgEraser is free for everyone to use but it does have a paid plan with more benefits such as batch processing, on a priority basis, support Windos/Mac Apps, etc.
The creators have set BgEraser to free because they want you to buy its premium plan that costs a few bucks.
BgEraser Affiliate Program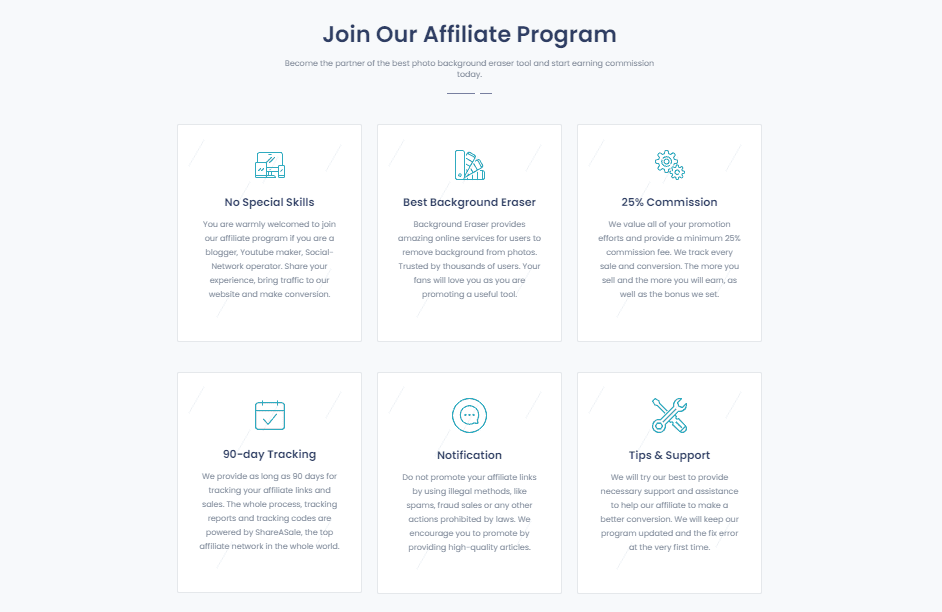 BgEraser provides you an opportunity to earn from its affiliate program that offers a 25% commission of the users you brought in to buy BgEraser which is quite a decent amount to consider.
In this way, you can earn from the people simply by referring them to join BgEraser through your referral link.
So, if you've been using BgEraser for your small projects, then do consider joining their affiliate program to earn some decent income.
Do I Recommend BgEraser.com?
Considering all the facts discussed in this BgEraser review, it is generally recommended that you use the BgEraser tool instead of the quick selection option in Adobe Photoshop as it makes it easier to delete the background areas without affecting the size and quality of the image.
BgEraser is a great alternative to Photoshop that will remove background from images automatically. It is best for people especially newbies who don't want to waste their time doing editing on Photoshop. Therefore, you should definitely try out this software.
Do you still have any doubts about choosing BgEraser? Go check out BgEraser reviews from other people who have already experienced this software.
At Trendstorys.com, we aim to provide honest reviews to our users to help them choose the right platform.
Any queries related to the BgEraser review or if you're already experienced with this software, give your review out of 5 stars or let me know in the comments.