A business's revenue can be increased significantly through online classifieds. Every platform looks to make money off of your marketing goals, making reaching mass audiences a challenge against small budgets.
Free advertising sites can help you maximize the use of any budget when social media and search engine ads already eat up your budget.
Although using free classified ad websites to market your products and services may seem unorthodox, nearly 50% of internet users used classified sites in 2015. In recent years, this number has consistently increased.
By using the right online advertising opportunities, you can reach millions of people for free.
7 Top Free Advertising Sites
In addition to offering free classifieds, free classified ad sites can increase traffic toward your company website and physical office location. As a plus, today's advertising sites are a valuable tool for business owners with different needs, enabling them to:
Promote products and services
Recruit employees, contractors, and freelancers
Get rid of old inventory and equipment
However, there are some free advertising sites that will connect you with larger, more engaged audiences than others because the internet is a competitive landscape. Your business will be even more successful if you emphasize categories that are directly related to your products. You can get the most efficient results if you know which ones are worth the time.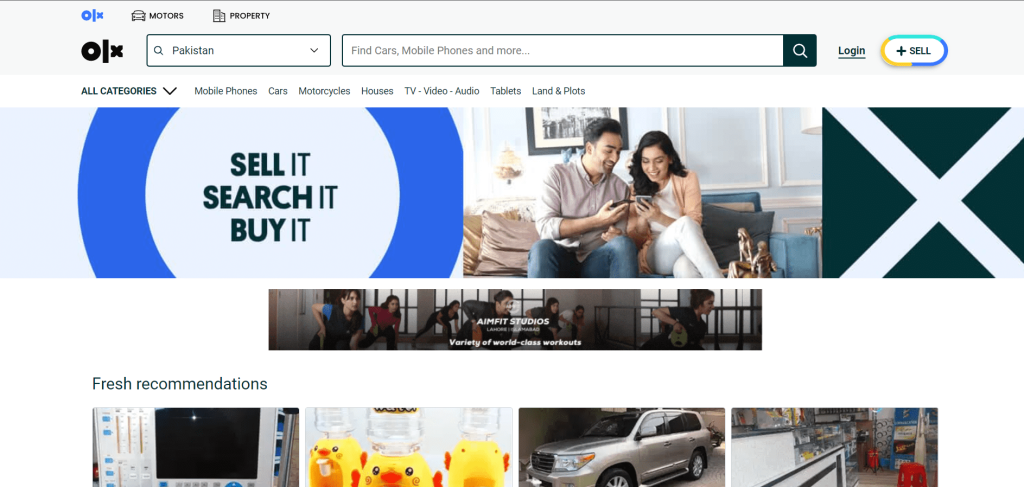 With over 50 countries and languages covered, OLX is the world's leading listing platform for emerging markets. OLX makes it easy for anyone to buy, sell, or trade used products and services on their cell phone or on the web, making it quick, easy, and free.
The OLX online marketplace attracts millions of shoppers every month looking for furniture, instruments, sporting goods, vehicles, kids and baby gear, motorcycles, cameras, cell phones, and property in local marketplaces all over the world. Through its innovative person-to-person marketplaces, OLX helps people live healthier lives.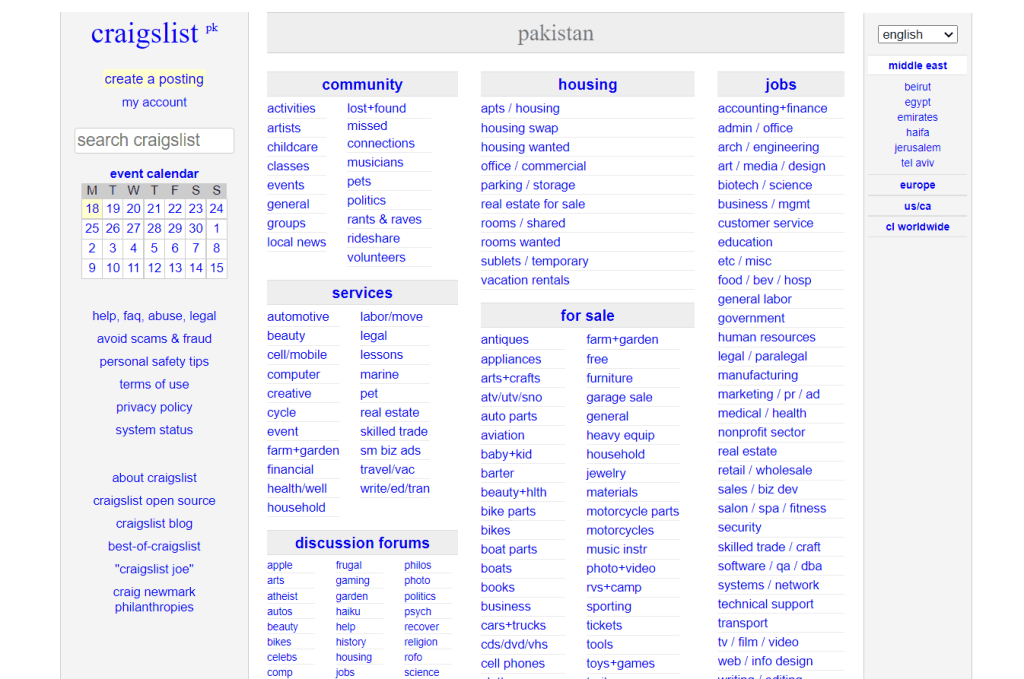 The most popular classifieds site in the United States is Craigslist, which is ranked among the top 30 most visited websites. You can sell just about any product or service on this platform thanks to its variety of categories. From beauty services and computer parts to parking spaces and automotive parts, these categories are so diverse.
Currently, Craigslist users can post ads once every 48 hours per geographical area. Almost all products are available for free posting, with the exception of cars and furniture for which a $5 fee may apply. You will also have to pay a small fee for posting ads for services, though you will get a full 30 days to place ads.
Craigslist has the unique benefit of allowing you to place an ad to find items. As a result, you will not only receive free advertising but also find equipment and office supplies that will assist you in earning more money.
As a result of past high-profile cases of people using the site illegally, Craigslist has something of a seedy reputation. Your business will most likely gain loyal customers along the way as long as your ads don't sound spammy.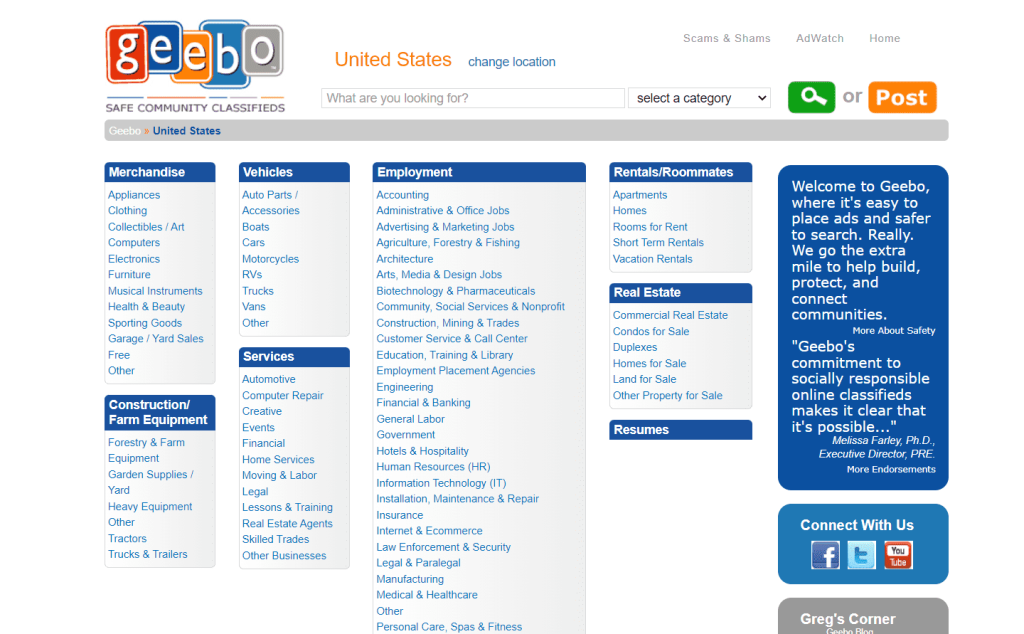 With precautionary measures to ensure that users are safe, Geebo counters Craigslist by providing users with the safest platform possible. The company will review your classified ad before it goes live on Geebo.
Geebo's advertised process will naturally help you build trust for your brand even if it takes more time for your ad to appear on the site. You'll have a brand new audience that knows you're a vetted seller, whether you're selling services, construction, or farm equipment.
The Geebo classified website is also a good place to search for freelancers and employees in your area. Since it aggregates local job listings from multiple job posting sites, skilled workers often turn to this free advertising site for job opportunities. Additionally, Geebo developed a tool that lets applicants post their resumes in order to show their interest in a position.
Geebo's social media channels have over 60,000 followers combined, so your product listing can be shared on their social media channels.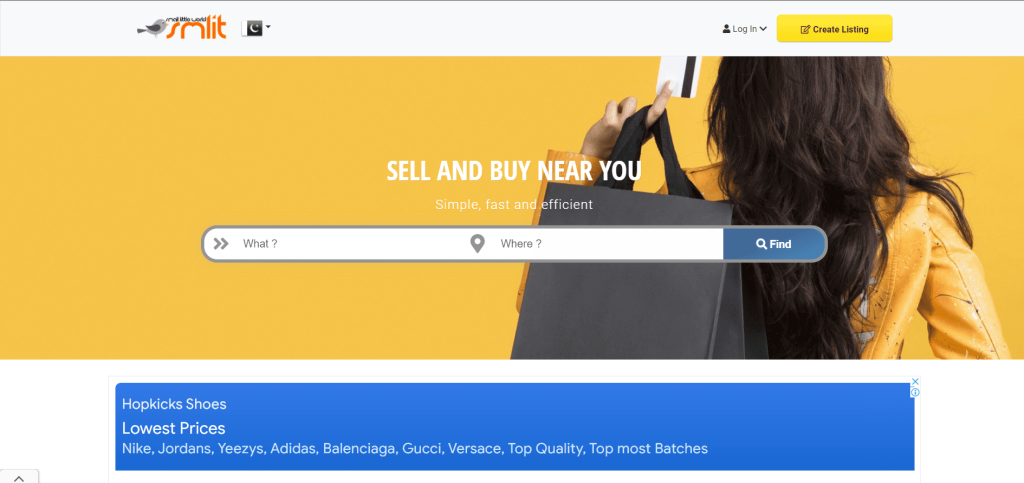 Despite being new, Smlit is another rapidly growing free advertising site that is based in Nigeria and is available Worldwide.
Much like Olx, you can use this online classified site to connect with job seekers and sell services, cars, real estate, courses and physical items. However, Smlit is particularly great for real estate, tech and automobile industries.
Smlit is a truly free classified ad posting website for everyone. Your ad will remain live on the site for a month or two.
Creating an account and verifying your email address is required before posting an ad. Other free advertising platforms lack this level of security, so this adds a level of security to the platform.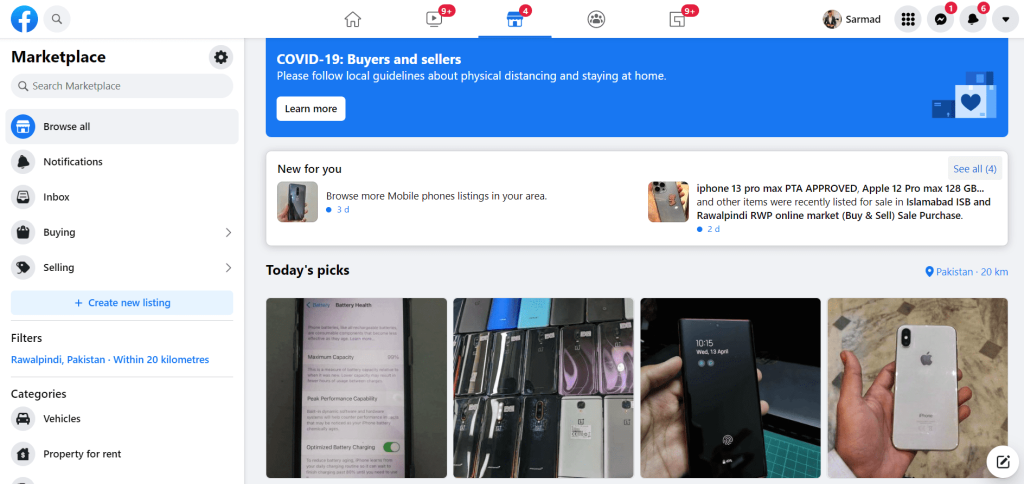 In terms of free classified advertising sites, Facebook does not belong to the category, but thanks to the advent of Facebook Marketplace and shops for business pages, it has become a platform that provides functions similar to those of the top classified ad sites.
Every month, Facebook Marketplace is used by 800 million people. Selling cars, real estate, furniture, and retail products have proven especially effective using the platform.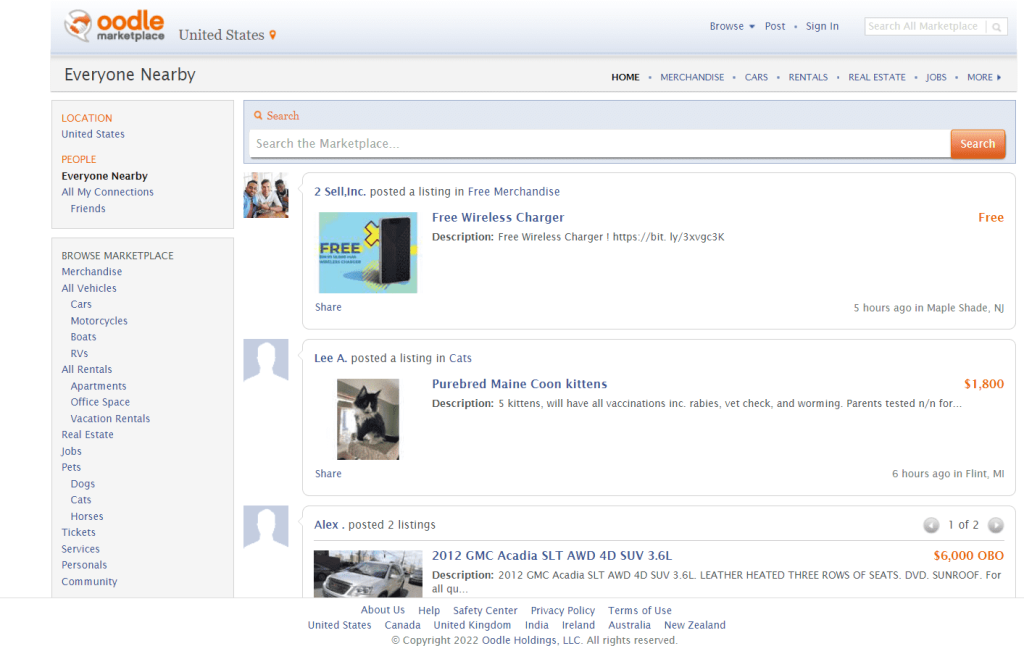 On a single platform, Oodle connects users to local listings from eBay, ForRent.com, newspapers, and more. Oodle powered Facebook's original marketplace feature before its launch as Facebook Marketplace. In seven countries, 15 million people use this classified ad site each month.
In order to protect users from fraudulent activity, Oodle requires that you connect your Facebook account. Once this is done, you'll have access to all of the major categories including Merchandise, Vehicles, Rentals, and Community.
You can even add a live link back to your website if you upgrade from free advertising features.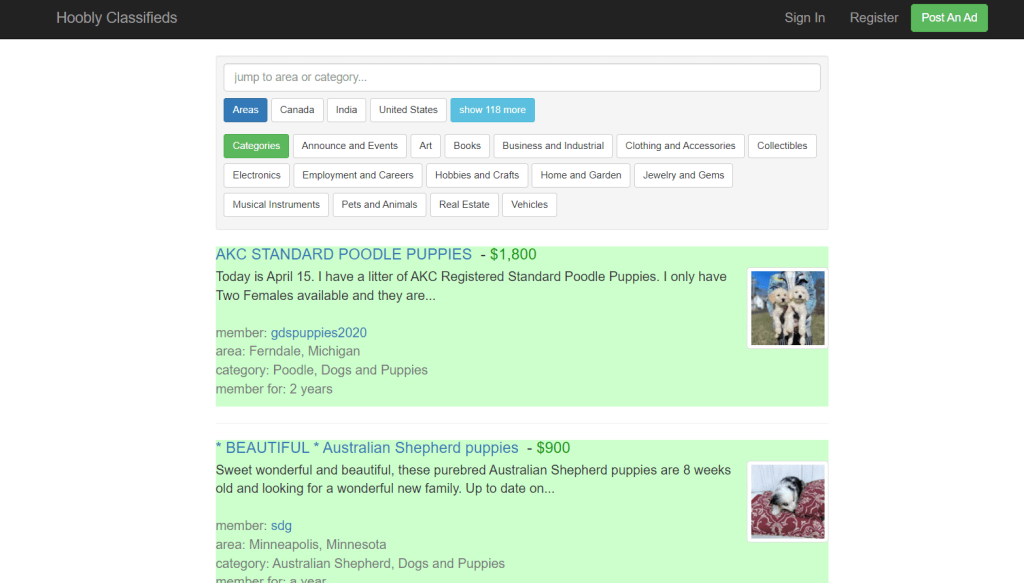 With a presence in 30+ countries, Hoobly is the only free online advertising site with a strong focus on the United States.
Business & Industrial is a prominent category that distinguishes this platform from the other classified ad sites, which makes it ideal for the resale of industry-specific equipment and office supplies. You can even sell your own products through Hoobly if your product falls under a major category on the website. Art, clothing, jewelry, real estate, and cars are all included.
Posting an ad requires signing up for an account and verifying your e-mail address. Many free advertising websites do not offer this kind of security.
Conclusions
Free online marketing opportunities can enhance local marketing efforts. Despite newspaper classifieds being on the way out, online free advertisement sites offer effective local marketing opportunities to help your business succeed.
It's not necessary to spend much money on TV ads when the audience you're looking for can learn about your product or service from a simple listing.
The best advertising is not always seen in classified ads. Due to the world's increasing reliance on all things digital, business owners have plenty of opportunities to reach mass audiences for free. There's no limit to where you can start selling if you're willing to take creative steps, whether it's optimizing your Google My Business profile for SEO or posting content on your social media and blogs.
Advertisements don't always look like ads. You can use customer reviews to market your business for free.