You might have seen video presentations made of a compilation of photos and clips in weddings or birthday parties and thought to yourself that you wanted to learn how to do them yourself as well. If so, you also might be thinking that you'll have to resort to building advanced photo and video editing skills to make a great slideshow — but the good news is that you don't. Luckily, there are various automatic slideshow creators that can give you a helping hand.
These software's are easy to use since, as the name suggests, they can make your slideshows automatically.
Top 3 Slideshow Makers that you need to know
Below are three great automatic slideshow makers to consider:
SmartSHOW 3D
Kizoa
Adobe Spark
1. SmartSHOW 3D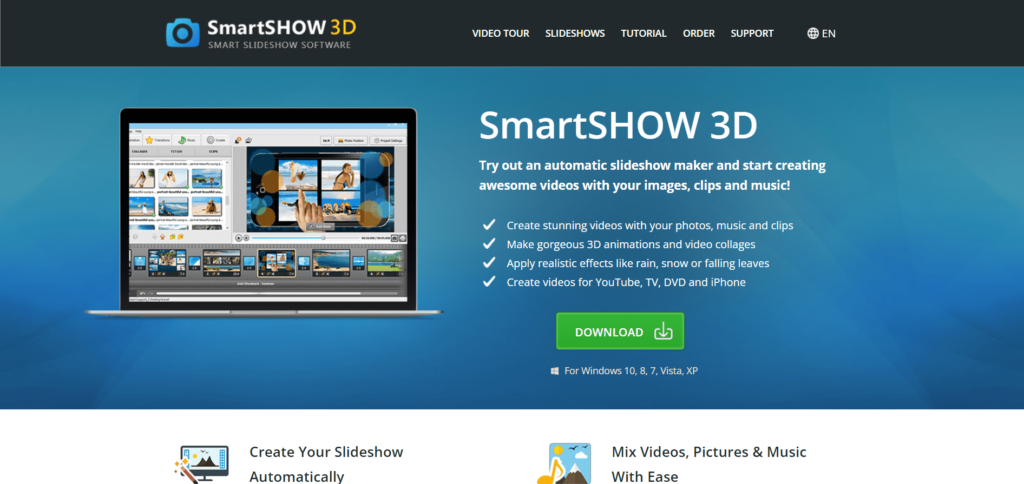 If you need a slideshow in the next five minutes, the automatic slideshow maker SmartSHOW 3D is a great option. In fact, you can make a slideshow in just three simple steps: choose your template, add the photos and music, and just play around with the animations and 3D effects! The ease of creation makes SmartSHOW 3D a good slideshow creator for beginners.
It offers at least 500 ready-made and professionally-designed templates and animation effects. You can also choose from more than 300 beautiful transitions and effects to make the whole slideshow look more seamless. What's more, SmartSHOW 3D has a 3D camera you can experiment with to make impressive animations. You can also have 3D animation of photos, videos, and even text.
This auto slideshow maker has a built-in collection of music tracks and sound effects you can use to add to the atmosphere you want to create in your slideshow. Then when you're satisfied with your slideshow, you can convert it to more than 30 formats such as MP4 and AVI. If you want a slideshow done in five minutes and have hundreds of templates and effects at hand, SmartSHOW 3D is something to definitely consider.
2. Kizoa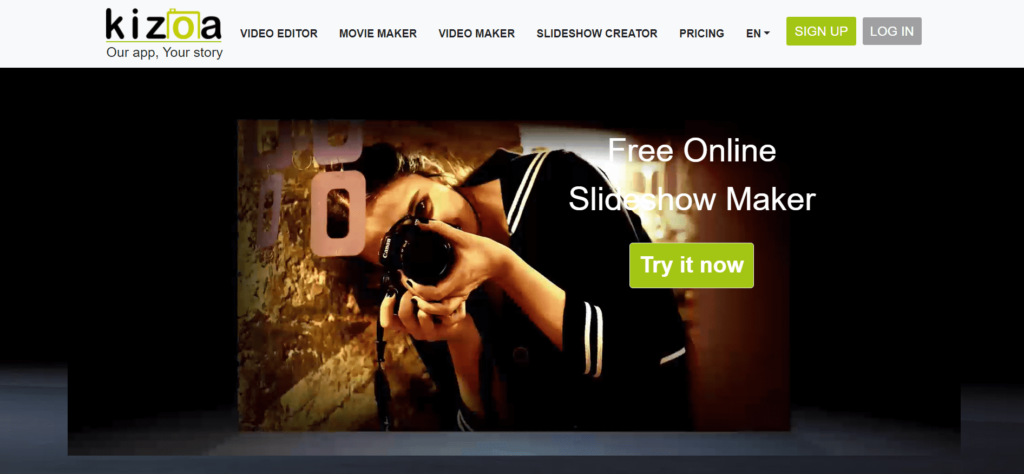 Creating a slideshow video is one thing, but making sure it looks great and plays on any platform is another thing. And if this is something you worry about, then you should make an automatic photo slideshow with Kizoa.
Kizoa has an intelligent cropping tool that can make you a slideshow that's best adapted to any platform — may it be TV, computer, tablet, or smartphone — so it doesn't end up cropped or blurred. Aside from this, you can save your slideshow video in different formats, such as MOV, MPEG2, and GIF. What's great about Kizoa is that it's browser-based, meaning you don't need to download or update anything. This also means your work automatically gets saved to the cloud. You don't need to sign up either.
Even though it's browser-based, it has all the features you would expect from an automatic slideshow creator. It offers hundreds of effects and GIFs that you can add to your videos and pictures and lets you customize everything, from the scene duration to even music volume. If you need an easily accessible slideshow creator that can make your videos look good on any platform, then give Kizoa a try.
3. Adobe Spark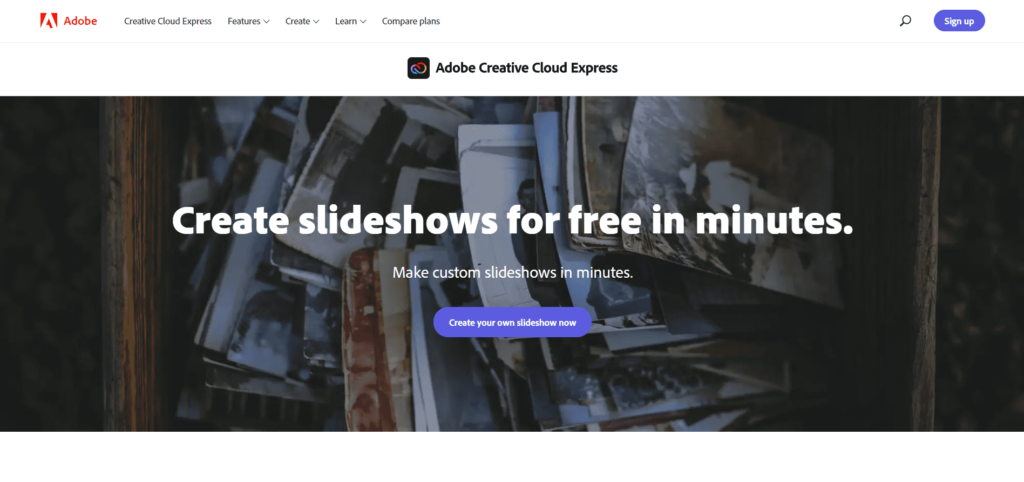 Adobe is known for its impressive line of photo editing products, and this includes an auto slideshow maker as well. Their program, called Adobe Spark, has navigation menus that are easy to understand thanks to clear labels. This makes it very easy to use even if you're not a designer. Adobe Spark has tons of beautiful elements, such as pre-designed images and graphics made especially by professional artists.
Adobe Spark offers a short video tutorial to walk you through the basics of how to create your very own slideshow. But basically, to begin, you can choose a story template or make your slideshow from scratch. From there, you can then add media like photos, clips, and text. You can upload your own pictures or search for the free ones inside this Adobe Spark.
Afterward, you can choose the layout and add a theme and soundtrack. The resulting slideshow video is easy to share as well since you can either save it directly on your device or copy the link for sharing. If you want to create an automatic photo slideshow that looks like it was made by a professional, then this one's for you.
Conclusions
Creating beautiful slideshow presentations might seem like they take up a lot of time and effort to do. But with the above automatic slideshow makers, you'll find that you actually won't need advanced photo and video editing skills to create slideshows that look like they were made by professionals.